Ken loves trying new things in the smoker as you know if you follow along here. Stuffed Smoked Tomatoes is a perfect summer side dish when the tomatoes are fresh and full of flavor!!
The smoky bacon marries so nicely with the tomato, garlic, and Parmesan.
They are easy to make and are cooking while you prepare the rest of the meal. A great side dish that goes well with everything from fish to steak. Also, try our delicious Spinach Artichoke Stuffed Tomatoes, so good.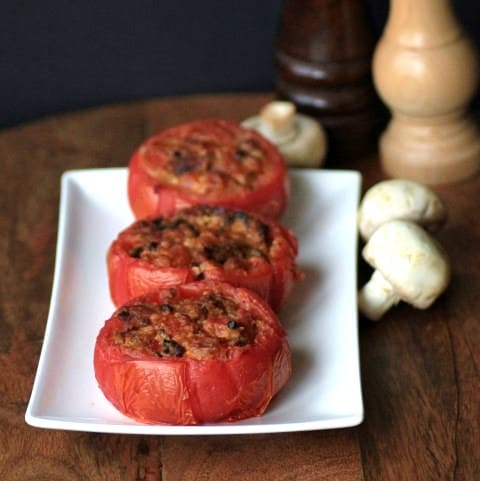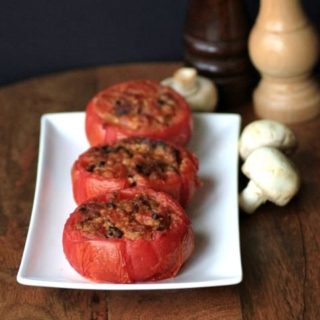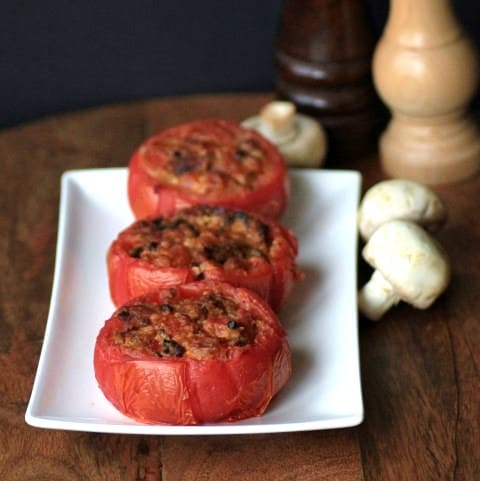 Stuffed Smoked Tomatoes
Yield: 4 Servings
Prep Time: 30 minutes
Cook Time: 1 hour 30 minutes
Total Time: 2 hours
An excellent side dish for summer!!
Ingredients
4 large beefsteak tomatoes
1/8 cup butter
1 clove garlic, minced
1/2 cup finely chopped mushroom
1/8 diced onion
1/4 cup crumbled crispy bacon
1/8 cup whipping cream
3 Tbsp. Parmesan cheese, freshly grated
2 Tbsp. dry bread crumbs
Salt and fresh ground pepper
Instructions
Carve out the core of each tomato, and 2-3" inside the tomato, do not cut through the skin.
Place tomatoes on an aluminum foil pan. Salt the inside. Seed and chop the pulp.
Prepare your smoker and heat to 225F.
In a medium fry pan melt the butter over medium-high heat. Add garlic, mushrooms, and onions.
Cook stirring for 2-3 min. Add the tomato pulp and freshly ground pepper, cook for another 5 min. or until tender.
Add the bacon, cheese, whipping cream, and bread crumbs. Stir to combine.
Stuff the mixture into the tomatoes. Place in the smoker for 1 1/2 hours, or until warmed through. Let cool for 10-15 min. before serving.
Nutrition Information:
Yield: 4
Serving Size: 1
Amount Per Serving:
Calories: 168
Total Fat: 12g
Saturated Fat: 6g
Trans Fat: 0g
Unsaturated Fat: 4g
Cholesterol: 31mg
Sodium: 377mg
Carbohydrates: 12g
Fiber: 3g
Sugar: 6g
Protein: 6g
Recipe calculation was provided by Nutritionix and is estimation only. If you need nutritional calculations for medical reasons, please use a source that you trust.