Brioche Hot Dog Buns
Ken is back as the baker again with another use for his brioche dough. This time he created Brioche Hot Dog Buns and they are fantastic!! You can find other recipes like Mini Cinnamon Pull Aparts or a Brioche Braid that Ken has made from this same dough.
He used the wonderful Sipain baking mat that let's you freeze, proof or bake with non-stick properties and gives you a perfect crusty finish every time!! It is the brain child of the Silpat family.
Make your next BBQ or picnic even more special with homemade buns!! ENJOY!!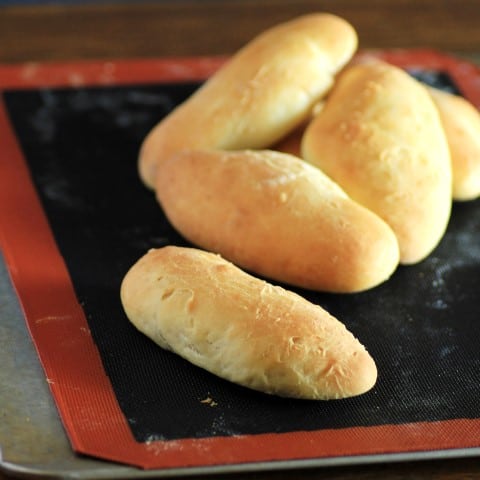 Brioche Hot Dog Buns
A wonderful bread that can be made into a fantastic hot dog bun!!
Ingredients
1 Tbsp. dry yeast
¼ cup sugar
2½ tsp. salt
5 cups flour
1 cup hot water
6 eggs
1 cup butter, cut into pieces and softened
Instructions
In a standup mixer with a paddle attachment add yeast, sugar, salt and 1 cup flour. Add hot water and mix at medium speed for 2 min. or until smooth. Add eggs one at a time and beat well after each. Add 2 more cups of flour slowly and mix well. Add butter, a few pieces at at time and mix well until completely incorporated. Add the remaining flour, dough will still be sticky.
Cover the bowl with plastic wrap, let rise for 3 hours until doubled. Deflate and cover again, refrigerate for 6-18 hours. Dough can be frozen at this point if desired. Thaw before proceeding.
Place dough on a floured surface and gently knead. Form dough into hot dog bun shapes and place on a Silpain bread mat. Cover lightly with a tea towel and let rise for 40 min.
Preheat oven to 400F and bake for 20 min. or until golden brown.
Recipe adapted from Classic Brioche by Canadian Living