We so love to can in this house. We are at it again with a Canned Pomodoro Sauce recipe this year. Usually, we do a freezer sauce that we freeze flat in bags but this year we actually wanted to can a different type of sauce.
This is a fantastic classic Italian recipe much like marinara (the differences we will explore) and one that my family loves.
Canning fresh produce provides you with that freshness all winter long when tomatoes in our region and many are just substandard at best. Also, try some of our other tomato recipes like Tomato Jam, or Homemade Canned Tomato Salsa.
Plus it really is a very rewarding hobby to get into and one that provides the whole family with nutrition. Our daughter has always enjoyed coming with us to the farmers' market to poke around and see all they have. Great family outing too!! Try our Canned Applesauce too, perfect way to preserve those apples.
The flavor of homemade sauce doesn't compare to anything that is store-bought. It can be seasoned and salted to just the way you like it. Last night we dove into a few jars with our spaghetti and meatball recipe.
It was heavenly!! Slow-cooked tender meatballs in a wonderful sauce over pasta just can't be beat for a comfort food dinner coming into fall.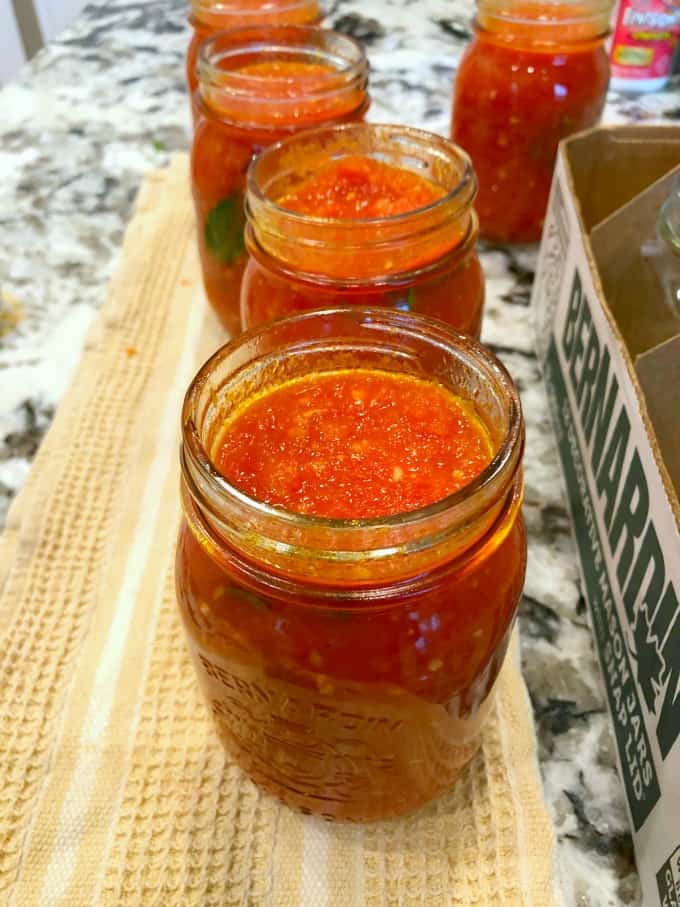 Pomodoro sauce is an Italian zesty tomato sauce that is made when tomatoes are at their height in the tomato season. This is, therefore, the ideal time to also can the tomato sauce for use later in the winter.
This sauce can be mild with no spice except the garlic to as spicy as you like adding in red pepper flakes. I just like to keep it simple by adding in a small amount but if I want to add more later for a recipe I can.
Pomodoro Sauce Ingredients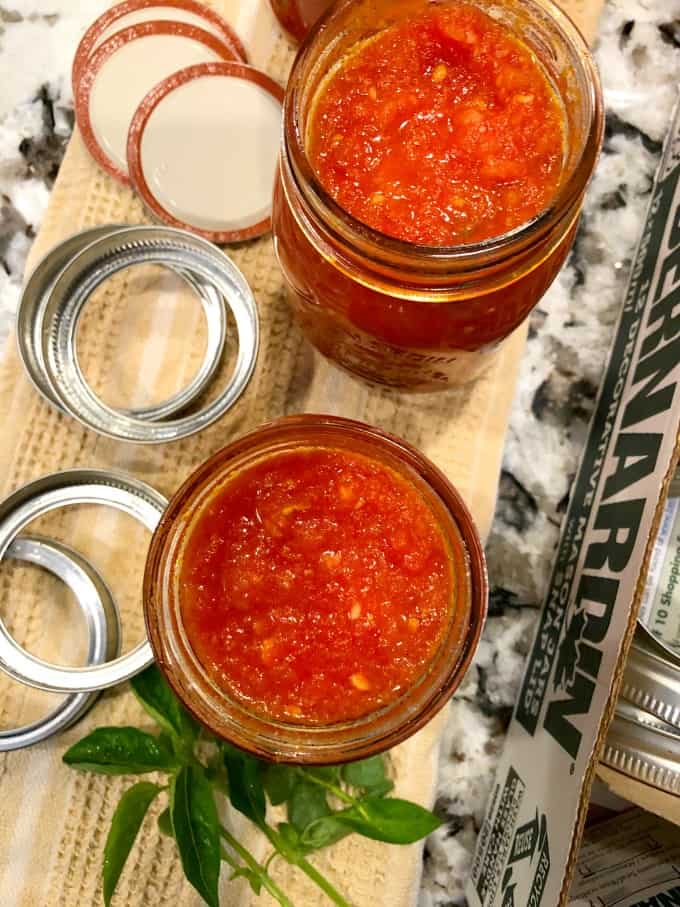 The ingredients for the perfect sauce is fresh tomatoes, sweet or regular onions, fresh garlic, red pepper flakes, sugar, salt, and pepper. And of course, with simple ingredients like this, it is vegan and gluten-free.
I like adding in sugar; it enhances the tomato flavor and takes away any bitterness that might be there. For canning purposes, I drop in a stem or two of oregano or basil.
When you use the sauce you can add in more fresh herbs if you like while cooking but they are normally removed before serving. Also added in while cooking is a dollop of butter and Parmesan cheese.
This will give you the best Pomodoro sauce ever!! Making a simple homemade sauce like this is easy and nutritious.
OTHER CANNING RECIPES
We love to can here and have grown quite a list here at Noshing With The Nolands now! Here are some of our favorites!!
Simple Easy Homemade Canned Tomatoes
What is the Difference Between Pomodoro Sauce and Marinara Sauce?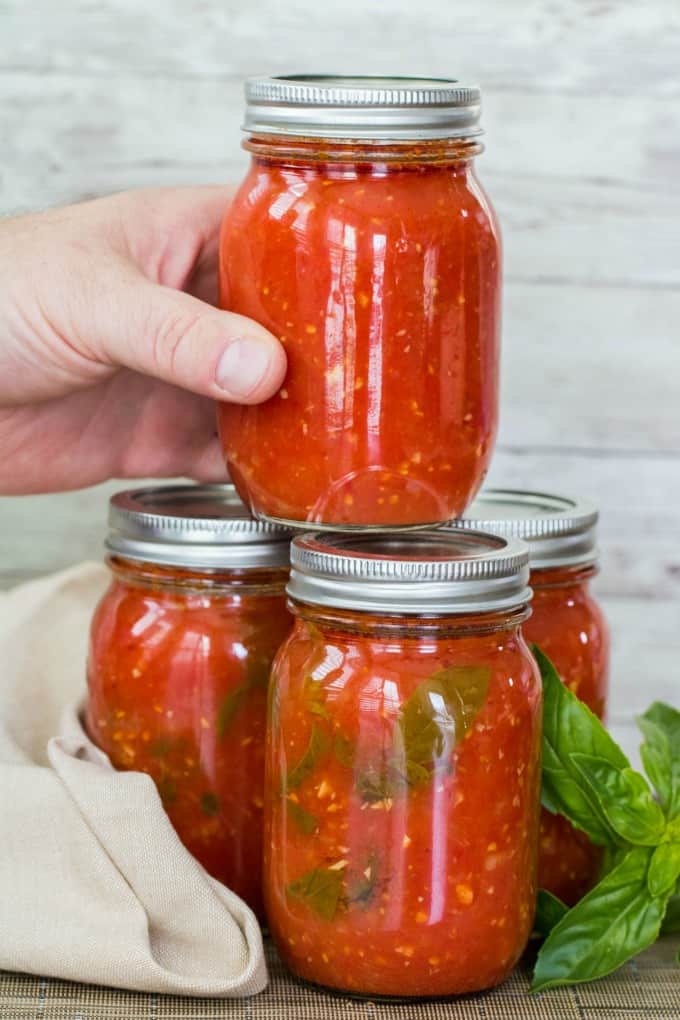 The difference between the two sauces is that Marinara is chunkier and runnier than Pomodoro is. Tomatoes are diced when making Marinara but are minced or in our case pureed in the food processor.
Pomodoro sauce is therefore thick and smooth with just tiny bits of garlic and onion as opposed to Marinara which has the larger diced onions also.
How to Make Pomodoro Sauce?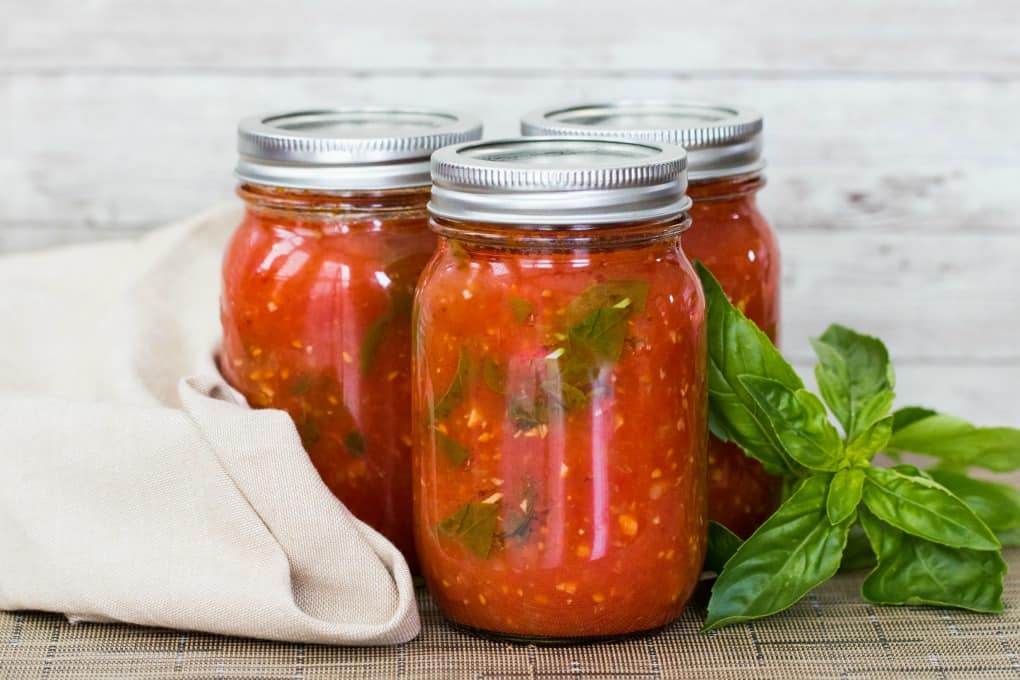 Our version is easy to make. First off the tomatoes are peeled and then set aside.
I run the onions and garlic through a food processor to mince finely, remove and set aside.
Then the tomatoes are run through a food processor to puree!! Using a food processor is so simple compared to all that chopping.
The onions are cooked up with garlic in lots of extra virgin olive oil, salt, and pepper. Then the tomatoes are added with the seasonings. The sauce is simmered then for about 20- 30 minutes.
The jars are filled and canned and the process is complete. Check out the recipe for full details.
If canning at an altitude sign-up for this handy guide to help you!! We water bathed ours for 35 minutes here in Calgary so at sea level you process them for 30 min.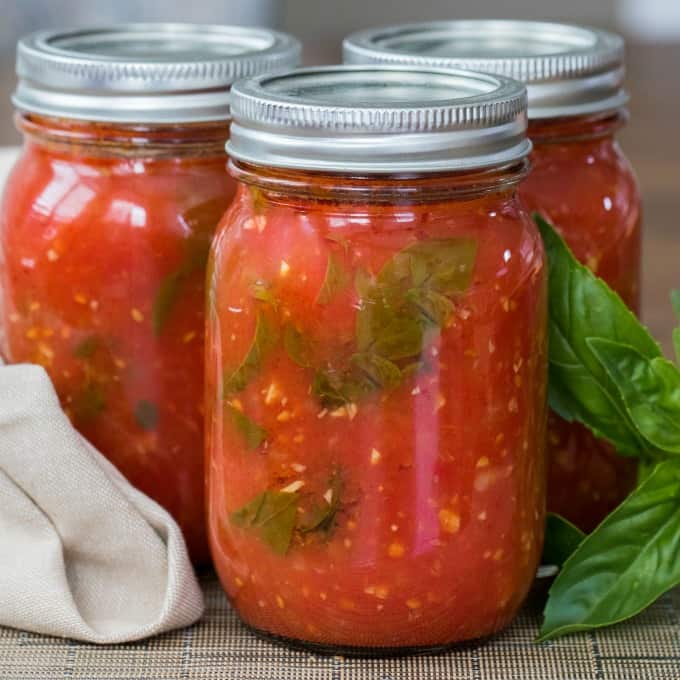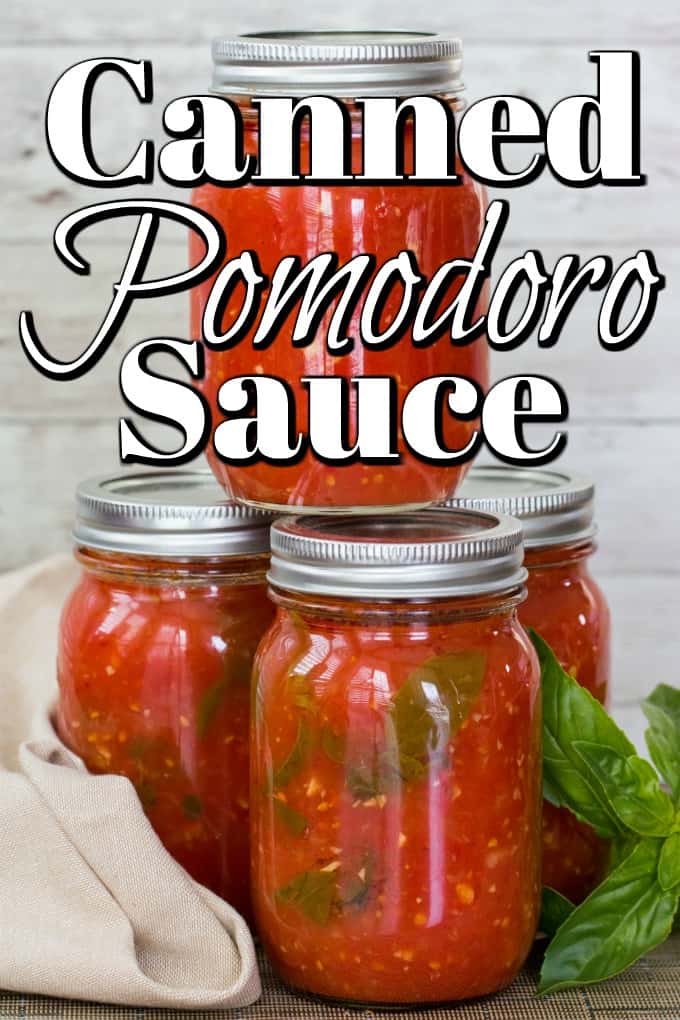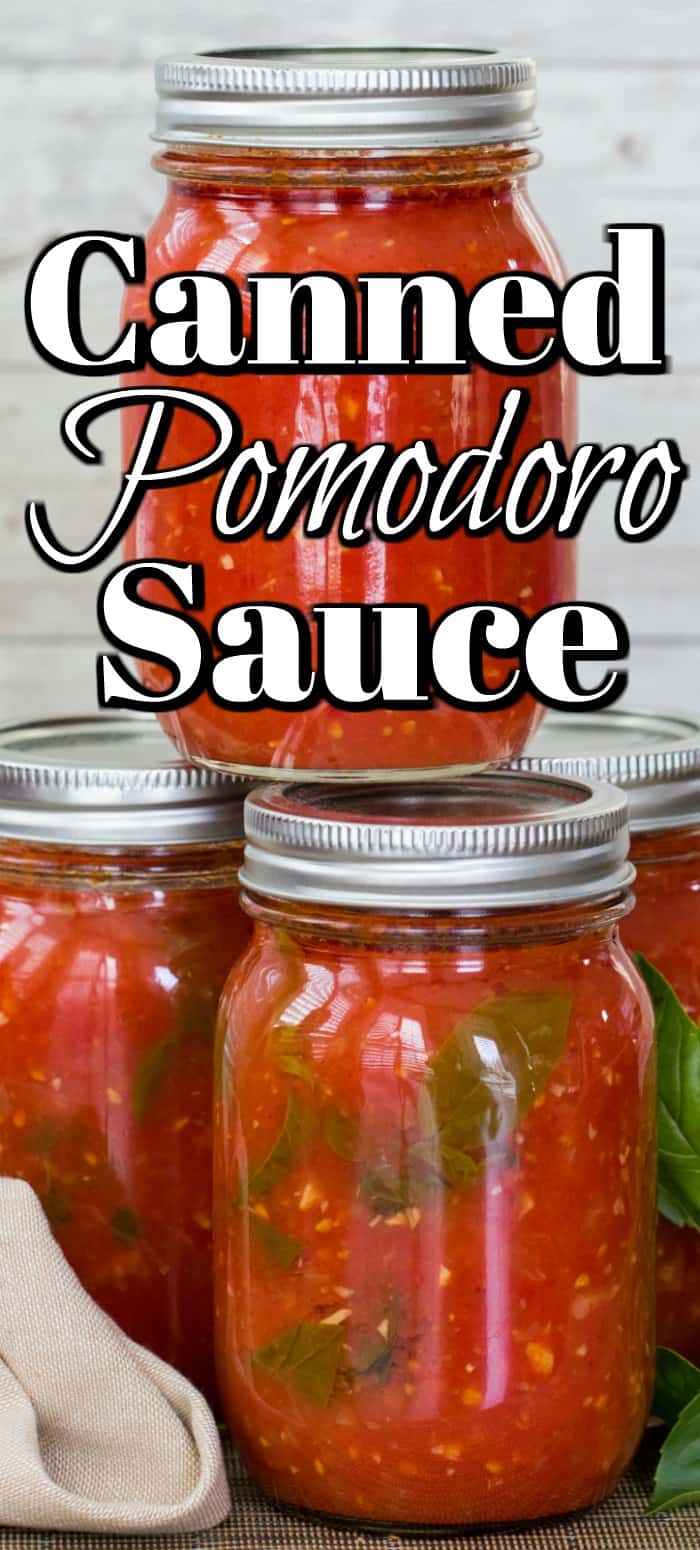 Canned Pomodoro Sauce Recipe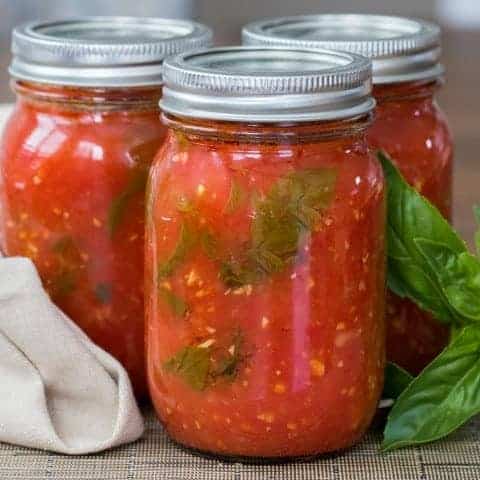 Canned Pomodoro Sauce
Yield: 6- 500 ml. jars
Prep Time: 45 minutes
Cook Time: 1 hour 10 minutes
Total Time: 1 hour 55 minutes
Canned Pomodoro Sauce is made when tomatoes are at the height of their growing season so you can enjoy them all winter long in pastas, soups, stews and more.
Ingredients
10 lbs. Roma tomatoes, peeled
4 sweet or regular onions, medium-sized, cut into chunks
16 cloves garlic
1/2 cup extra virgin olive oil
1/2 - 1 tsp. crushed red chili flakes
1/4 cup sugar
Kosher salt (or pickling salt)
Freshly ground pepper
Sprigs of fresh basil or oregano
Serving the sauce
Dollop of butter
Freshly grated Parmesan cheese
Fresh basil, optional
I tsp. lemon juice for each jar
Instructions
In a food processor add the onions and garlic and whirl to mince. Remove the vegetables, set aside and rinse the container.
Add the tomatoes in batches and whirl to puree. Set aside.
In a large pot add the olive oil over medium-high heat. Add the onions and garlic and cook until tender. While cooking season with salt and pepper.
Add in the tomatoes, red pepper flakes, sugar and salt and pepper to taste. Cook for 20-30 minutes or until thickening.
While the sauce is cooking get your canning supplies ready. I usually have my jars run through the dishwasher before I start to use them. Then sterilize them in boiling water for 5 min. along with the rims and lids. Maybe some overkill there but I like to be safe than sorry.
Add a fresh sprig of basil or oregano to each jar. Add in 1 tsp. lemon juice. Fill the jars with the tomato sauce to about 1/2" headspace. Wipe the rims and place the lids on and rims to fingertip tight.
Process in a boiling water bath covering with at least 1" of water for 30 min. for elevations of 1000-3000 ft., 3,001 to 6,000 ft. for 35 minutes, etc. according to the chart given. Use a proper canning pot with a rack inside. Don't have jars touching directly on the bottom of the pot.
Remove jars to a towel-lined counter and make sure they make a "popping" sound so that the lids are sealed.
When heating up the sauce add a dollop of butter and Parmesan cheese with a fresh sprig of basil. Remove the basil and serve with your favorite pasta, in soup, etc.
Notes
*Use Kosher salt or pickling salt when canning. Iodized table salt will turn your canning an off-color.
Recommended Products
As an Amazon Associate and member of other affiliate programs, I earn from qualifying purchases.
Nutrition Information:
Yield: 12
Serving Size: 1
Amount Per Serving:
Calories: 195
Total Fat: 11g
Saturated Fat: 2g
Trans Fat: 0g
Unsaturated Fat: 8g
Cholesterol: 3mg
Sodium: 84mg
Carbohydrates: 24g
Fiber: 5g
Sugar: 16g
Protein: 4g
Recipe calculation was provided by Nutritionix and is an estimation only. If you need nutritional calculations for medical reasons, please use a source that you trust.