We love to can on Noshing with The Nolands, and it shows!! There are loads of recipes here on the blog, plus we also show you some techniques and helpful tips. We loved making these Easy Pickled Carrots to add to our ever-growing collection.
A couple of days ago we shared with you how to make the best Easy Pickled Beets Recipe. These are stowed away with the carrots now in our cellar to be enjoyed all winter long.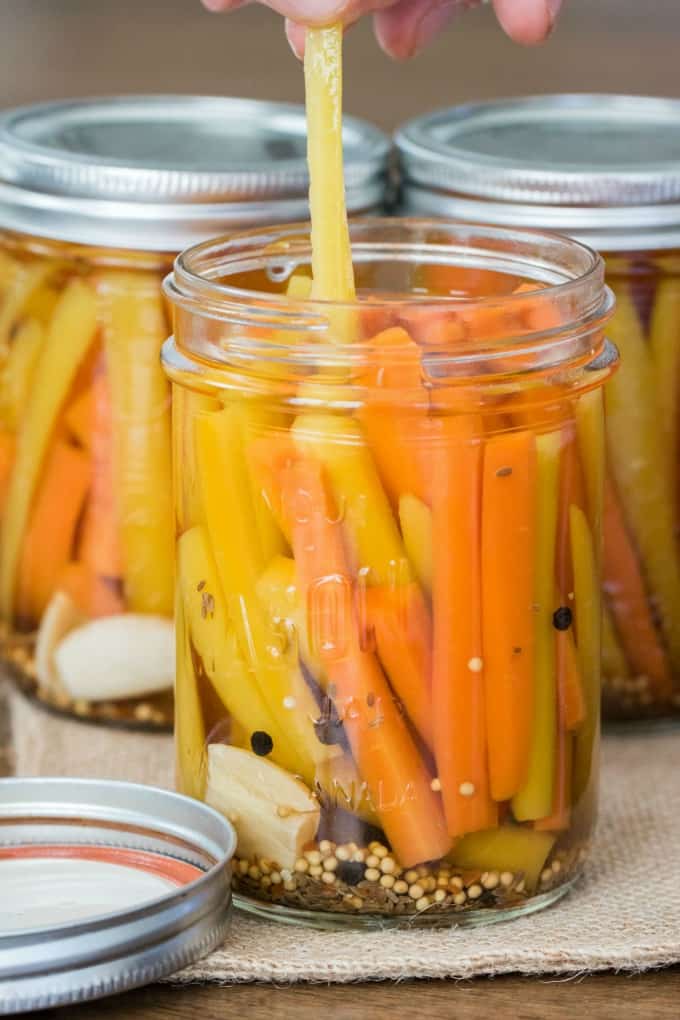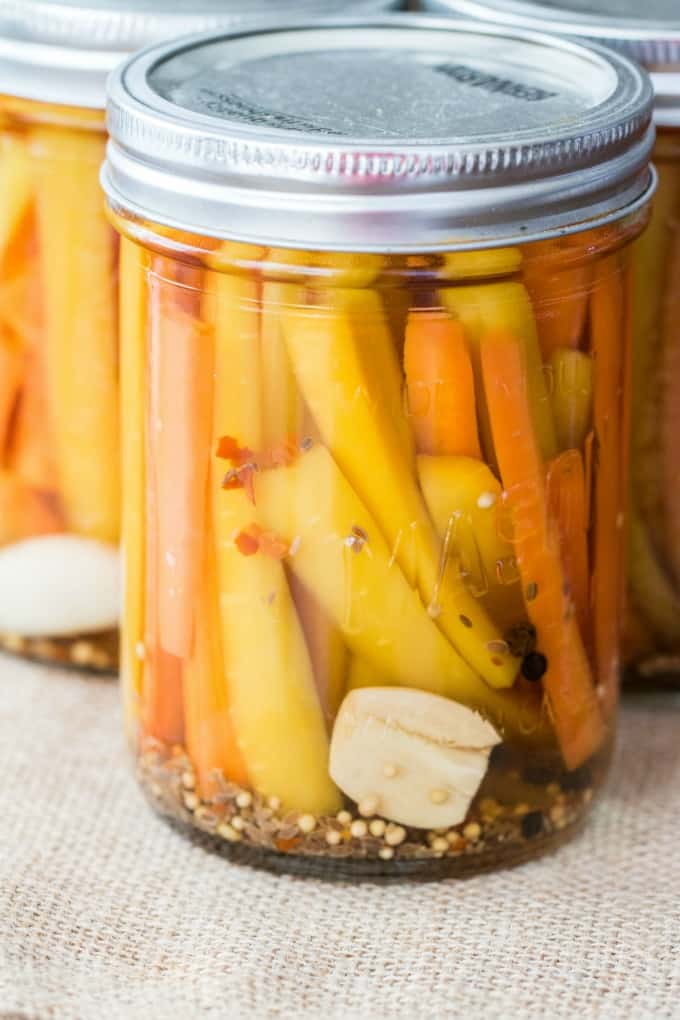 Besides the Easy Pickled Beets Recipe, we shared with you the other day, here are some more of our wonderful canning and preserving recipes. Our site has become kind of noted for our canning recipes and quick pickling. I know a lot of people are enjoying them.
OTHER CANNING RECIPES
Simple Easy Homemade Canned Tomatoes
Blanch the Carrots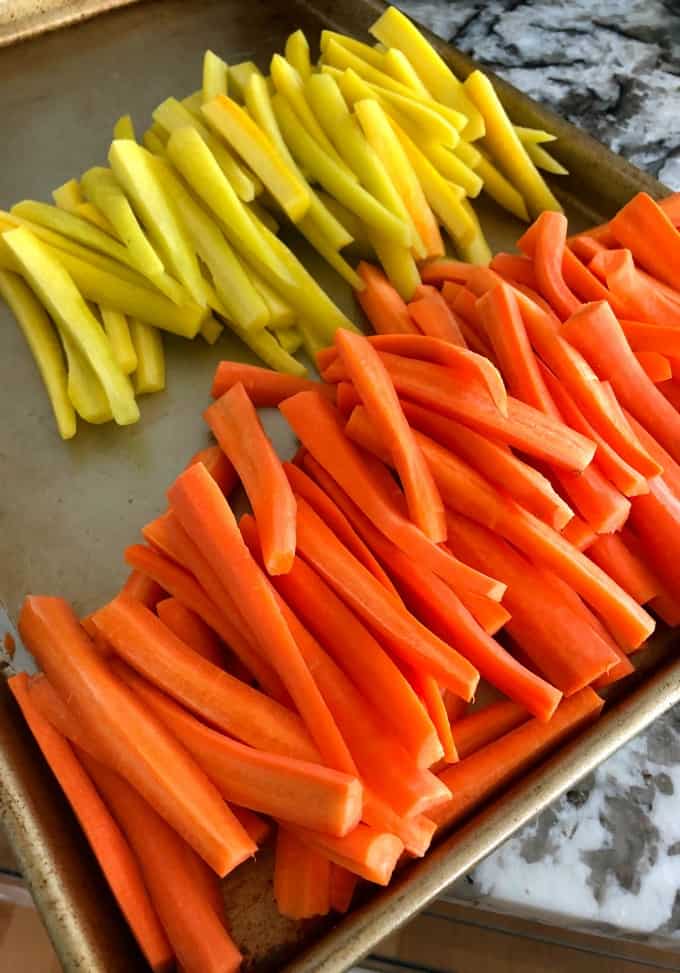 Before the carrots can be pickled they need to be blanched. Blanching is a term that means to plunge a fruit or vegetable into boiling water for a short period of time before transferring it to an ice bath.
This then quickly stops the cooking and leaves the fruit or vegetable slightly tender but still crunchy.
We cooked our carrots for 2-3 min. Don't overcook them or you will have limp carrot sticks.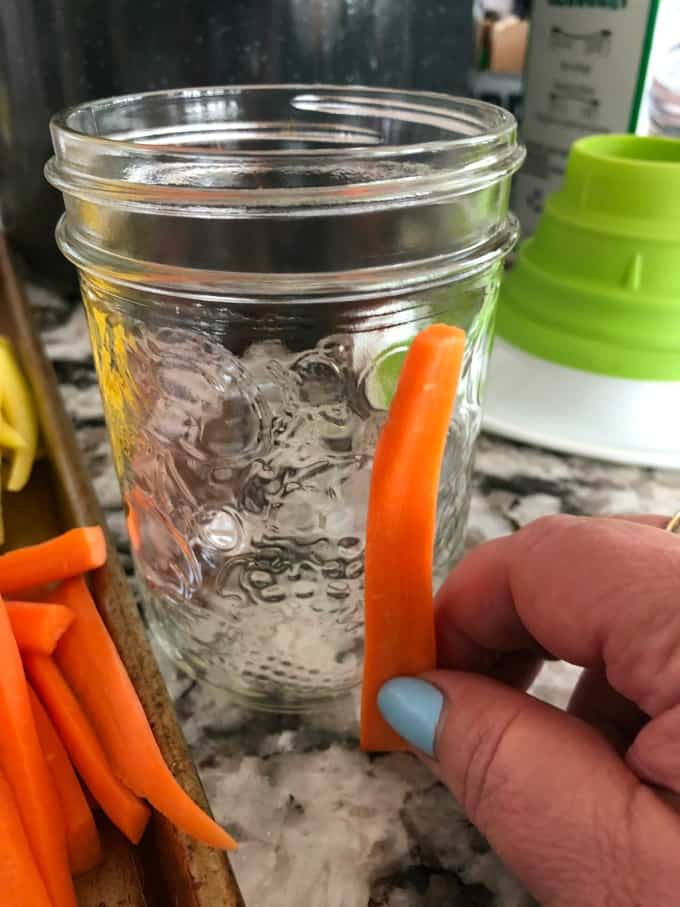 For the carrots we first need to wash, peel and trim them to the correct height of the jar, cutting them into thin carrot sticks. Just simply measure them up the height of the jar and then proceed to cut the others similarly.
Have your jars sterilized and ready to go, keeping them still hot. I put mine through the dishwasher and then into boiling water for 5 min. along with the lids and rings. If not using right away you can leave them in a 200F. oven.
How to Pickle Carrots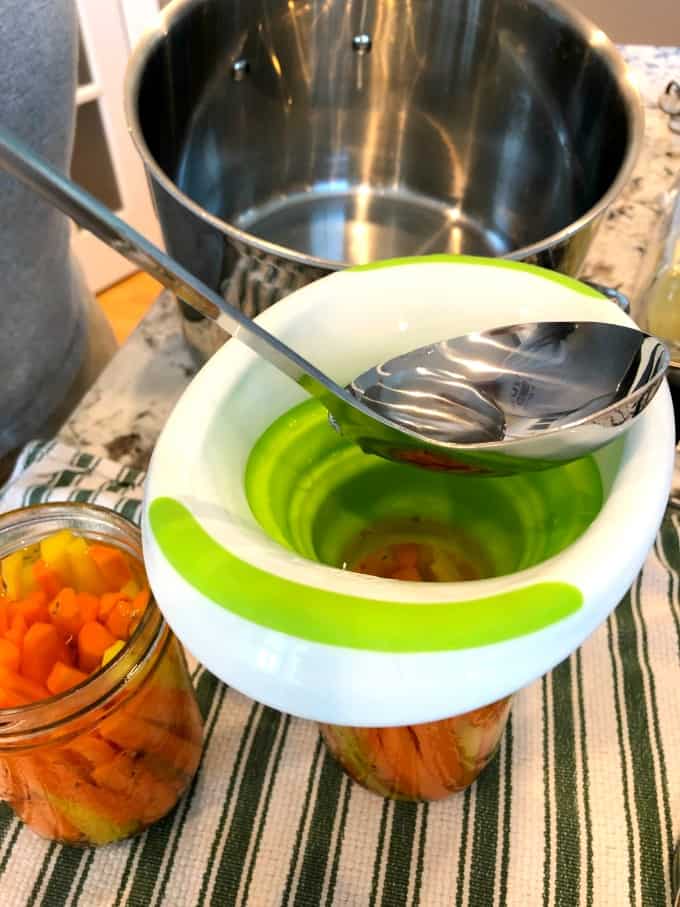 Pickling carrots requires some basic ingredients, white vinegar, water, spices, sugar and salt. Some recipes ask for sugar. I don't like them too sweet but just enough to balance the vinegar.
For spices, for the recipe, we did a custom blend. Some recipes ask for pickling spices that you can get in the grocery store. They usually include cinnamon, allspice, mustard seed, coriander, bay leaves, ginger, chilies, cloves, black pepper, mace, and cardamom or some variation of those spices.
For our recipe today we used dill seed, mustard seeds, black peppercorns, and red chili flakes. Plus a clove of garlic for each jar. This was the perfect amount and combination for our carrots. I just love them. They aren't spicy at all but tangy!
The brine of white vinegar, water, salt, and sugar is combined and put to a boil for 5 min.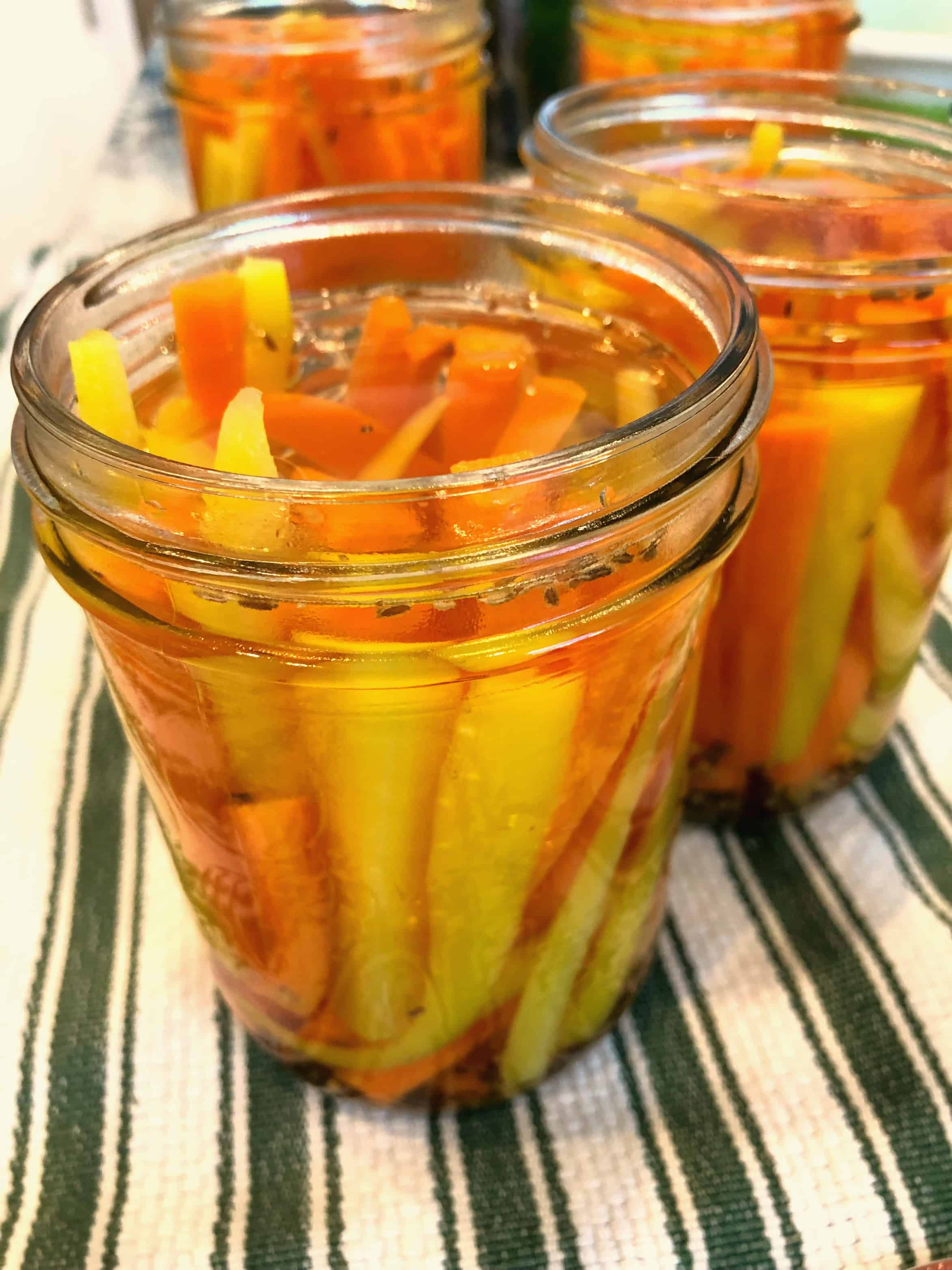 The spices are divided among the four hot sterilized jars and the garlic cloves are also added. Then the blanched carrots are stacked tightly into the jars.
The hot brine is poured into the jars using a funnel. The lids are then added and the rings are screwed on to fingertip tightness. Now to finish them they are off in a hot water bath!
How to Quick Pickle Carrots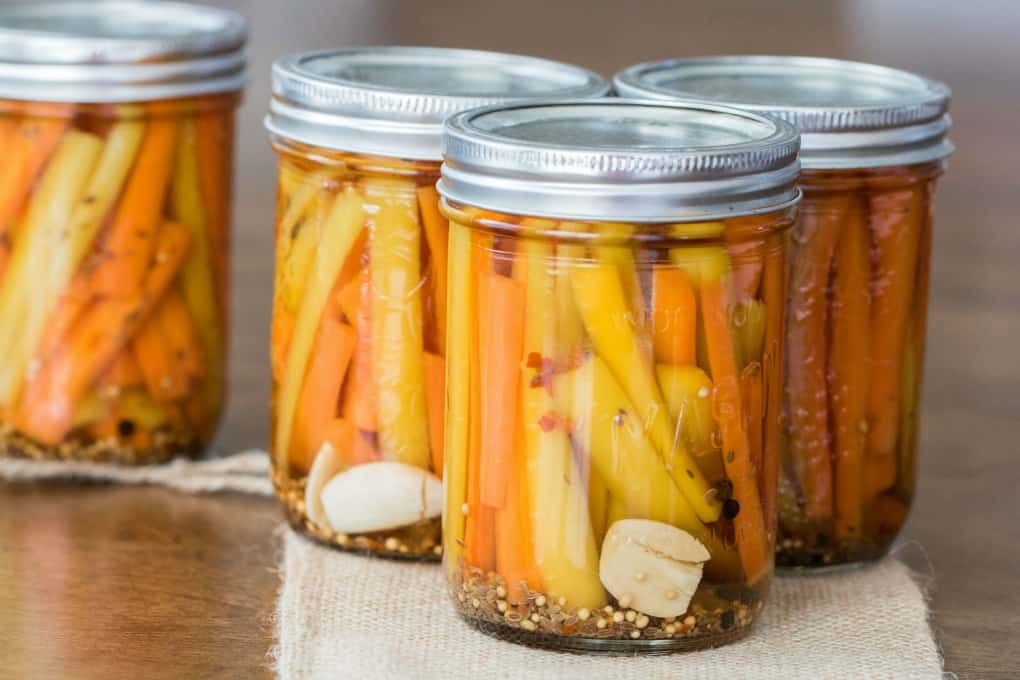 To quick pickle just simply means to place in a brine and refrigerate. There is no need to do a water bath, but your produce will only last for a few weeks I have found, so make smaller batches.
I love doing quick pickling on onion, fennel, and pickles!! But I also really enjoy canning too. It is all about preserving summer's bounty. They just need to sit for 24 hours before diving in.
You will see the difference as they age more and more and take on more of the spices as you eat them.
Using both yellow and orange carrots give the jars such a lovely appeal; there are white and purple carrots too I see that would be a pretty addition also.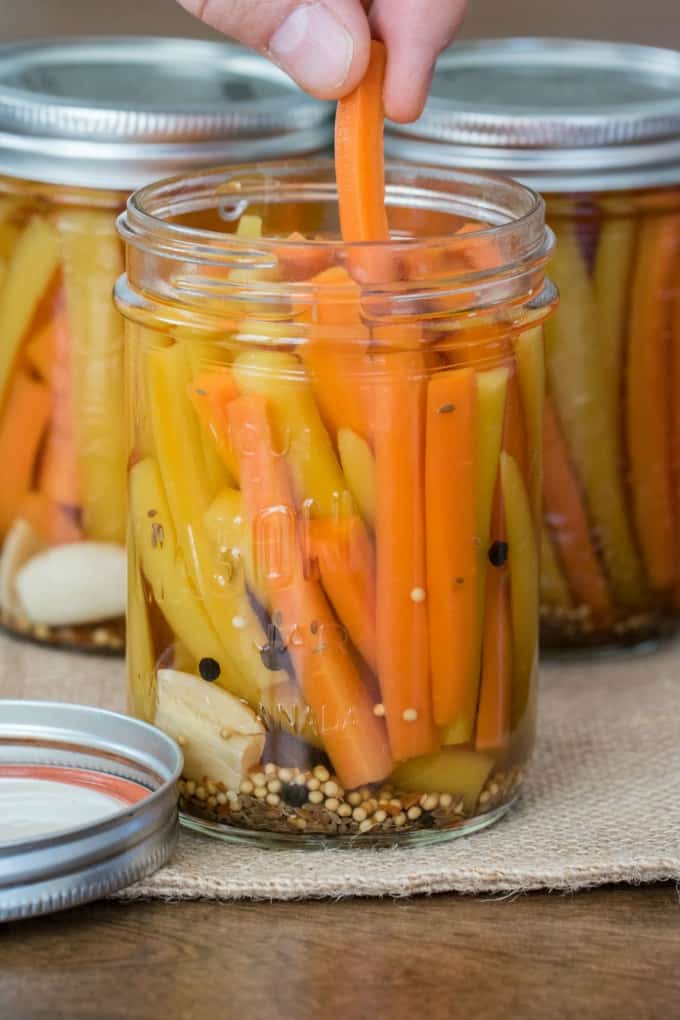 Now time for the water bath! Sign up for the helpful guide below to adjust to altitude. We have to do that here in Calgary.

Process at a rolling boil for 10 minutes at sea level or 15 minutes at over 3000 ft altitude which is where we are in Calgary.
How to Pickle Carrots Vietnamese Style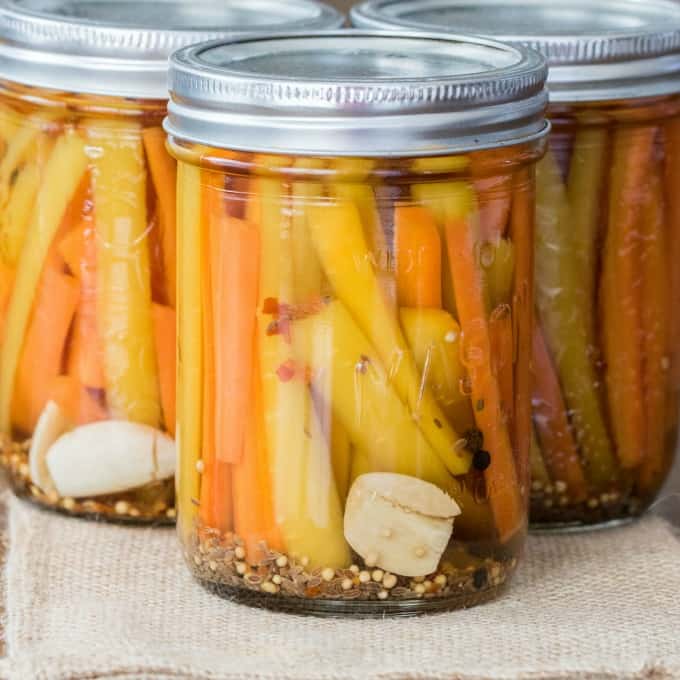 I don't have a recipe on this site for carrots Vietnamese style, but I love them in a Vietnamese sub, a salad roll or on a salad! They seem very simple to do and I want to try them soon.
The ingredients for them are carrots, daikon, rice wine vinegar, water, sugar, and salt. Here is a recipe for them but I want to try and make them soon!!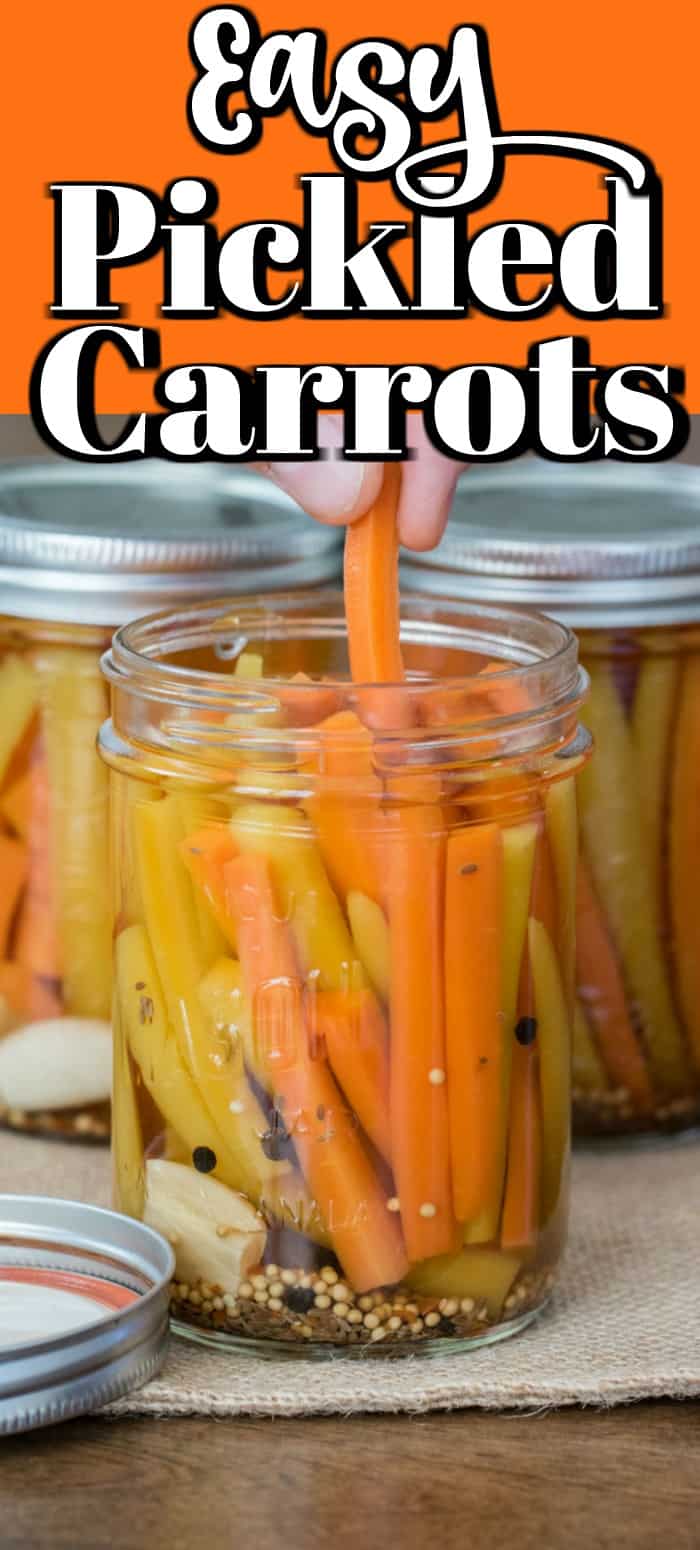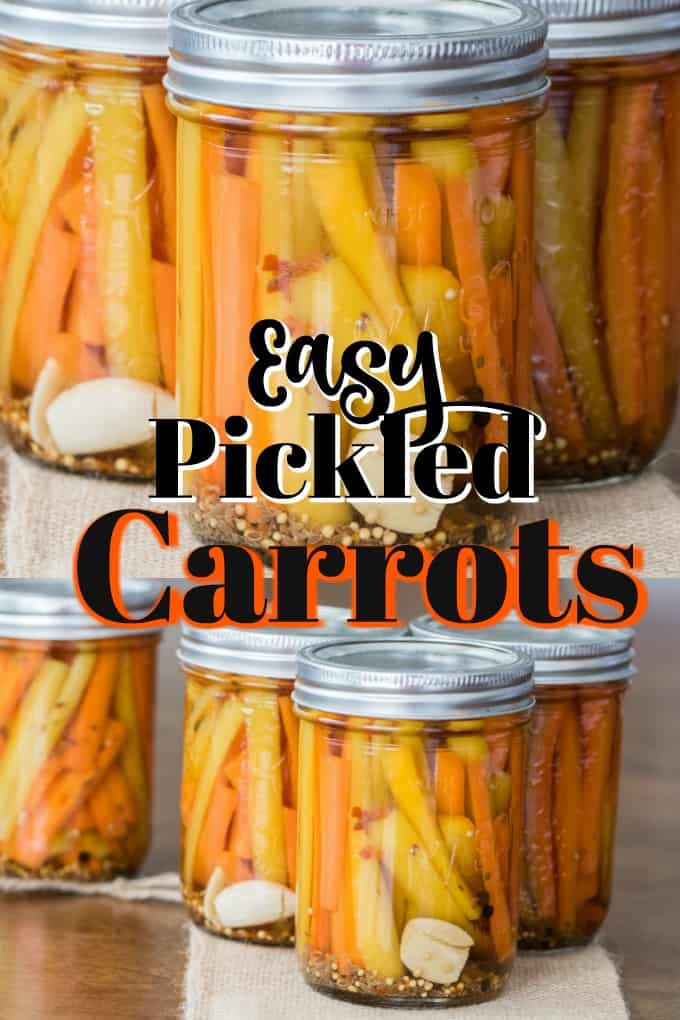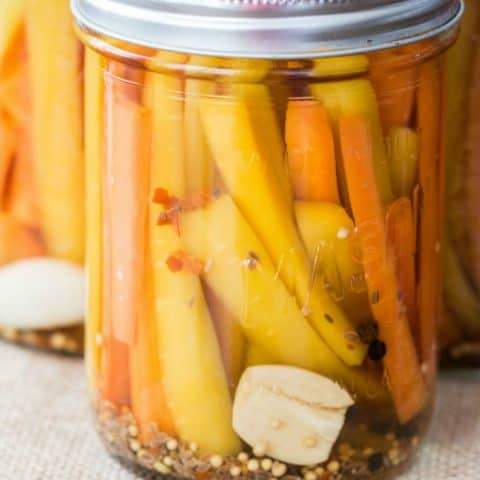 Easy Pickled Carrots
Yield: 4 - 500 ml. jars
Prep Time: 20 minutes
Cook Time: 27 minutes
Additional Time: 14 days
Total Time: 14 days 47 minutes
Easy Pickled Carrots are a delicious way to preserve summer's bounty so that you can enjoy them all winter long. Once you understand the techniques of canning they are so easy to make!
Ingredients
5 lbs. carrots, multi-colored or orange
3 cups white vinegar
3 cups of water
3 Tbsp. Kosher salt
1/2 cup sugar
4 tsp. dill seeds
2 tsp. mustard seeds
2 tsp. black peppercorns
1 tsp. red chili flakes
4 cloves garlic, cracked
4 sterilized 500 ml. pint jars
Instructions
Sterilize jars; I run mine through the dishwasher and then into boiling water for 5 min. including the lids and rings. If doing ahead of time keep then warm in a 200F. oven.
Bring a large pot of water to boil to blanch the carrots.
Prepare carrots by washing, peeling and cutting into thin sticks. Measure them up to the jars to make sure they fit.
With the water at a full boil drop the carrots in and cook for 2-3 min. until tender-crisp.
Drain the carrots quickly and immerse them in an ice-water bath. Drain.
Add vinegar, water, salt, and sugar to a large pot and bring to a boil, cook for about 5 min or until salt and sugar are dissolved.
Divide spices between jars and add 1 garlic clove per jar. Pack in carrots tightly.
Pour the hot brine into the jars using a canning funnel, leaving a 1/2" headspace.
With a knife or skewer remove any air bubbles.
Wipe the lids and place the lids on and the rings. Screw to fingertip tightness.
Place in a water bath for 10 min. at sea level or according to altitude adjustment.
Recommended Products
As an Amazon Associate and member of other affiliate programs, I earn from qualifying purchases.
Nutrition Information:
Yield: 30
Serving Size: 1
Amount Per Serving:
Calories: 48
Total Fat: 0g
Saturated Fat: 0g
Trans Fat: 0g
Unsaturated Fat: 0g
Cholesterol: 0mg
Sodium: 743mg
Carbohydrates: 10g
Fiber: 2g
Sugar: 6g
Protein: 1g
Recipe calculation was provided by Nutritionix and is an estimation only. If you need nutritional calculations for medical reasons, please use a source that you trust.