I have a love for fennel, always have! For me there's nothing better than a fennel that is baked with butter and Parmesan cheese on top, I must share that recipe with you soon. So I wanted to try a cold recipe with fennel as I also enjoy it in a salad. So I made for you, How to Make Quick Pickled Fennel.
We first had this well, right out of the jar with some cheese and crackers for lunch. We then enjoyed lots of the quick pickled fennel with grilled salmon.
This would be great in salads too, topped on burgers or stuffed into a sandwich with Italian meats. Try our Quick Pickled Radishes (Sweet & Spicy) too!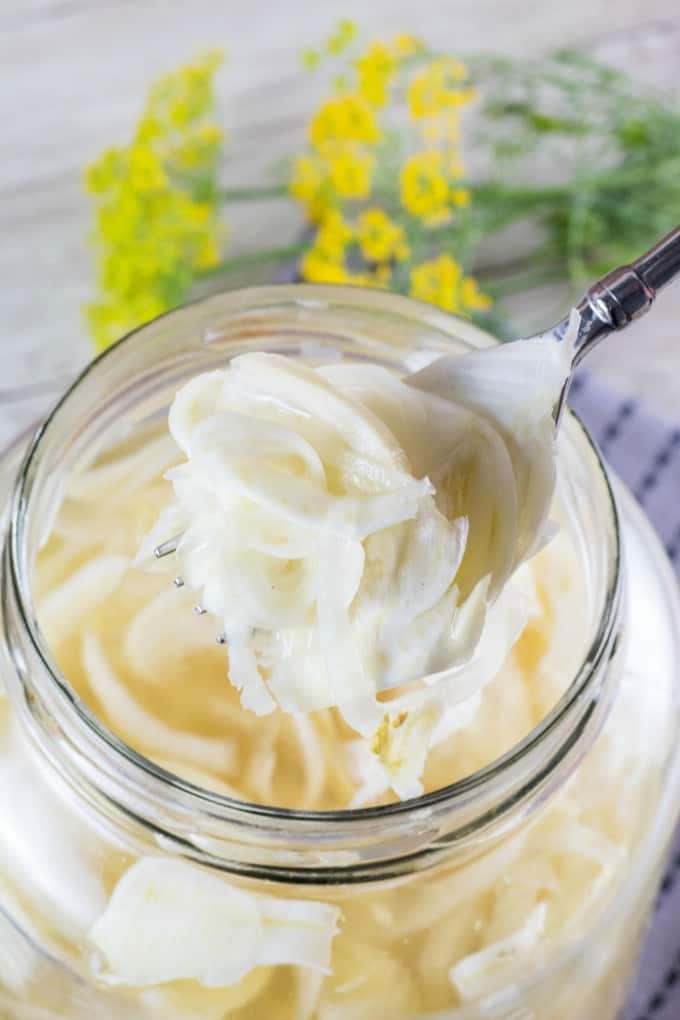 I love the flavor of fennel which is anise-like but it doesn't impart a licorice taste but a freshness onto its own when added to other dishes.
When pickled it stays crunchy and lively. The aroma of it is very appealing also.
This vegetable can be eaten "nose to tail" which we usually refer to an animal but in the same sense all of this plant is edible. The entire bulb is edible along with the fronds which are so good as a garnish too.
The bulb, foliage, and seeds of the fennel plant are used in many of the recipes from around the world. The bulbs are mild and crunchy in texture similar to celery. Fennel can be sautéed, stewed, braised, grilled, or eaten raw.
The flower heads and leaves of the fennel plant closely resemble dill. The small flowers of wild fennel, which is know as fennel "pollen", is the most potent form of fennel but also the most expensive.
Fennel is easily accessible at most grocery stores and in my opinion a very under-utilized vegetable.
How to Pickle Fennel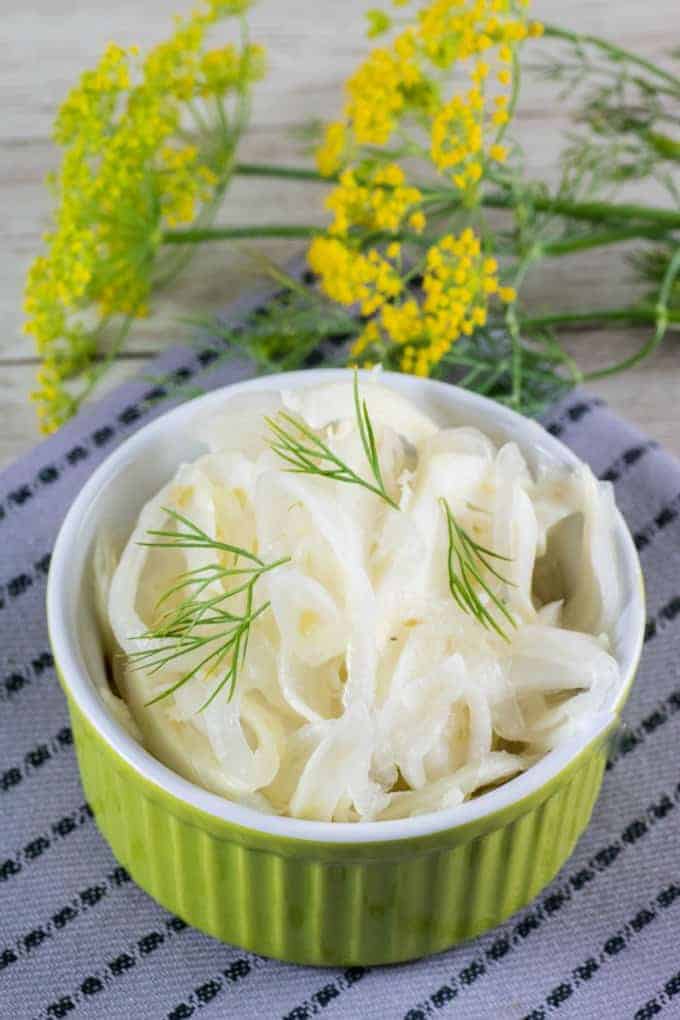 I have a great quick pickling glass jar that I use all summer long to make quick pickles and so much more in. It seems to be in use all the time.
It is a good size of 8 cups, not too large and I have included a link for you above with that exact size.
To start your recipe you need to slice your fennel bulbs and sweet onion with a mandolin for best results. If you don't have one of these slicers they are also a very good investment.
They are inexpensive and once you have one you will be using it for recipes like scalloped potatoes and so much more!!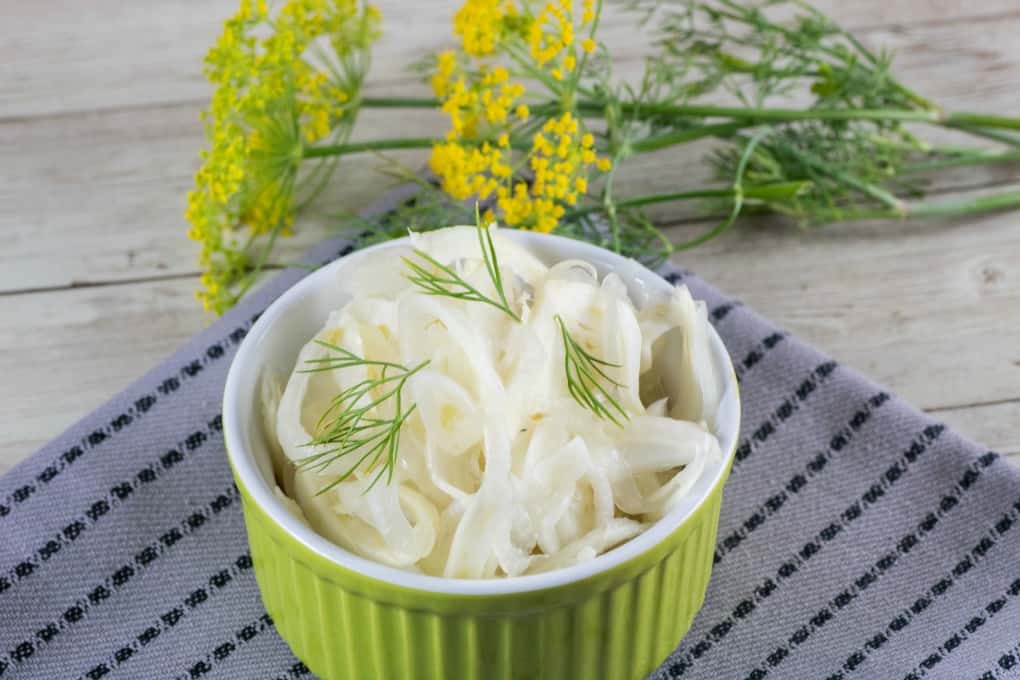 Add your sliced fennel and sweet onions to the jar and then make up your brine.
Add the brine ingredients to a medium saucepan and bring to a boil; stirring to dissolve the sugar and salt, reduce to simmer for 5 minutes. Then pour the hot brine over the sliced fennel to cover.
Cool to room temperature, place on a tight-fitting lid on and refrigerate.
That's it, you now have your fennel pickling. I like to leave it for a full 24 hours before I start to dive into it.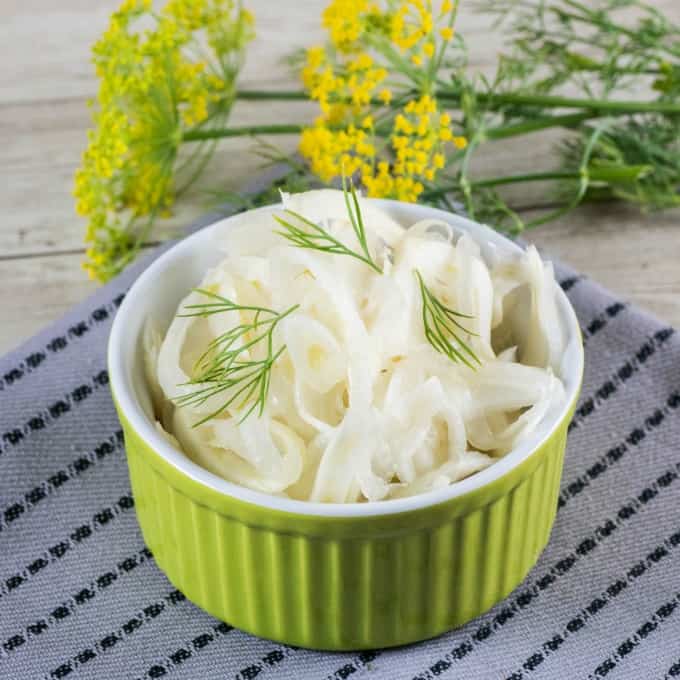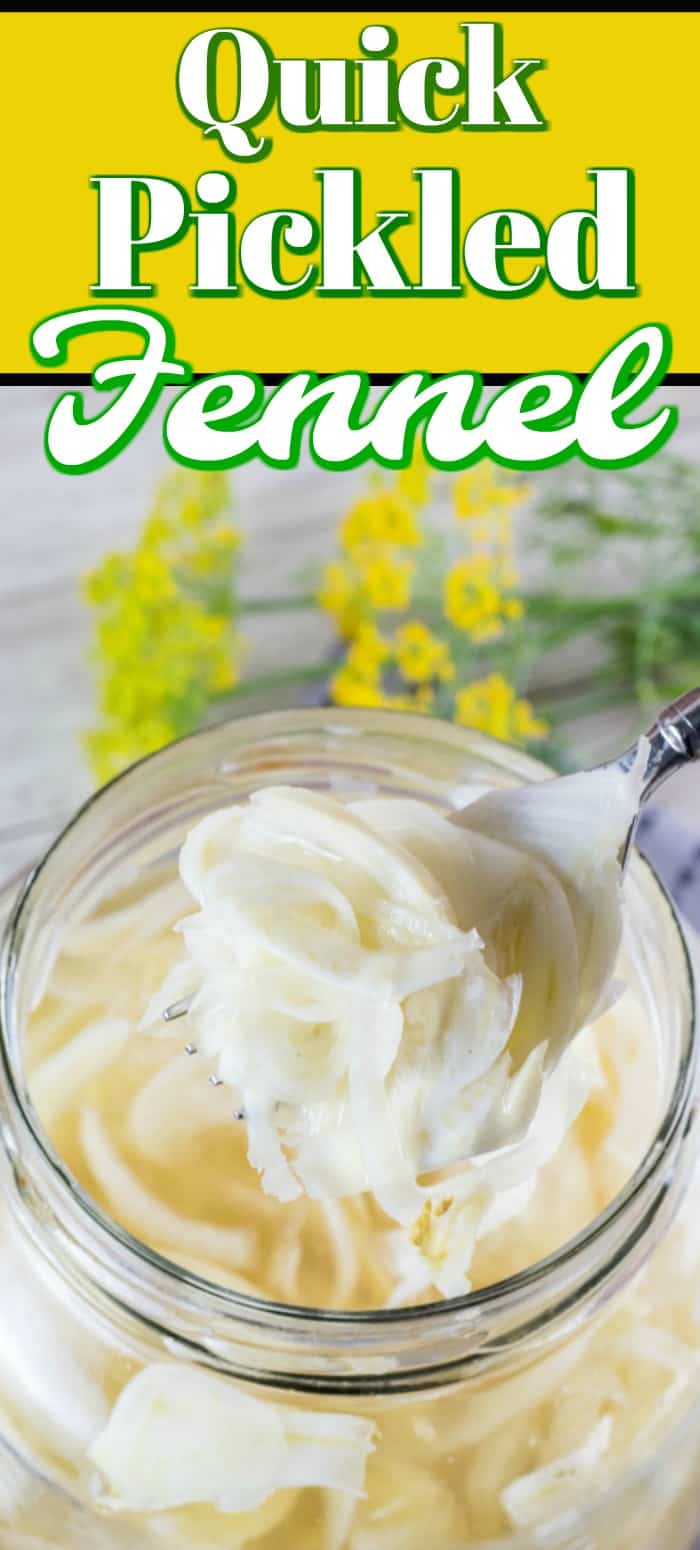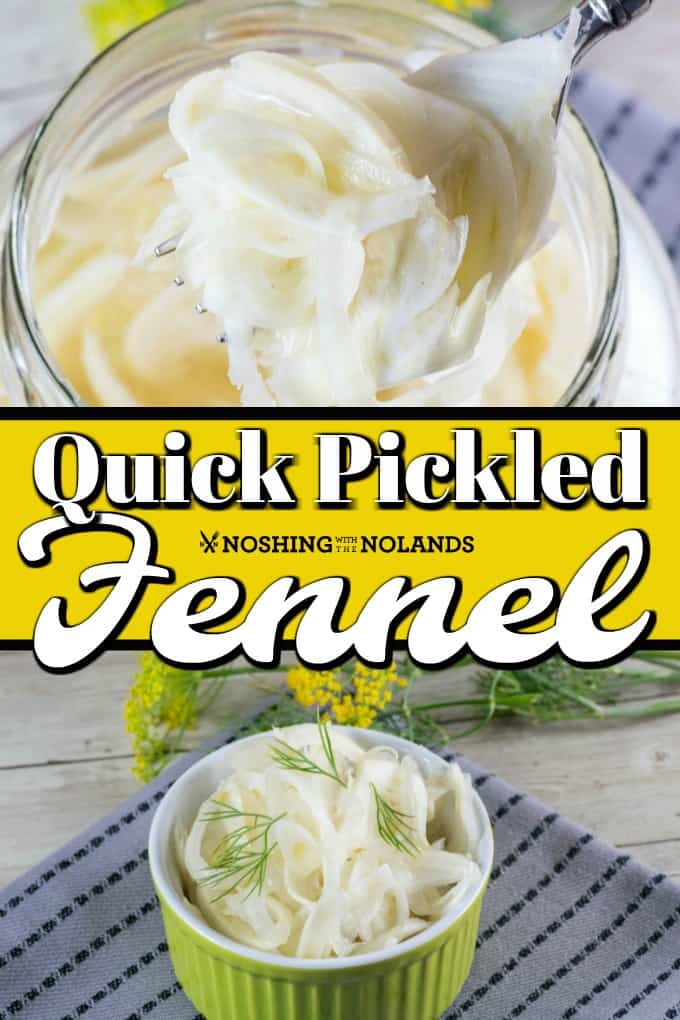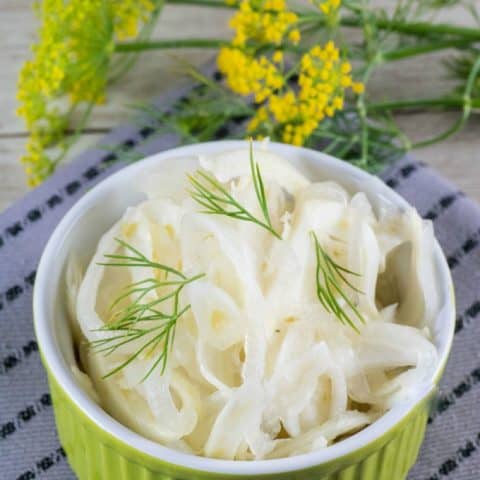 How to Make Quick Pickled Fennel
Yield: 6 cups
Prep Time: 15 minutes
Cook Time: 5 minutes
Additional Time: 1 day
Total Time: 1 day 20 minutes
How to Make Quick Pickled Fennel is easy and perfect for a tangy side to many dishes like salads, sandwiches, fish and just straight out of the jar.
Ingredients
Brine
1/2 tsp. fennel seeds, slightly crushed
1 tsp. black peppercorns
2 star anise
2 cups white vinegar
1 cup water
1/2 cup sugar
2 Tbsp. Kosher salt
1 tsp. dried orange peel or two 1" strips of orange peel
Fennel and Onions
2 large fennel bulbs, sliced thin on the mandoline
1 medium sweet onion, sliced thin on the mandoline
Instructions
In a medium saucepan add in the fennel seeds, anise, peppercorns, vinegar, water, sugar, salt and orange peel.
Bring to a boil and stir to dissolve the sugar and salt. Reduce heat and let simmer for 5 min.
While the brine is simmering, add the sliced fennel and onion to the jar or bowl with a lid.
Pour the brine through a fine mesh sieve and into the jar to cover the fennel completely. Run a knife around the edge inside the jar to release any air bubbles. Add more brine if needed or discard if you have too much. It will depend on the shape and size of your container and how large your fennel bulbs are.
Let cool, seal tightly and then refrigerate. Wait 24 hours to serve.
Will last up to 2-3 weeks in your refrigerator.
Recommended Products
As an Amazon Associate and member of other affiliate programs, I earn from qualifying purchases.
Nutrition Information:
Yield: 16 servings
Serving Size: 1
Amount Per Serving:
Calories: 41
Total Fat: 0g
Saturated Fat: 0g
Trans Fat: 0g
Unsaturated Fat: 0g
Cholesterol: 0mg
Sodium: 881mg
Carbohydrates: 9g
Fiber: 1g
Sugar: 8g
Protein: 0g