Some of you might know that with our recent kitchen renovation I went to an induction cooktop. I am loving it but not the sudden reduction in my cookware!! Only pans that are magnetic work on an induction cooktop so I lost about half my pots and pans. One of my favorites was a large saute pan.
Calphalon to the rescue!!! They kindly agreed to send me this gorgeous lidded saute pan, the Calphalon Contemporary Stainless 5 Quart Sauteuse Pan for review.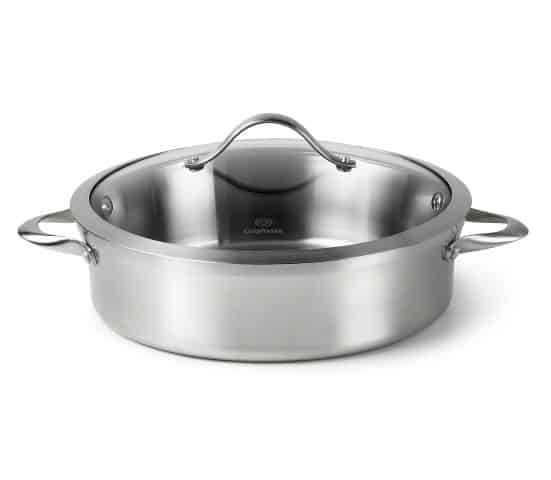 I was thrilled, I really love good quality cookware and this beautiful brushed stainless steel pan sure fit perfectly in my new stainless steel kitchen. Looks aren't the only thing I loved about this, it has fantastic conductivity and even heating.
I wanted to make a show stopper of a dish that could be cooked on the stove top or put into the oven. This pan can with stand temperatures up to 500F and is broiler safe, pretty much great for anything I will be cooking.
I chose this drool worthy recipe by Martha Stewart. I only changed a few things as the recipe looked so good. I love chicken thighs and used that instead of a whole chicken. I also finished the cooking on the stovetop, no need to heat the oven up for a short time, especially with the warmer weather.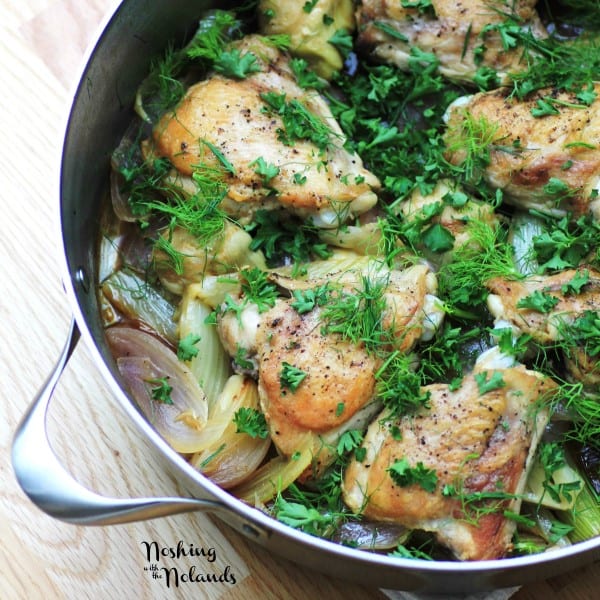 It is full of springtime flavors, I love fennel and artichokes!!!
Another joy of this pan is the perfectly fitted lid. My other pan didn't have one and I was always make shifting something to use.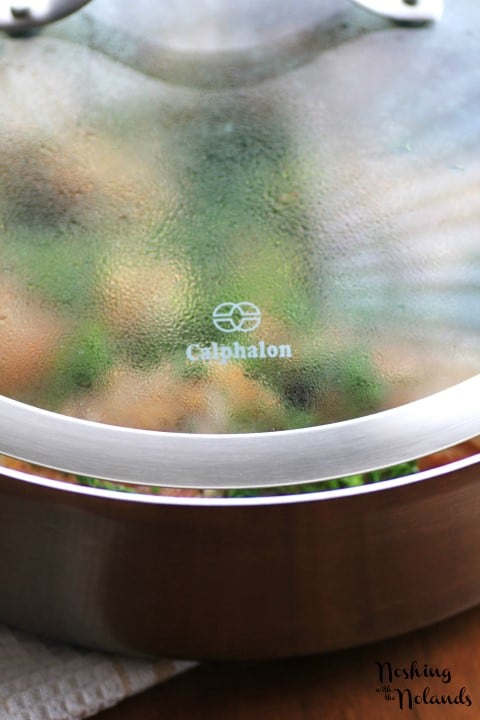 This recipe was a sure fire winner in this house, I love one pan dishes, but this one just seemed to be upped a level but not in difficulty but taste. So easy to make in my new Calphalon saute pan!!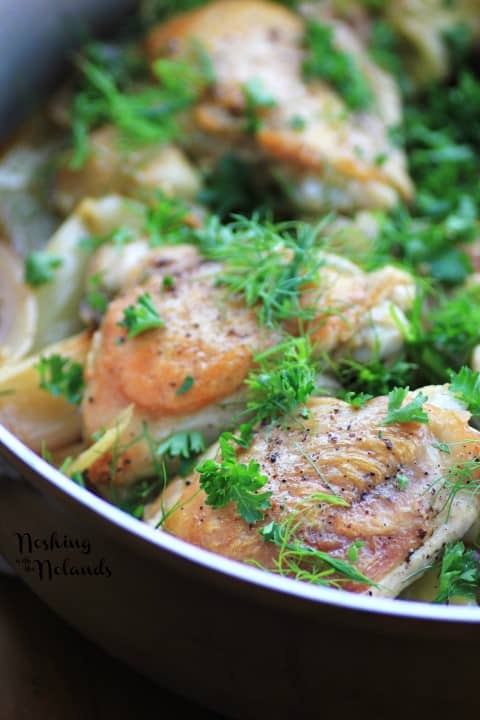 Clean up couldn't be simpler too as the pan is dishwasher safe. Now I need to replace more of my missing cookware with Calphalon!!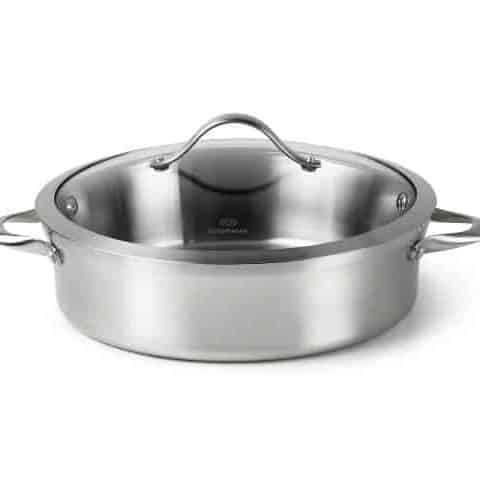 Chicken, Fennel and Artichokes with #Calphalon
Yield: 4
Prep Time: 20 minutes
Cook Time: 30 minutes
Total Time: 50 minutes
A gorgeous one pot meal with all the flavors of spring!!
Ingredients
6 skin on, bone in chicken thighs
Coarse salt and freshly ground pepper
1 Tbsp. olive oil
1 fennel bulb, trimmed and cut into 1/4" wedges, 1/4 cup fronds reserved
11 15 oz. water-packed whole artichokes hearts, drained
1 small red onion, cut into 1/2 " wedges
1 cup chicken stock
1 Tbsp. red-wine vinegar
3 Tbsp. curly parsley, coarsely chopped
Instructions
Season chicken with salt and pepper. Heat oil in a large saute pan over high heat, add the chicken and brown on all sides, 8-10 minutes. Transfer to a plate. Remove fat, leaving 1 Tbsp. of drippings. Reduce heat to medium and add fennel wedges, artichokes and onions, stir and cook for 2-3 min. until slightly browned.
Return chicken to skillet along with any juices and add stock. Cover with a lid and reduce heat to medium low, continue to cook for 18-20 min. until the chicken is cooked through.
Remove chicken and vegetables to a serving platter. Bring liquid up to a rapid boil, stir in vinegar and reduce to about 1/3 cup. Pour sauce over the chicken and garnish with the fennel fronds and parsley.
Recipe adapted from
Martha Stewart