Lobster Pot Pie
We were recently out for dinner with friends to celebrate Ken's birthday. We went to one of the nicer restaurants in town and Dave, my girlfriend Deb's husband ordered the Lobster Pot Pie, the presentation was very nice but the filling was unimpressive.
Ken thought about this and went about creating his own recipe with a few suggestions from moi thrown in here and there.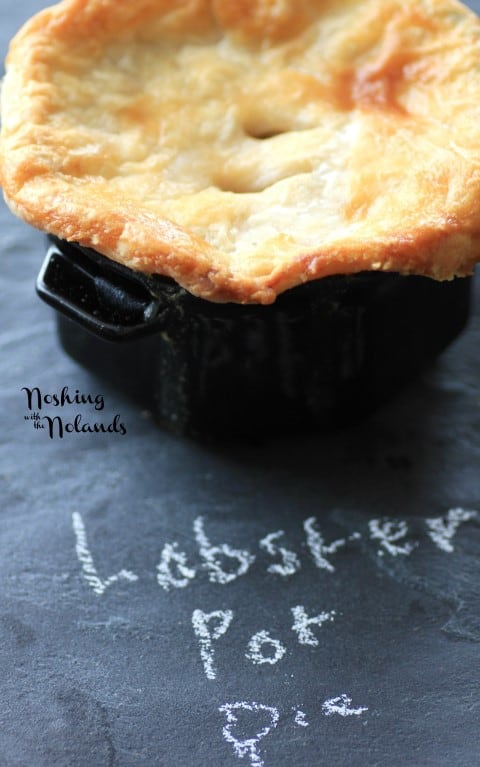 The result was magnificent. The best pot pie I had ever had. Scrumptious, perfectly cooked pie crust with flavorful seafood blend of lobster and scallops in with a medley of veggies and a creamy wine broth. Oh yes, it was yumster!!
Big chunks of veggies and the entire dish is perfumed with the luscious taste of lobster!!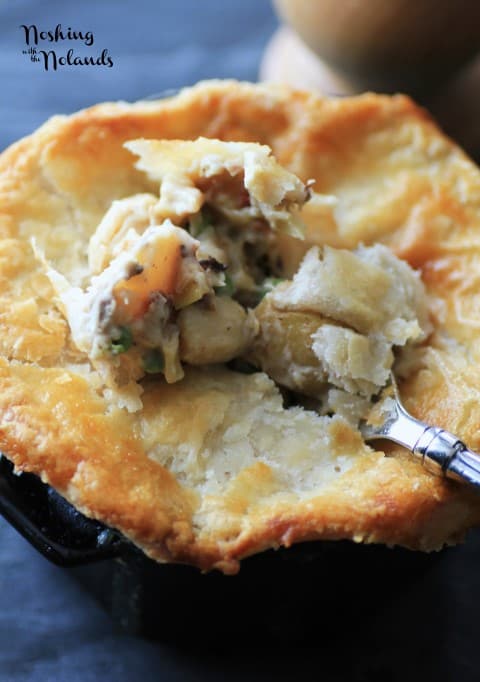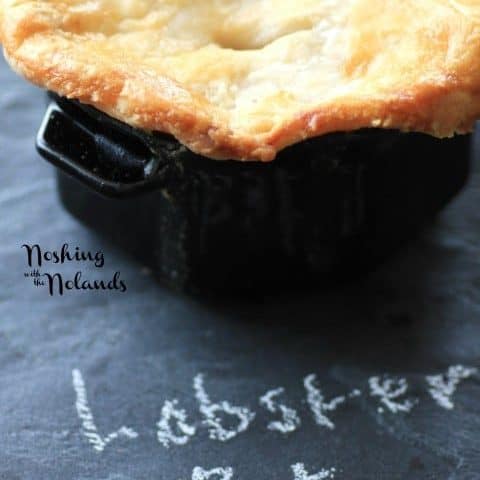 Lobster Pot Pie
A luscious and indulgent lobster pot pie!!
Ingredients
6 slices bacon
3 Tbsp. butter, divided
8 oz. scallops, quartered or halved depending on the size
2 cups leeks, sliced, white and light green only
8 oz. small new potatoes, quartered or halved depending on size
1 1/2 cups sliced fresh mushrooms
1 large garlic clove minced
3/4 cup dry white wine
2 cups fish or seafood broth
1/2 cup whipping cream
3 Tbsp. flour
3 Tbsp. water
1/2 cup frozen peas, thawed
2 cups cooked lobster meat, chopped
1 Tbsp. tarragon, chopped
Salt and pepper to taste
1 large egg, lightly beaten
Instructions
Cook the bacon in a large saute pan until crisp, remove from pan, drain on paper towels. Reserve the drippings in the pan.
In another small fry pan cook the scallops in the 1 Tbsp. of butter on medium high heat until just cooked. Remove from pan and set aside.
Add the 2 Tbsp. butter to the pan with the bacon drippings. Stir in the potatoes and leeks. Stir until the leeks begin to soften. Add the mushrooms and garlic and continue to cook for about 5 min., stirring occasionally.
Add the wine to the skillet and increase the heat and cook for about 4 min. Stir in the broth and cook for about 15 min. until broth is reduced by half and the potatoes are tender. Stir the flour and water together and add to the pan, continue to cook until thickened. Add the whipping cream and stir to combine. Remove the pan from the heat and stir in the bacon, lobster, peas, tarragon, scallops and salt and pepper.
Preheat oven to 400F. Divide seafood mixture evenly among 4 ovenproof dishes. Roll out the pastry to a 13 x 11" rectangle and then cut into 4 pieces. Gently place one piece of pastry on top of each bowl. Press to seal onto bowl. Make two slits in each pie pastry to vent and paint with egg. Bake for 20 min. on a rimmed baking sheet, until golden brown. Serve at once.