Cherry Blueberry Pie
The "pie guy" is at it again with this beautiful lattice pie!! Ken loves making pies and when he saw that I had used only a small amount of cherry pie filling from a can he wanted to make a pie.
He bought another can and then added some fresh blueberries to give it a punch of fresh flavor. This was a beautiful pie!!
I can't wait until we start to get some fresh local produce. It will still be some time but I am so looking forward to the farmer's markets being filled with local produce.
I love a day at the market and appreciate so much more as we have such a short growing season. It is coming soon!! Enjoy this pie for now!!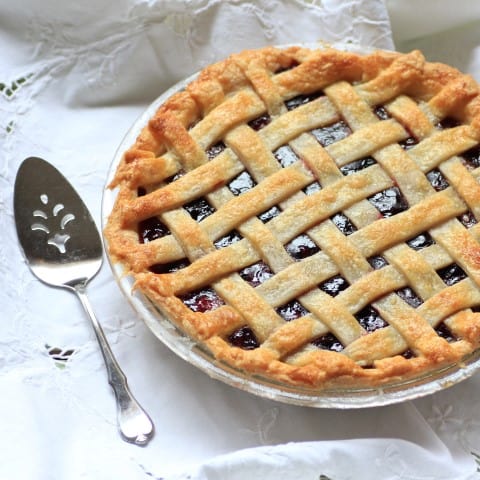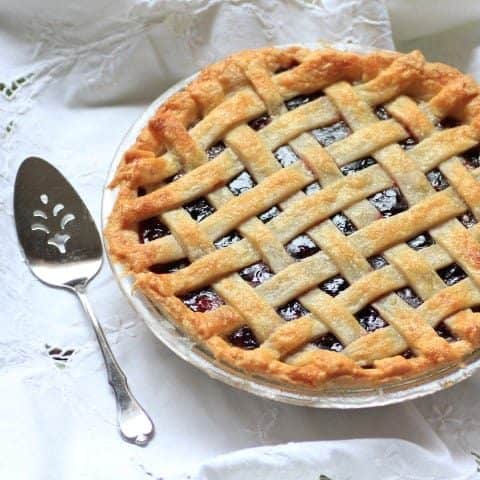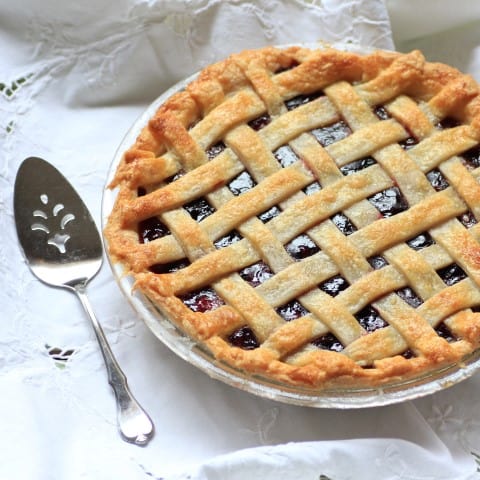 Cherry Blueberry Pie
Yield: 8 Servings
Prep Time: 20 minutes
Cook Time: 1 hour 5 minutes
Inactive Time: 30 minutes
Total Time: 1 hour 55 minutes
The "pie guy" is at it again with this beautiful lattice pie!! You are going to love this cherry blueberry pie creation!
Ingredients
Pie Crust
1 lb. lard
2 Tbsp. vinegar
1 egg
1 cup of water
4-5 cups flour
Filling
2-14 oz. cans of cherry pie filling
6 oz. blueberries
Glaze
Instructions
In a small bowl add egg and stir with a fork. Stir in vinegar and then water. In a separate bowl add the lard and 4 cups flour.
Cut the lard into small pieces using a pastry cutter. Add the liquid and continue to cut the lard into the mixture adding more flour as needed.
Do not overwork. Stop when the dough comes together into a sticky ball. Divide into half and wrap in cello. Place in the refrigerator for 30 min. to 1 hour. If only making one pie put the other half into the freezer for later use. Thaw in the refrigerator when you want to use it later.
Meanwhile, in a large bowl combine blueberries with the cherry pie filling. Set aside. Preheat oven to 425F.
When the dough has rested remove from the refrigerator and roll out on a floured surface. Roll out half the pastry to fit in an 11″ inch pie plate.
Place in the pie plate and trim the edges. Place in the pie filling. Roll out the remaining dough and cut long strips the size of the pie for the lattice. Weave the lattice top and seal the edges with a little dab of water.
Whisk the egg and 1 tsp. water together. Lightly brush the lattice top with the egg mixture and sprinkle with sugar.
Bake in the preheated oven for 15 min. Then reduce heat to 350F and continue baking until golden and the filling has thickened for 45-50 min.
Cool completely on a rack.
Nutrition Information:
Yield: 8
Serving Size: 1
Amount Per Serving:
Calories: 1796
Total Fat: 61g
Saturated Fat: 23g
Trans Fat: 0g
Unsaturated Fat: 34g
Cholesterol: 100mg
Sodium: 43mg
Carbohydrates: 270g
Fiber: 10g
Sugar: 4g
Protein: 34g
Recipe calculation was provided by Nutritionix and is estimation only. If you need nutritional calculations for medical reasons, please use a source that you trust.