This Roasted Asparagus Brie Soup is perfect for a cooler spring night with its deliciously creamy flavors. Add in a lovely artisan bread and you have a gorgeous meal.
I have a great spring recipe for you today. One that is gluten-free and scrumptious. Campbell's kindly asked me to enter a contest using Campbell's No Added Salt Vegetable Broth for Celiac Awareness Month. I, of course, thought of soup, but not a plain old soup, no, one that is deliciously full of vegetables, cream, and cheese!! Brie Cheese!! One of my favorite cheeses and then accentuated with a nice touch of tarragon, an underutilized herb that adds some wonderful flavors for Spring also.
Asparagus and mushroom are the main ingredients in our asparagus brie soup which is a perfect Springtime combination to awaken our senses again from the heavy-laden stew and potage of winter. Using a little extra stock makes for a lighter soup, one that is fit for Spring, especially when it is a lovely vegetable broth like Campbell has.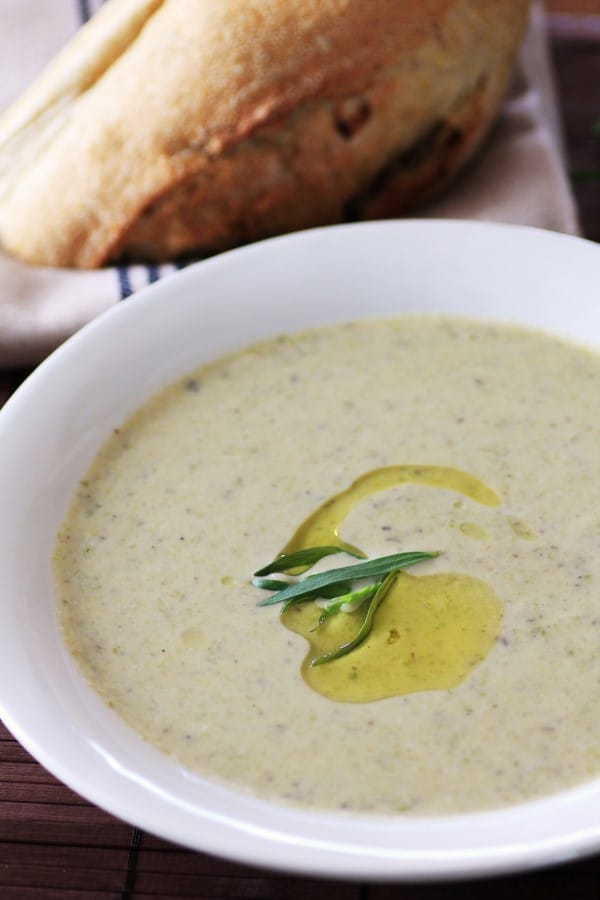 Campbell's Broth
I have to be honest and tell you, that in my opinion, Campbell's broth is my number one favorite after my own homemade broth. I use broths a lot in my cooking to braise and make sauces, gravies, soups, and stews. The broth is used in all ethnic dishes from Asian to European. We always have some chicken, beef, and vegetable broth on hand, ALWAYS!!
You can use broth for tons of recipes as I said, and I do, but my favorite is soup!! I love making homemade soups. Our daughter says now she doesn't like asparagus but put this bowl of soup in front of her and it is gone. A great way to get your family to eat more vegetables is to make a wonderful soup and now it can be gluten-free and lower in sodium!!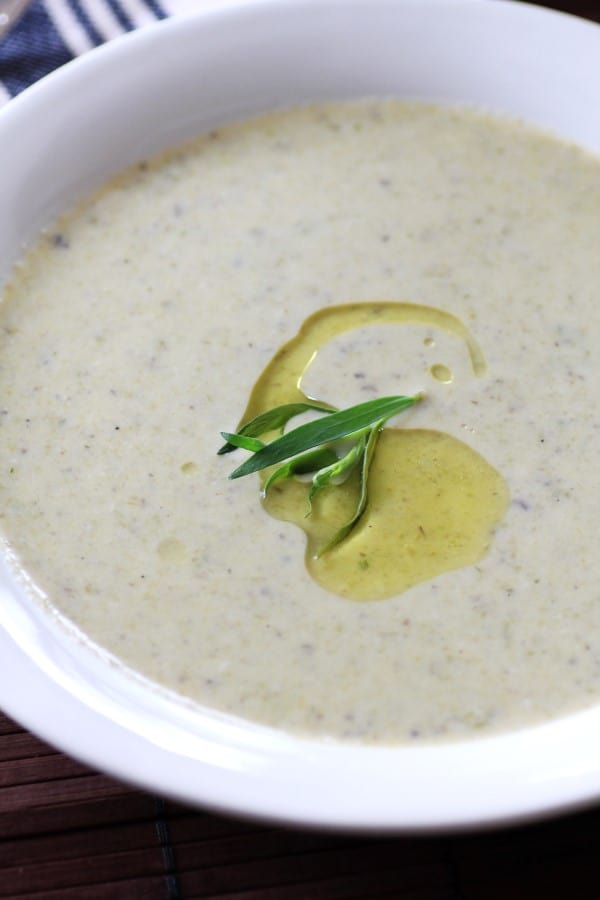 France has some beautiful soups and that is where my inspiration came from, using Brie Cheese and tarragon. Do you think a gorgeous soup like this is hard to make? Think again, it couldn't be easier, especially with ready-made broth from Campbells. Do you think you need flour to thicken a soup? Never!! Let the vegetables be the thickener or cheese and you have a gorgeous gluten-free soup always!!
I hope you try this soup, ENJOY!!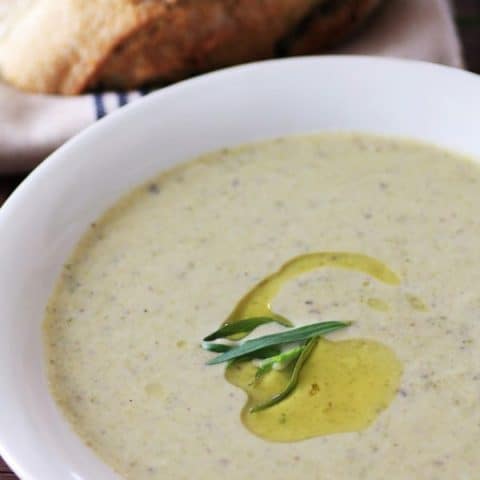 Roasted Asparagus Mushroom Brie Soup for #CampbellsGlutenFree #Promo
A delicious french inspired gluten free soup made with Campbells No Salt Vegetable Broth
Ingredients
8 medium mushrooms, sliced
1 sweet onion, diced
2 Tbsp. olive oil, divided
2 large cloves garlic, minced or 2 tsp. garlic paste
1 cup white wine
1 large bunch of asparagus
5 cups Campbells No Salt Added Vegetable Broth
7 oz. Brie cheese, cubed, rind included
1 Tbsp. fresh tarragon
Salt and pepper to taste
1 cup half and half cream
Good quality olive oil to garnish
Instructions
Roast asparagus drizzled with 1 Tbsp. olive oil with salt and pepper in a 375F oven, on a rimmed baking sheet, until tender and slightly browned, 10-15 min.
Meanwhile, saute onion and mushrooms in the remaining 1 Tbsp. olive oil in a large pot until tender, about 5 min. Add the garlic and saute for 1 min. Add the white wine and reduce to less than 1/2.
Add the roasted asparagus cut into 1" chunks and the Campbells No Added Salt Vegetable Broth, cook for 20 min. Add the brie cheese and stir to start to melt, the rind won't melt but don't worry as you blend it. Add the tarragon and salt and pepper to taste.
Carefully transfer the soup into a blender in small batches and blend until smooth. You will need another bowl to put the soup in for a moment as you continue to puree. Pour the soup then back into the pot and reheat over low heat adding the cream. Serve with a drizzle of good quality olive oil and gluten free bread.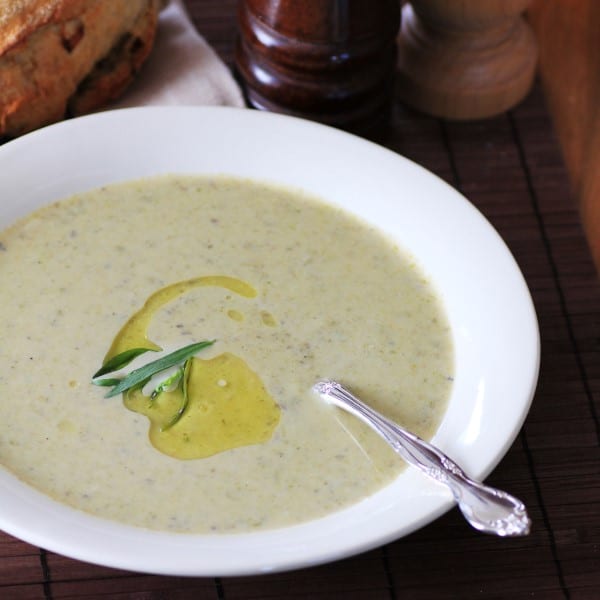 This post is brought to you in partnership with Campbell Company of Canada. I received no financial compensation for this post. My opinions are honest and my own. Campbell Company of Canada provided me with a product to develop this recipe.