When you find something gorgeous at the farmers market or grocery store does it entice you to make something? This was the case with a big orange cauliflower that Ken bought. He loved how fresh and wonderful it was, so he grabbed it not even knowing what to make with it. I instantly thought of a soup but not any soup but this Slow Cooker Cauliflower Corn Chowder.
Corn is the best when it is in season too so I thought the both of them would go great together and they really did!! Grilling the corn before putting it into the soup created another flavor dimension to this chowder.
If summer corn on the cob is not in season you can sub in frozen corn as it is always picked at its peak for flavor. Do you want another delicious soup? Try our Instant Pot Butternut Squash Soup.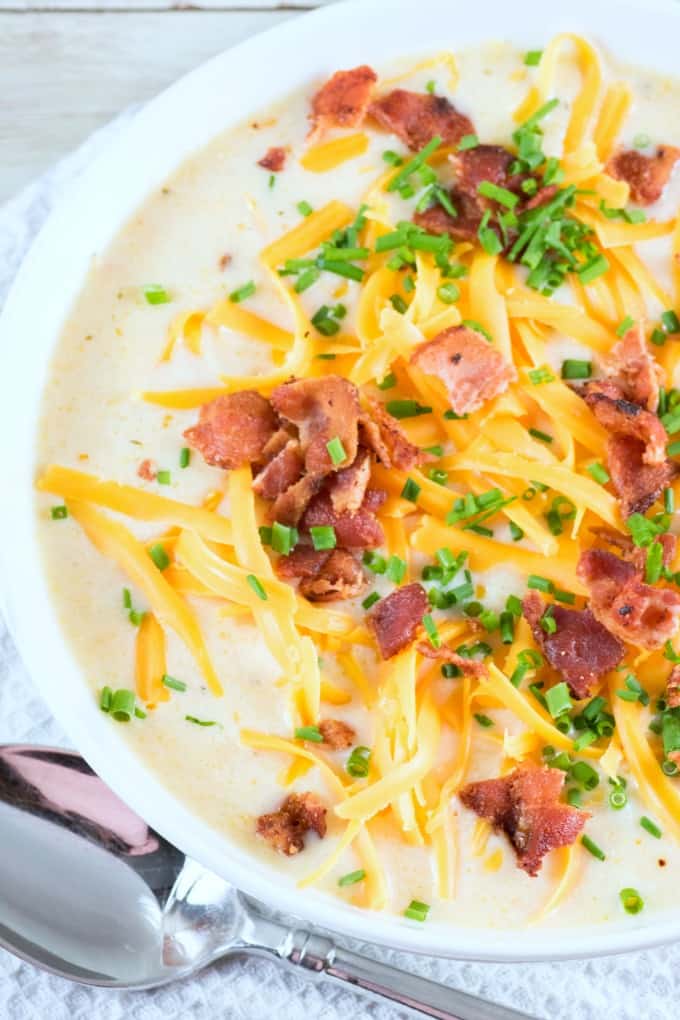 Cooking a soup in a slow cooker is great at any time of the year. It is hands off cooking at its best with no need for stirring. Plus when is it warmer out it doesn't heat up the kitchen.
With produce at its finest at harvest time take advantage of it and make a great chowder like this one. My family loved this recipe!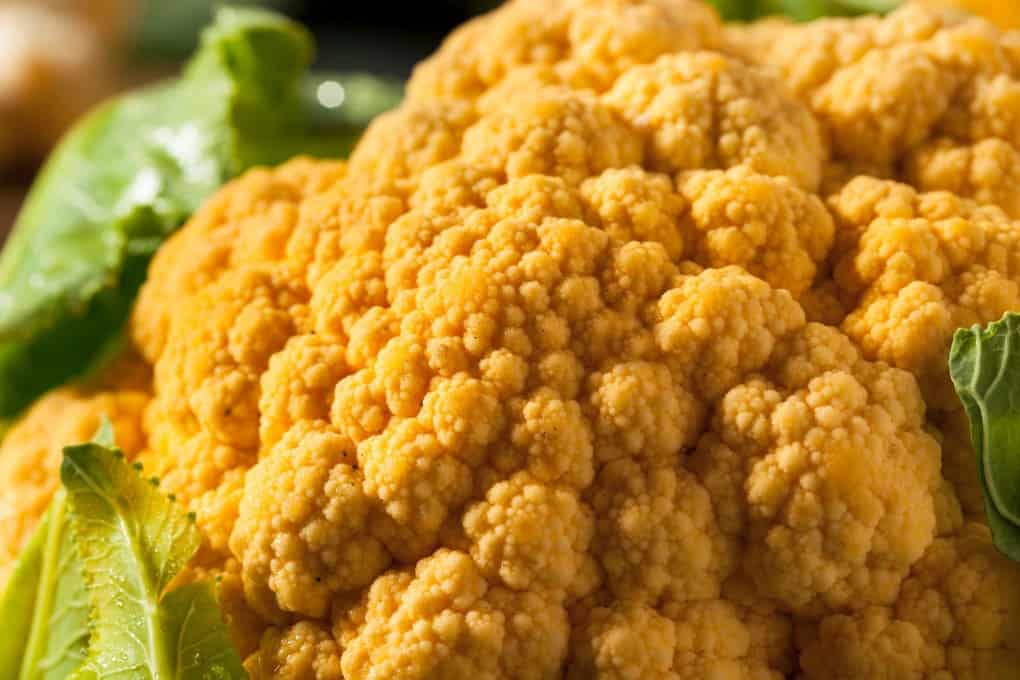 Look at the color of this glorious vegetable. If you see an orange cauliflower at your farmers market or grocery store grab it. You will be very happy you did!
5 Health Benefits of Cauliflower
Bone Health
Helps with Detox
Aids in reducing high blood pressure
Strengthens your immune system
Helps reduce the risk of cancer
From P. Allen Smith Garden Home
All of these benefits in a big bowl of chowder can't be beat!!
How to Make Corn Chowder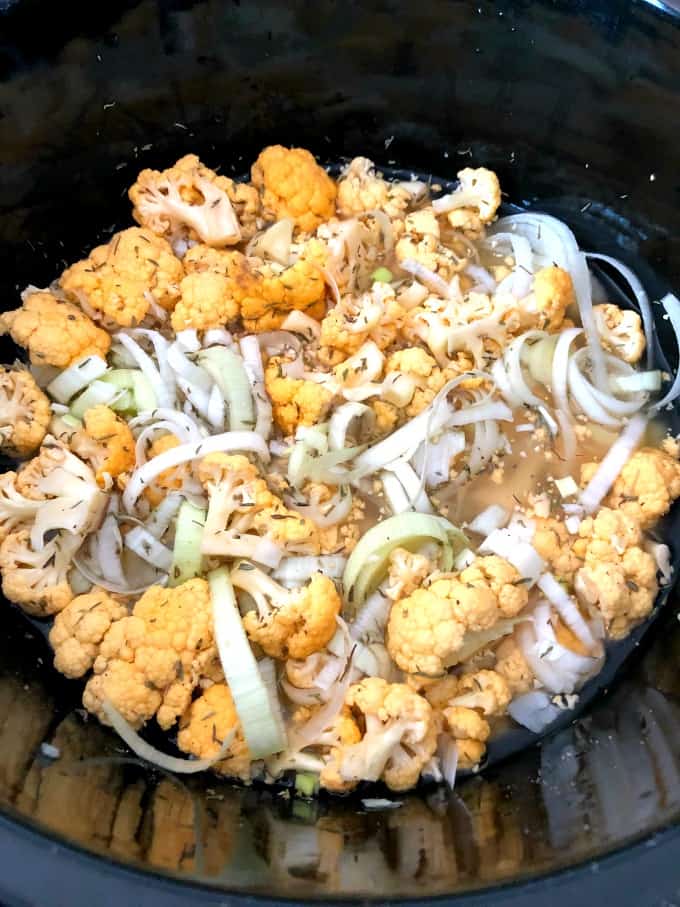 Chop, chop, chop and into the slow cooker it goes!! Making a chowder is easy.
We put all the ingredients, cauliflower, leeks, onion, garlic, chicken broth, thyme, water, salt and pepper into the slow cooker and let it do its magic.
After 3-4 hours of cooking when the vegetables are fork tender, the chowder is then pureed with an immersion blender until fairly smooth.
While the chowder is still hot; the cheese and grilled sweet corn are then added and stirred followed by the half and half cream.
This will add in all that necessary creamy goodness that you love in a chowder.
You can also substitute a higher fat milk for the half and half if you would like to reduce the calories, but I really like the richness from half and half.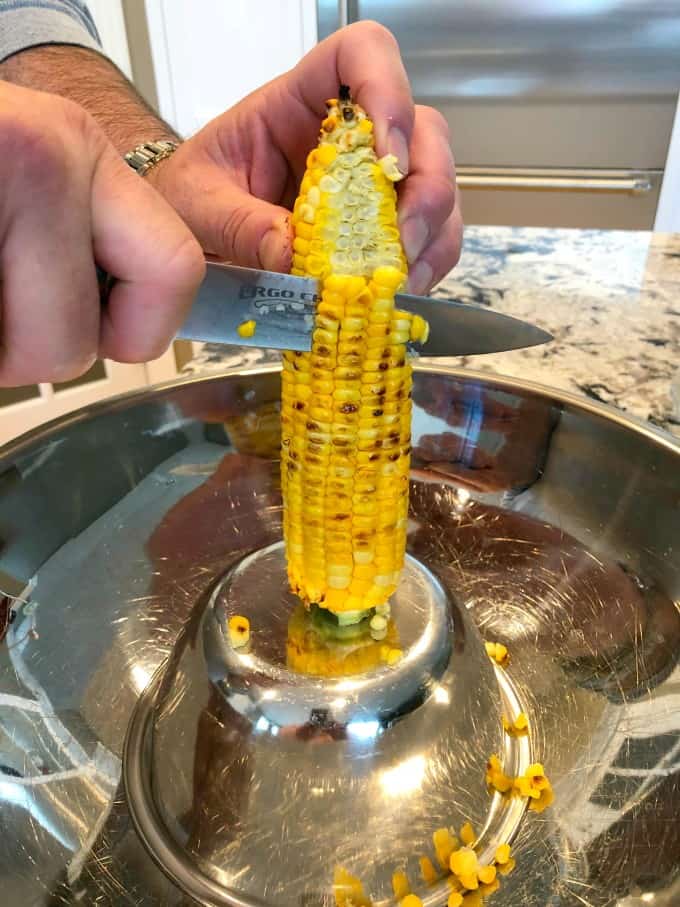 I liked having the corn kernels whole in the soup to give it texture and grilling the corn gives it more flavor and sweetness.
A trick to remove the kernels from the cob is to stand it up with a small bowl inverted into a big bowl. This will stop the kernels from landing all over your floor.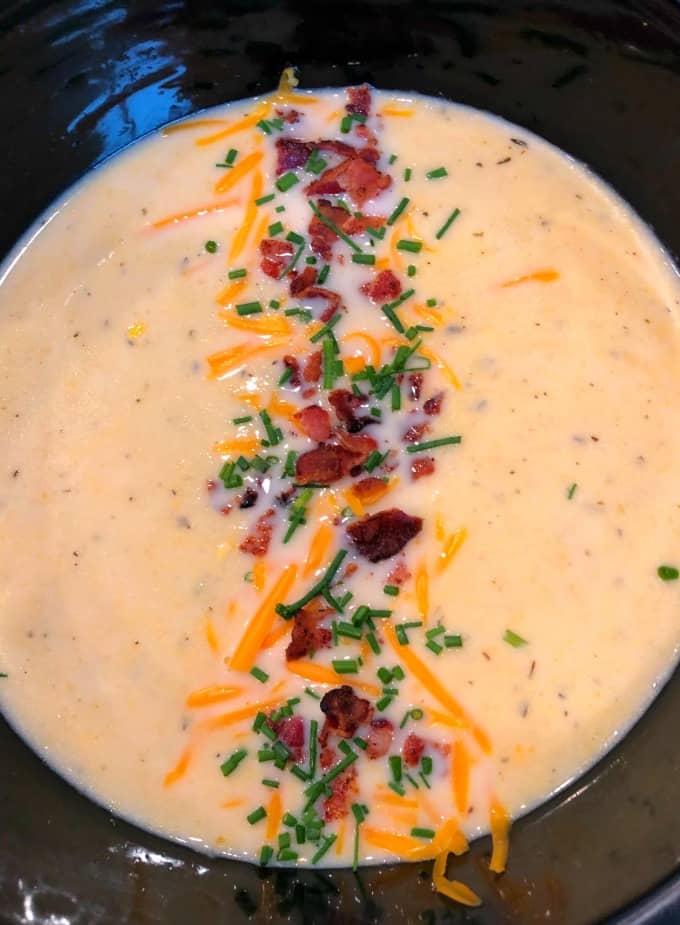 This chowder is healthy, hearty and using a slow cooker makes it pretty much effortless too. The last touch is garnishing the soup, adding additional cheese plus bacon and chives make it irresistible.
Can You Freeze Corn Chowder?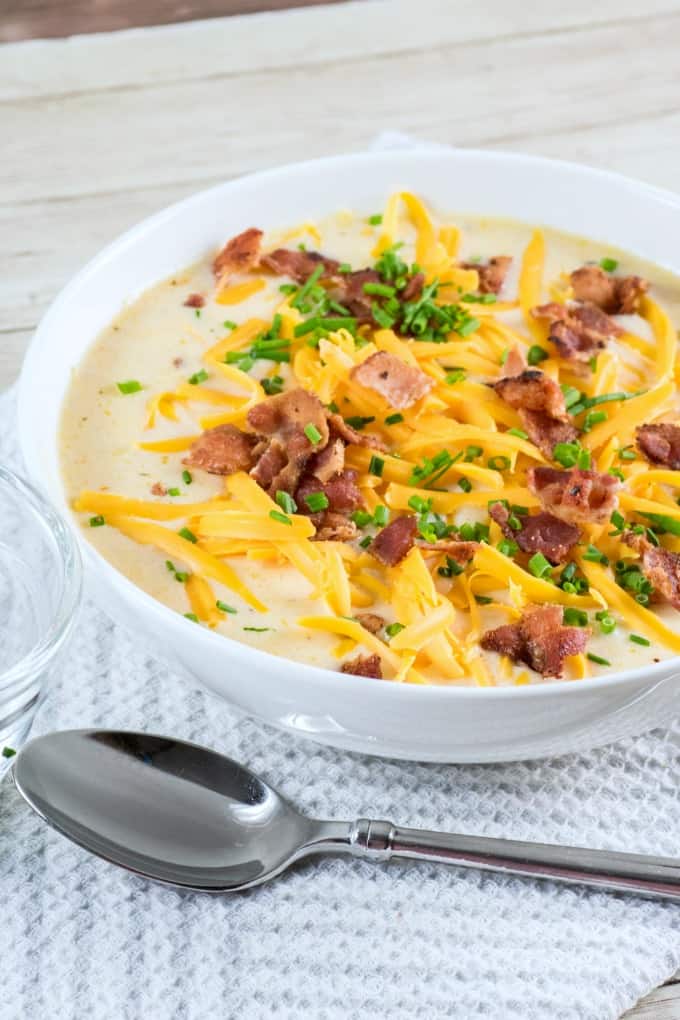 You can freeze corn chowder and most soups for that matter to enjoy at a later day. Just omit the toppings (you can freeze the bacon and cheese separately) and freeze in a container with a tight lid.
Freezer meals are always great to have on hand for busy nights.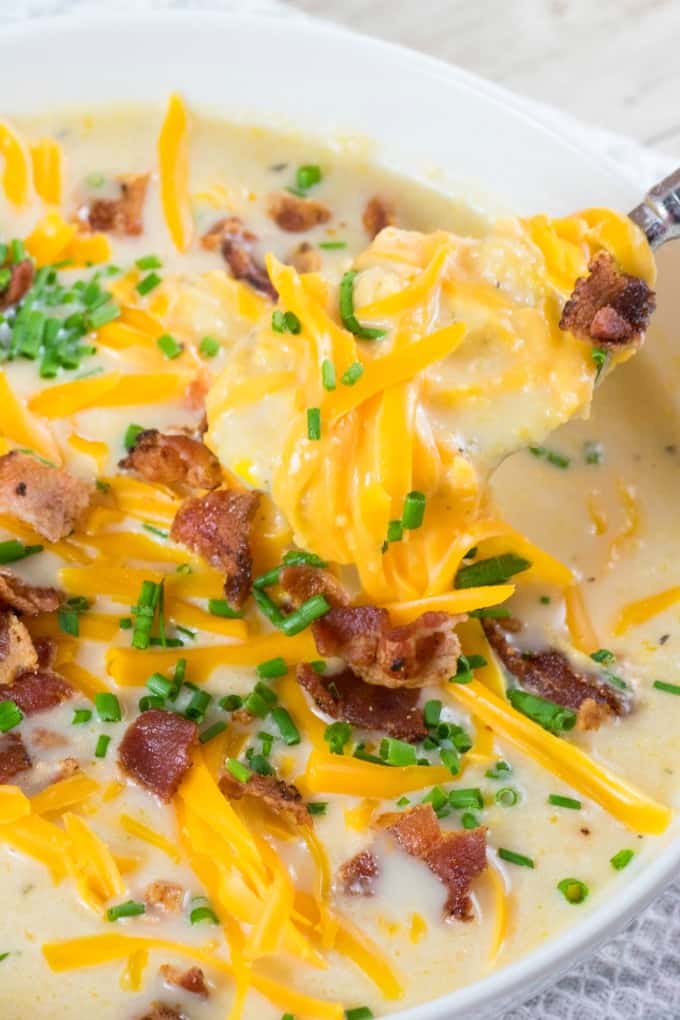 On a cooler late summer or fall day like we are having today a Slow Cooker Cauliflower Corn Chowder is just perfect. Look at how delicious that chowder is. Crispy bacon, luscious cheese and the goodness of corn and cauliflower.
Although corn is still high in carbs, cauliflower is much lower than potatoes so that reduces the overall carbs in this soup.
Want to make this soup vegan? Then omit the bacon and use a vegetable broth instead of a chicken broth. You would also have to sub in vegan cheddar and another form of milk like an almond milk.
The soup is already gluten free so no need to change anything there! Using an immersion blender and pureeing the vegetables makes the chowder nice and thick without needing flour.
38 Cozy Cold Weather Soup Recipes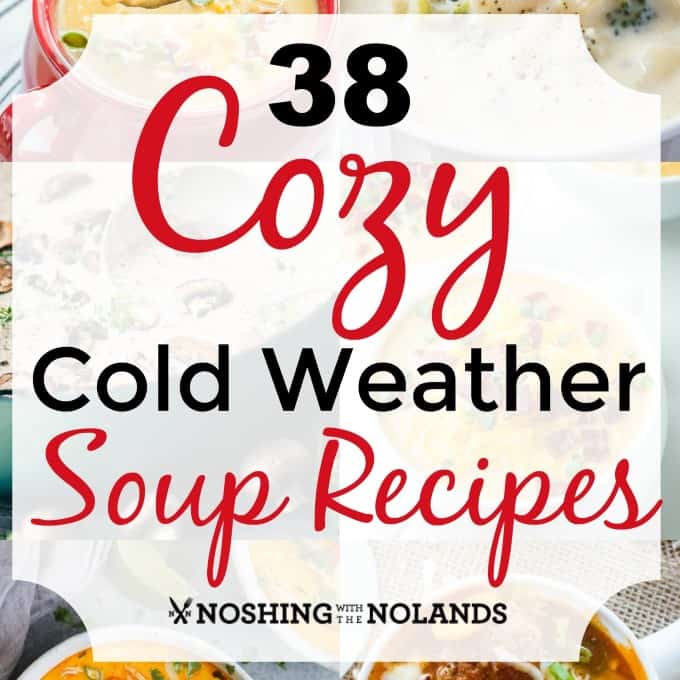 Even though the soup of today is a later summer/fall soup before we know it we will be wanting soup to warm our souls. Here is a great collection of wonderful Cozy Cold Weather Soup Recipes.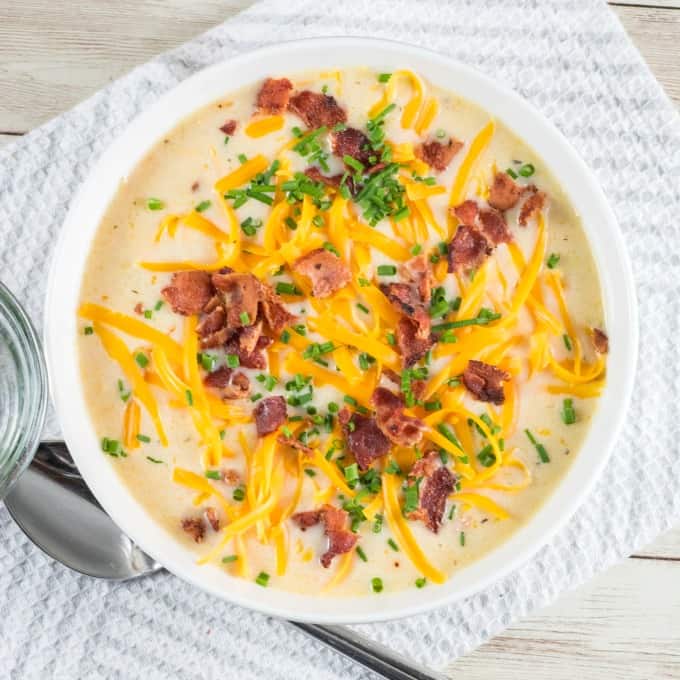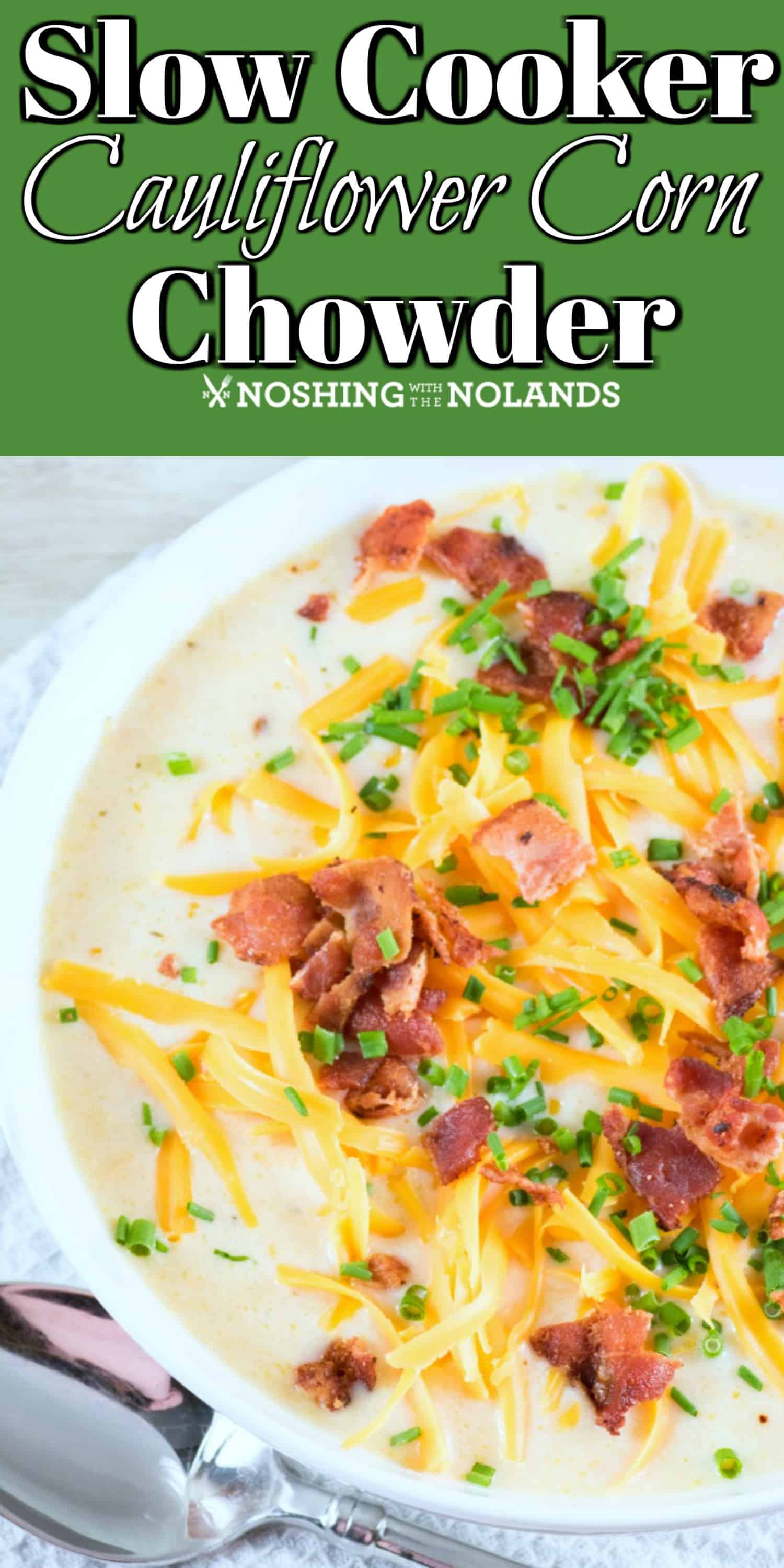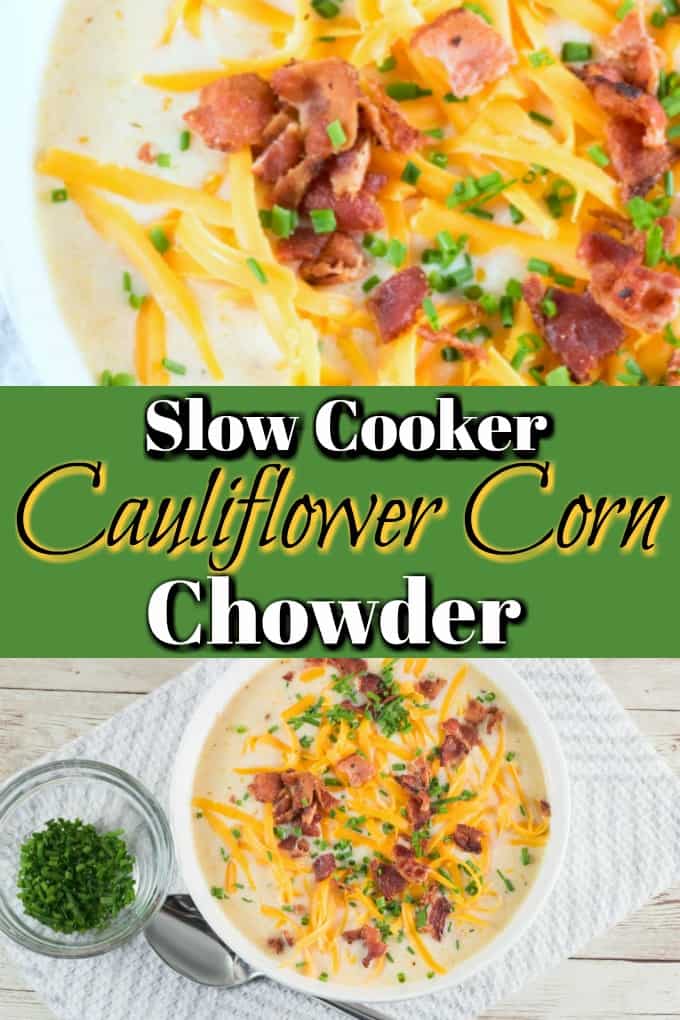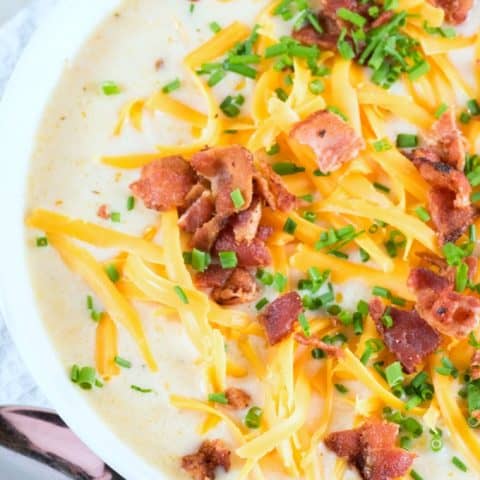 Slow Cooker Cauliflower Corn Chowder
Yield: 8 servings
Prep Time: 15 minutes
Cook Time: 4 hours 30 minutes
Total Time: 4 hours 45 minutes
Creating a gorgeous Slow Cooker Cauliflower Corn Chowder is simple to make. This soup is hearty and healthy with summer vegetables at their peak.
Ingredients
1 head orange (or white) cauliflower
3 leeks, whites only
2 cloves garlic
4 cups chicken broth
2 cups of water
1 tsp. dried thyme
Kosher salt and black pepper to taste
2 ears fresh corn on the cob
2 cups cheddar cheese, grated
1 cup half and half cream
4 slices bacon, cooked crisp and broken into pieces
Additional cheddar for garnish
Chives, chopped for garnish
Instructions
1. Place cauliflower, leeks, and garlic into the bowl of a 6 qt. slow cooker. Add in chicken broth, thyme, and 2 cups of water. Season with salt and pepper to taste.
2. Cover and cook on low for 3-4 hours. When vegetables are tender puree with an immersion blender.
3. Meanwhile, grill the corn for 15 minutes getting nice char marks. When cooled enough to handle using an inverted smaller bowl in a larger bowl (see picture), cut kernels from the cob with a knife. Set aside.
4. While the soup is still hot but pureed, add the cheese and corn kernels and stir well to combine. Add the half and half and adjust the seasoning if needed.
5. Serve immediately garnished with additional cheese, bacon, and chives.
Recommended Products
As an Amazon Associate and member of other affiliate programs, I earn from qualifying purchases.
Nutrition Information:
Yield: 8
Serving Size: 1
Amount Per Serving:
Calories: 254
Total Fat: 18g
Saturated Fat: 9g
Trans Fat: 0g
Unsaturated Fat: 7g
Cholesterol: 50mg
Sodium: 931mg
Carbohydrates: 13g
Fiber: 1g
Sugar: 4g
Protein: 12g
Recipe calculation was provided by Nutritionix and is an estimation only. If you need nutritional calculations for medical reasons, please use a source that you trust.