Cordon Bleu Breakfast Sandwich with Dijon Cream Sauce
Disclosure: I was compensated for this post. All opinions and experiences are my own.
Recently I was invited to go on an annual tour of a free-run egg farm here in Alberta by Egg Farmers of Alberta. I had previously been to an egg farm to see conventional housing and I was more than impressed with how the whole operation was run.
With eggs in hand after leaving the egg farm I was anxious to go home and create this Cordon Bleu Breakfast Sandwich with Dijon Cream Sauce recipe for you. Another great recipe to try that is also budget-friendly is our Chilaquiles with Scrambled Eggs, so good.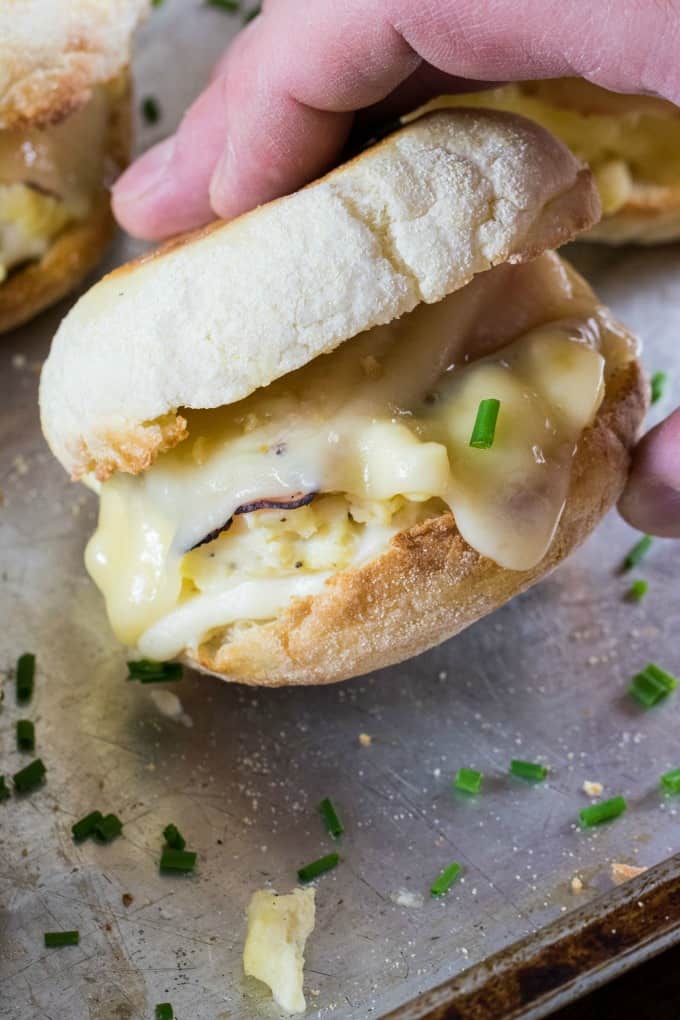 Eggs are a very healthy source of protein and also contain Iron, Vit. A, D, E and B12 plus choline. They only have 70 calories per egg.
We love eggs here in our house and eat them on a daily basis. With back to school upon us I wanted to show you how to make a delicious but easy breakfast, brunch, lunch or even dinner recipe.
Kids love eggs, ham and cheese, so to build them together you will have a home run of a meal.
Visiting an Alberta Egg Farm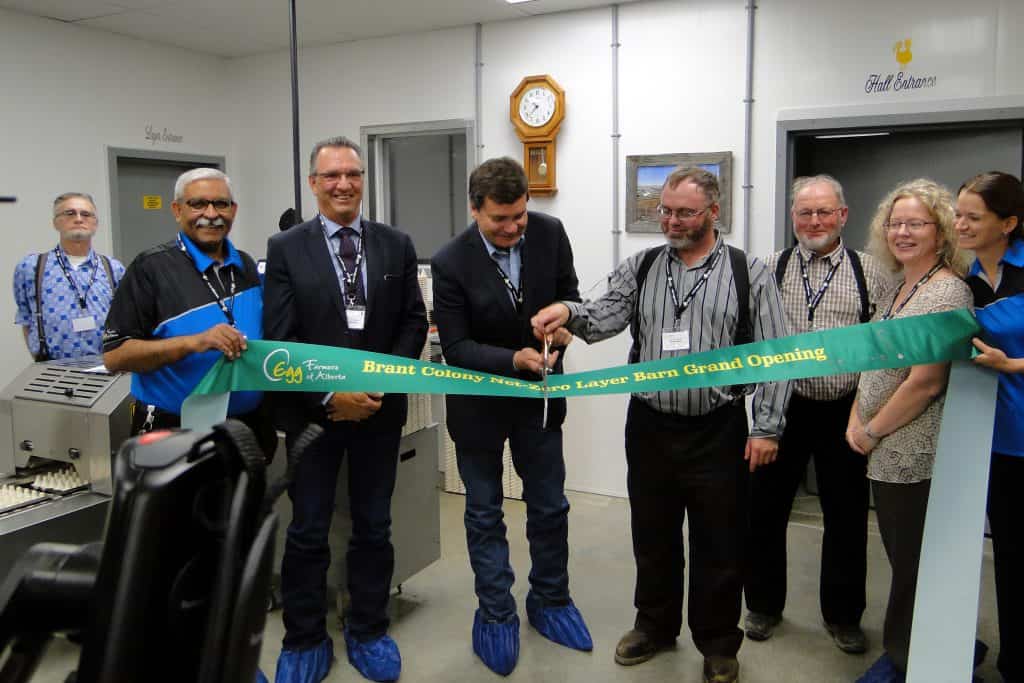 Brant Colony opened its egg farm just 3 years ago and is Canadian egg industry's first net-zero layer barn.
The goal of the project is for the facility to be balanced in terms of its energy inputs and outputs, in order to achieve net-zero.
Over a given year, the facility will strive to produce enough power through renewable systems to offset power supplied to it by conventional fossil fuels.
The ins and outs of running an egg farm like this is quite amazing. We are blessed here in Alberta and all across Canada to have a constant supply of fresh, local, high-quality eggs.
Eggs from our local farms all across the province and Canada are brought to us in a matter of days. I got to pluck my own right off the conveyor belt, those were minutes from being laid!!
What is Cordon Bleu?
The French term Cordon Bleu translate to "blue ribbon" meaning of highest quality. For us, it is usually related to Chicken Cordon Bleu. Making this sandwich is not taking it too far from the original. We still have chicken but in the form of eggs!!
This is a wholesome recipe using the goodness of eggs!! With over 65,000,000 eggs produced in Alberta last year alone; you know we love our eggs!!
To make this sandwich the best and anything but ordinary, we created a Dijon Cream Sauce. It was so delicious I had to sneak a couple of spoonfuls from the pot.
How to Make Cordon Bleu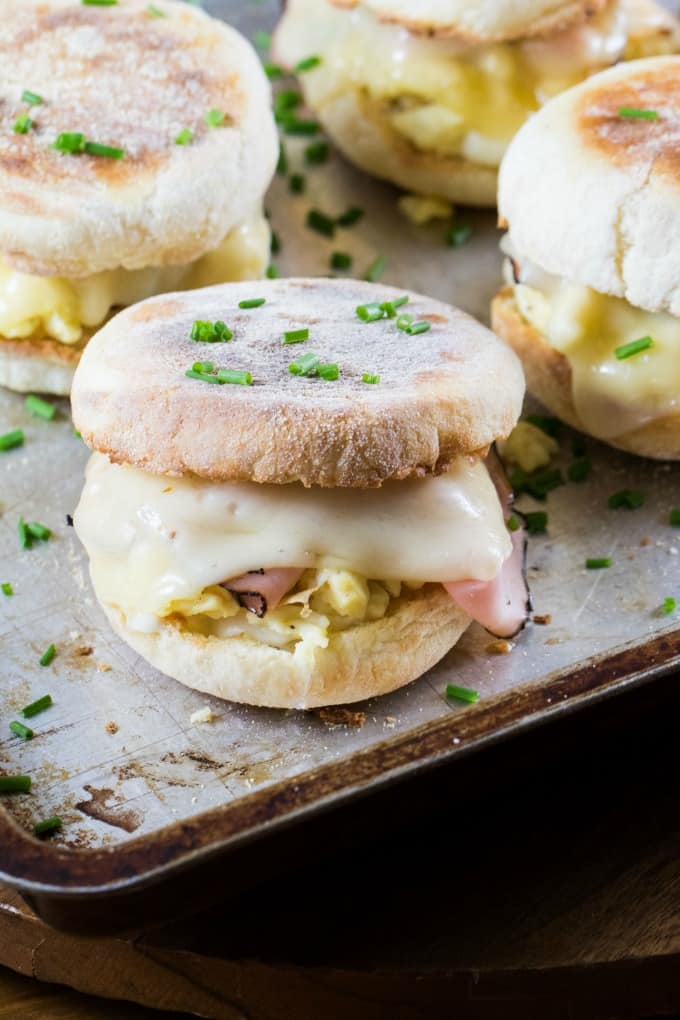 To make Cordon Bleu we normally go to the traditional schnitzel cordon bleu of a dish of meat wrapped around cheese or stuffed, then breaded and pan-fried or deep-fried and served with a cream sauce.
The dish can also be made with veal or pork. Today we took that idea and created a breakfast sandwich. This sandwich is super easy to make.
Toasted English muffins are the base, then a generous dollop of the Dijon Cream Sauce, lovely freshly made scrambled eggs, thinly sliced Black Forest Ham and then slices of Swiss Cheese finishes the sandwiches off.
A quick broil is all that is needed to melt the cheese and you have a tray full of sandwiches ready to go!! Your back to school student can help you making these sandwiches up, quickly and easily.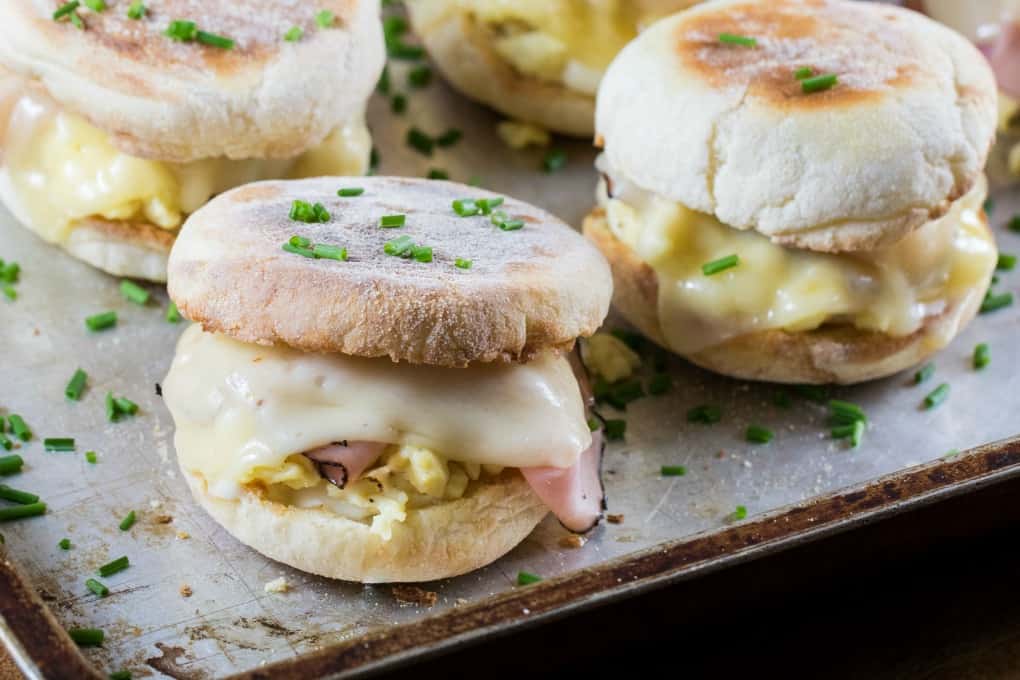 Don't these look amazing?!! Being able to use eggs from breakfast to dessert makes them so versatile. We have many, many posts on enjoying the masterful egg.
Posts like How to Hard Boil Eggs, Rainbow Easter Deviled Eggs, Cheesy Baked Scrambled Eggs, Italian Arancini Prosciutto Eggs and so much more.
Breakfast sandwiches are so easy too and we have done many like the Breakfast Sandwich to Go, The Hawaiian Breakfast Sandwich, and Honey Dijon Chicken Sandwich.
So get those eggs out, make this recipe. You will be happy to feed your family this quick and easy meal for any time of the day. Your family will love you for it too.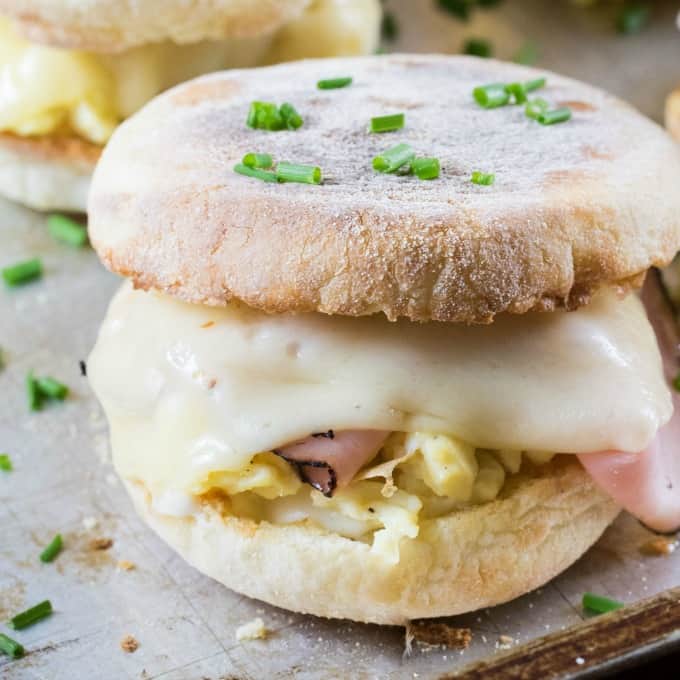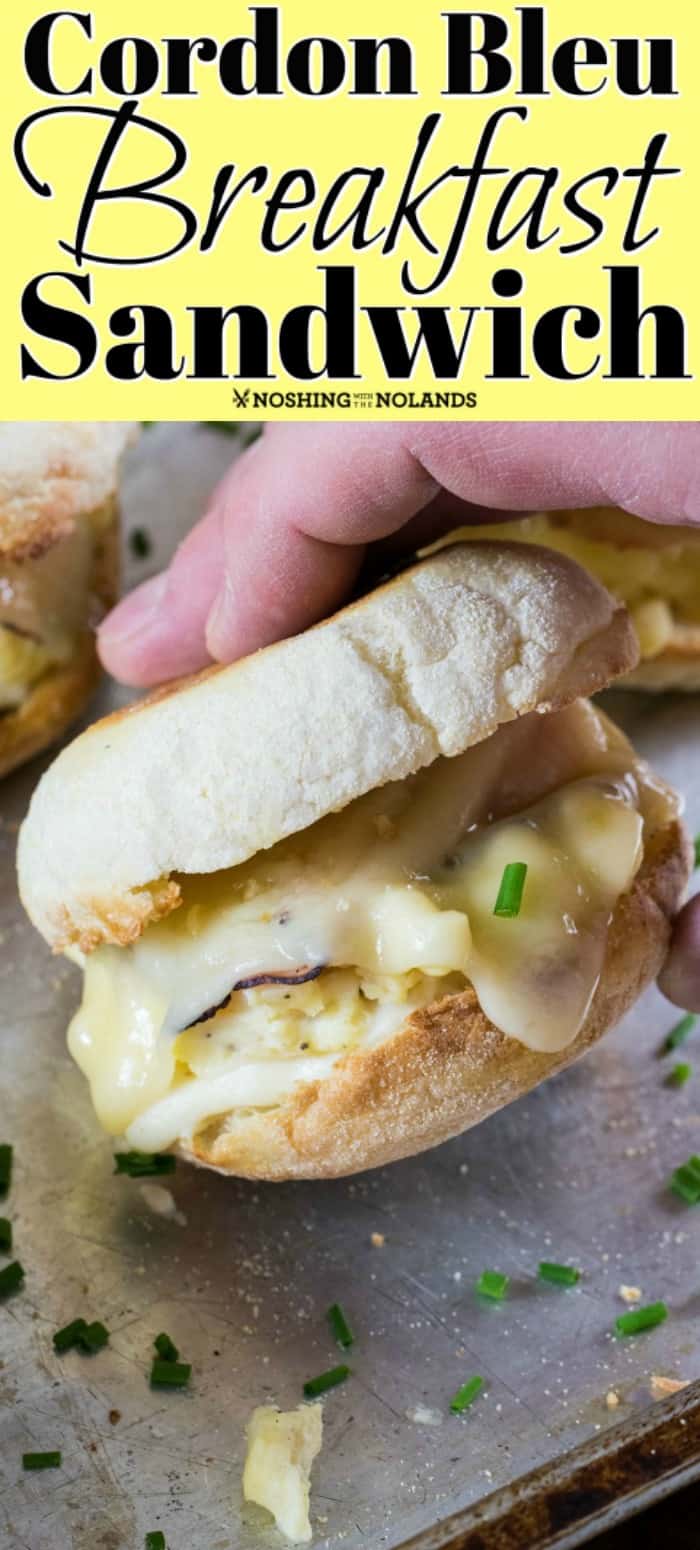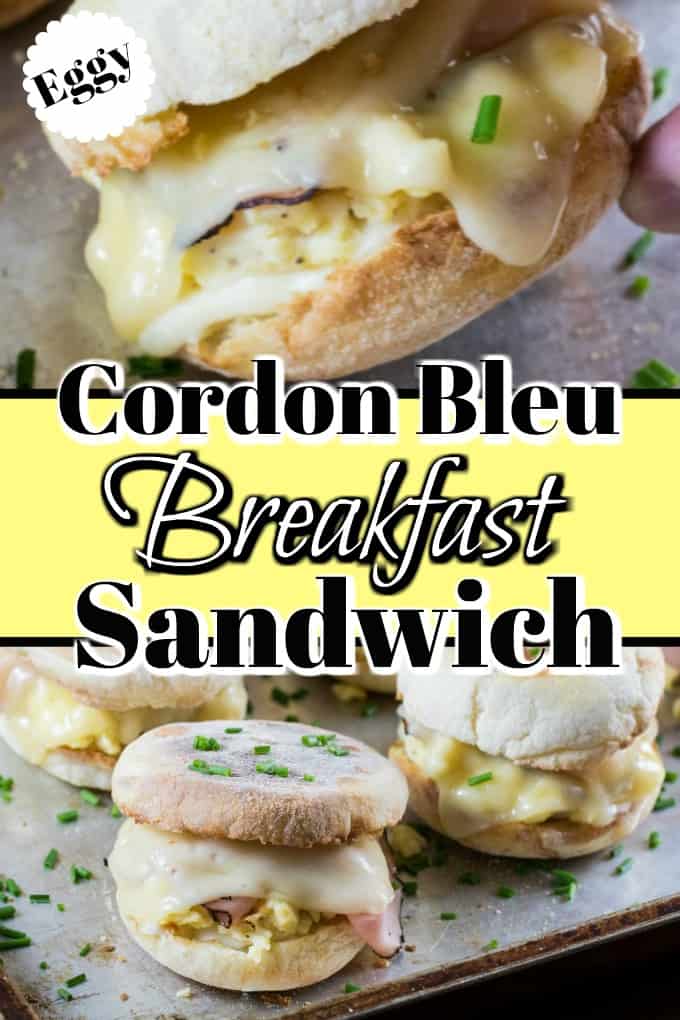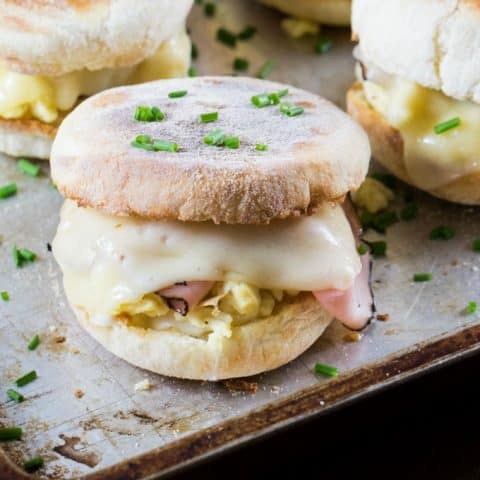 Cordon Bleu Breakfast Sandwich with Dijon Cream Sauce
Yield: 8 sandwiches
Prep Time: 15 minutes
Cook Time: 12 minutes
Total Time: 27 minutes
This Cordon Bleu Breakfast Sandwich with Dijon Cream Sauce is fabulous for breakfast, brunch, lunch or dinner. Simple ingredients make the perfect meal with the goodness of eggs!!
Ingredients
Scrambled Eggs
8 eggs
Pinch of garlic powder
Pinch of onion powder
Salt and pepper to taste
I Tbsp. butter
Dijon Cream Sauce
2 Tbsp. butter
2 Tbsp. flour
1 cup milk (2% or 3%)
1 Tbsp. Dijon mustard
3 Tbsp. Parmesan cheese
Breakfast Sandwich
6 English muffins
Butter
12 slices Black Forest Ham
6 slices Swiss cheese
Chives for garnish (optional)
Instructions
Start with making the Dijon cream sauce. Melt the butter in a small saucepan, add the flour and stir and cook for 1 minute.
Add in the milk slowly while whisking until smooth. Cook for 3 minutes until thickened. Add in the Dijon mustard and Parmesan cheese. Mix well and keep warm.
Whisk the eggs together with the garlic powder, onion powder, salt and pepper. Melt the 1 Tbsp. butter in a non-stick fry pan on medium heat. Scramble the eggs turning frequently and finish just when set, don't overcook them.
Meanwhile toast the English muffins and butter each. Place on a baking sheet.
Add one dollop of the Dijon cream sauce to 6 English muffin halves.
Top with scrambled eggs, then two slices of ham and one slice of Swiss cheese.
Broil to melt the cheese. Top with other half of the English muffin. Garnish with chives if using and serve immediately with more cream sauce if desired.
Nutrition Information:
Yield: 6
Serving Size: 1
Amount Per Serving:
Calories: 485
Total Fat: 23g
Saturated Fat: 11g
Trans Fat: 0g
Unsaturated Fat: 10g
Cholesterol: 302mg
Sodium: 1135mg
Carbohydrates: 36g
Fiber: 2g
Sugar: 0g
Protein: 33g