Italian Arancini Prosciutto Eggs
Ken and I were discussing doing an arancini ball as an appetizer. Then I saw flattened arancini cakes and came up with these ultimate Italian Arancini Prosciutto Eggs. Ken made this amazing dish from beginning to end. You start with risotto, which is not one of our faves but I could not stop eating this. He made it to perfection!! The final recipe was even more impressive. Come, let me walk you through this.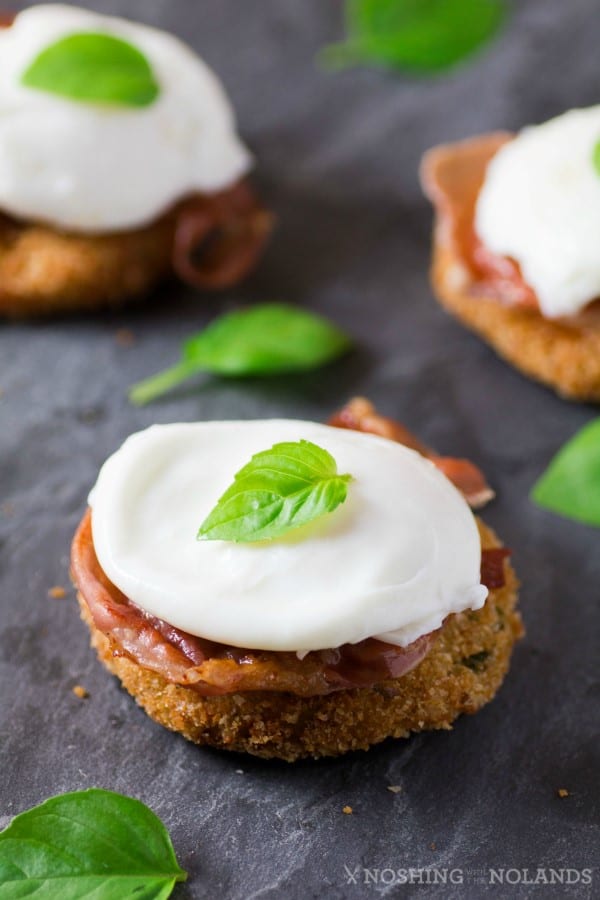 These turned out gorgeous don't you think? Ken made the risotto the night before and in morning, breaded the patties and then a quick deep fry got them crisp and golden. Next, he fried up prosciutto to a thin crisp. Have you fried prosciutto before, it basically is bacon just wider sliced and thinner. It is amazing when it is fried.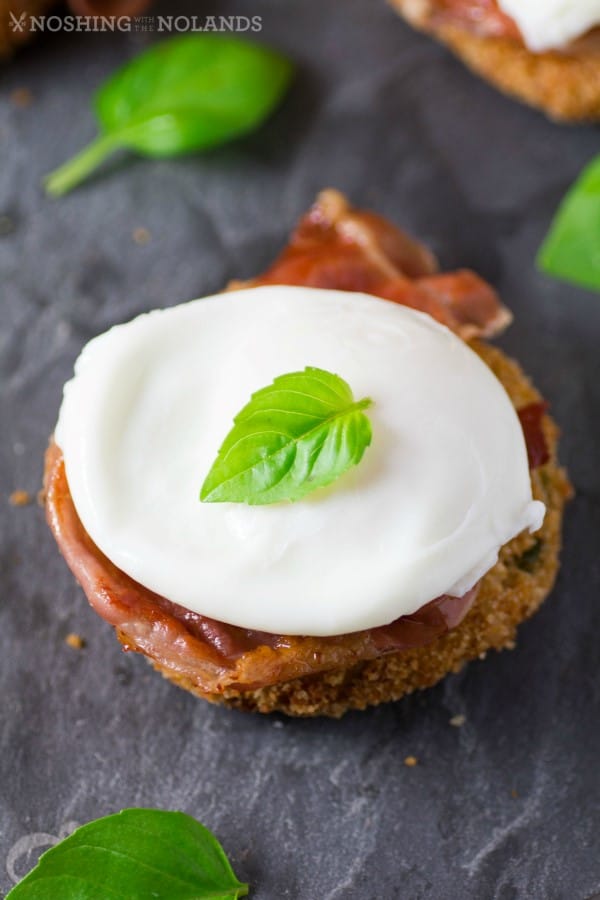 Finally he poached an egg to perfection with our new silicone eggs cups. A little leaf of basil and you have a stunning breakfast, brunch, lunch or even dinner item. This could be made all day long.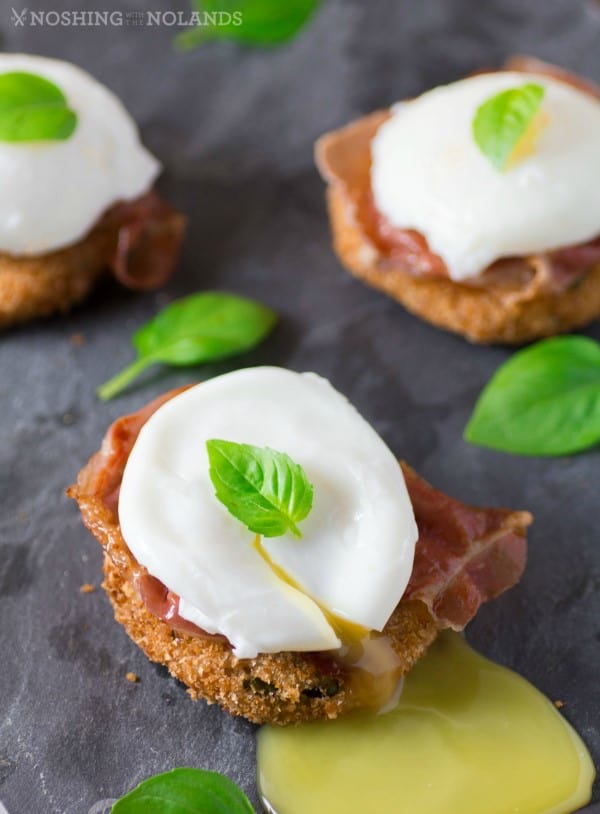 I love a runny egg yolk, it is like it has created its' own sauce for this dish. Cracking into that egg is perfection. This is one of the nicest egg dishes Ken has created and he loves being in the kitchen for breakfast/brunch.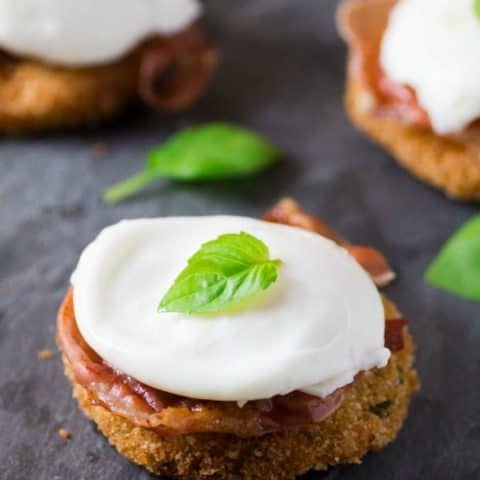 Italian Arancini Prosciutto Eggs
Yield: 8 sevings
Prep Time: 40 minutes
Cook Time: 30 minutes
Total Time: 1 hour 10 minutes
Ingredients
Risotto
2 cups no sodium chicken broth
3 Tbsp. butter, softened
1/2 small onion, finely chopped
3/4 cup Arborio rice
1/4 cup white wine
1/4 cup Parmesan cheese, finely grated
Salt and pepper to taste
Arancini Patties
2 cups cooled risotto
1/2 cup bread crumbs
1/2 cup Parmesan cheese, finely grated
1/4 cup fresh basil, finely chopped
2 eggs, room temperature, beaten
Salt and pepper to taste
Breading
Canola oil for frying
1 cup bread crumbs for breading
Salt to taste after frying
Eggs
8 eggs, soft poached
8 sliced of prosciutto, crisped
Fresh basil for garnish
Instructions
To make the risotto, add the broth to a medium saucepan and bring to a simmer, reduce heat and keep hot.
In the meantime in a large sauce pan, saute the onion in 2 Tbsp. butter and cook until tender but not browned. Add the rice and stir until coated. Add the wine and cook until almost evaporated. Add 1/2 a cup of the broth and cook until almost evaporated, about 2 min. stirring constantly. Continue to add broth in 1/2 cup increments, allowing it to evaporate after each addition and constantly stirring. Continue until the rice is still firm with a bite to it but creamy, about 20 min. Take off the heat and add the remaining butter, Parmesan, salt and pepper and stir. Let cool, can be refrigerated over night. If it is too cold microwave for 30 - 45 seconds to make it easier to work with.
To make the arancini, in a medium bowl add the cooled risotto, bread crumbs, Parmesan cheese, basil, eggs, salt and pepper. Make 8-3" patties. 1/2" thick. Coat with the bread crumbs. Heat oil in a large saucepan about 1/3 way up the pan. Heat to 350F. In batches fry the arancini patties until golden brown, about 4-5 min. Drain on paper towels and salt immediately.
To serve, top each arancini patty with a slice of crisped prosciutto and a soft poached egg. Garnish with basil.
Recipe adapted from Giada De Laurentiis.