Disclosure: I was compensated by Egg Farmers of Canada for this post. All opinions and experiences are my own.
Eggs, how glorious they are in all our cooking and baking but deviled eggs have to be one of my family's favorites!! Our daughter, Amber has been making rainbow naturally colored deviled eggs for Easter for years now but we haven't shared them with you yet until today where we present Rainbow Easter Deviled Eggs.
We have deviled eggs every Easter as they are a perfect way to celebrate Canadian Eggs with our family and friends. They are the first appetizer to always disappear.
Egg Farmers of Canada have some great recipes to try too and I encourage you to take a look at their Sunny Side Up Pavlova Recipe for your Easter celebration also.
You can make it fun with a choose-your-own pavlova topping station and then watch for people going back for seconds!!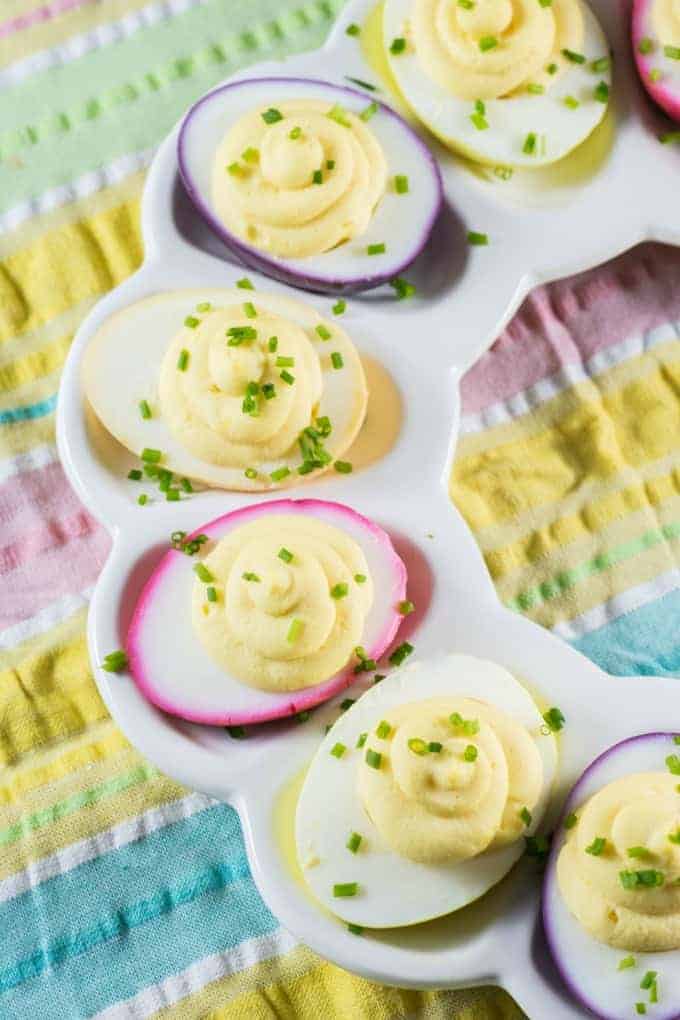 Aren't these just the bomb for Easter? I love how colorful they are and all the dyes are completely natural. It is fine to color the outside of the egg with food coloring but I prefer natural dyes hands down when making deviled eggs.
Isn't it amazing how versatile eggs can be? They are perfect at any time of the day!! Eggs, of course, are great for breakfast, think of Cheesy Baked Scrambled Eggs or a Breakfast Sandwich to Go, mmmm!!
For lunch we also love a great Egg Potato Green Bean Salad or a delicious Open Faced Egg Avocado Smoked Salmon Sandwich. Dinner brings more dishes like an Enchilada Frittata or a Cheddar-Corn Impossible Pie.
Canadian Eggs are delicious and nutritious so don't forget them in your Easter desserts too like this Brunch Lemon Bundt or Walnut Caramel Pots de Creme. Eggs make your recipes better!!
How Do You Color Eggs Naturally?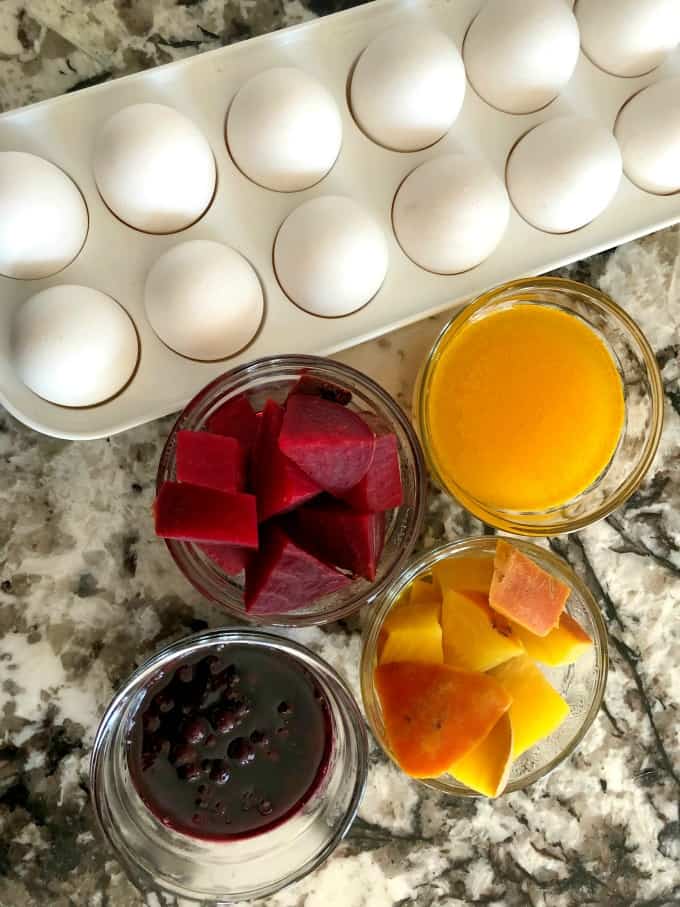 Nature has many beautiful colors to choose from. Beets alone come in a variety of colors. Blueberries make your eggs an intense purple so we like to use those. I don't find that the eggs pick up much flavor but just the color from the natural dyes.
For our four colors we used blueberries, red beets, orange beets and turmeric. Don't peel the vegetable as the color is extracted from the skins too.
We have never used red cabbage but I hear it make a pretty blue color. You can also extract green from parsley.
There are others too that I can think of like chili powder, cumin, onion skins, grape juice. It would be fun experimenting with even more colors.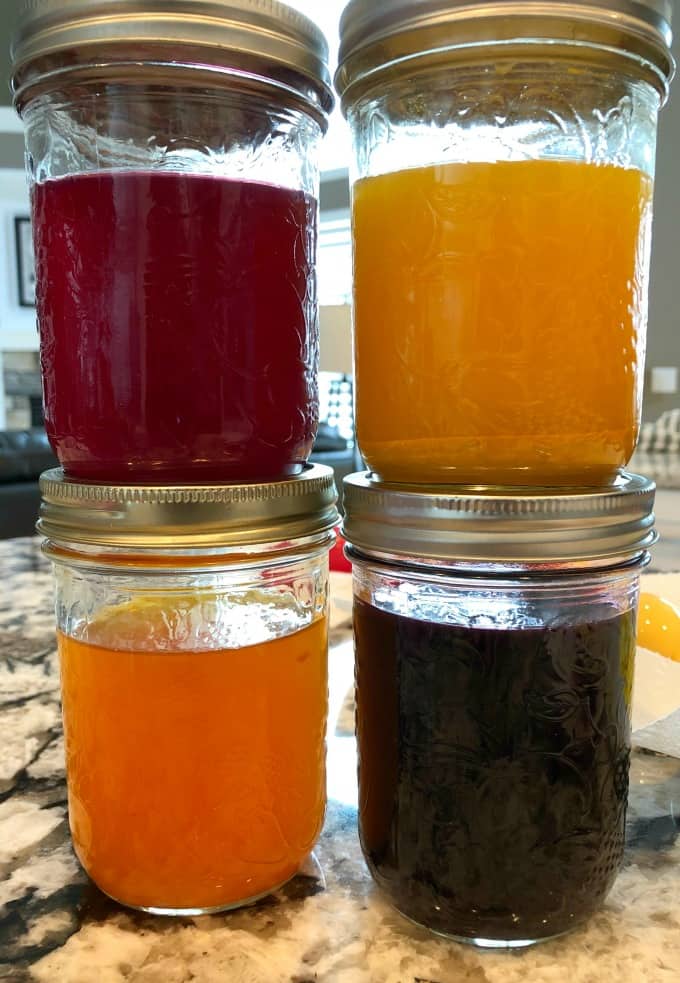 I found using mason jars much easier than bowls. The eggs can really be submersed into the jars and you can rotate them easily with a little swish every hour or so. Eggs need to sit in the dyes for 3-8 hours. The longer they sit the more colorful they will be.
Dark dyes like blueberries and red beets don't take as long as the lighter ones like turmeric.
Do you Have to Use Vinegar When Dying Eggs?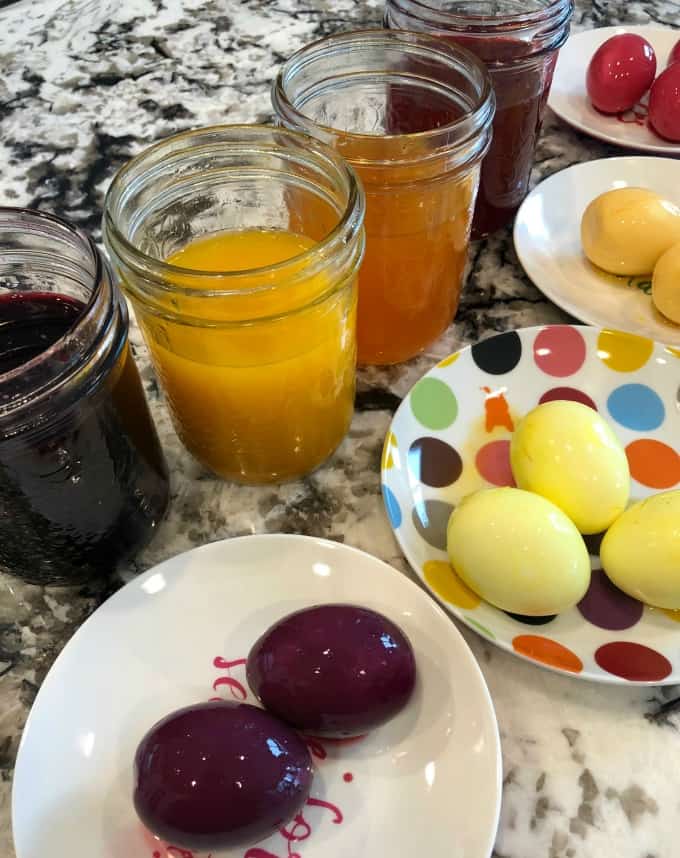 Do you have to use vinegar when dying eggs? The answer is yes as that is what helps to set the color. Otherwise you would have a poor result I would think. The eggs really don't take on a lot of flavor from the dye or the vinegar.
The centers are rich, creamy and wonderful and that is what you are tasting when you bite into the deviled egg.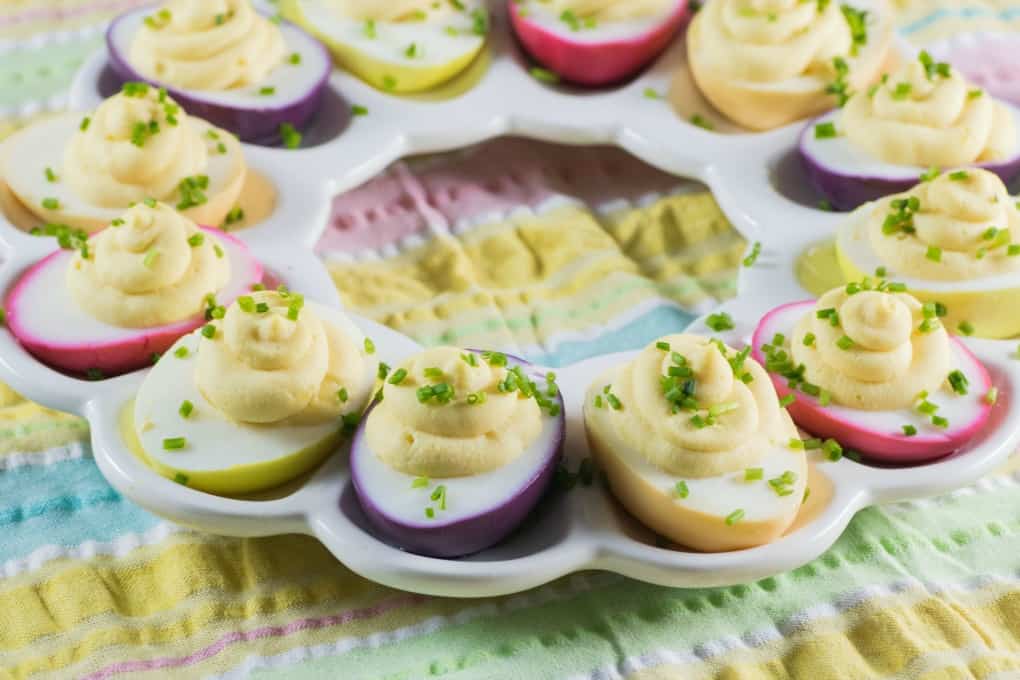 Did you know that there are 1,000 Canadian family egg farms in Canada from coast to coast? Thanks to the system of supply management they can provide us with fresh, local, high-quality eggs for you and your family to enjoy.
When you are enjoying Canadian Grade A eggs you can rest assure that you are getting a top-quality product made by Canadians, for all Canadians!!
On average an egg travels less than a week from farm to grocery store. Sometimes fresh eggs for hard boiled eggs are difficult to peel. For an easy peel egg use your pressure cooker, you will be quite amazed at the results.
You can find lots more amazing recipes by visiting Eggs.ca or following @eggsoeufs on Twitter and Instagram and by liking Get Cracking on Facebook.
How will you be enjoying your eggs this Easter? Post on social media including the #Eastertaining!!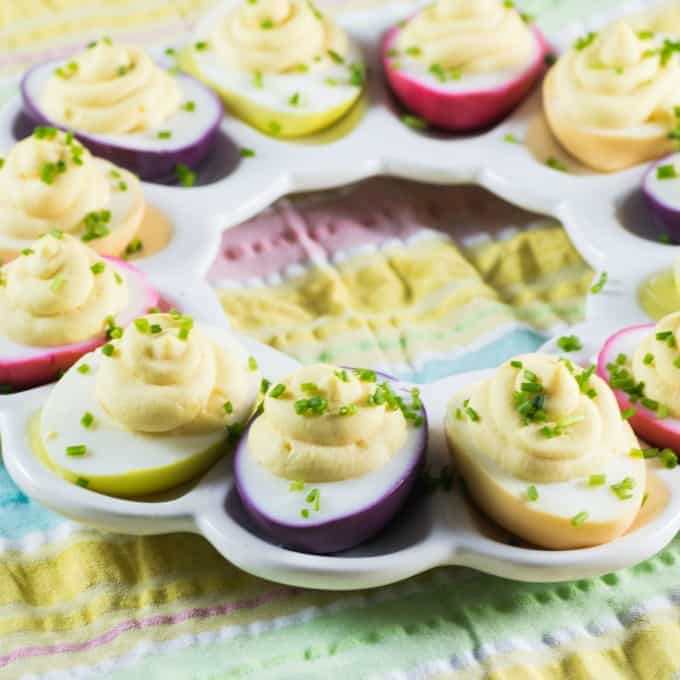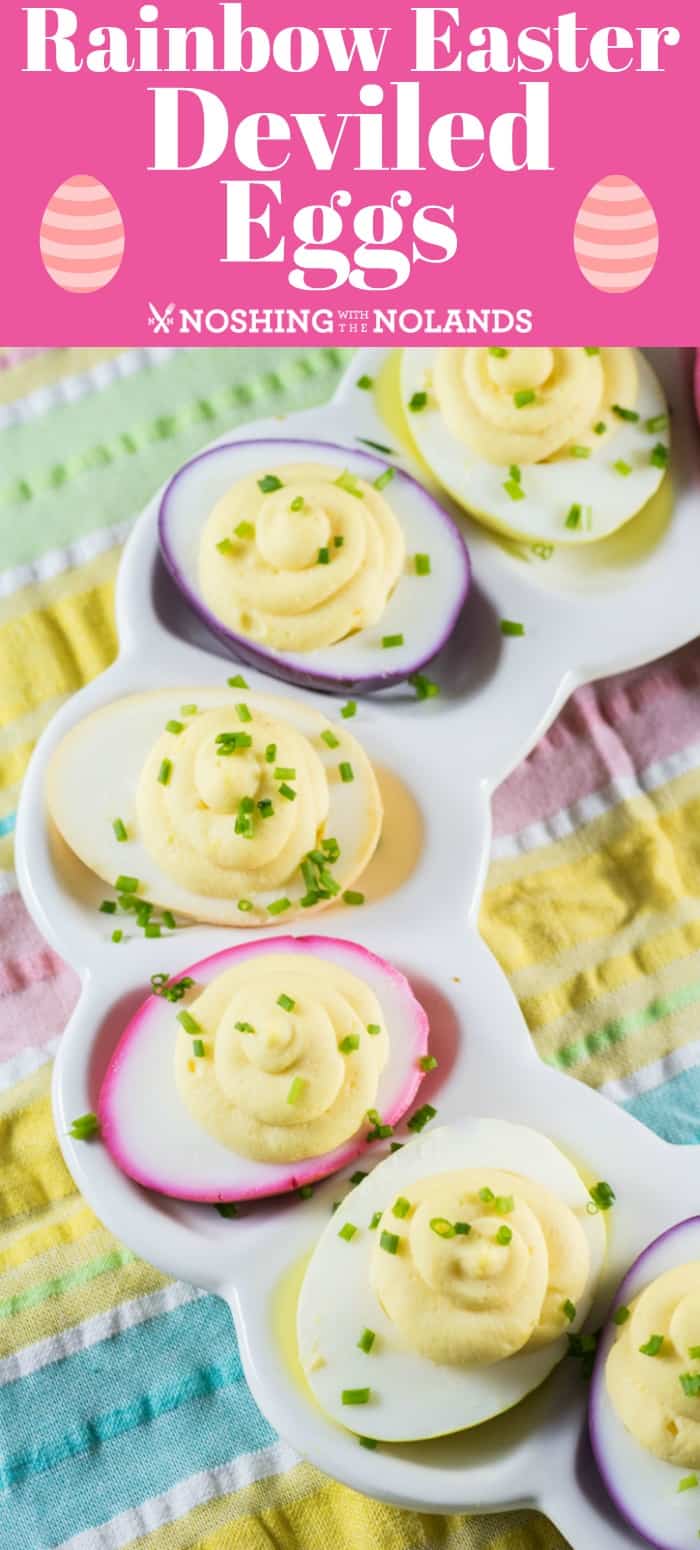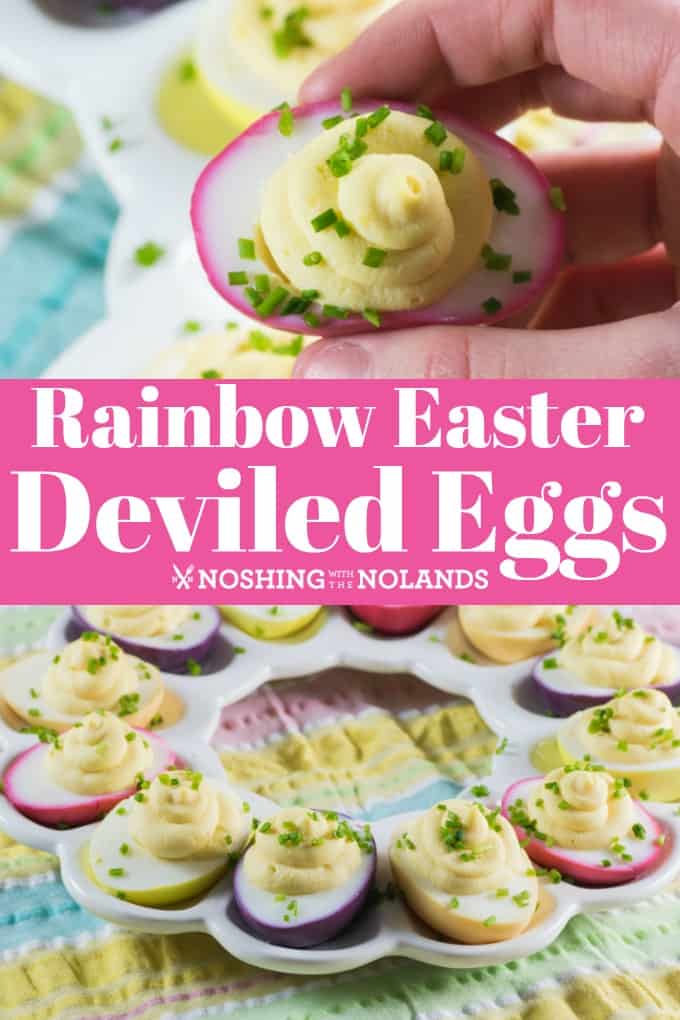 Rainbow Easter Deviled Eggs Recipe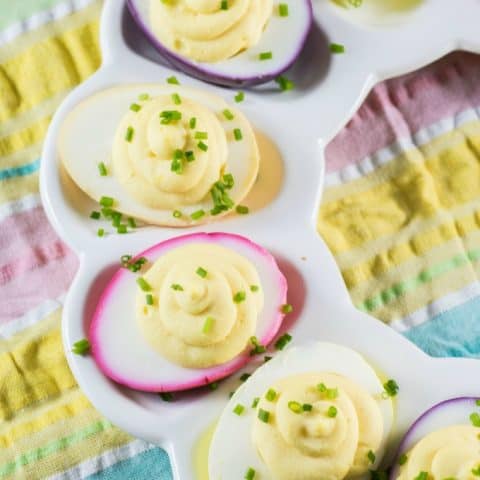 Rainbow Easter Deviled Eggs
Yield: 16 deviled eggs
Prep Time: 20 minutes
Cook Time: 20 minutes
Additional Time: 3 hours
Total Time: 3 hours 40 minutes
Rainbow Easter Deviled Eggs are so pretty and delicious too, make this a family tradition in your home!! The kids will love to make these with you.
Ingredients
8 hard boiled eggs, peeled
2 cups water and 1/2 cup white vinegar with 1 1/2 tsp. salt for each dye
Dyes of choice, we used 2 cups chopped unpeeled red beets, 2 cups unpeeled orange beets, 2 Tbsp. Turmeric and 1 1/2 cups frozen blueberries
4 - 1/2 quart (500 ml.) mason jars
Deviled Egg Filing
1/3 cup light mayonnaise
1 tsp. white vinegar
1 tsp. Dijon mustard
Kosher salt
Dash of white ground pepper
Chopped chive for garnish
Piping bag and #12 Wilton tip
Instructions
Have ready 8 hard boiled eggs. Place the water, vinegar and salt in each of four pots and fill with the two different kind of beets, turmeric and blueberries. Boil until desired color is reached. Don't boil too long to let all your water evaporate. You need to fill the jars 3/4 full.
Fill the jars and refrigerate. Keep the eggs refrigerated too. When they are at the same temperature add two eggs to each jar and let soak 3-8 hours, refrigerated. The longer they soak the darker the lighter dyes will get. Don't soak longer as you will end up with pickled eggs.
Remove the eggs from the dye and dry well. Cut eggs in half lengthwise and remove the yolks.
Add the yolks to mayonnaise, vinegar, Dijon, salt and pepper and stir until creamy.
Place in a piping bag with a #12 Wilton tip and pipe into egg halves.
Garnish with chives and refrigerate until ready to serve.
Notes
The dye may bleed further into the eggs making them appear all pink/purple etc. which is pretty too if left in the refrigerator too long.
Nutrition Information:
Yield: 8
Serving Size: 2
Amount Per Serving:
Calories: 168
Total Fat: 8g
Saturated Fat: 2g
Trans Fat: 0g
Unsaturated Fat: 5g
Cholesterol: 188mg
Sodium: 711mg
Carbohydrates: 17g
Fiber: 3g
Sugar: 11g
Protein: 8g