Walnut Caramel Pots de Creme
I have had this dessert, Walnut Caramel Pots de Creme in my head for a very long time. We went to Europe a number of years ago and when we were in Paris the kids had a chocolate mousse that was served in little jars. They raved over it!! It wasn't Pots de Creme but a light and fluffy mousse but since then I had this in my head to make. I even researched and found these little jars online.
This dessert would work so well at anytime of year, Valentine's Day, Easter, Thanksgiving, Christmas, birthdays and special dinners.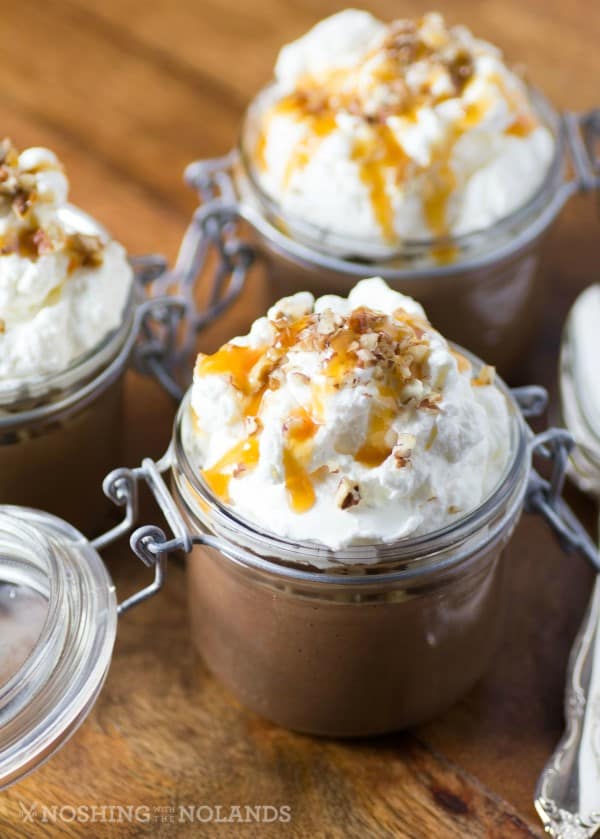 Pots de Creme are different than a mousse as they are denser and richer. They taste heavenly, like melting rich chocolate. The recipe is easy too and you don't have to have the little jars but any small bowl or glass would do.
I wanted these Pots de Creme to be even more impressive with the addition of a layer of walnuts, then whipped cream and topped off with a caramel sauce and more walnuts. Pretty irresistible aren't they!!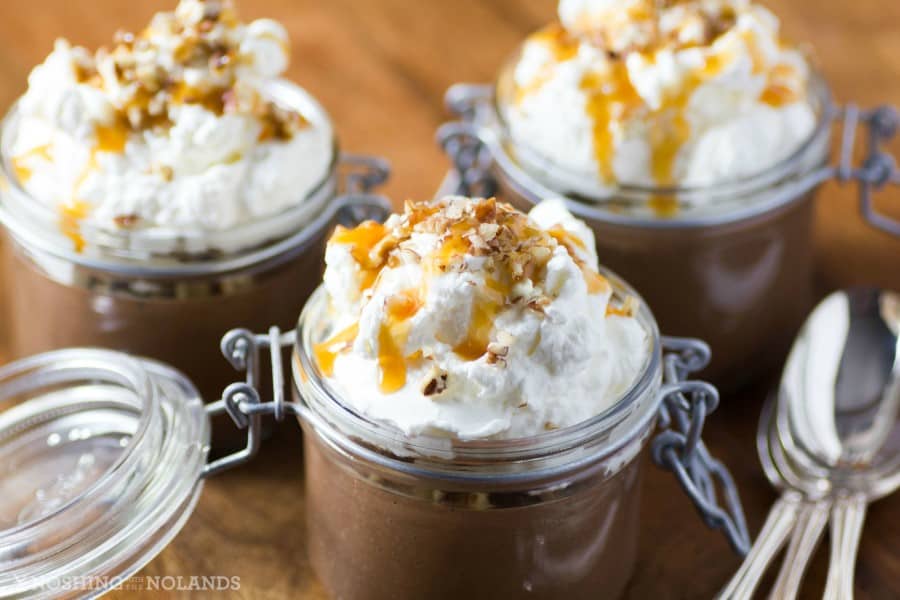 Pots de Creme date back to the 17th century and are usually served in a porcelain cup but as I said at the beginning it was a little memory of Paris and a chocolate mousse that brought me to this place now.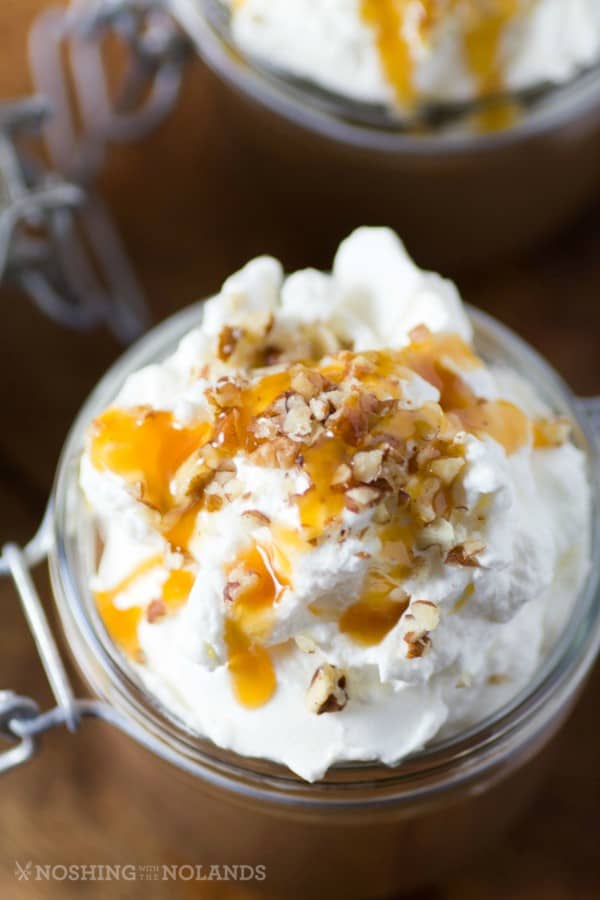 You will impress family and friends with these amazing little pots of deliciousness, try this recipe, it is very easy and so very good!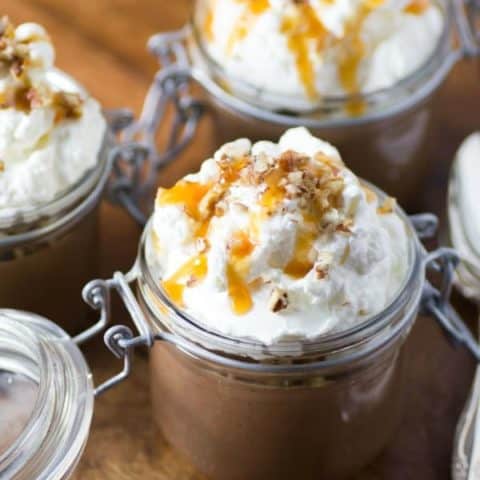 Walnut Caramel Pots de Creme
Yield: 5-8 servings
Prep Time: 15 minutes
Cook Time: 10 minutes
Total Time: 25 minutes
An easy and impressive dessert that has the most decadent of chocolate flavors paired wth whipped cream, walnuts and caramel.
Ingredients
9 oz. milk chocolate, finely chopped
3 oz. bittersweet chocolate, finely chopped
1 cup milk
1 cup heavy cream
1/3 cup sugar
5 large egg yolks
Toppings
1-2 cups heavy cream
1-2 Tbsp. confectioner's sugar
Chopped walnuts or pecans
Caramel sauce
Instructions
In a large heat-proof bowl add the chocolate and set aside. In a medium bowl whisk the egg yolks together and set aside. In a medium saucepan add the milk, cream and sugar, whisk to combine and bring to a boil over medium heat, whisking constantly. Now whisk in half the hot cream mixture into the egg yolks and then whisk this mixture back into the pot. Continue to cook now stirring with a wooden spoon until the mixture coats the back of the spoon. This will take about 4 min.
Pour the hot custard over the chocolate and without stirring let sit for 2 min. Then stir until smooth. Place the hot mixture carefully into a blender and blend until very smooth. Pour mixture into porcelain pots, ramekins or small jars. Depending on the size you will get 5-8 servings. Refrigerate 3-4 hours.
When ready to serve, remove the pots from the fridge and let stand at room temperature. Whip the cream and add the confectioner's sugar. Top each pot with a layer of walnuts or pecans. Then the whipped cream, caramel sauce and more walnuts. Serve immediately.