We love our smoker here at Noshing With The Nolands and Ken loves reviewing cookbooks on that subject. Today we have for you Smoked Chicken Quarters from Smoking Meat by Jeff Phillips, The Essential Guide to Real Barbecue.
This is one cookbook you are going to love, let's explore it and touch on the art of smoking meats!! We will show you how long to smoke chicken quarters and at what temperature to get perfectly succulent chicken every time!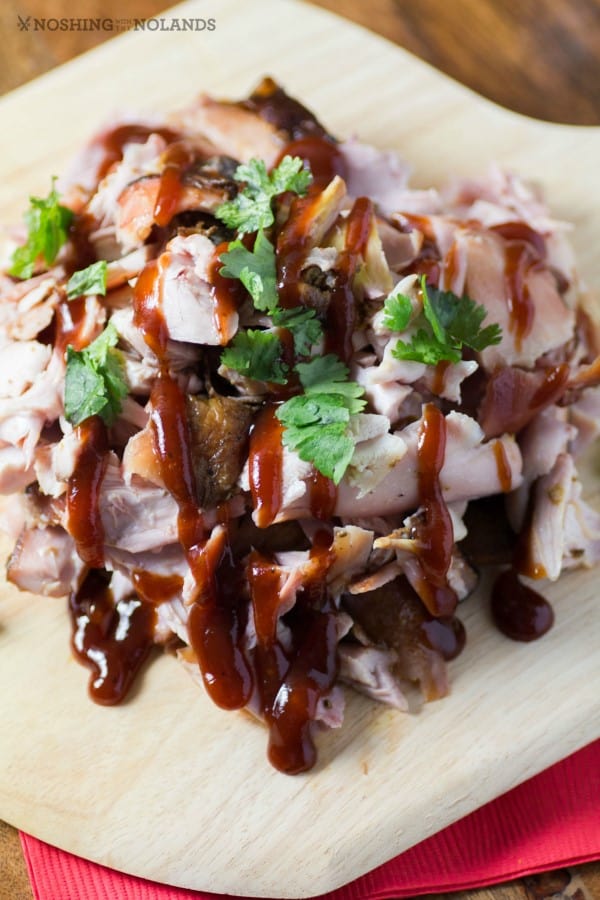 We made these Smoked Chicken Quarters with one thing in mind, to go with these Southern favorites, Cornmeal Griddle Cakes.
The chicken was then pulled and heaped them on top of the griddle cakes, then drizzled with BBQ sauce like you see here and had the most extraordinary meal ever. A true Southern BBQ celebration.
The great thing about smoking meats is that even in our winter we can do it year round. It is something that you have to check on but not continuously like most BBQ dishes.
Ken loves his smoker and we have bought many over the years. What does smoked meat taste like, well a little slice of heaven, smoky, tender, juicy and so full of flavor.
We love smoking meat so this cookbook was an essential addition to our collection.
The Essential Guide to Real Barbecue Smoking Meat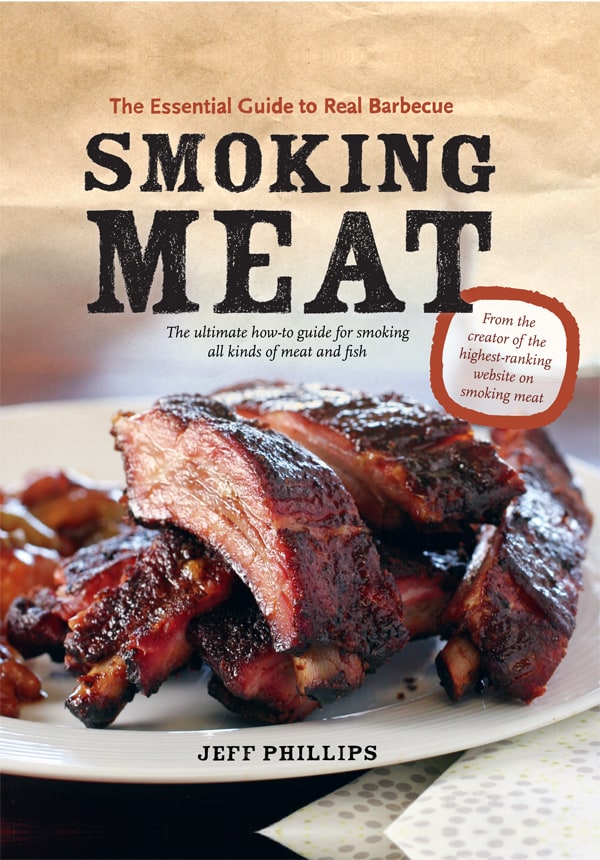 The cookbook starts off with a run down on smokers in a section called Smokeology which is vital for anyone who wants to start smoking or for the advanced BBQ enthusiast, to see all that is out there.
From that point, wood, utensils, thermometers, chimneys and more are discussed. All vital in learning the art of smoking.
Further on the author explores tips and techniques with seasoning your smoker to flavoring your meat with rubs, brines, marinades and mops. This is where you can get some of the magic happening.
One of my absolute favorite dishes coming out of the smoker is chicken or turkey but man Ken can make some mean ribs, jalapeno poppers, fish and more.
Jeff Philips in this book Smoking Meats, explores recipes with poultry, pork, beef, fish and seafood, sides and even desserts and cheese.
The cookbook is filled with gorgeous photography and wonderful recipes for the novice to expert BBQ aficionado.
Recipes like Smoked Whole Chicken, Monster Wings, Smoked Pork Spare Ribs, Ray's Meatloaf (gotta try this one), Cherry-Smoked Prime Rib, Christi's Cheesy Taters, Smoked Apple Pie and Smoked Cream Cheese, just to get your mouth-a-watering!!
The Best Smoked Chicken Quarters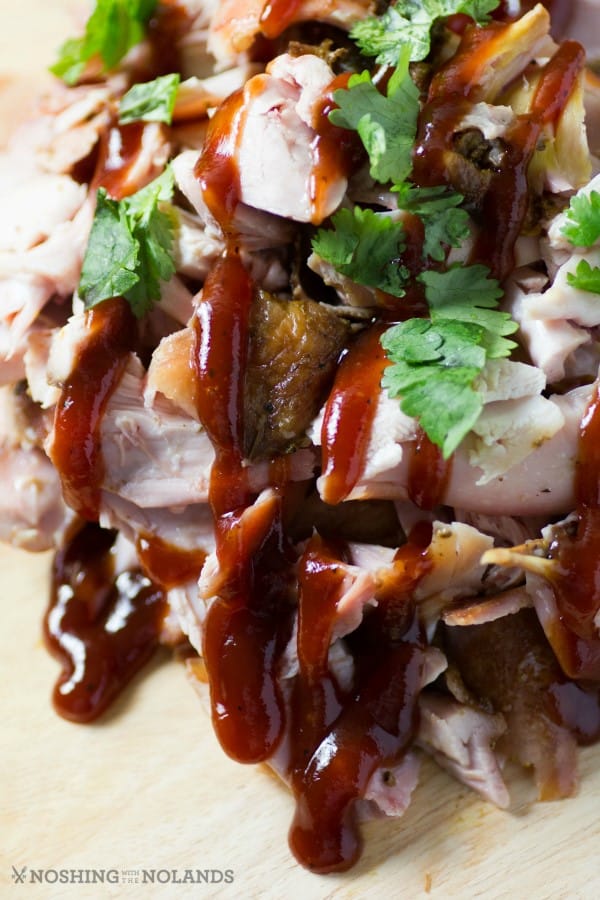 I drool when Ken carries his masterpieces into the house. Meat so tender it is falling off the bone, so full of wonderful flavor you can float behind him.
I highly recommend a smoker and also this fabulous book to go with it. What a magnificent father's day gift this would make!!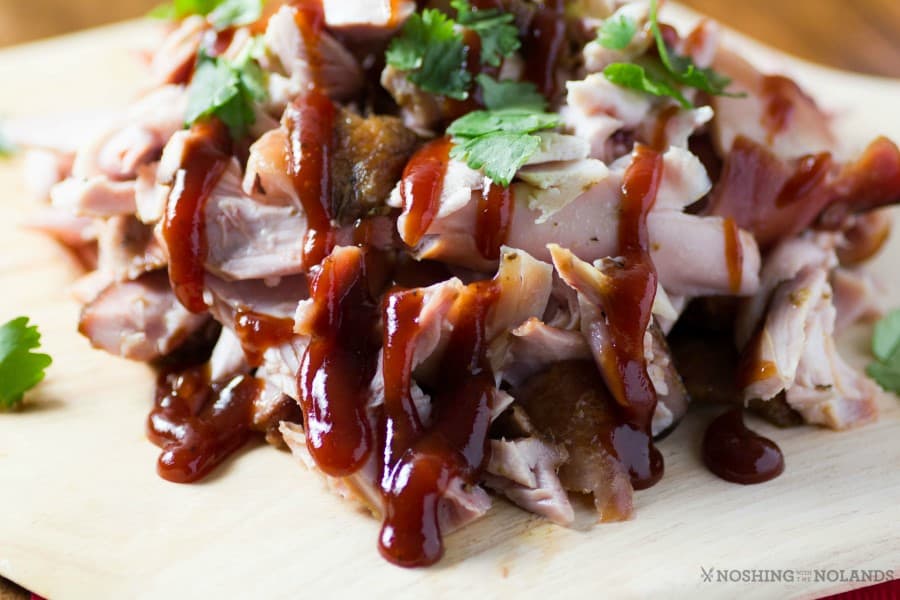 You will love this recipe and the technique of smoking meats, with only a little bit of forward thinking you can have fun with a different method of BBQing all year long.
A real southern traditional method, we so love it and so will you, ENJOY!!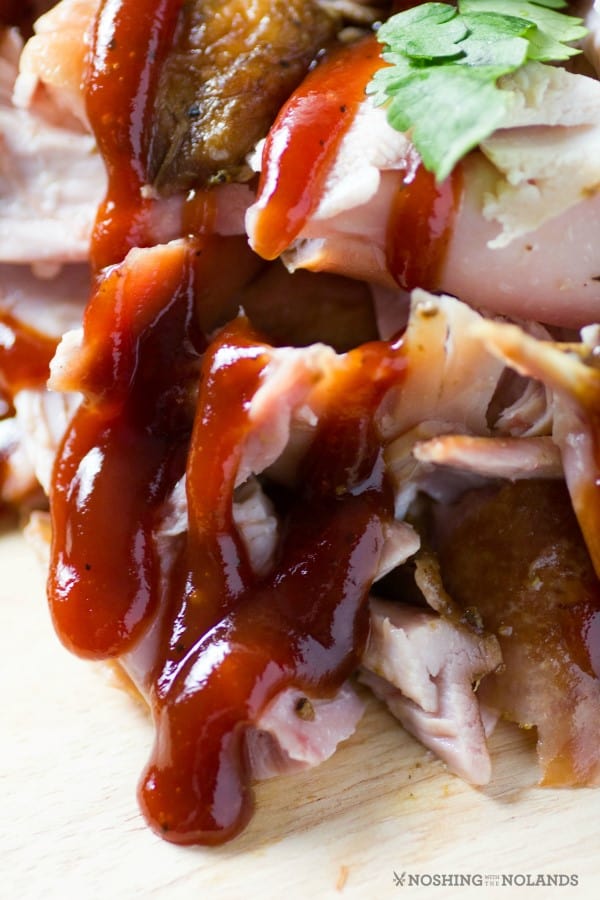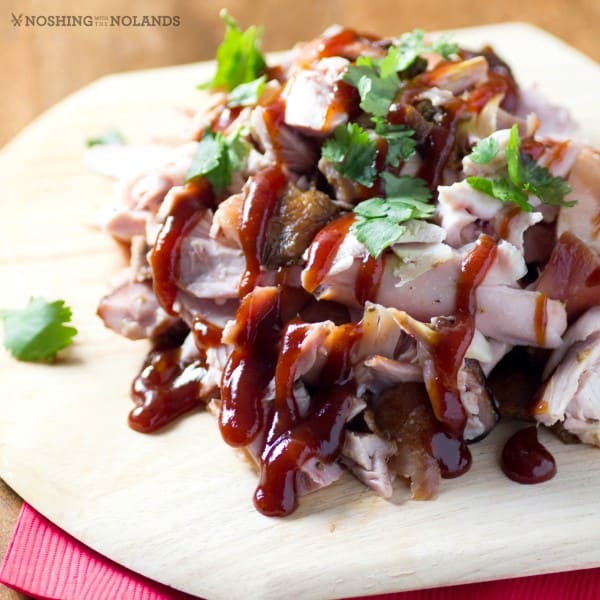 Smoked Chicken Quarters Recipe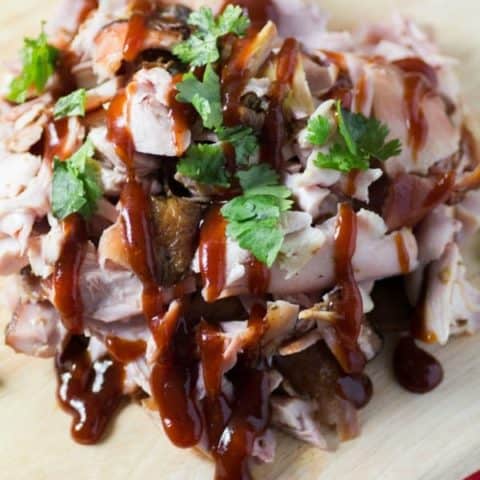 Smoked Chicken Quarters
Yield: 6 servings
Cook Time: 4 hours
Total Time: 4 hours
Chicken quarters are undoubtedly my favorite; in my opinion, the leg and thigh are the most flavorful parts of the bird, and there's no need to fight for the breast or wing—coming from a rather large family has taught me everything about that!
Ingredients
6 chicken quarters
2 Tbsp yellow mustard
1/3 cup All-Purpose Rub
(or 3 Tbsp lemon pepper)
All-Purpose Rub
2 Tbsp kosher salt
2 Tbsp coarsely ground black pepper
2 Tbsp garlic powder
(Makes about 1/3 cup)
Instructions
Brine the chicken quarters, if desired.
Rinse the chicken with cold water and pat dry with paper towels. Apply a light layer (1 tsp) of the mustard to each of the quarters, then sprinkle each piece with about 1 Tbsp of the All-Purpose Rub or ½ Tbsp of lemon pepper. Try to get some of the rub under the skin wherever possible, as this will help flavor the meat instead of just the skin. You will find certain areas where the skin is loose enough to pull up. Rub can be placed into these openings and spread with a single finger. Leave the chicken on the counter for about 30 to 45 minutes to bring it up to room temperature and allow the rub to marinate the meat a little while you get your smoker ready.
Smoking
Prepare your smoker for cooking at 225°f to 240°f. If you are using a charcoal, an electric, or a gas smoker, make sure to have enough smoking wood to last about two hours. Once your smoker is ready, place the chicken quarters directly on the grate with about 1 inch between each piece to allow maximum exposure to the smoke. Insert a digital probe meat thermometer into one of the quarters when they are first placed in the smoker.
Recommended wood: Pecan and apple at a 50:50 ratio
Smoke the chicken quarters for four hours or until they reach 165°f in the thickest part of the leg or thigh. To crispen the skin, see my tip on page 52. Serve while hot, and enjoy.
All-Purpose Rub
Don't let this shortlist of ingredients fool you into thinking there is nothing short about the flavor of this rub. Sometimes the simplest things in life are the best, and this holds true for the combination of the three ingredients used here. Try this with chicken, prime rib, pork chops, steaks, burgers—almost anything that needs a little boost of flavor. Mix this up in multiple batches so you have some on hand when you need it.
Combine all the ingredients into a small Ziploc bag, shake to mix, and keep the rub handy for whatever comes your way.
Nutrition Information:
Yield: 6
Serving Size: 1
Amount Per Serving:
Calories: 207
Total Fat: 11g
Saturated Fat: 3g
Trans Fat: 0g
Unsaturated Fat: 7g
Cholesterol: 80mg
Sodium: 1377mg
Carbohydrates: 4g
Fiber: 1g
Sugar: 0g
Protein: 21g
Recipe calculation was provided by Nutritionix and is an estimation only. If you need nutritional calculations for medical reasons, please use a source that you trust.