Roasted Salmon and Root Vegetables with Horseradish Sauce
I love easy dinners and besides a slow cooker or easy skillet meal, I adore making sheet pan dinners. What can be simplier or healthier than to load up a sheet with delicious ingredients, pop it into the oven and in no time pull out a great meal. I love this idea, so I was excited to try Roasted Salmon and Root Vegetables with Horseradish Sauce from 200 Best Sheet Pan Meals by Camilla V. Saulsbury. Did you know that sheet pan meals is one of the easiest techniques for getting dinner to the table? Come read on and learn more about this recipe and cookbook.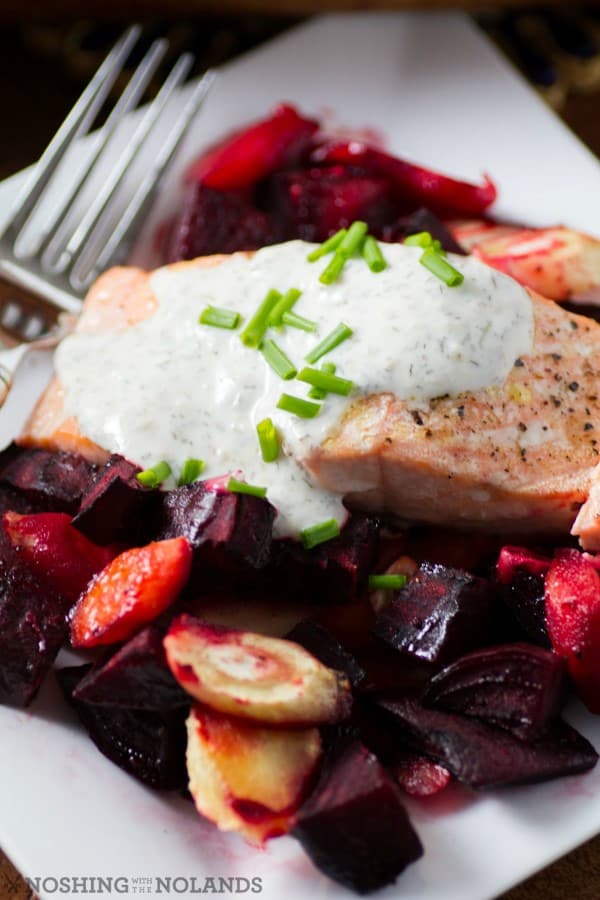 Gorgeously cooked salmon with a horseradish sauce on top of perfectly cooked root vegetables doesn't get much healthier and more delicious for an easy weeknight meal. This could be made into the weekend to as it is so beautiful and deserving as a special Sunday supper meal.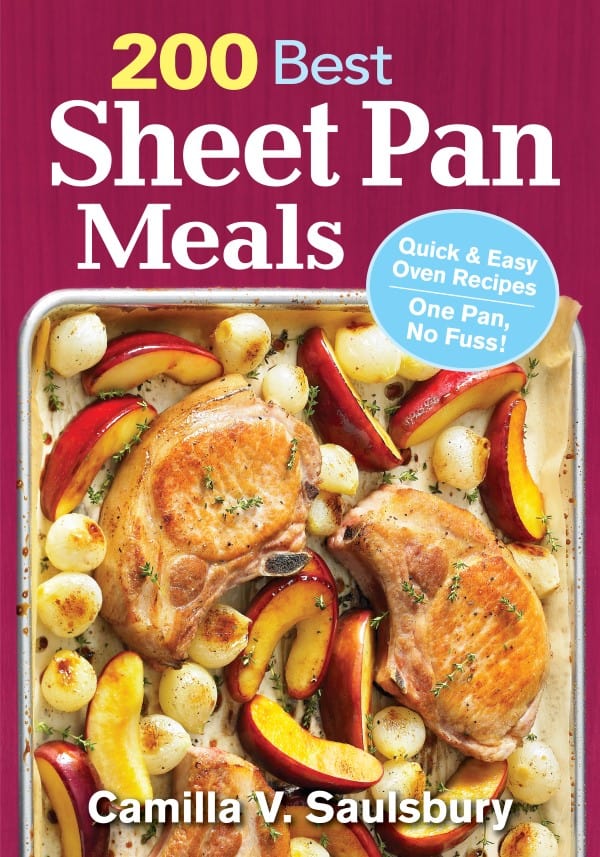 This cookbook as the title says, has 200 great recipes to help you out when dinner seems to be an impossibility, due to our busy households. Taking a single sheet pan, a hot oven, a few great ingredients makes dinner, and even breakfast, brunch, lunch and snacks a breeze to make. One pot meals have been around now for a long time, adding to that option is are now sheet pan meals. Plus think of cleanup, it couldn't be easier, one sheet pan to wash. Your oven does all the magic!! The recipes in this cookbook are perfect for weeknight meals but many can be entertaining-worthy also.
Recipes like California Fish Tacos with Cucumber and Pineapple, Pork Chops with Roasted-Apples, Pearl Onions and Thyme, Farmers' Market Salad with Goat Cheese Toasts, Sheet Pan Clam Bake and Roasted Plums with Honey, Walnuts and Greek Yogurt can all be wonderful additions to your recipe collection.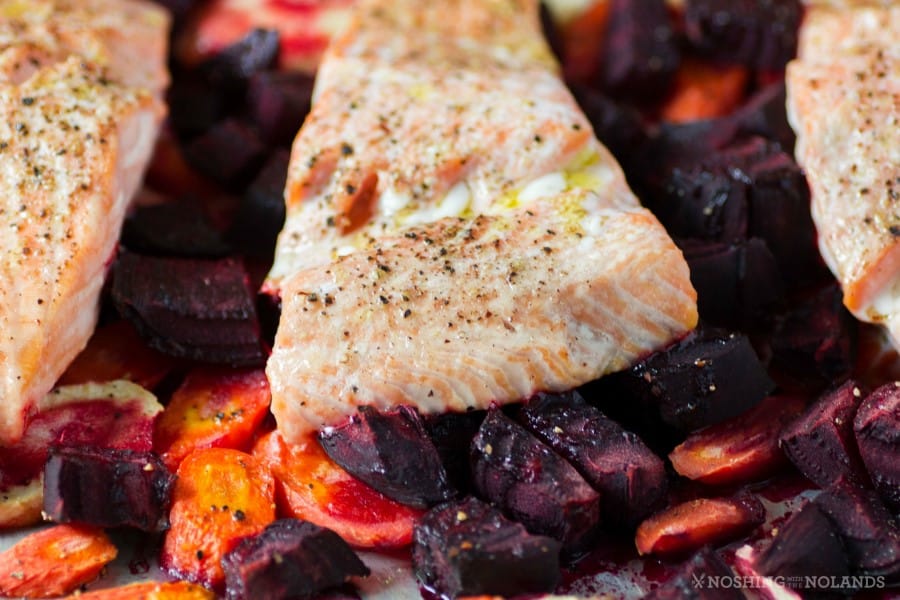 Succulent salmon is perfect for spring and soon we will all be getting farmer's fresh vegetables. This wonderful pairing will have everyone raving. I loved the ease of this meal, prep the sauce ahead of time and sit back and relax while the vegetables and then the salmon are cooked to perfection.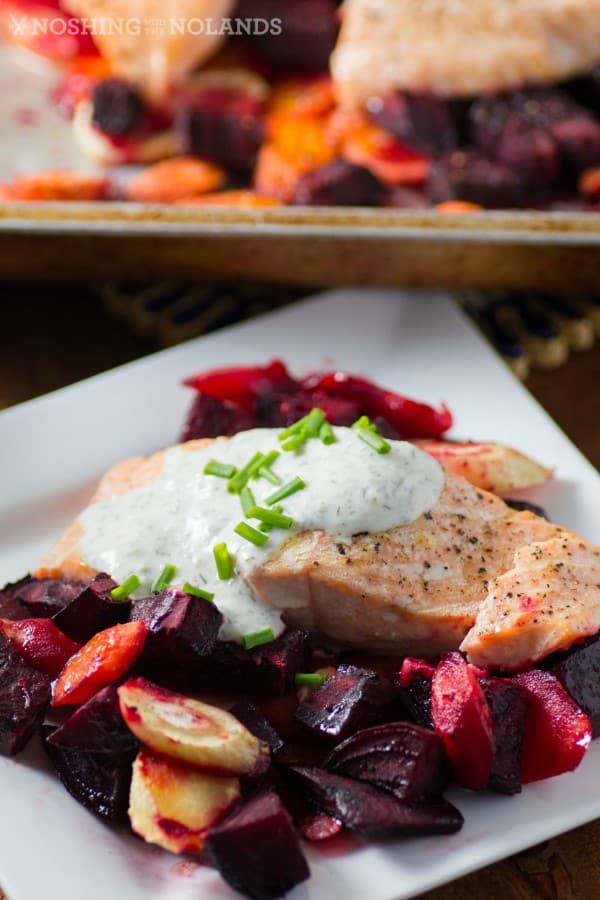 Camilla V. Saulsbury, the author is a busy wife and mother, and an endurance runner. She wants and needs to make fast, easy, healthy and nourishing meals. If you have a sheet pan and an oven, these fast, fuss-free meals will get dinner to the table quickly. Camilla is a freelance food writer, recipe developer and cooking instructor. Her focus, as in this cookbook is to translate food and flavor trends into fresh, innovative and delicious recipes for the home cook. Camilla has had numerous features on Food Network, "Today" and "Good Morning America Health" and has also been been in multiple publications, including The New York Times and Dr. Oz's The Good LIfe and many more.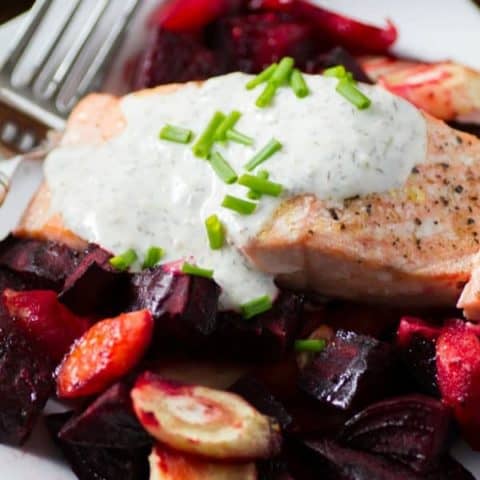 Roasted Salmon and Root Vegetables with Horseradish Sauce
Yield: 4 servings
Prep Time: 15 minutes
Cook Time: 39 minutes
Total Time: 54 minutes
Sour cream seasoned with horseradish and dill makes a quick and tasty sauce for roasted salmon and root vegetables in this Eastern European–inspired meal.
Ingredients
6 carrots, trimmed and cut into 1⁄2-inch (1 cm) thick slices 6
4 parsnips, trimmed and cut into 1⁄2-inch (1 cm) thick slices 4
4 beets, trimmed and cut into 1⁄2-inch (1 cm) thick slices 4
3 tbsp olive oil, divided 45 mL
Salt and freshly cracked black pepper
1 tsp dried dillweed 5 mL
1⁄2 cup sour cream 125 mL
3 tbsp prepared horseradish 45 mL
2 tsp cider vinegar 10 mL
4 pieces (each 6 oz /175 g) skinless salmon fillet, patted dry 4
Instructions
• Preheat oven to 425°F (220°C)
• 18- by 13-inch (45 by 33 cm) rimmed sheet pan, lined with foil
On prepared pan, toss together carrots, parsnips, beets, 2 tbsp (30 mL) oil, 1⁄2 tsp (2 mL) salt and 1⁄4 tsp (1 mL) pepper. Spread in a single layer. Roast in preheated oven for 25 minutes.
Meanwhile, in a small cup, combine dill, sour cream, horseradish and vinegar until blended. Season to taste with salt and pepper.
Remove pan from oven and nestle fish among the vegetables, spacing evenly. Brush fish with the remaining oil and season with salt and pepper. Roast for 9 to 14 minutes or until vegetables are fork-tender and fish is opaque and flakes easily when tested with a fork. Serve with horseradish sauce.
Tip
For a lighter dish, substitute an equal amount of nonfat plain Greek yogurt for the sour cream.