Don't you just love the summer for BBQ season alone!! Delicious entrees cooked on the BBQ accompanied by gorgeous salads. It is easy meals and entertaining and I am celebrating with Egg Farmers of Canada with #SummerSideUp this season. Today I have for you a very simple yet elegantly presented Egg Potato Green Bean Salad. I have been BBQing steak of late and what better ingredient to go with that than eggs. Steak and eggs are perfect together but a lot of people think of that as breakfast. Here is a great recipe to accompany not only steak but fish, chicken, pork and whatever else you want to grill up on the barbee.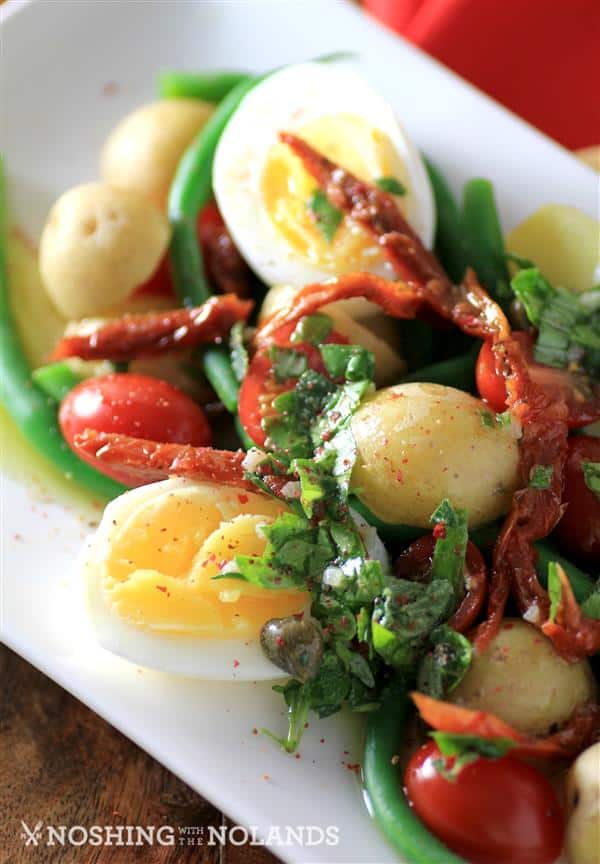 This salad looks complicated but it is really very simple ingredients presented like a nicoise salad. That is actually where I came up with the idea when we were having a nicoise salad a couple of weeks ago. I thought this salad would go wonderfully with a gorgeous grilled steak. I left out the tuna and some other ingredients like olives and switched up the anchovies for sundried tomatoes. Don't even get me started about how much I love anchovies and eggs together. Until you have tried it you are missing out my friends, it is stupendous but that is a whole other post!!
This summer is very eggciting at Egg Farmers of Canada as I get to join Chef Lynn Crawford in Toronto on July 30th for at a special luncheon to discuss more great ways to celebrate with eggs. Use the #SummerSideUp hashtag to follow along for great recipes, tips and information about eggs for your summer entertaining. Chef Crawford has some amazing eggs recipes to share, like her gorgeous Black Bean and Egg Tostadas or her Egg and Lobster Rolls.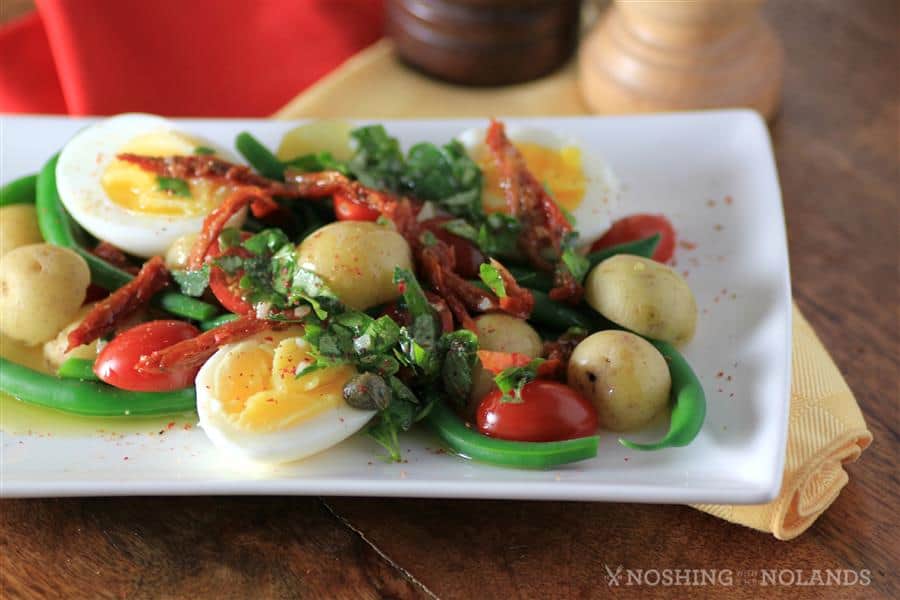 For this dish I used a medium boiled egg, the egg whites are completely cooked but the yolk is just a bit creamy. It makes for a wonderful egg, which has loads of protein, 6 gms in each egg and only 70 calories, eggs are a magnificent source of goodness for summer grilling. Last month we did Grilled Peppers with Eggs right on the BBQ.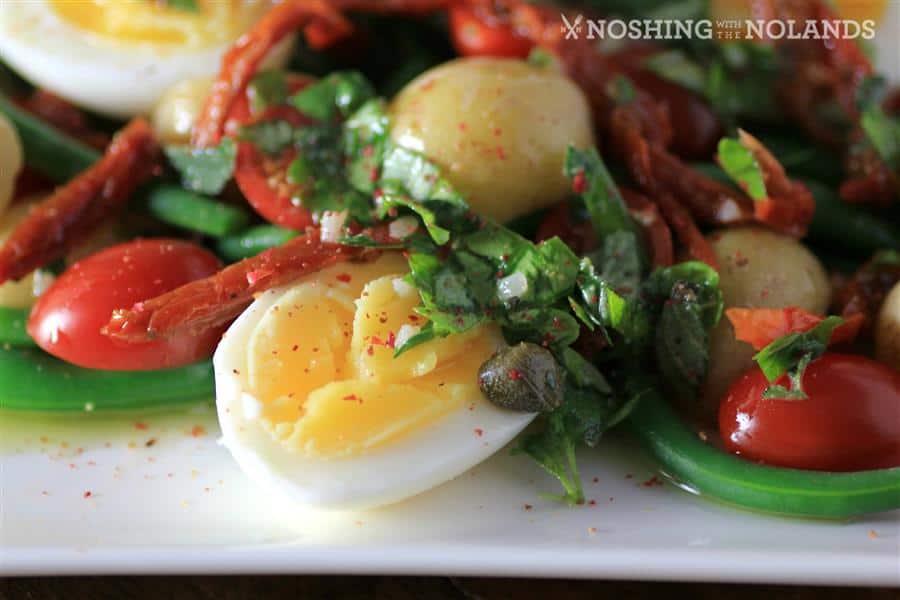 This salad couldn't be easier. You can have all the ingredients prepared ahead of time and right before serving you lay out the fresh ingredients. Eggs are fresh and local all year round in Canada and are not only full of high quality protein but have 14 essential nutrients. Break out of your shell and try a medium boiled egg this summer when entertaining with family and friends. This salad will be a sure hit at any BBQ. Canadian eggs are among the best for quality and freshness. We are never without eggs in this house as they are used from breakfast to dessert.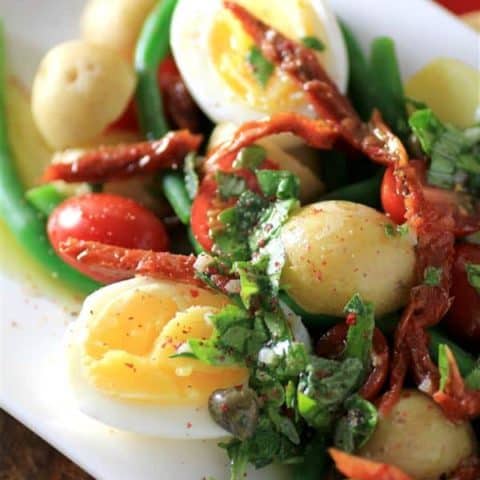 Egg Potato Green Bean Salad #SummerSideUp
Yield: 2-3 servings
Prep Time: 15 minutes
Cook Time: 15 minutes
Total Time: 30 minutes
An easy and delicious salad made elegant and pairs perfectly with many grilled meats.
Ingredients
2 cups little potatoes, halved
2 cups green beans, stem end removed
4 eggs, medium boiled, cold
Cherry tomatoes
Sundried tomatoes, sliced thinly
Capers
Fresh Herb Vinaigrette
2 Tbsp. white vinegar
1/2 tsp. minced garlic
1 tsp. lemon juice
1/2 tsp. Dijon mustard
4 Tbsp. olive oil
2 Tbsp. fresh herbs (parsley, tarragon, oregano, basil, thyme) or any combination you prefer
Salt and Pepper
Instructions
Cook potatoes in salted water for 12- 15min. or until tender. Drain and let cool, refrigerate. Cook green beans in salted boiling water for 2-3 min. drain and plunge into ice water, refrigerate until ready to use. When ready to serve whisk the vinaigrette together and gently stir in the herbs. Plate the potatoes, green beans, and cherry tomatoes. Peel the eggs and slice in half, place on the plate. Layer the sundried tomatoes on top with the capers and drizzle with the herb vinaigrette. Season with pepper and salt and serve immediately.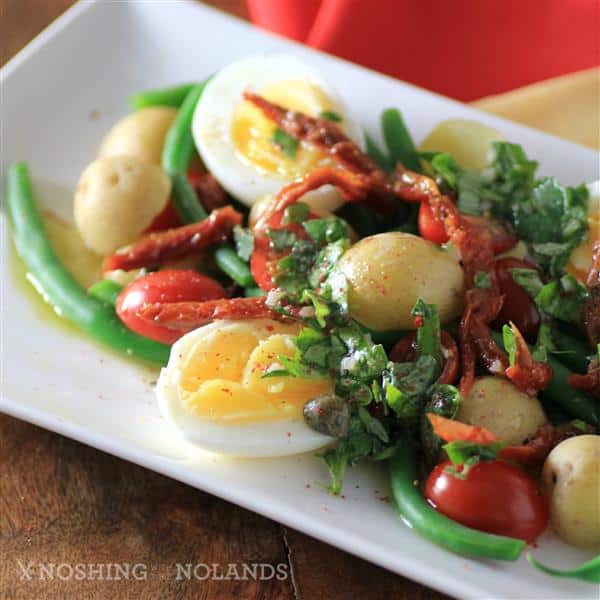 Come and follow Egg Farmers of Canada on Facebook, Twittter and Pinterest for more fantastic recipes, tips and information.
GIVEAWAY: We have a fun #SummerSideUp giveaway for you to celebrate eggs with. Come and see all the wonderful prizes and enter.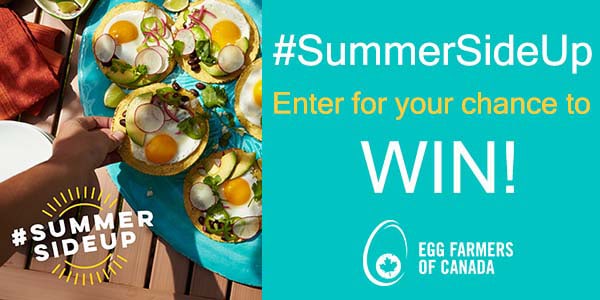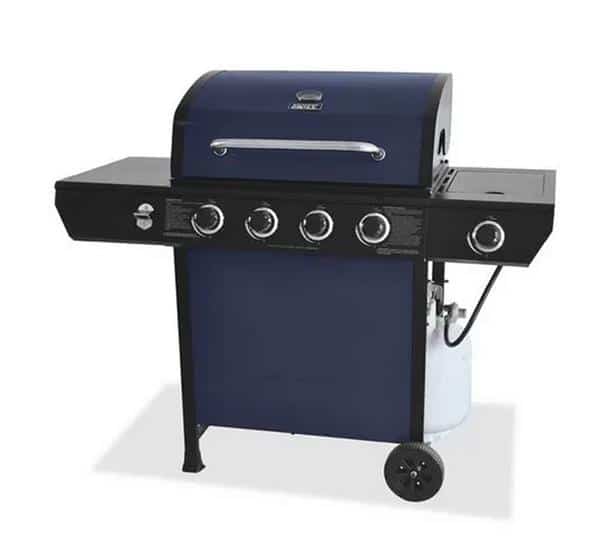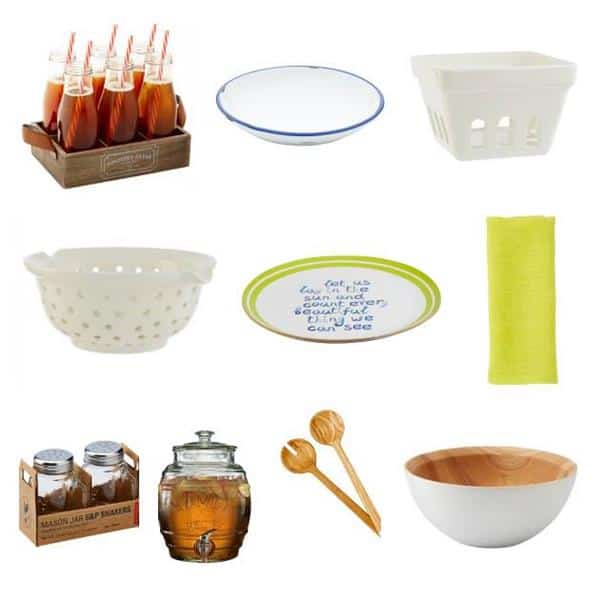 Prizes are valued at $500 and open to Canadian residents, excluding Quebec. For full contest details come on over
HERE
! Giveaway ends August 6th, 2015.
Prizes:
– Mason jar salt & pepper shaker set
– 4 citron cloth napkins
– 1 large ivory ceramic farm egg/fruit basket
– 1 ivory ceramic colander
– 1 mason jar drink dispenser
– 1 – 6 piece milk/juice bottle wood set with tray and straws
– 1 lay in the sun pressed wood platter
– 1 ash and wood salad serving bowl
– 1 ash and wood salad tongs
– 4 stoneware tinware look salad plates
– Propane BBQ
*In the event that these prizes are sold out/no longer available at the time of giveaway ending, a gift card will be provided of equal value. This is stated in the Rules.
#SummerSideUp Twitter Party
Not only do we have a fabulous giveaway, we also have a huge twitter party with $1500 worth of prizes on August 5th at 9 pm EST. Use the hashtag #SummerSideUp to follow along. This wonderful event will be hosted by Chef Lynn Crawford, Egg Farmers of Canada and SJ Consulting. Make sure to add your twitter handle below to be eligible for prizes. Plus, join us for eggcellent summer fun recipes and ideas.
'); // ]]> Disclosure: I am participating in the Egg Farmers of Canada campaign managed by SJ Consulting. I received compensation in exchange for my participation in this campaign. The opinions on this blog are my own.