This month for Little Potato Company, I am giving you an appetizer with potatoes. Sound hard to come up with an appetizer using little potatoes, heck no!! I was fine dining with a group of colleagues and a chef in the group gave me this idea for serving potatoes simply with some toppings. I then took it to another level and thought of a deconstructed Potato Salad Appetizer. What could be easier? I served this to a dinner party and everyone loved the idea and gobbled it down. Summer party hit!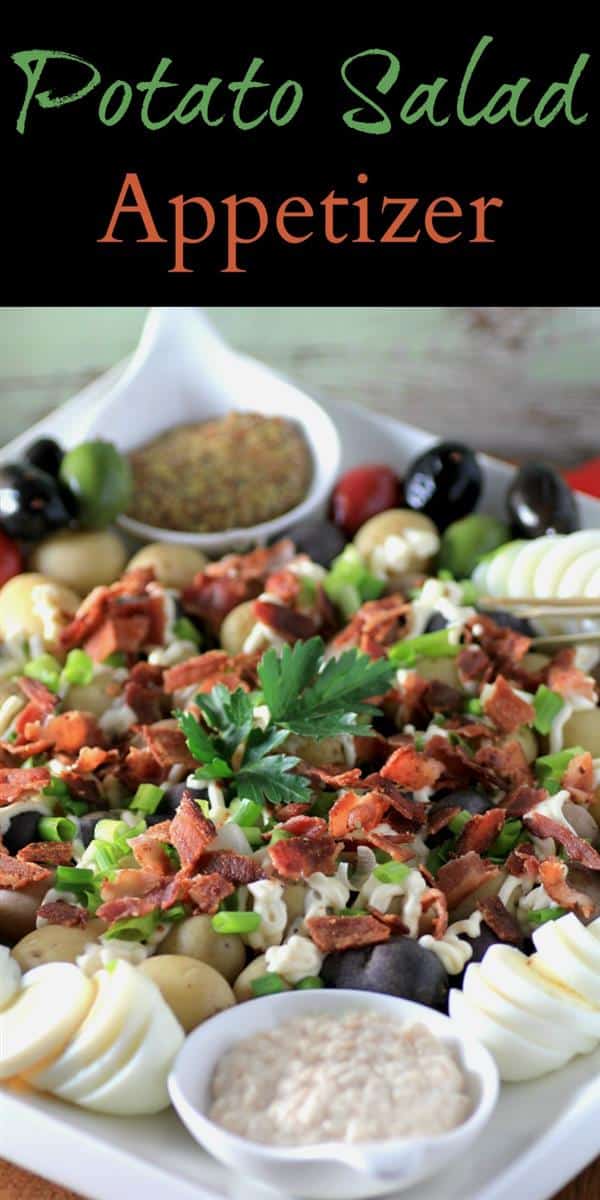 This appetizer has all the favorite things you like in a potato salad, eggs, bacon, green onions and then I put out three different mustards, grainy, spicy, sweet and a horseradish sauce for dipping. There is a good drizzle of mayonnaise there also. It is pretty and even better yet the little potatoes are the perfect bite size!!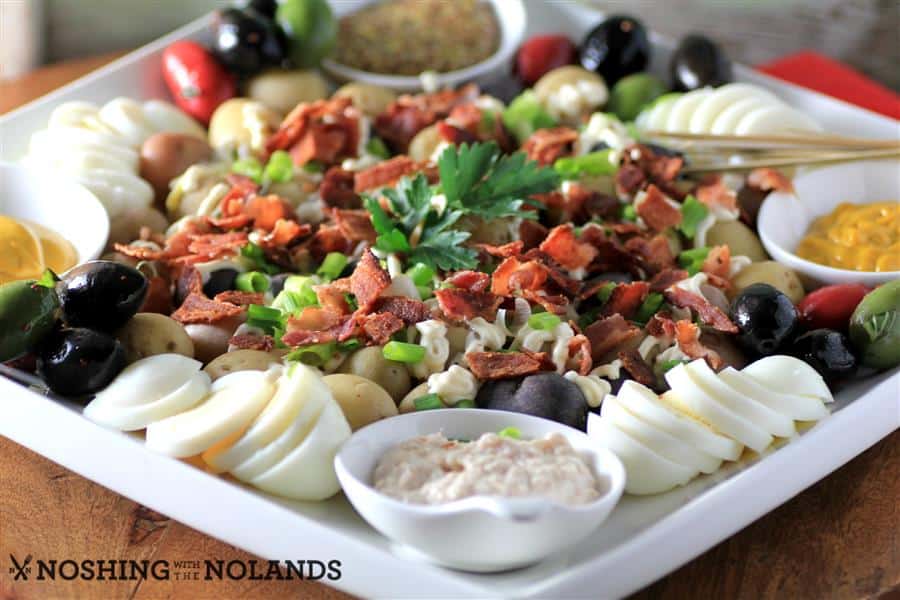 I garnished the platter with a few olives but you can add your favorites too. Served up with long appetizer skewers everyone dunked and nibbled their way thru an amazing potato salad. Did you know that little potatoes are not immature, small or baby potatoes but full grown potatoes. There are also many varietals to choose from, all completely mature potatoes. Here is the cutest video ever describing Little Potato Co.'s little potatoes.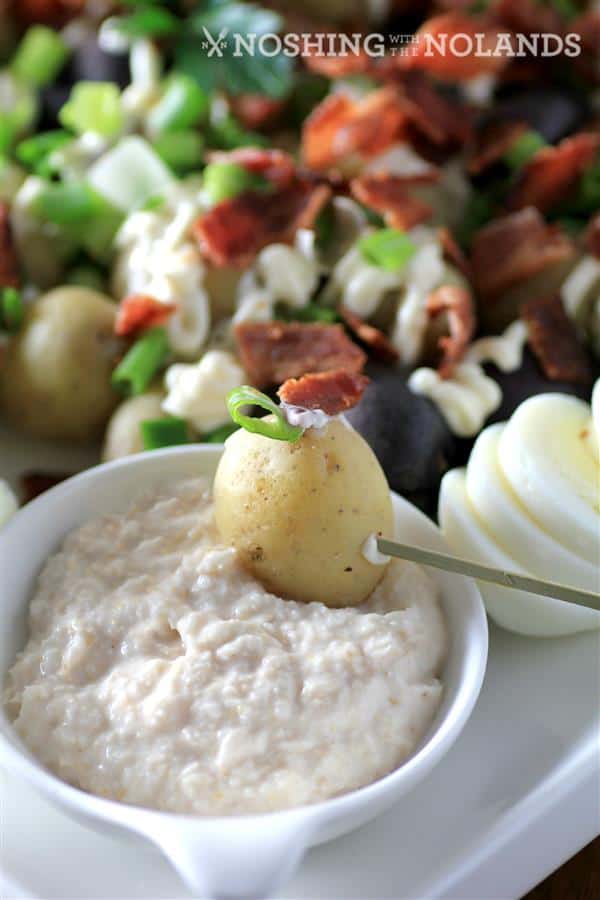 The sky is the limit on this appetizer creation. I loved all the mustards and the creamy horseradish, all of them lended a great addition of flavor to these already wonderful little potatoes.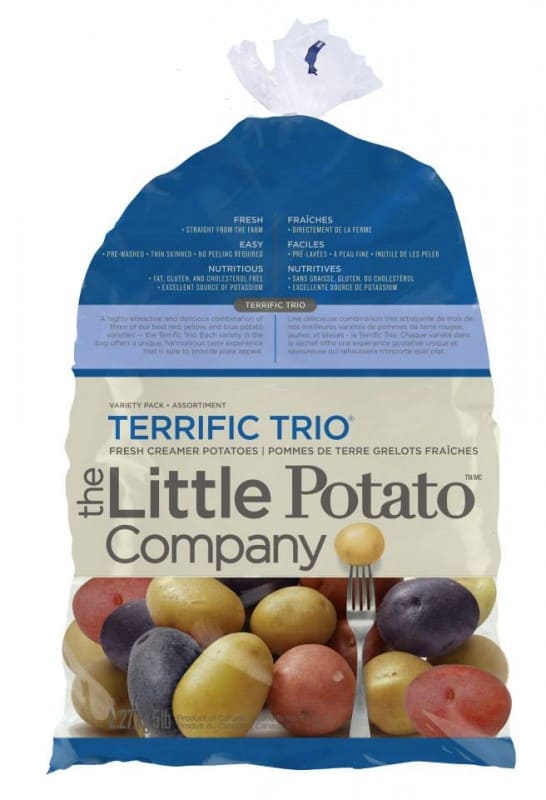 I used the Terrific Trio for this appetizer. A great blend of Creamer potatoes, red, yellow and blue varietals. They come in a 2 and 5 lb. bag and are available along with all their products in the US and Canada.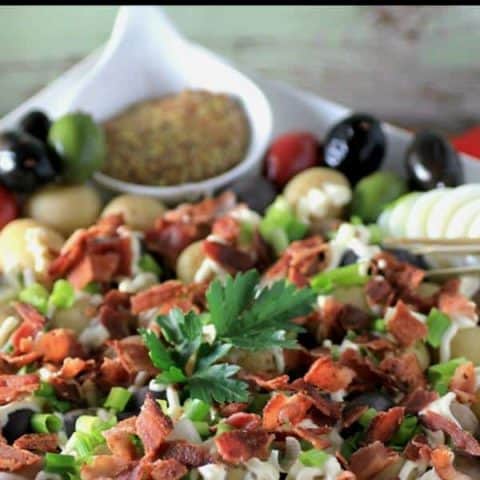 Potato Salad Appetizer
Yield: 6-8 servings
Prep Time: 15 minutes
Cook Time: 15 minutes
Total Time: 30 minutes
A deconstructed Potato Salad Appetizer that is great for easy summer entertaining.
Ingredients
2 lb. bag Terrific Trio Little Potato Co. potatoes
8 slices of bacon, cooked crisp and crumbled
4 green onions, chopped
4 hard boiled eggs
Mayonnaise in a squeeze bottle
Different mustards for dipping
Creamy horseradish for dipping
Olives for garnish, optional
Instructions
Cook potatoes according to the package for about 15 min. or until tender. Let cool and then refrigerate to cool completely. When ready to serve, place them on a large platter. Drizzle over top the mayonnaise. Top with green onions and bacon. On the outer edges add the eggs, olives and mustards and horseradish sauce for dipping. Serve immediately.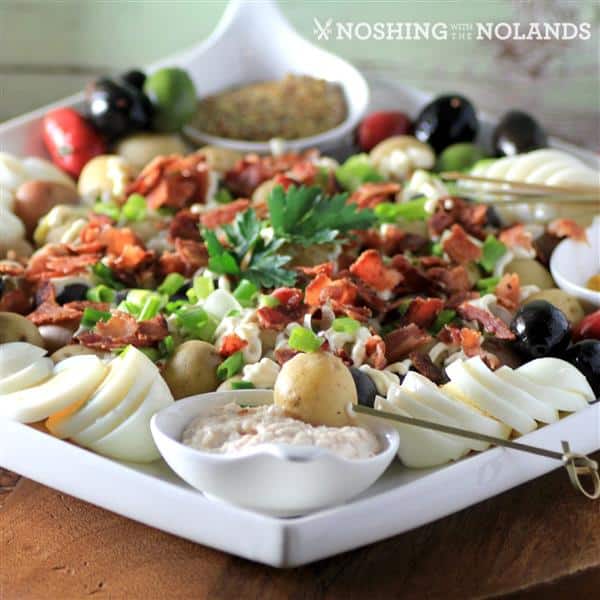 This month we have a GIVEAWAY and a lucky winner from Canada or the US will get one month free potatoes. Fantastic for all your summer BBQ's and entertaining. The contest runs from 12:00 am on July 10th, 2015 until July 24, 2015 at 12:00 am. Good luck everyone and if you are the winner you have 48 hours to answer the email or a new winner will be selected. Think of all the yummy recipes you can make with a month of free potatoes.