Grilled Peppers with Eggs #CanadianEggs
We are celebrating eggs for Father's Day. Does dad like grilling? And he loves his eggs? Then combine those two joys in one with Grilled Peppers with Eggs for Father's Day!! Eggs are very versatile but are usually forgotten at this time of year with the BBQ. I got this cool idea looking at Grilled Eggs in Portobello Mushrooms from 4 BBQ Recipes To Bring On The Summer at Eggs.ca. Then I was flipping through a Canadian Living magazine and they confirmed my idea of Eggs in Peppers as they had a recipe there too but they had baked theirs!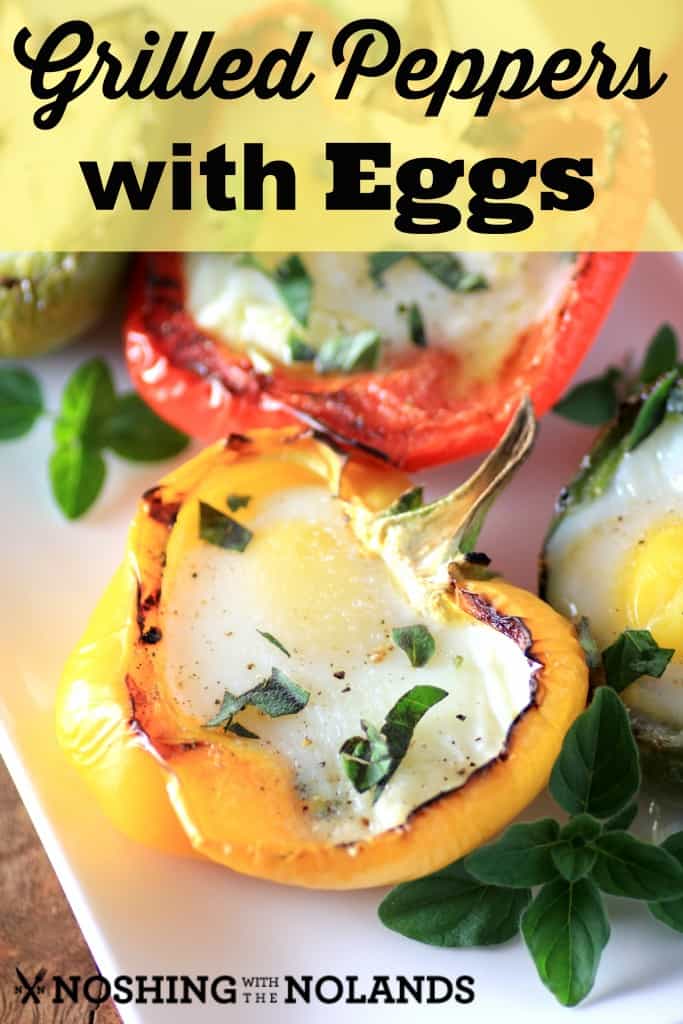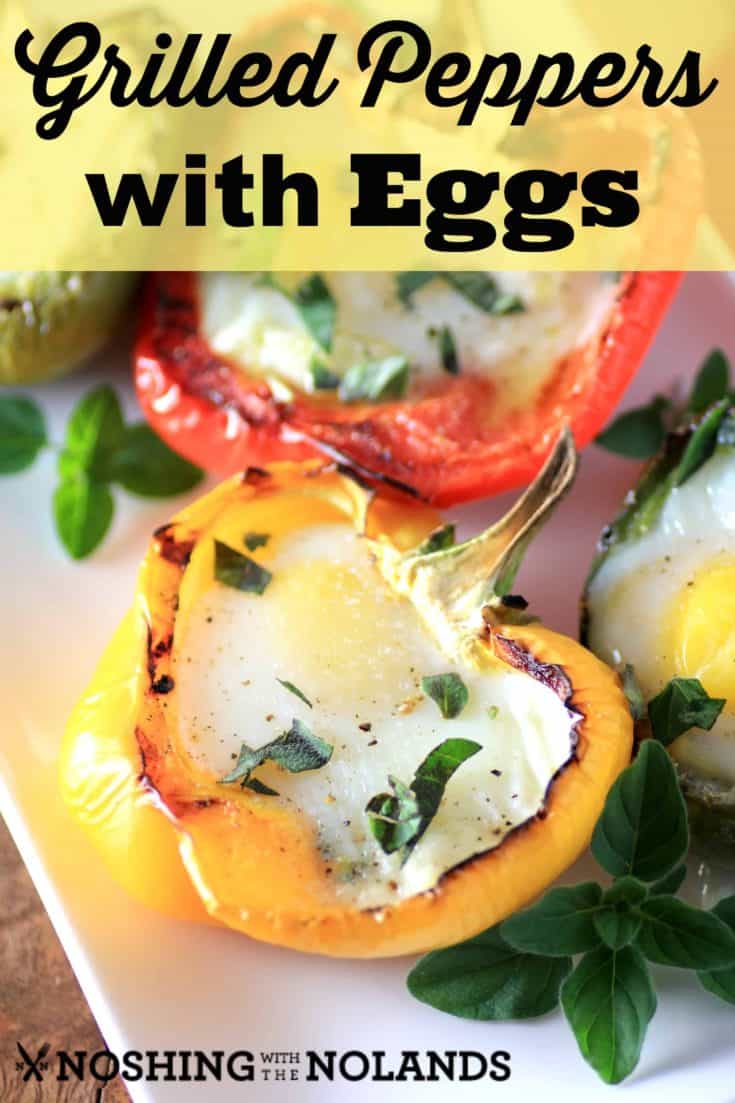 These were amazing!! They can be served for breakfast, brunch, lunch or dinner. See what I mean about eggs being versatile. Everyone gets the added bonus of a great locally produced egg with each pepper. Eggs have 14 important nutrients, including vitamin A, D, E, folate, iron, zinc and choline. All wrapped up in this perfect little package!! Eggs provide a great blast of energy, that we need to help us go all day long. Not only are the nutrients important but eggs are full of protein and are equal to one serving of meat. The Canadian Food guide recommends we have 3 servings of meat or meat alterntives, like eggs a day.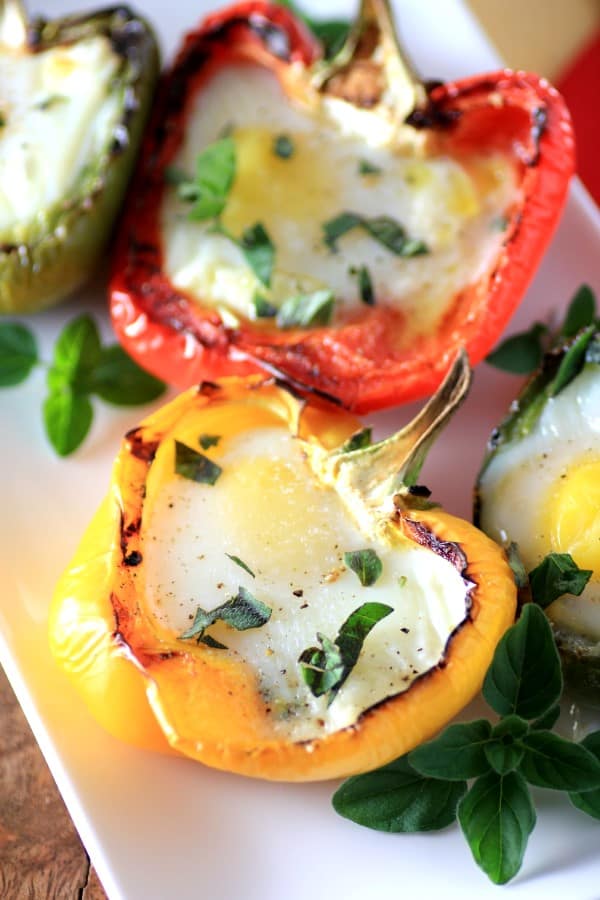 There is flavor all the way through these peppers. Not only do you get that wonderfully perfectly cooked egg but just underneath that you have feta, a drizzle of olive oil and fresh oregano (from my garden).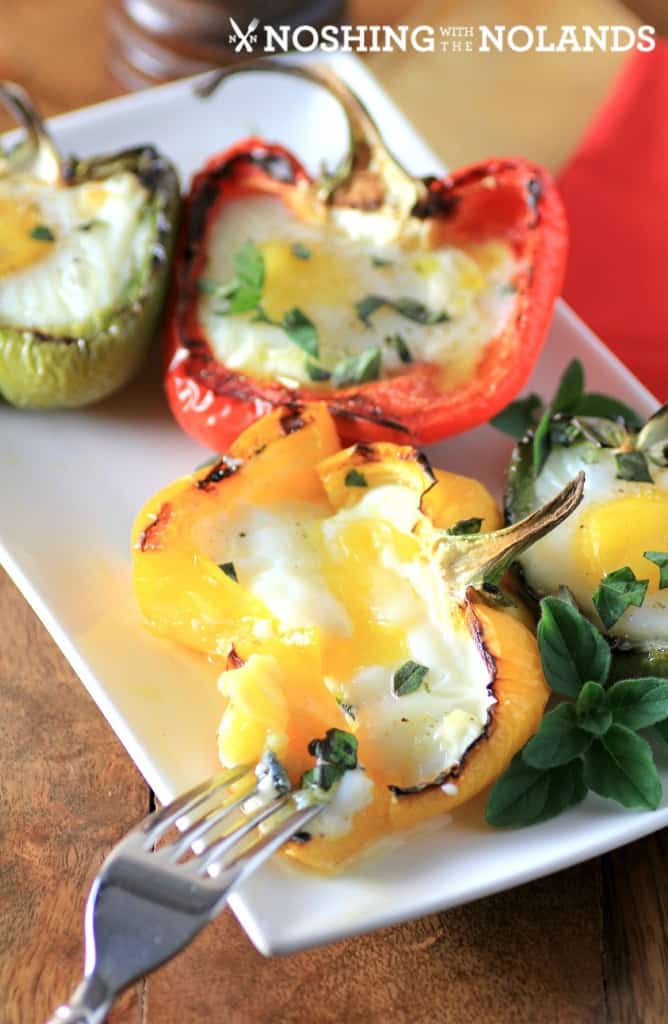 The sweet peppers and feta/oregano go so lovely with the eggs. I am so happy to have available to us locally, all across Canada, Grade A eggs. We will be cooking with them all summer long. I can't wait for Meatless Monday and try their Grilled Eggs in Portobello Mushrooms. Come and follow along for more great recipes, ideas and information on their Facebook, Twitter and Pinterest.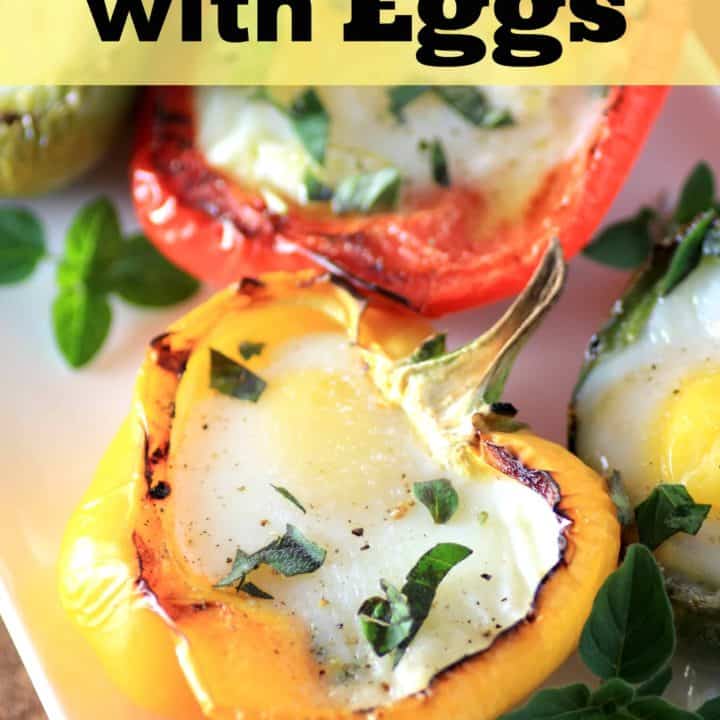 Grilled Peppers with Eggs #CanadianEggs
Yield: 6 servings
Prep Time: 10 minutes
Cook Time: 25 minutes
Total Time: 35 minutes
The perfect grilled egg for Father's Day!
Ingredients
3 peppers, red, yellow and green
1-2 heaping Tbsp. crumbled feta
1 heaping Tbsp. fresh oregano, chopped
Drizzle of olive oil
6 eggs
Salt and pepper
Instructions
Cut peppers in half leaving the stem on. Grill cut side down for about 7-10 minutes until they begin to soften and are slightly charred. Remove from grill and drizzle the insides with a small amount of olive oil. Salt and pepper the insides, not too much salt as the feta is salty. Sprinkle with the fresh oregano reserving some for the top. Divide the cheese among the peppers. Crack one egg into each pepper. Grill again but on indirect heat for 12-15 min. or until the whites are set and the yolks remain runny. Place a lid over them if cooking on a open fire. Salt and pepper the eggs and top with the remaining oregano. Serve immediately.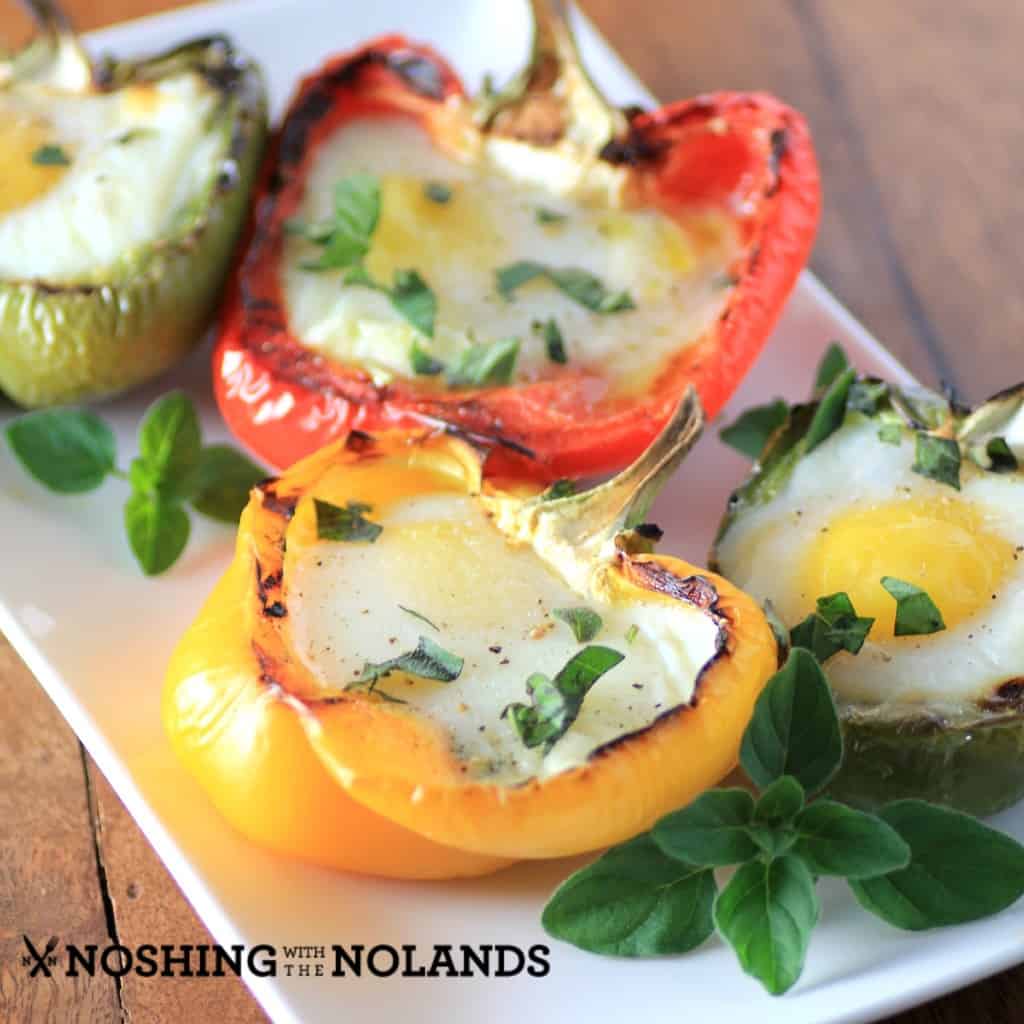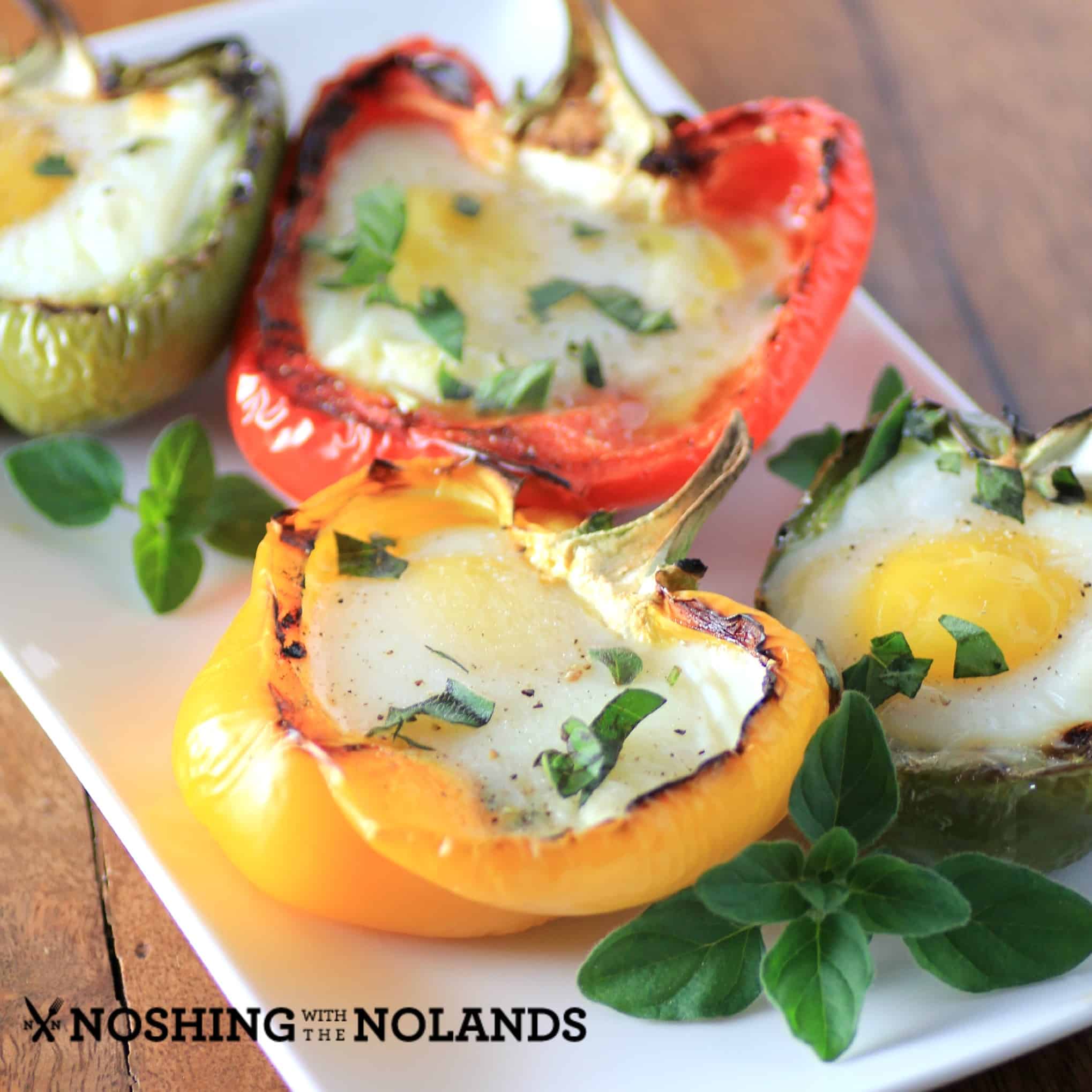 Here is some information on The Power of Eggs. I used to think eggs had to be avoided because of concerns with dietary cholesterol but infact the latest research shows that a healthy adult can eat an egg a day. That is good to know, as I love my eggs!!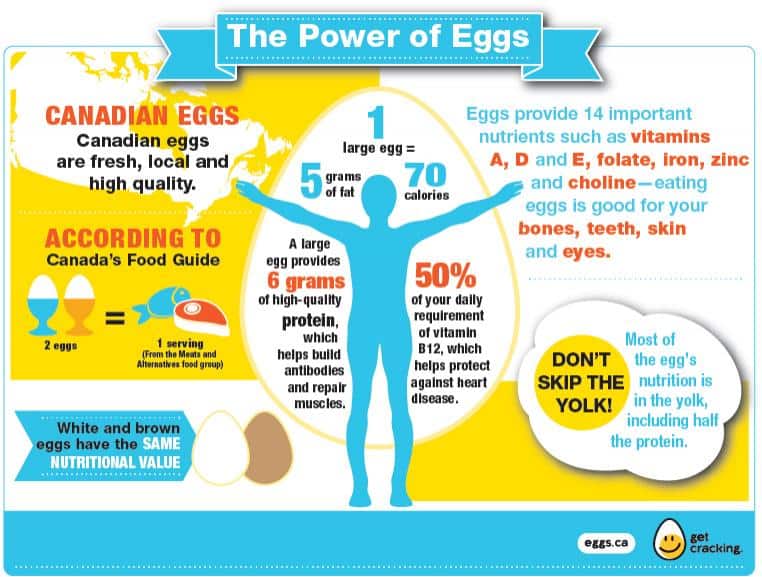 Disclosure: I am participating in the Egg Farmers of Canada campaign managed by SJ Consulting. I received compensation in exchange for my participation in this campaign. The opinions on this blog are my own.