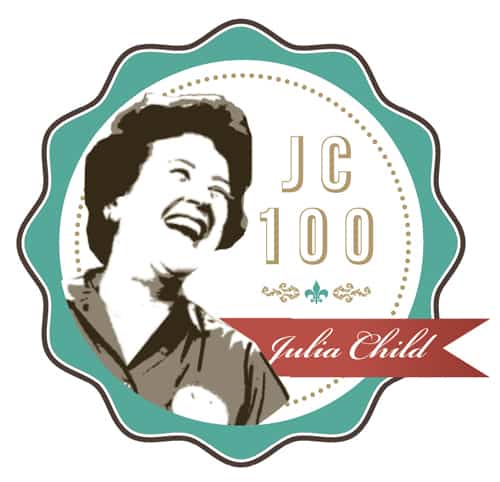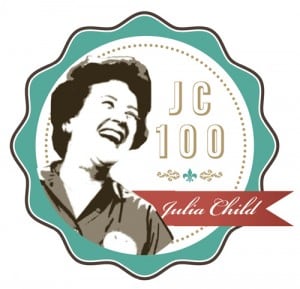 Julia Child's Salade Nicoise for JC100
It's here again and today we have Julia Child's Salade Nicoise for JC100. I am always excited to get my weekly assignment!!! This is a truly magnificent salad with so many lovely flavors. It originated in Nice which was under Italian rule until the 1860s. It has a very antipasto feel to it and that is why.
I honestly don't know when I have had an anchovy if ever but they were so good with the eggs. Of course, I have used anchovy paste countless times. I bought brown eggs for this and they had gorgeous bright yellow yolks, so lovely for a hard-boiled egg.
The salad has to be assembled just before serving but all of its parts can be made ahead of time. The last time I had this salad I was sitting in a bistro in Paris. It would make a perfect brunch salad with some fresh French bread and a lovely glass of chardonnay. Perfection!!
Julia Child's Salade Nicoise for JC 100 Recipe
Ingredients
1 large head of Boston lettuce, any leaf lettuce would do
Salt and freshly ground black pepper
1 lb. green beans washed and ends removed (I don't remove the tail)
2-3 ripe red tomatoes, cut into 8 pieces each
170 gm. can of tuna in broth and oil, drained and flaked
French Potato Salad
1- 50 gm can of flat fillet anchovies
4 hard-boiled eggs, peeled and cut in half
1/3 cup black sun-dried olives
1/3 cup kalamata olives
Capers to garnish
Roasted red pepper to garnish
Parsley to garnish
French Potato Salad
8-10 new potatoes, boiled and warm
1 shallot finely minced
Salt and freshly ground pepper
1/8 cup chicken stock
1 Tbsp. white wine vinegar
Slice the warm potatoes in large slices and toss with remaining ingredients and set aside for 10 min. or if making ahead refrigerate.
Cooking the Green Beans
1 lb. green beans
6 quarts rapidly boiling salted water
A large bowl of ice water
Drop the prepared beans in the boiling water. Cover briefly, to bring the water quickly back to the boil, then uncover. Boil uncovered until the beans are just cooked, 3 min. Test if need be.
Drain the beans and immediately place them in the bowl of ice water. After 3-4 min. drain again. These can now can be refrigerated, covered until ready to use.
Preparing The Lettuce
Make sure the lettuce has been thoroughly washed and completely dried using a salad spinner and then letting it rest and to dry further wrapped in a clean tea towel.
This can also be done ahead of time of put into the refrigerator.
Salad Dressing
6 Tbsp. extra virgin olive oil
2 Tbsp. white wine vinegar
1/8 tsp. salt
1/4 tsp. dried mustard
2 Tbps. fresh basil, chopped
Freshly ground black pepper
To assemble the salad first lay down the lettuce on a large round or oval platter. Dress the lettuce with two Tbsp. of the dressing. Sprinkle with salt and freshly ground pepper.
Toss the beans with a small amount of the dressing. Place the potatoes in the center of the platter and drizzle with a small amount of the dressing. Place the tomatoes in four different sections around the platter and drizzle with some of the dressing.
Then place equal amounts of green beans on either side of the tomatoes. Place the two halves of the eggs between the green beans and top with two anchovies each, repeat around the plate.
Beside two sets of eggs place the flaked tuna and drizzle with some of the dressing, top with the capers. Beside the alternate eggs place one of the two olives. Add one slice of roasted red pepper to each mound of green beans.
Garnish with more capers, parsley, and freshly ground pepper and any remaining dressing.
Serve immediately.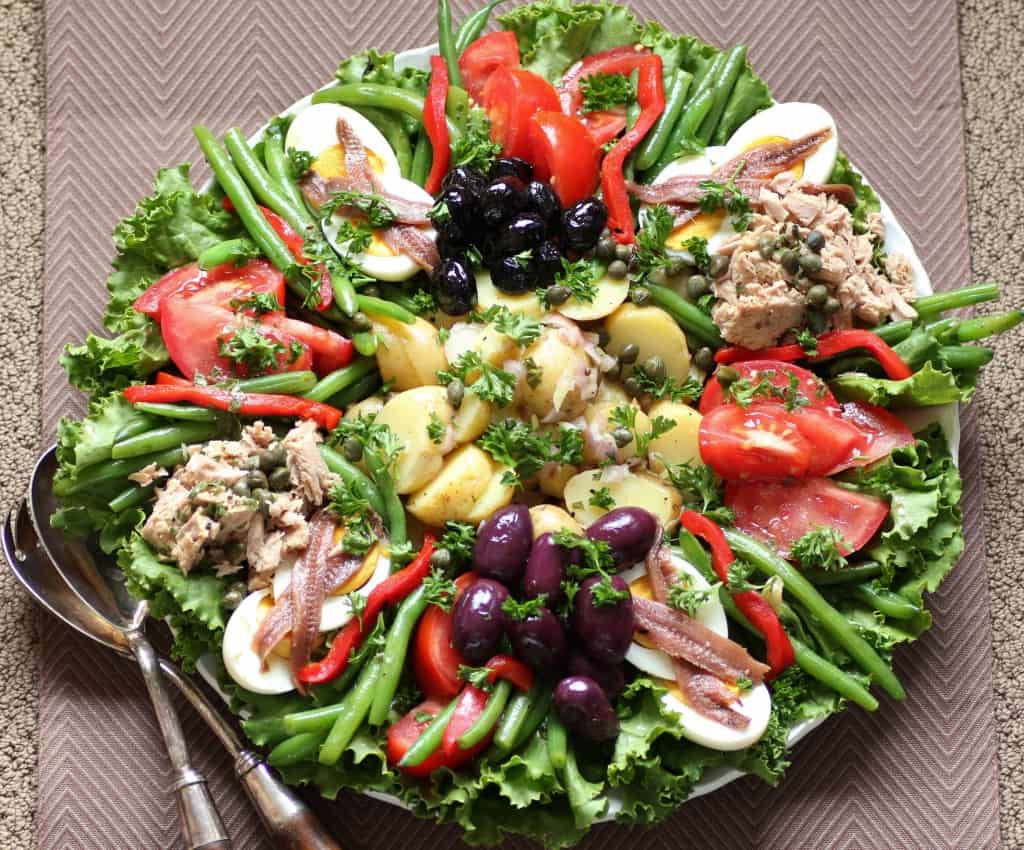 Excerpted from The Way to Cook by Julia Child. Copyright © 1989 by Julia Child. Reprinted with permission from the publisher Alfred A. Knopf, a division of Random House, Inc.