Easter is this weekend and I thought we would share these with you. Turmeric Dyed Curry Deviled Eggs were created by Amber in the kitchen. She adores eggs and deviled eggs are one of her favorites!! These pretty yellow eggs don't have to be just for Easter but any time of the year. Their wonderful curry flavor explodes in your mouth giving you a different flavor to a traditional deviled egg. I think they are among the best I have ever had.
The centers are creamy, the outside such a springy yellow. Who doesn't love a great deviled egg, they are a popular choice. The outside is pickled and can be done so from 3-8 hours, the longer the pickling the more of the yellow is infused into the egg and the firmer the eggs are.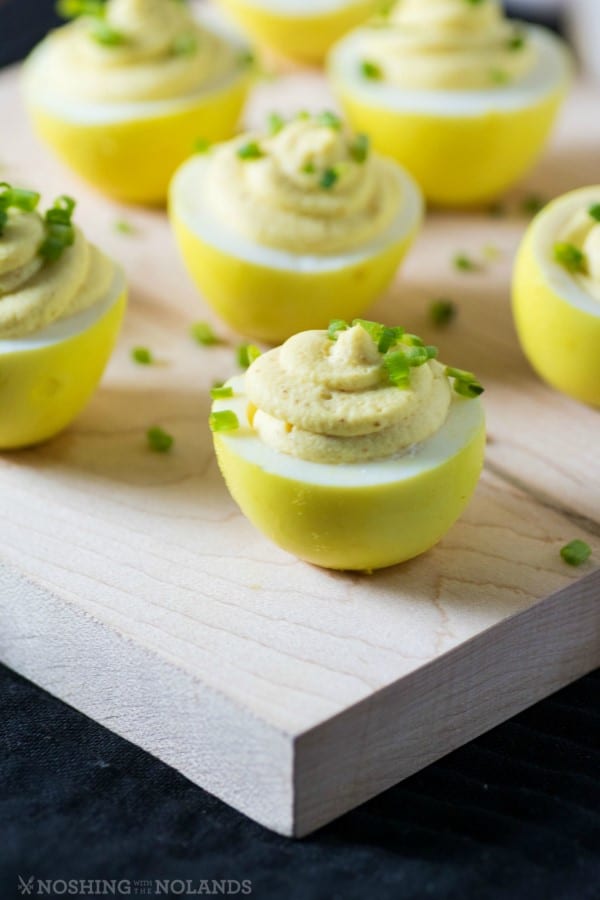 Such a clever trick this is and very easy to do. I saw this recipe in Cooking Light and have adapted it from there. Ordinarily deviled eggs are sliced lengthwise but these are cut in half. Slicing off a little bit from the bottom allows these eggs to stand at attention.
Deviled Eggs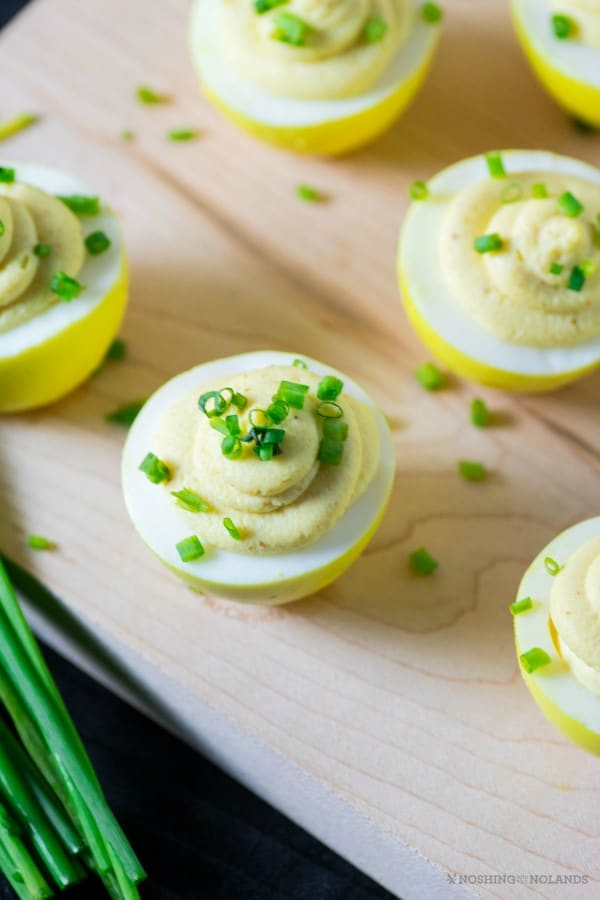 Easily garnished with a little chive is all that is needed. We brought these to a Palm Sunday dinner this past weekend and they were gobbled right down. They are a great appetizer for spring and summer and one that people love to see at gatherings and picnics.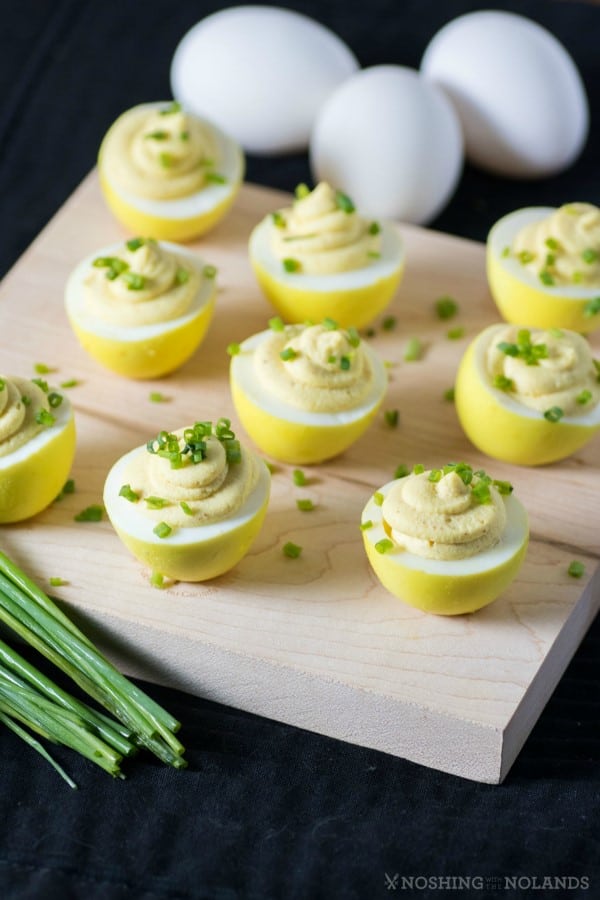 The term "deviled" came about in the 18th century but it wasn't until the 19th century that it started to be referred most often with spicy or zesty food. Deviled eggs take on a life of their own with wonderful additions like curry and cumin. All sorts of ingredients can be added and can be topped on them also. I just had deviled eggs last night with crushed potato chips, wow, that was amazing.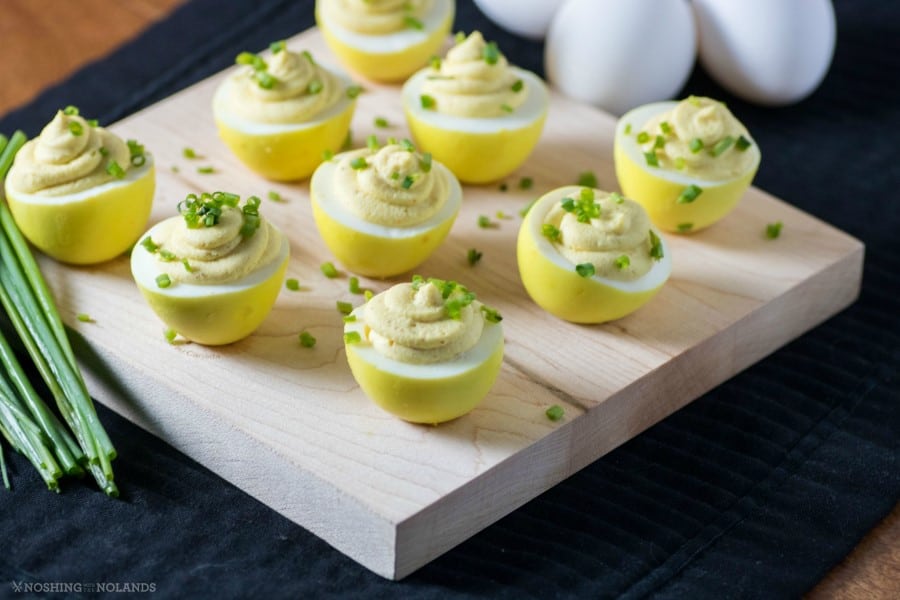 The Recipe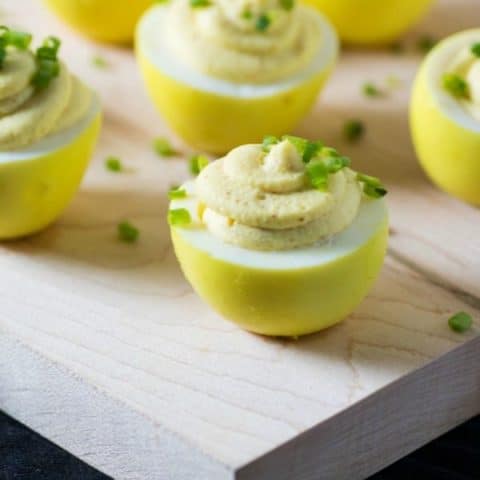 Turmeric Dyed Curry Deviled Eggs
Yield: 14 deviled eggs
Prep Time: 20 minutes
Total Time: 20 minutes
These Turmeric Dyed Curry Deviled Eggs are a delight not only for the taste buds but visually so appealing for spring. They are as easy as any other deviled egg is to make.
Ingredients
2 cups water
1 cup cider vinegar
2 Tbsp. ground turmeric
2 tsp. Kosher salt
7 hard boiled eggs, peeled
1/4 tsp. curry or to taste
1/8 tsp. cumin or to taste
1/4 cup light mayonnaise
Salt to taste
Chopped fresh chives for garnish
Instructions
Create a pickling bath for the eggs mixing together the water, vinegar, turmeric and 2 tsp. Kosher salt. Stir to combine and add the eggs. Pickle for 3-8 hours, the longer you pickle the deeper the yellow color and the firmer the eggs will be. Stir gently but frequently to have the eggs colored evenly. Pat dry with a paper towel when finished but keep the pickling liquid.
Cut eggs in half crosswise and remove the yolks. Place in a small food processor. Cut a sliver off the bottom of each egg to allow them to stand.
Add mayo, curry, cumin and salt to the food processor. Pulse unti smooth. Add 1 Tbsp. of the pickling mixture and pulse again. Taste and adjust seasoning if needed.
Place filling in a piping bag with a plain tip. Divide filling among the eggs. Refrigerate until needed and sprinkle with chives before serving.