Healthy Roasted Red Pepper Dip
I love a great dip, don't you? This Healthy Roasted Red Pepper Dip my family went crazy for but the kicker was how fabulous it was with the Nairn's Oat Crackers. It made this dip seem buttery and decadent, it is a perfect match!! The little cheese cutouts are just the cutest toppers too!!
Nairn's oat crackers are baked in Scotland since 1896 and they are the most popular oat cracker around, which is not a surprise with their lovely toasted oat flavor! They are the perfect cracker to serve with all your charcuterie and cheese boards also. They stand up beautifully to a hardy topping and go from sweet to savory easily. You can get a nice big helping of this delicious dip up top of your cracker, top it with a cheese cutout and you are in heaven!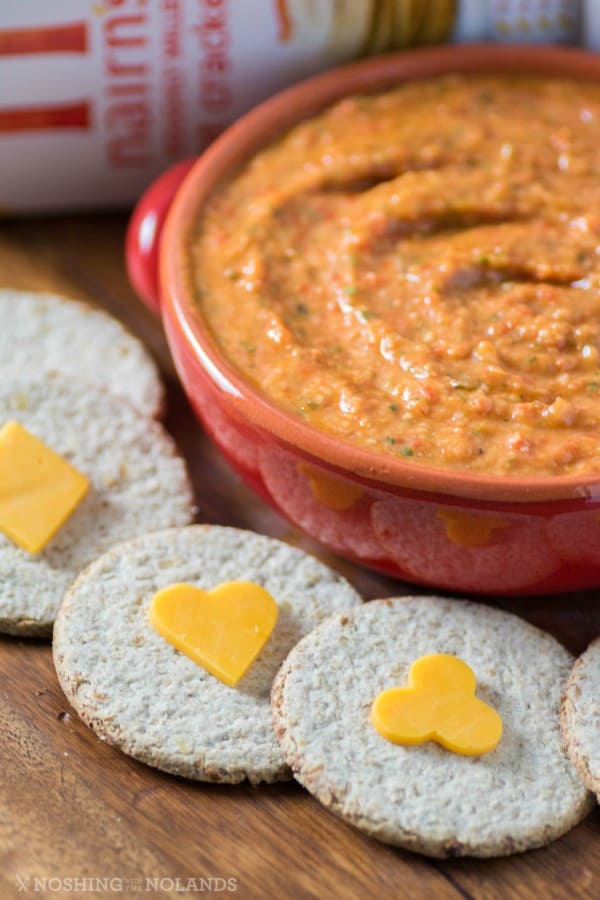 This dip takes little time to create, you can have it whipped up in no time flat. Adding in a can of white kidney beans or canellini beans makes this dip fabulous and super healthy too! Buying a jar of roasted red peppers saves oodles of time but you can roast your own red peppers too if you like. Besides fresh basil the rest of the ingredients you may just have on hand.
Nairn's Crackers Oat Crackers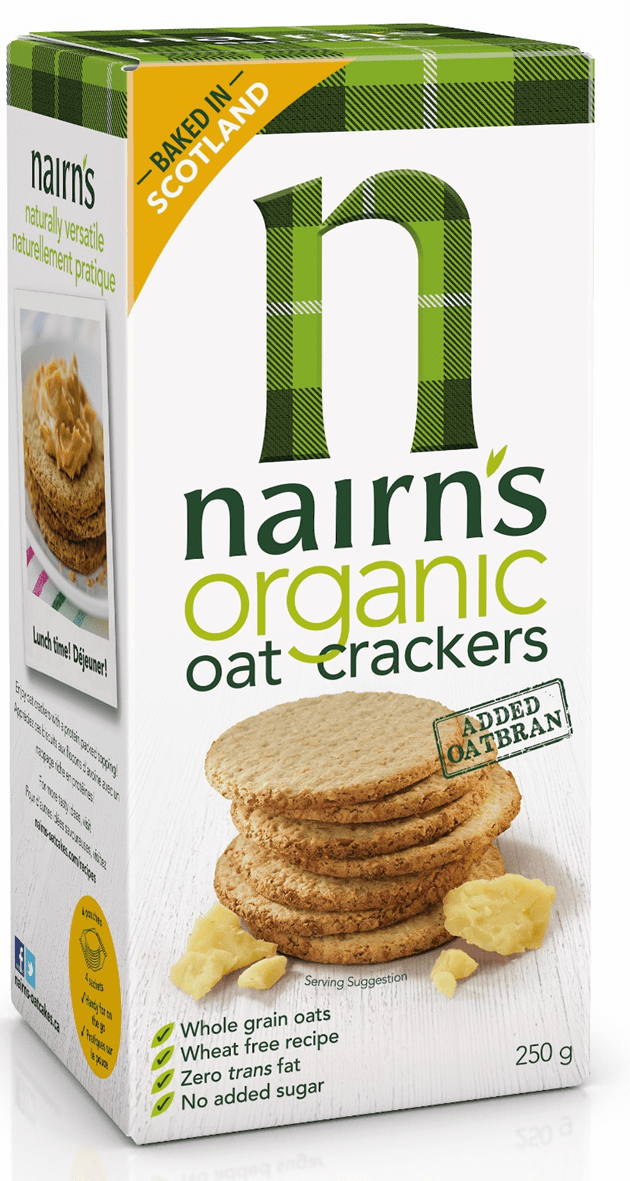 Nairn's crackers are full of wholesome ingredients. Made with organic whole grain oats but they are wheat free, free of trans fat, a great source of fiber and have no added sugar. They are a guilt free option that are healthier for you and give you energy to keep enjoying your day!!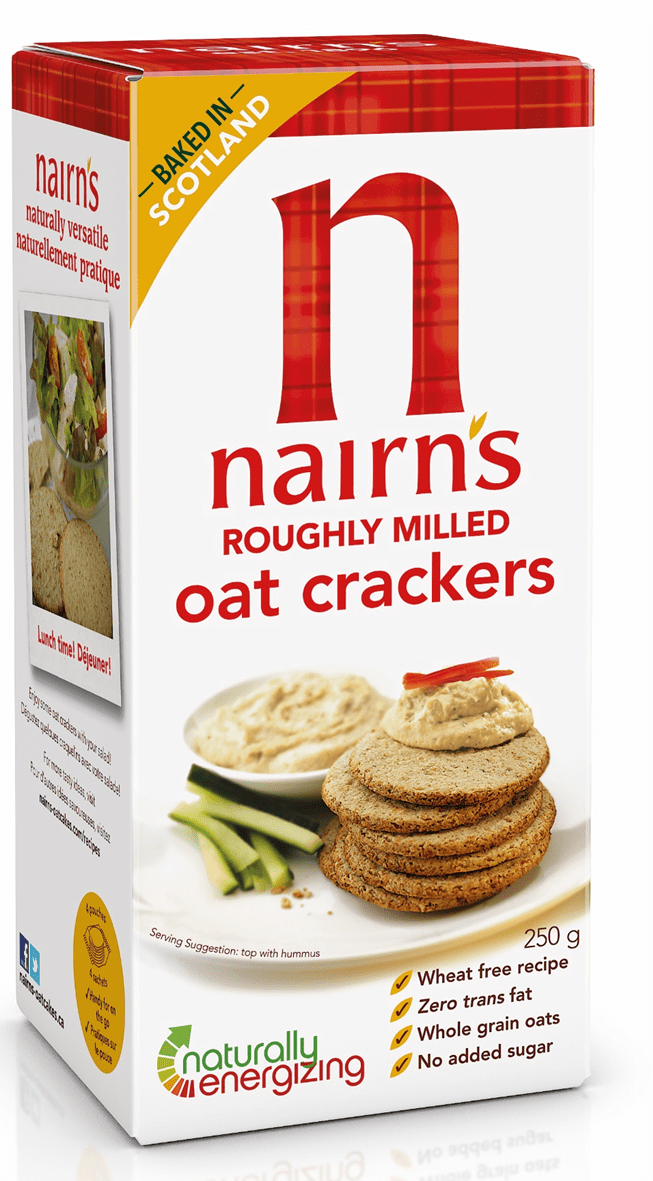 Nairn's crackers are jammed with so many organic whole grain oats there is not much room left for anything else. I love that they are packed in 6's inside the box, perfect to put into a lunchbox or grab some and not make the entire box stale, that is such a great idea. Both these crackers plus three cookies, Stem Ginger, Dark Chocolate Chip and Mixed Berry are all available in Canada.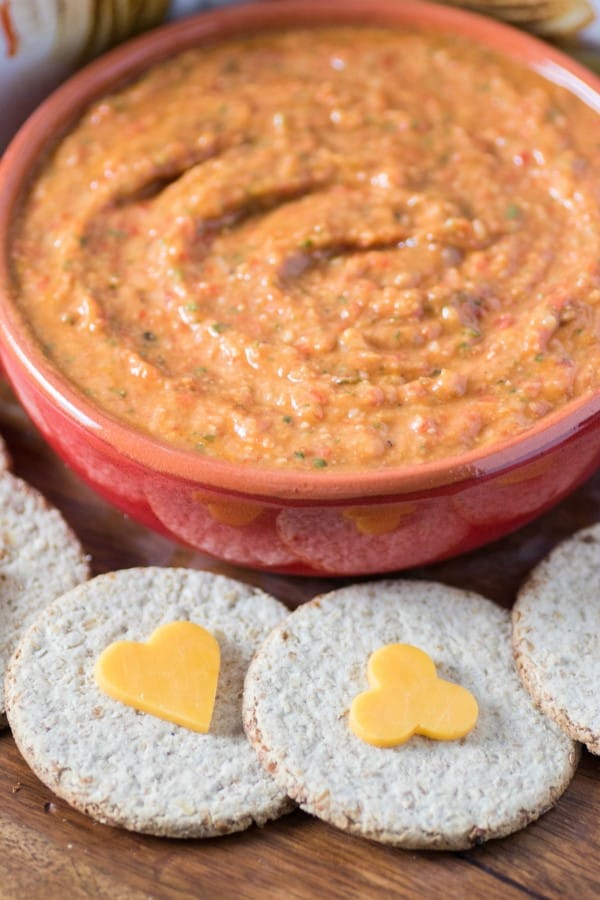 The dip is perfect for company or can be taken along on a picnic or to a gathering. It is bright and fresh tasting! Kids will love this too as even with the hot sauce it is very mild.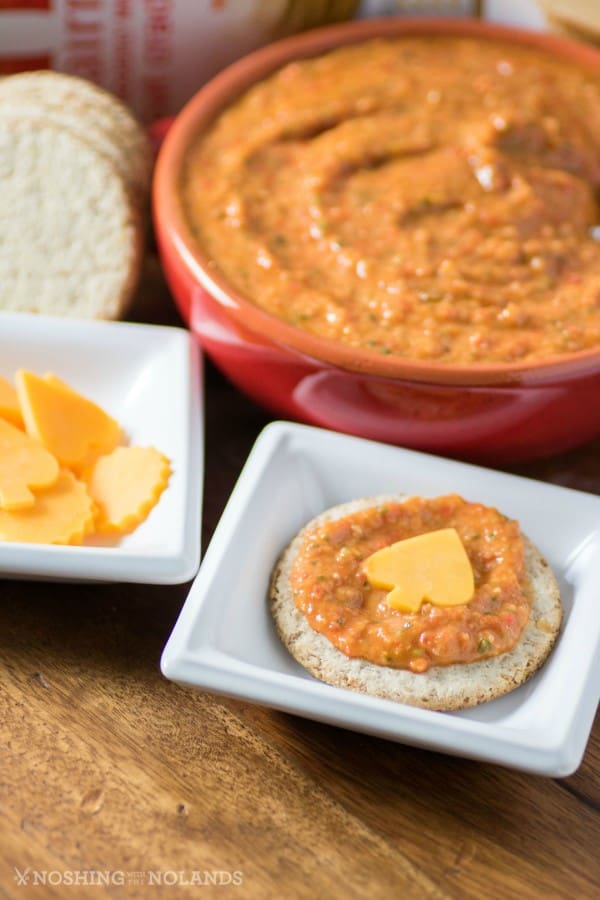 A food processor does quick work on this dip. Add all the ingredients and whirl it up. It will then keep in the fridge until you are ready to serve. You will feel good about serving something this delicious yet so healthy too!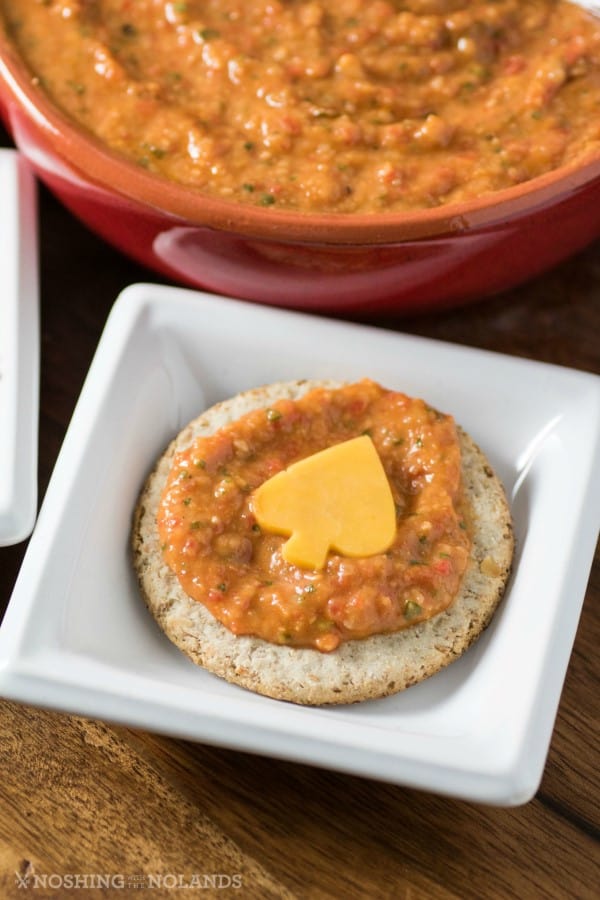 The cheese cutouts are super easy too as we bought already sliced cheese and with tiny cutters we had a bunch of cutouts in no time. The dogs made quick work of the little bits of leftover cheese, they are big cheese hounds.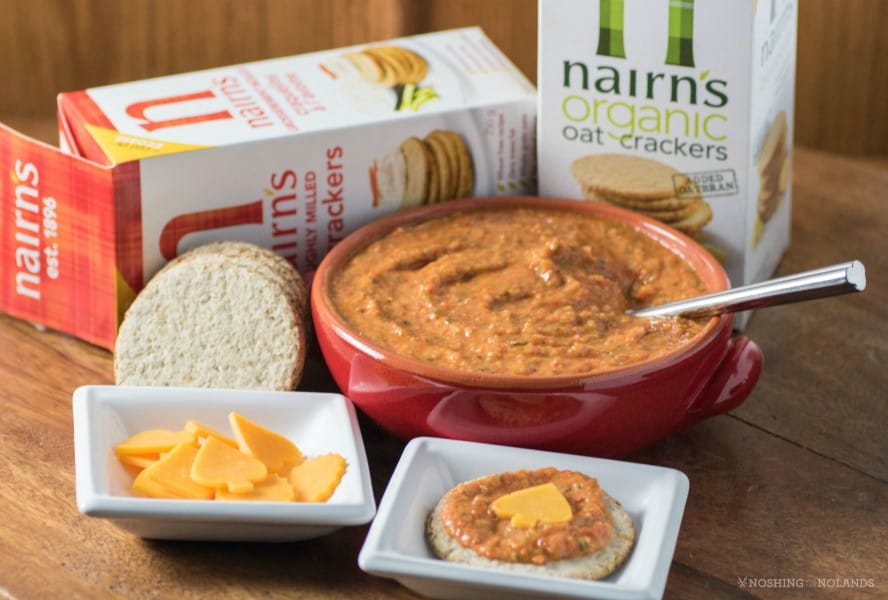 The Recipe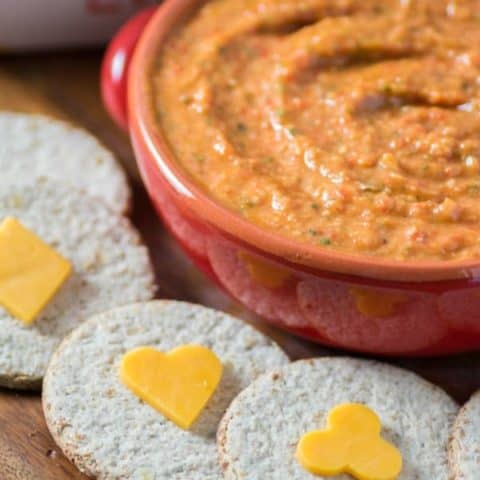 Healthy Roasted Red Pepper Dip
Prep Time: 10 minutes
Total Time: 10 minutes
Healthy Roasted Red Pepper Dip is easy to make and delicious. I love this dip especially with gorgeous Nairn's Oat Crackers and perfect marriage of flavors.
Ingredients
Dip
1 (19 oz.) can cannellini beans, drained and rinsed
1 (12 oz.) jar roasted red peppers, drained or two roasted red peppers
10 medium basil leaves
1 Tbsp. balsamic vinegar
2 Tbsp. olive oil
2 tsp. garlic, minced
1/3 cup grated parmesan
Salt and pepper to taste
1 Tbsp. hot sauce
Crackers
2 boxes of Nairn's Oat Crackers
Cheddar cheese cutouts, optional
Instructions
Place all the ingredients in a food processor and whirl to combine. Cut cheese into fun shapes with mini cookie cutters if desired. Serve with Nairn's Oat Crackers.