This sweet, crunchy homemade Bread and Butter Pickle recipe is a delicious treat! Whether you're new to canning or an expert, this recipe for Bread and Butter Pickles is both easy and delicious. Pickles are a great way to preserve your cucumber harvest. They taste amazing piled high on a burger or sandwich. In fact, they taste so good you'll probably want to just grab a fork and eat them straight out of the jar!
If you love pickling, be sure to check out our best recipes for Refrigerator Pickles or how about our sensational Canned Candied Jalapenos? And if you're trying to preserve more of your garden's fresh bounty right now, we have 22 Preserving and Canning Recipes right here for you!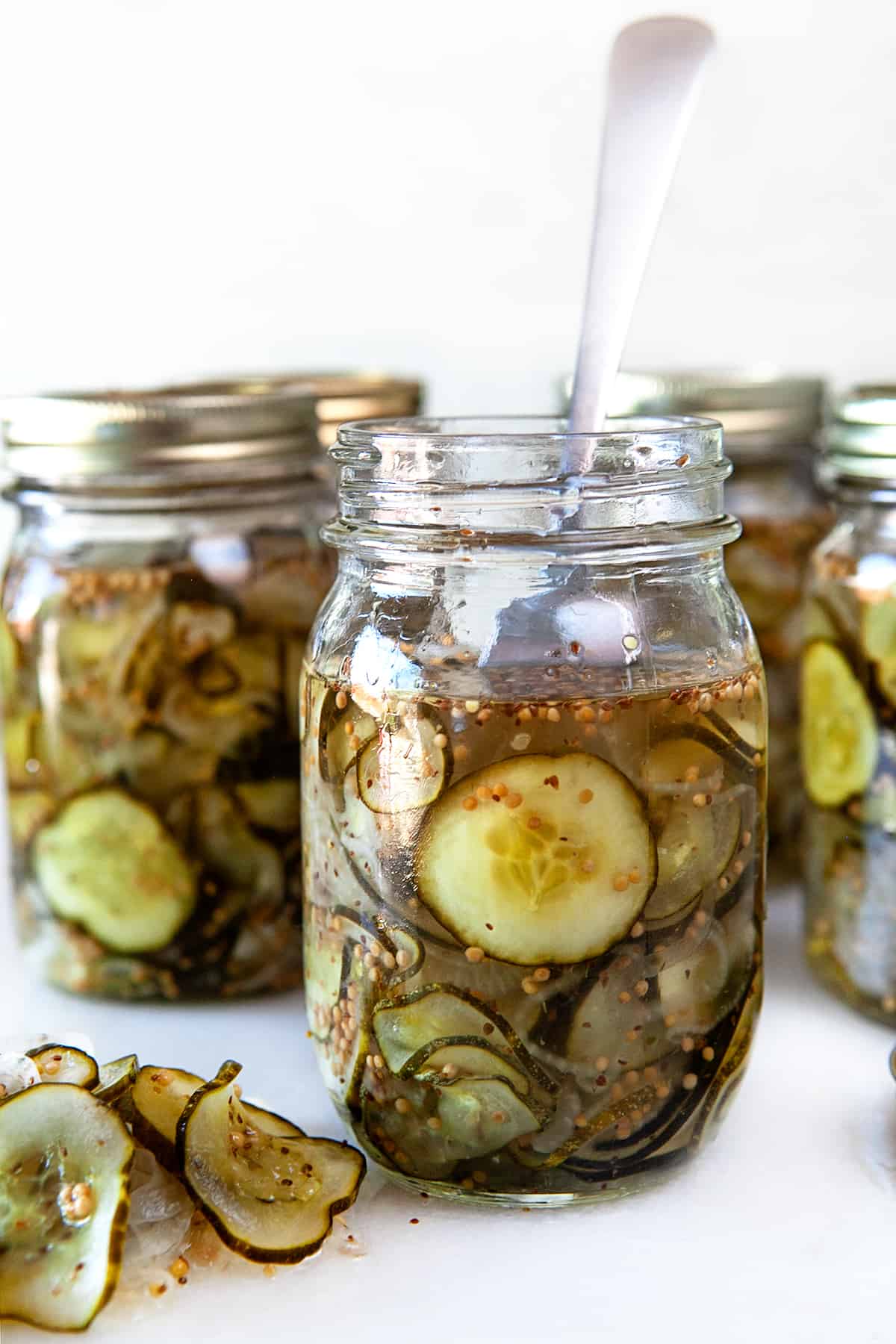 Helpful Items For This Recipe
This post contains affiliate links. As an Amazon Associate, I earn a small portion from qualifying purchases at no extra charge for you.
What are in Bread and Butter Pickles?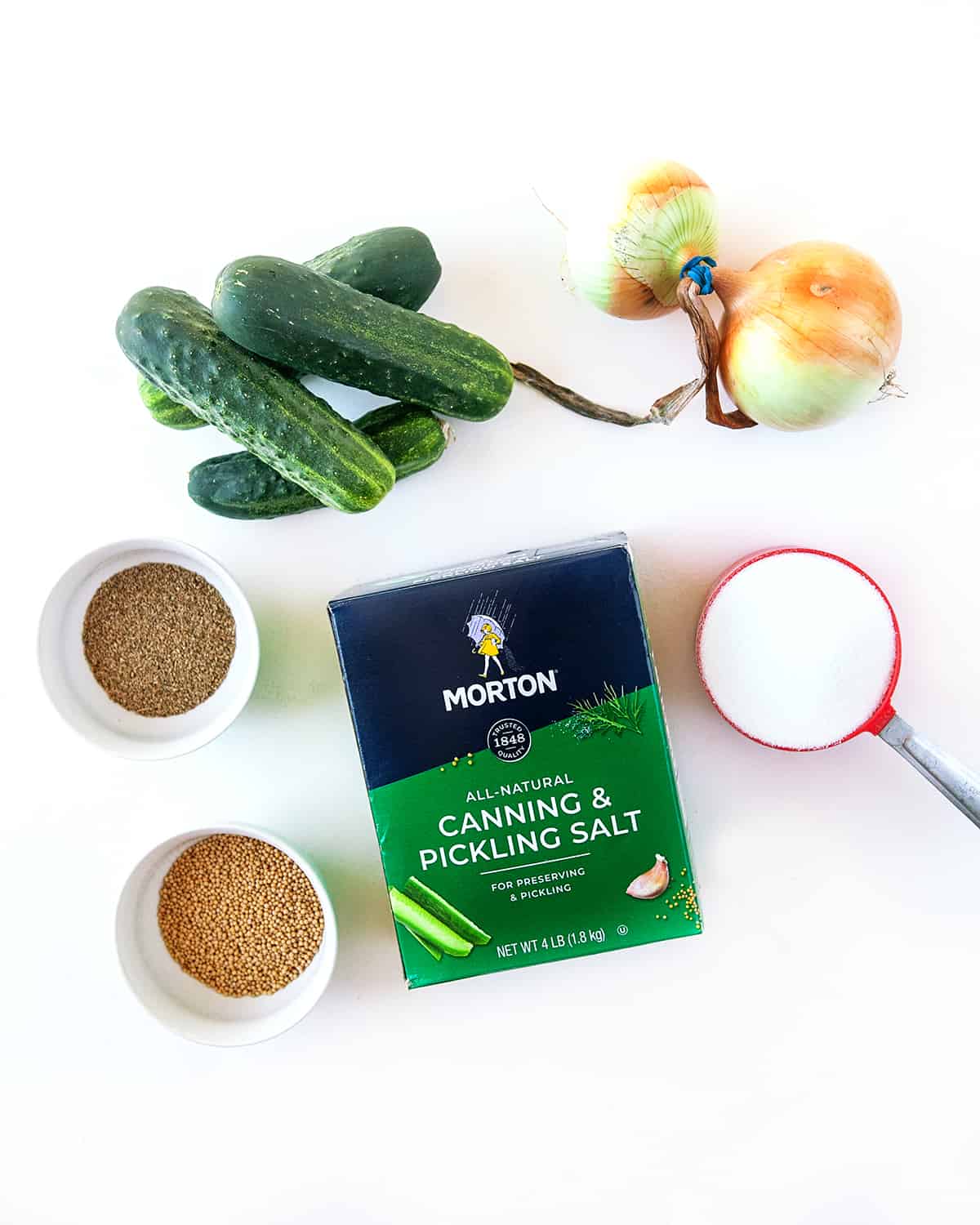 You only need a few simple ingredients to make these sweet pickles. The star of the show is, of course, the cucumbers. You'll want to use a pickling cucumber because they are shorter and have drier skin that allows more of the pickling brine to soak in. Once you have about 2.5 pounds or approximately 15 (6 inches) pickling cucumbers, you're ready to make a batch of Bread and Butter Pickles.
Farmers' markets are usually full of pickling cukes, but sometimes you can even find them in your local grocery store too.
Ingredients
Approximately 15 (6 inches) pickling cucumbers (about 2.5 pounds)
Pickling Salt
White Sugar
6 medium yellow or white onions
Celery Seed
Mustard Seeds
White Vinegar
Turmeric (optional, for color)
Note: If you can't find pickling salt, you can use Kosher Salt as long as it doesn't contain any anti-caking agents.
Canning Bread and Butter Pickles
To can the pickles, you'll also want to make sure you have the necessary canning supplies. You don't need a lot to can pickles at home, but you do need a few things. You'll need:
12 glass pint canning jars with lids and rings
Water Bath Canner
Canning Jar Lifter.
Now, you're all ready to get started!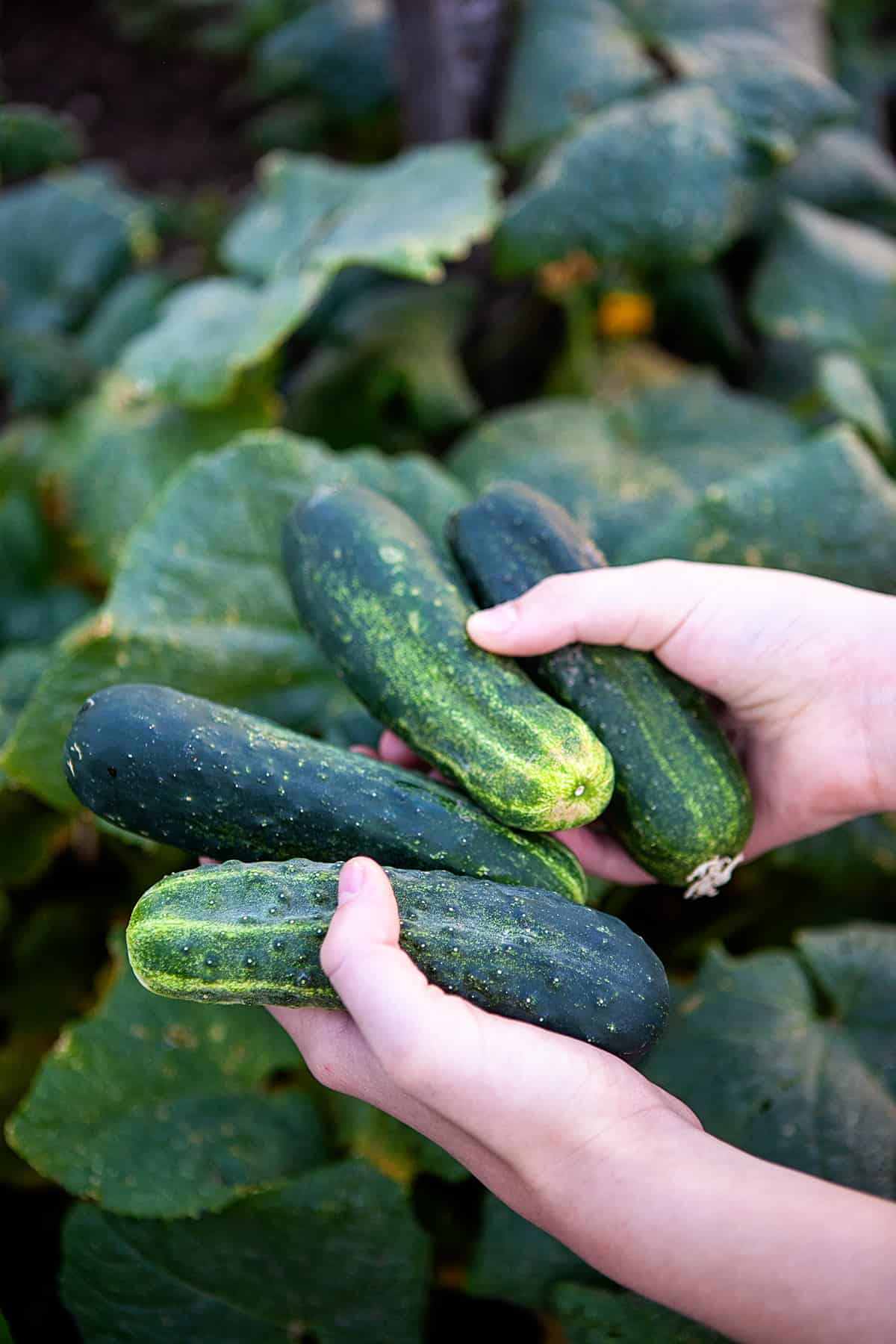 How to Make Bread and Butter Pickles
Follow these easy instructions to make and can a delicious batch of Bread and Butter Pickles.
First, rinse the cucumbers and then slice them. I like thin pickle slices because I like to really pile them onto a sandwich, but you can slice them how you like them – thick and crunchy is good too! It's handy to use a mandolin, or even a slicer attachment on a food processor, for more even slices.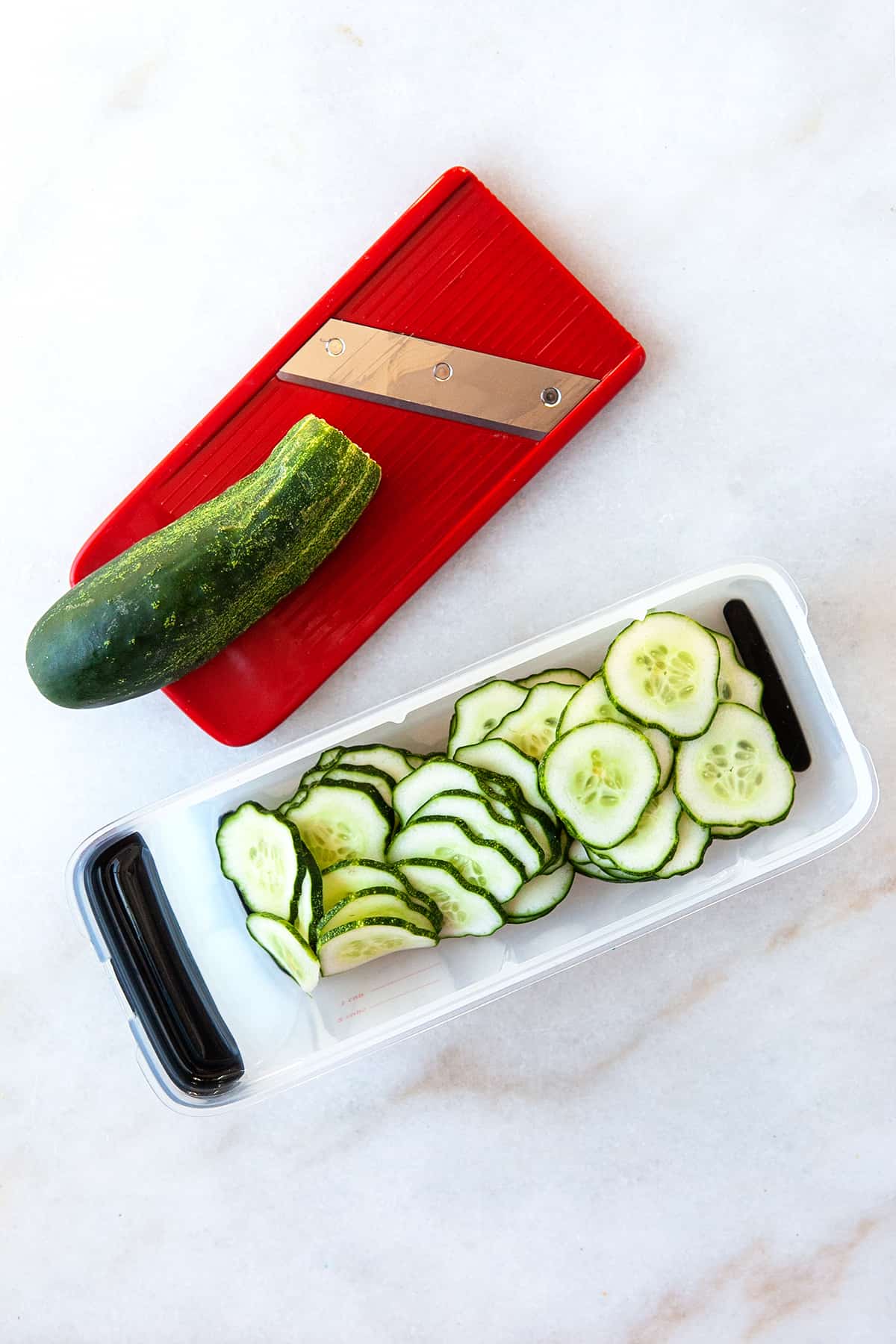 Then, peel the onions and slice them in thin slices as well. I also use a mandolin to get nice, thin slices quickly here too.
Once your cucumbers and onions are sliced, place them together in a large stainless steel bowl, or a pickle crockery if you have one. Sprinkle them with 1/2 cup of the pickling salt, and then use your hands to gently toss the cucumber slices and onion slices to distribute the salt. Let them sit for 3 hours.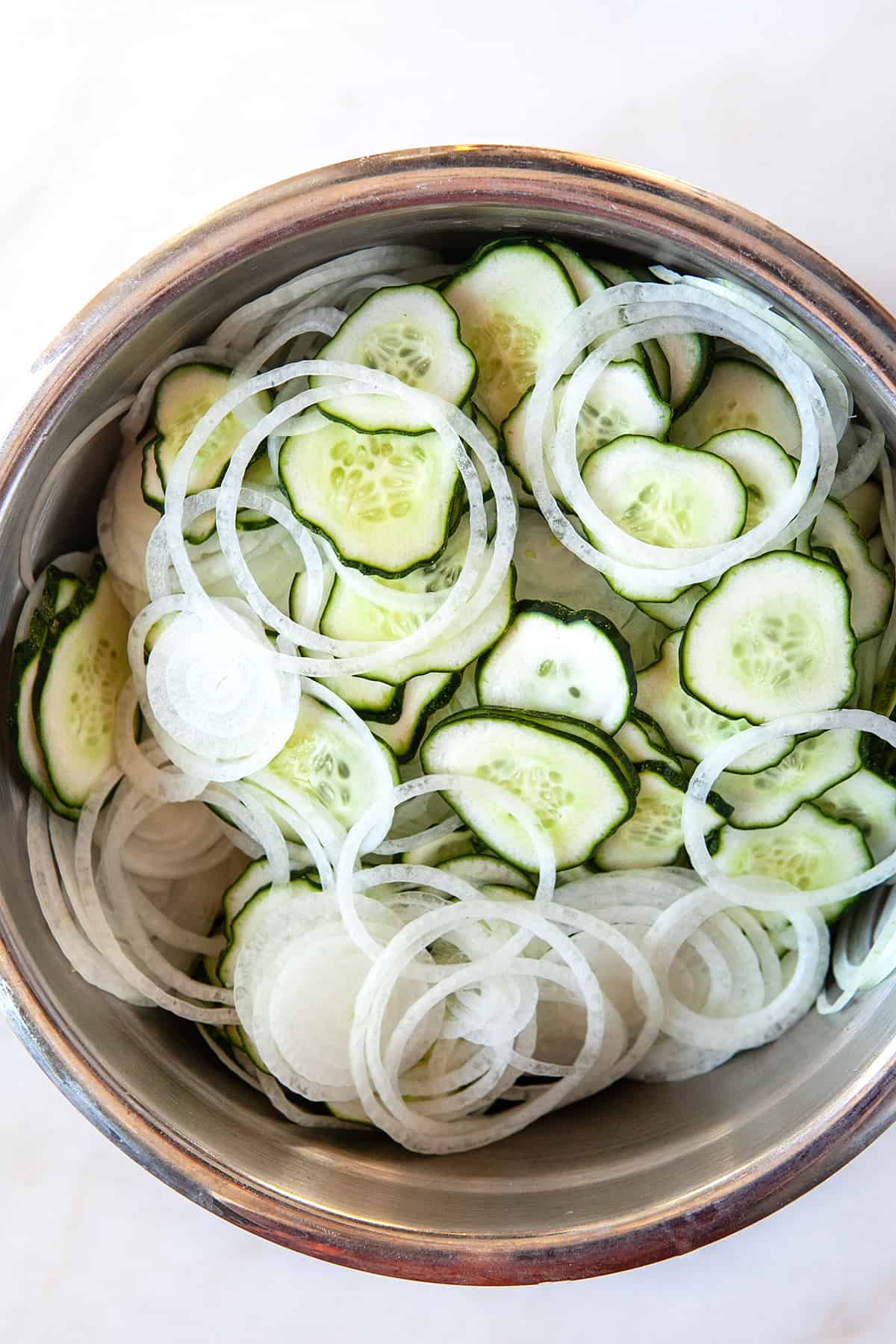 Preparing Your Jars
While the cucumbers and onions are resting, it's a good time to prepare your jars. I like to put them through the dishwasher so they are "sterilized" and hot when it's time to add the pickles.
When they come out of the dishwasher, I place them into a shallow pan with a few inches of lightly boiling water just to make sure they stay warm and sterile. I do the same with the lids and rings.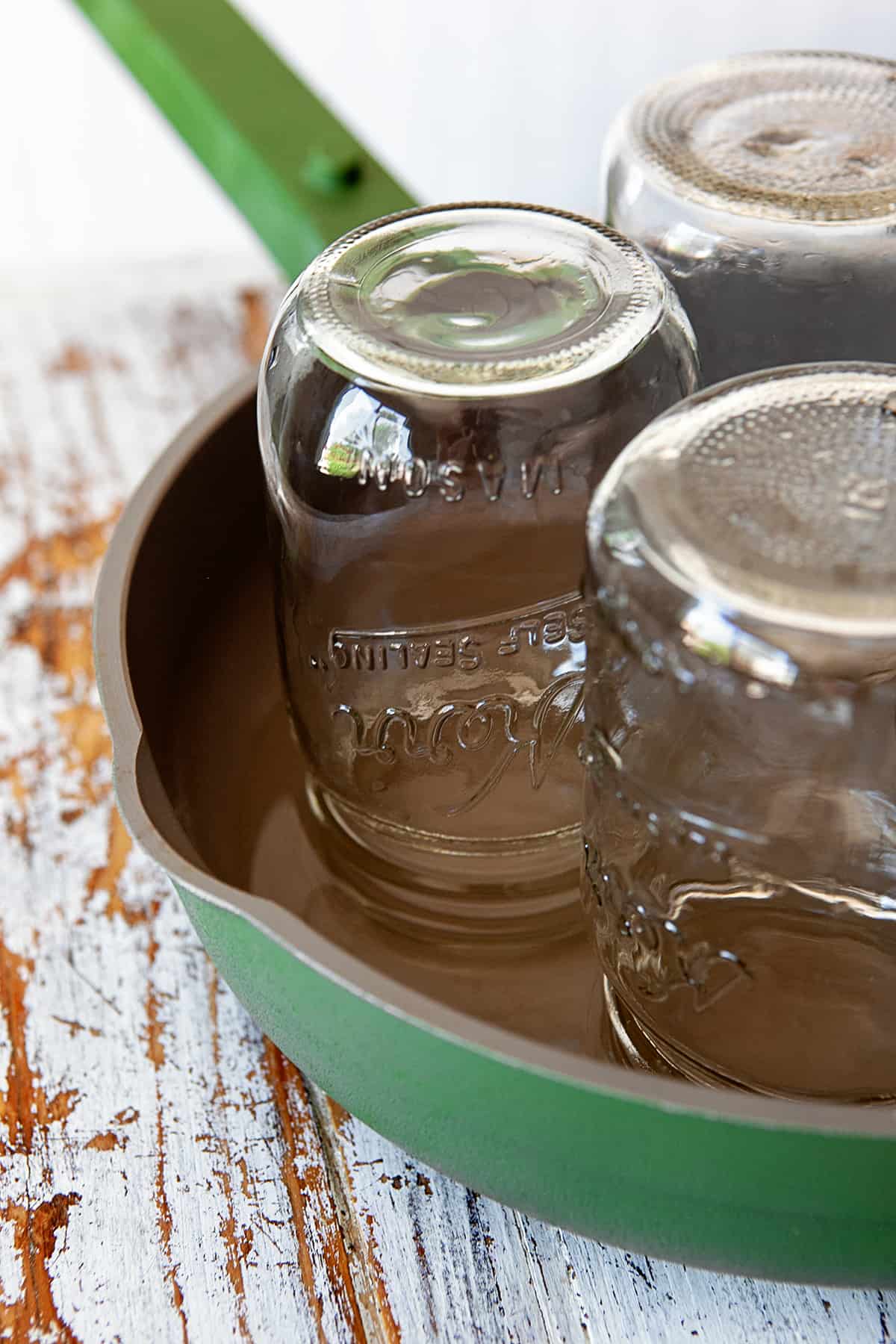 When the pickles, onions, and salt have rested for 3 hours, drain them well but don't rinse them. In a large stainless steel pot, combine the Vinegar, Sugar, Celery Seeds, and Mustard Seeds and bring them to a boil. You can also add a generous pinch of Turmeric for color if desired.
Once they are boiling, add the salted cucumbers and onions. Bring the mixture back to a low boil over medium heat and then pack them immediately into the hot, sterilized pint jars, leaving 1/2 inch headroom.
Canning Your Pickles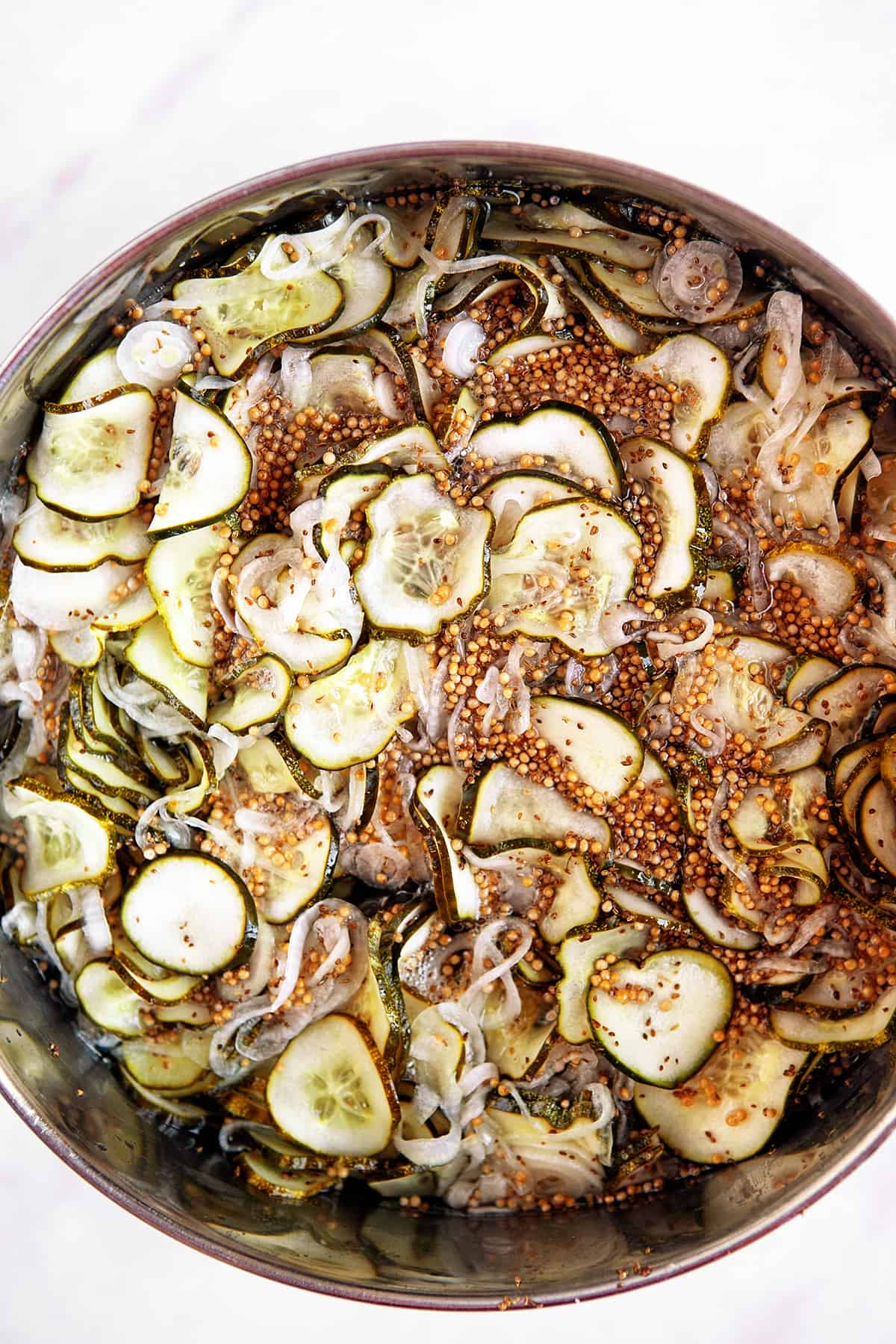 Before I put on the lids, I always wipe the outside of the jars down and the rim (the sugar-water mixture is very sticky!). Then, put the lids and rings on and process in a Hot-Water Bath (185 F/85 C) for 10 minutes. Note: If you are canning at a high altitude, you may need to adjust your processing time.

After the water bath, use your jar lifter and place the hot jars upright onto a layer of paper towels or a tea towel and let them cool naturally.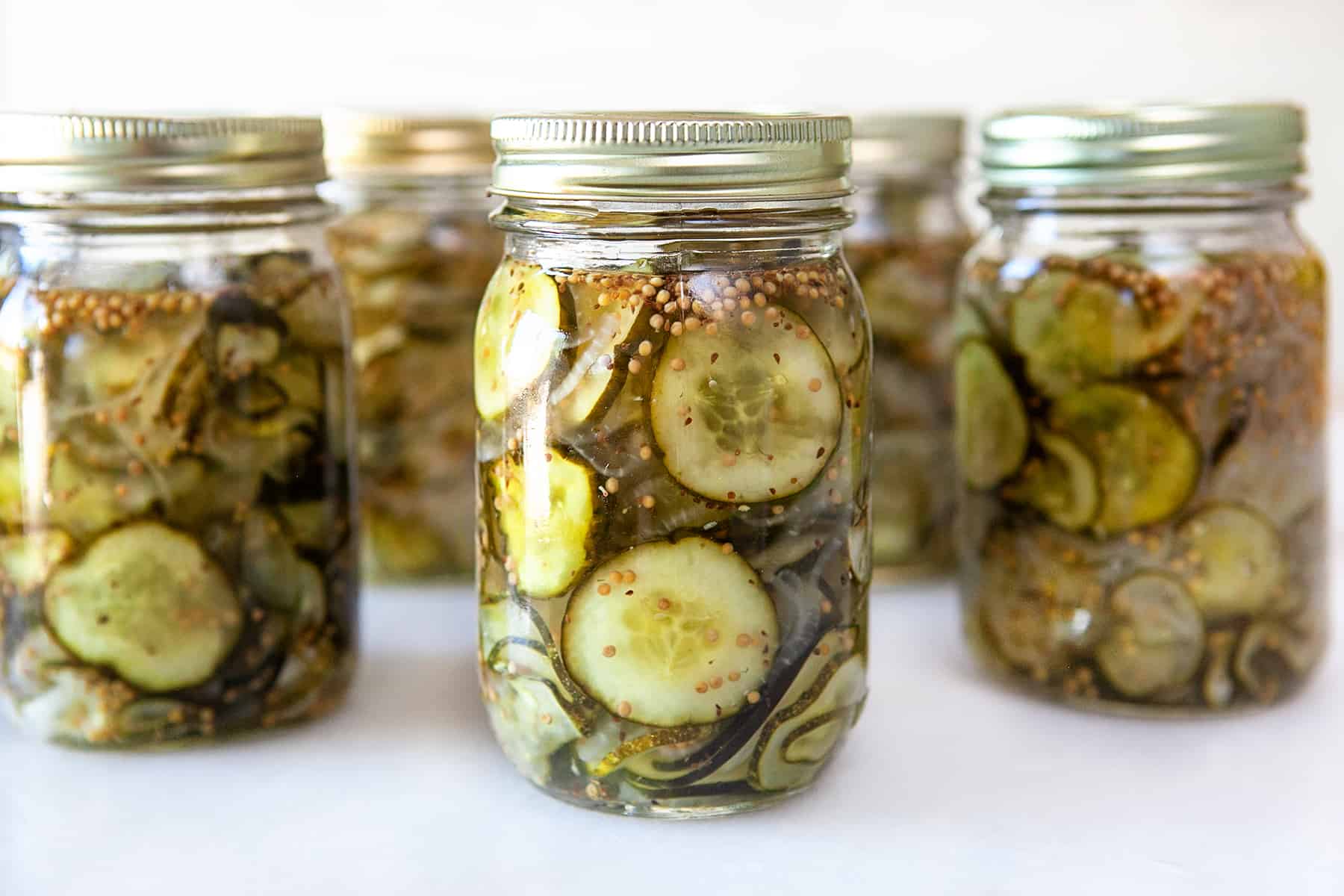 You can eat them right away, but the flavors do get better after a few weeks. Either way, you'll have a delicious batch of sweet Bread and Butter Pickles to enjoy for weeks to come!
Why do they call them Bread and Butter Pickles?
For a long time, I thought they were called Bread and Butter Pickles because people used to eat them between two slices of buttered bread. However, while it's true that pickle sandwiches on buttered bread were a depression-era staple, there's actually a different reason for the name.
In 1923, Illinois residents Omar and Cora Fanning registered for a trademark on the logo "Bread 'n Butter Pickles" for their family pickles. As the story goes, Mrs. Fanning worked out an agreement with a local grocer who gave her groceries (bread and butter) in exchange for the pickles.
Isn't that a fun story to think about when you're making your next batch of pickles?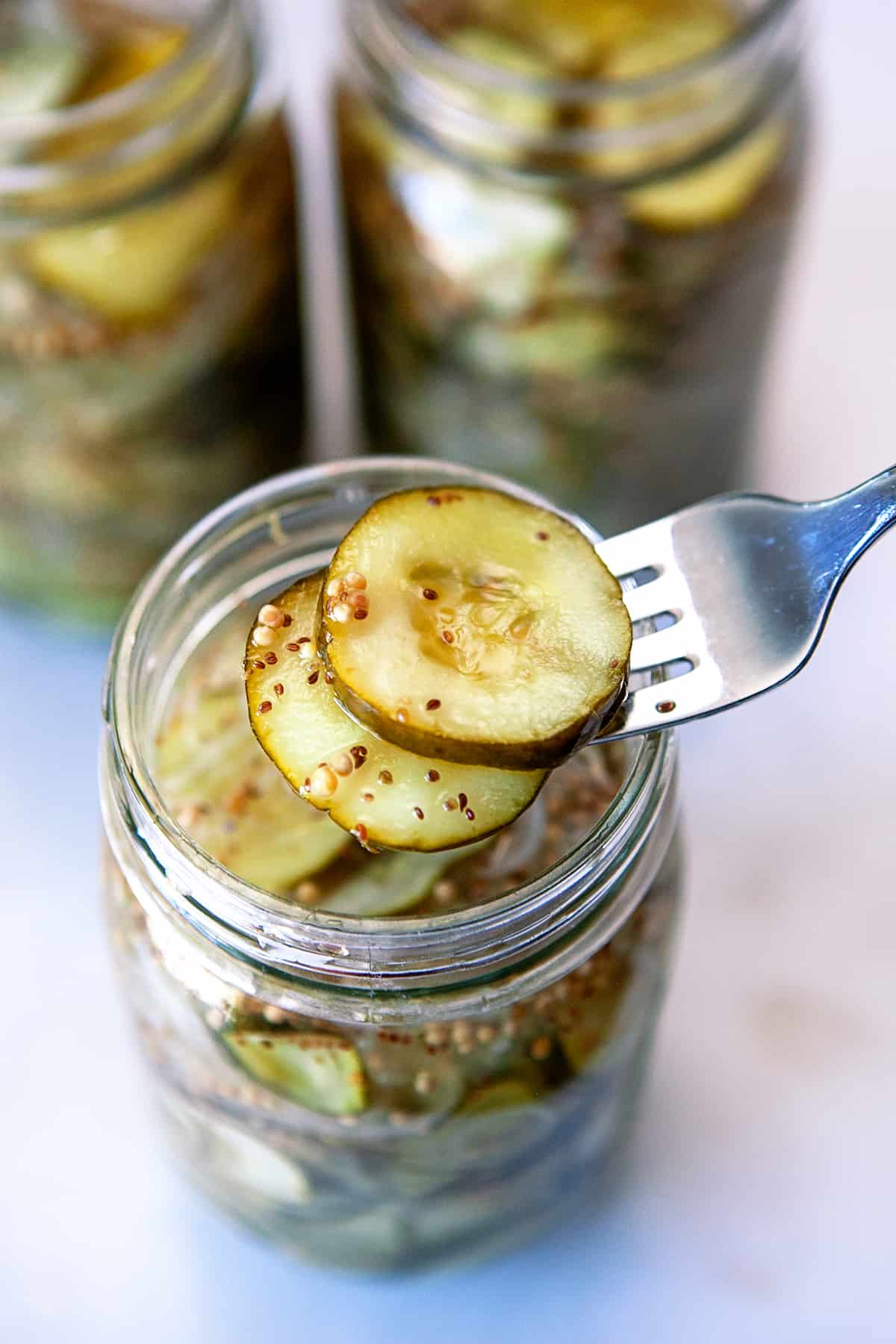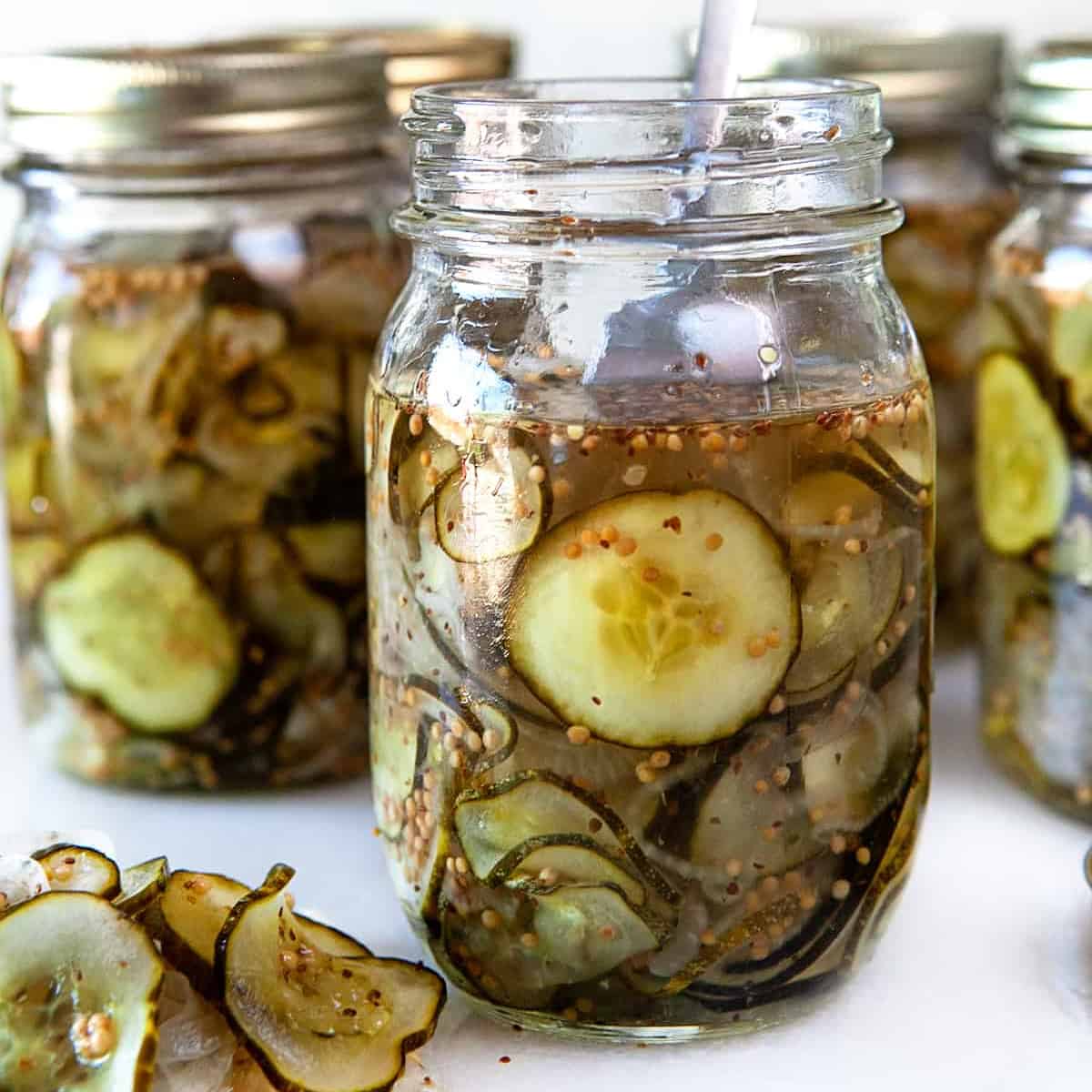 Pin it HERE!!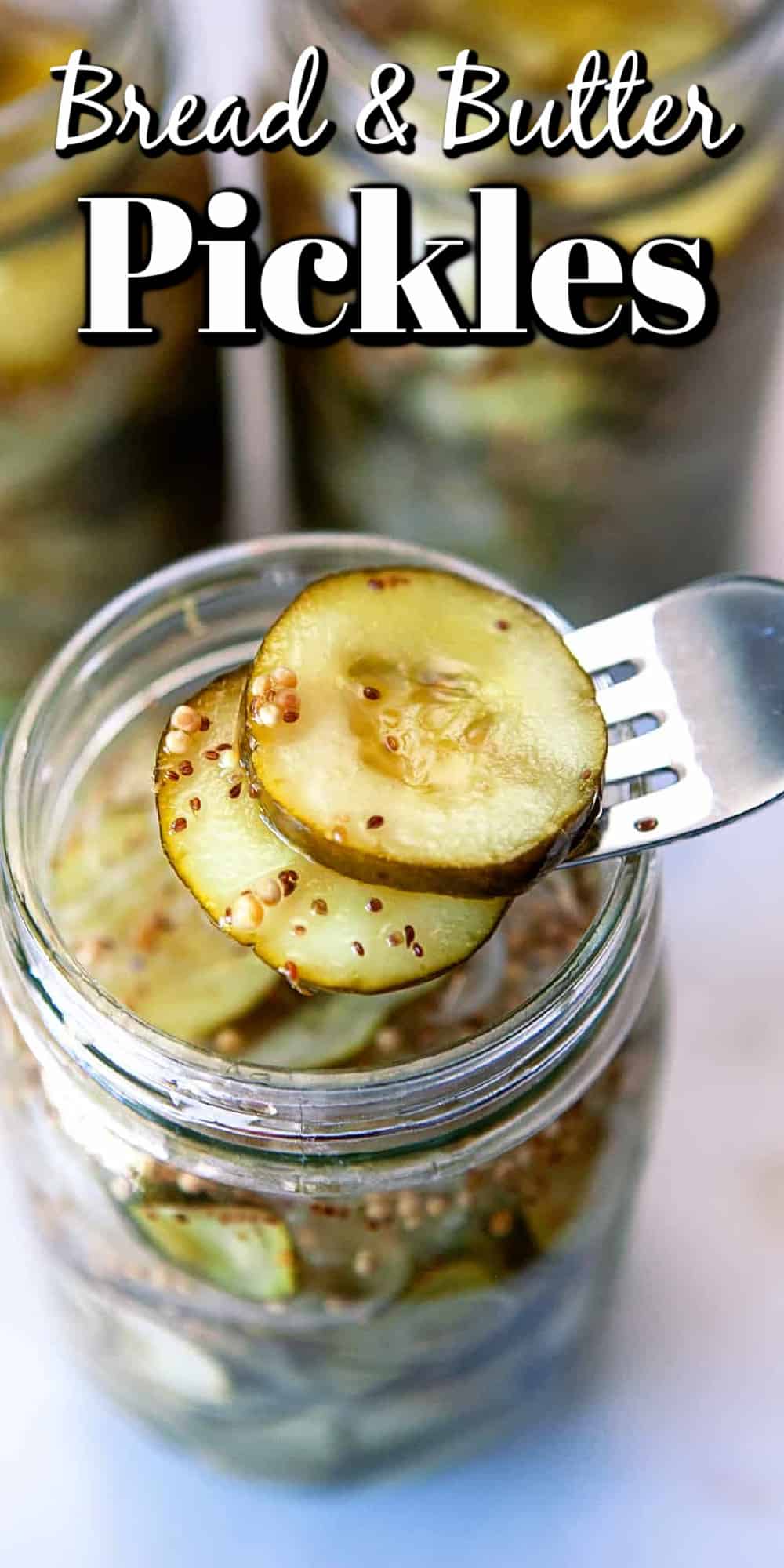 Pin it HERE!!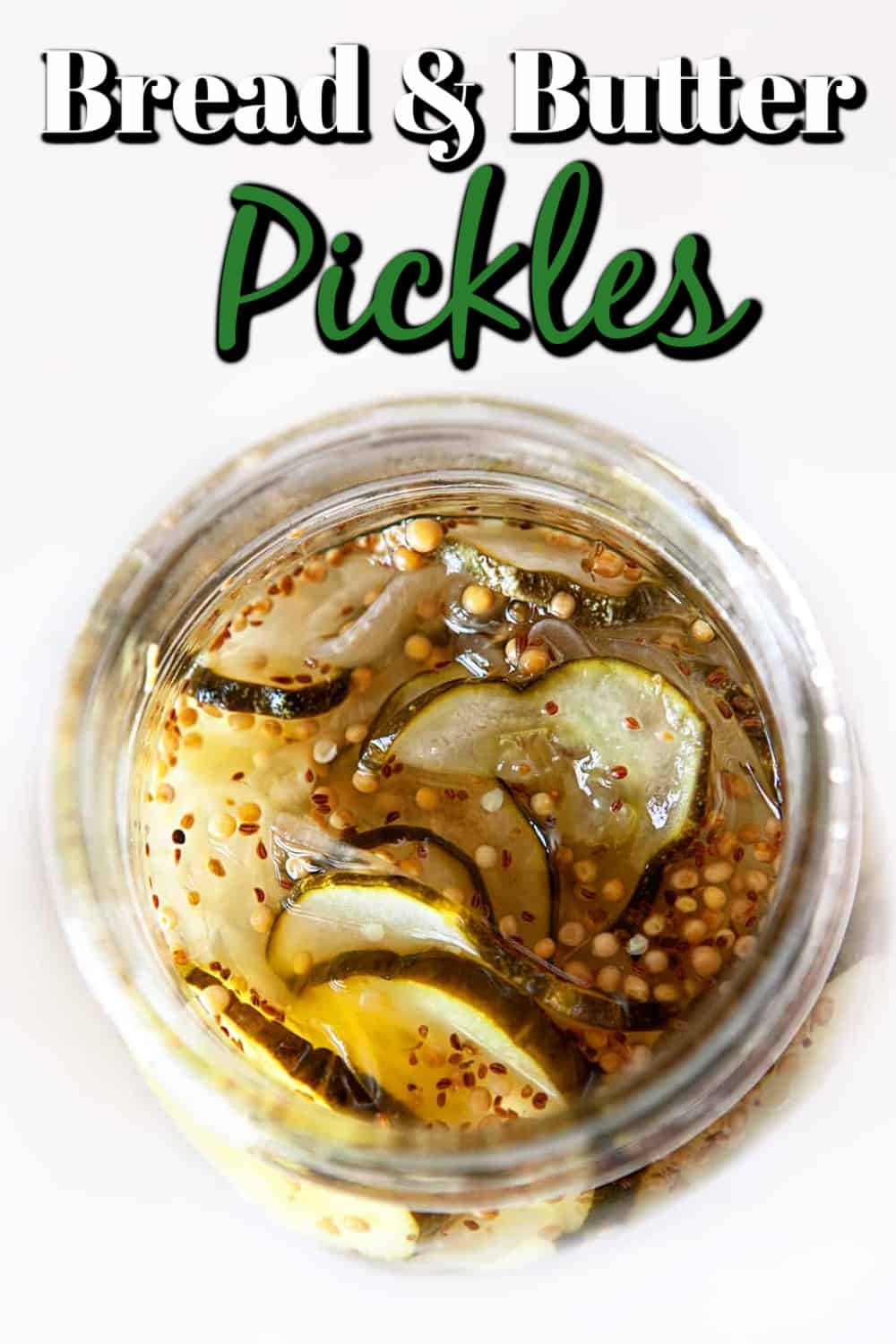 Yield: 12 pint jars
Bread and Butter Pickles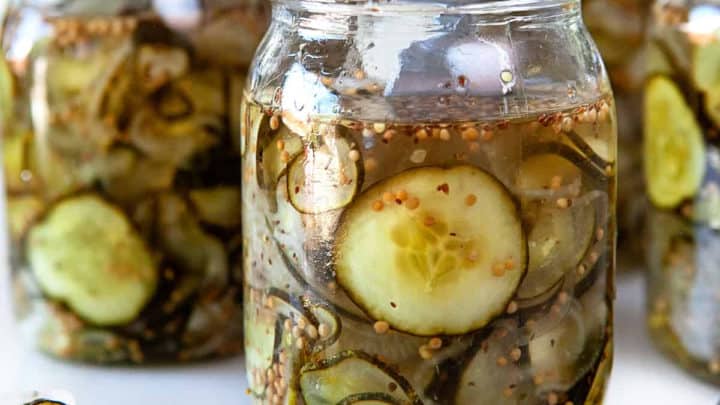 These sweet, crunchy pickles are a pantry staple. Make an easy batch with fresh pickling cucumbers from the garden!
Total Time
4 hours
10 minutes
Ingredients
Approximately 2.5 pounds of pickling cucumbers (about 15 (6 inch))
6 medium yellow or white onions
1/2 cup pickling salt
6 cups white vinegar
4 1/2 cups sugar
1/2 cup mustard seeds
1 tablespoon celery seeds
generous pinch of turmeric (optional, for color)
Instructions
Wash cucumbers. Slice into thin slices using a mandolin or other grater for even slices (cut them as thick or as thin as you like your pickles to be)
Peel onions and slice thin as well.
Place the sliced cucumbers and onions in a large stainless steel bowl or a pickle crockery if you have one. Sprinkle with 1/2 cup of pickling salt, then toss gently with your hands to distribute the salt evenly. Let the mixture sit for 3 hours, then drain well but do NOT rinse.
Combine the vinegar, sugar, mustard seed, celery seed, and turmeric if using in a large stainless steel pot. Heat over medium high heat, stirring to combine. When the mixture comes to a boil, add the cucumbers and onions. Return to a low boil over medium heat, then pack immediately into hot, sterilized pint jars, leaving 1/2 inch headroom.
Wipe the jars clean before placing lids and rings on. Process the jars in a hot water bath (185 F / 85 C) for 10 minutes. If you are canning at a high altitude, you may need to adjust water processing time. Remove carefully and cool upright naturally. The flavor will develop over several weeks.
Recommended Products
As an Amazon Associate and member of other affiliate programs, I earn from qualifying purchases.
Nutrition Information:
Yield:
72
Serving Size:
1
Amount Per Serving:
Calories:

59
Total Fat:

0g
Saturated Fat:

0g
Trans Fat:

0g
Unsaturated Fat:

0g
Cholesterol:

0mg
Sodium:

9mg
Carbohydrates:

14g
Fiber:

0g
Sugar:

13g
Protein:

0g
Recipe calculation was provided by Nutritionix and is an estimation only. If you need nutritional calculations for medical reasons, please use a source that you trust.