I love pickling and these Quick Pickled Onions could not be simpler to make. Pickled onions are a quick fix to making sandwiches, burgers, tacos, burritos, salads and more even better! I just can't get enough of them. We love making canned tomatoes every year and also love trying out new recipes.
Quick pickling takes no time at all, so it can be easily added into a day of canning. Try our Quick Pickled Radishes (Sweet & Spicy) too.
I chose to use red onions for a couple of reasons. One they are a pretty pink when pickled but also they are the ones that can be quite biting and will lend themselves nicely to pickling I feel better than others. I really like it when a red onion is not so harsh in flavor. They are also a bit meatier than other onions giving them more of a crunch when pickled.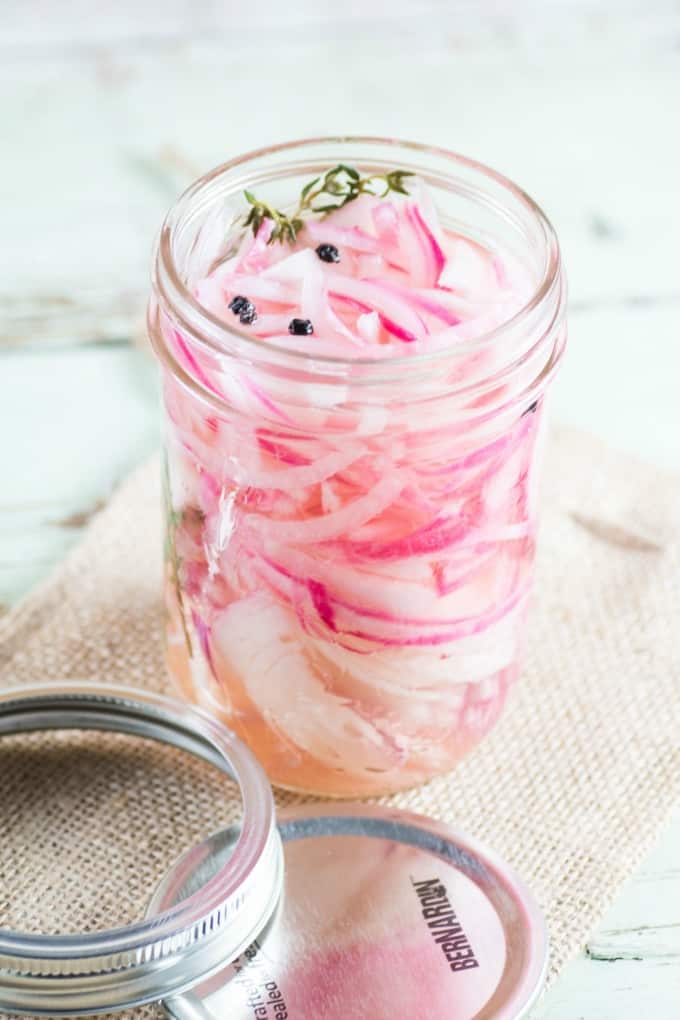 Vinegar and Herbs
To make this quick recipe you only need a few ingredients, one is vinegar and you can get creative with this by using different ones. I used an apple cider vinegar and a white wine vinegar combination for more flavor. You can use just a white wine vinegar or a combination of malt or herb vinegar.
You can try using a herb vinegar like a white wine tarragon vinegar, that type of vinegar I may cut with more of a plain white vinegar and do like one-quarter herb vinegar and three-quarters white vinegar depending on how much of a herbal influence you want. All would be good in this recipe.
Adding in different herbs will also get you the same effect and look pretty in the jar too. I used thyme in my recipe. Oregano, tarragon, rosemary, basil would also be lovely.
What Spices to Use in Pickled Onions?
A sweet onion, like a Vadalia or a regular yellow onion would give you yet again a different flavor. Vidalias are used for pickling in Southern cooking. I also love those little pearl onions pickled too. They are especially popular in Britain where they are done in a malt vinegar which gives them a brownish tone.
There are many pickled onion recipes to choose from or you can create your own. Adding in different herbs and maybe a little spice with crushed red pepper flakes might be attractive to you. I did like the idea of peppercorns being included as that added a nice little bite without being too strong. A mustard or corriander seed might add a nice touch too.
I wanted the onions to be "sweeter" and more mellow so I didn't go to the spicy side like I did with my cucumbers when I made Spicy Refrigerator Pickles. We really enjoy doing lots of canning recipes, quick and traditional.
How to Pickle Onions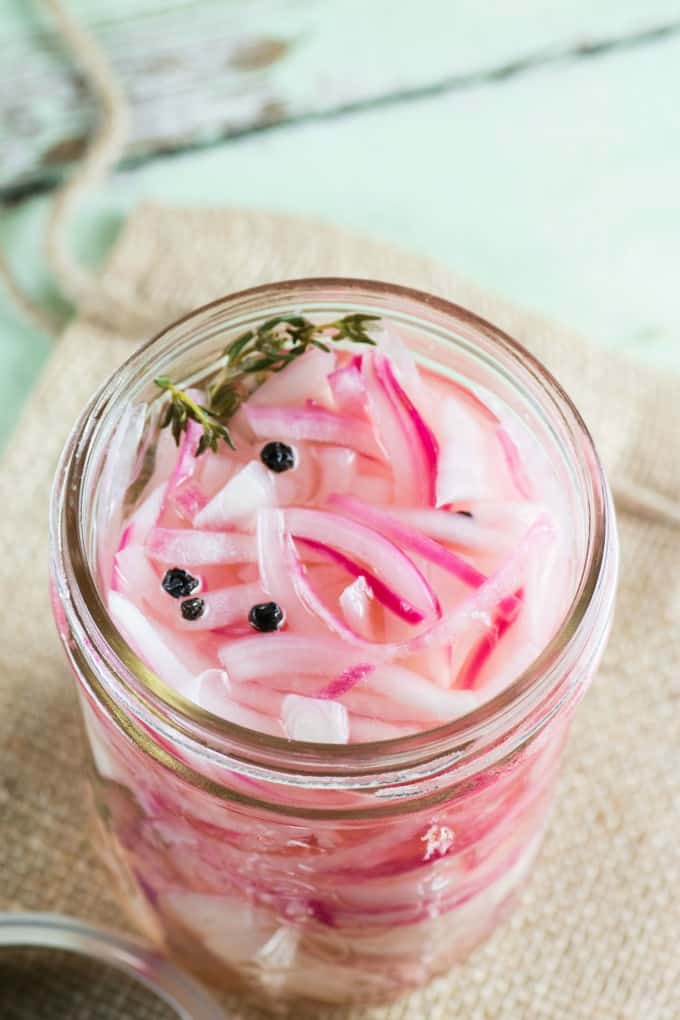 How to pickle onions takes about 5 min. if that and then time to cool. They make an excellent condiment for so many dishes. How long do quick pickled onions last? They keep well in the refrigerator for 2-3 weeks. All you need is a clean jar and lid plus the ingredients and off you go into making these.
I added in a little honey to sweeten things up. It doesn't make the onions sweet but takes away the sharpness, but yet they are still tangy and crisp. How long do onions take to pickle? You can use these onions after they cool from the hot brine right away, like in 20 min.
It depends on the size of your onion to how much this makes. Some red onions are mammoths, I wouldn't use one of those!! Look for a medium-sized red onion or use half a large onion. I got my red onions from the farmers market and they were fresh, smaller and wonderful.
Pickled Onion Recipes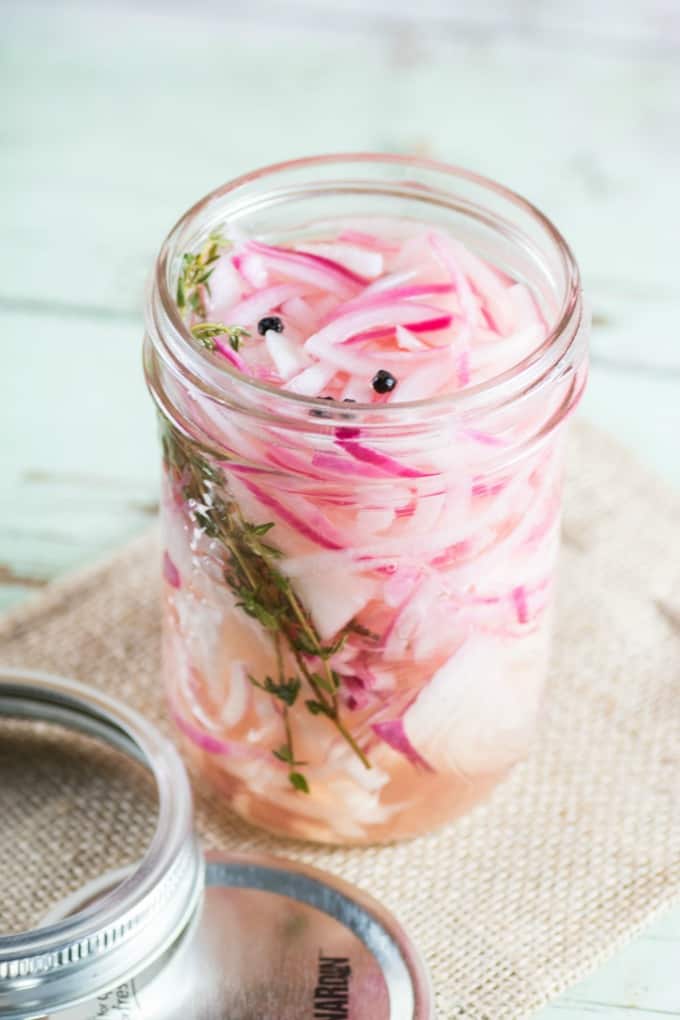 Everyone will think you have slaved away making these but they only take minutes to create. Pickled onions are loved around the world. In the Southern US, they like to use a Vildalia onion. The red onions are loved in Mexican cuisine as I have noted already for tacos and burritos. While dining in Hong Kong you might have them served before the main course. In Switzerland, they are married with gherkins and served with a raclette. In Italy, they are called maggiolina, and are again little white pearl onions.
A Mexican recipe can add in citrus juices along with the vinegar. They also may add in a cooked beet to really bump up the pink color. They love to add these pickled red onions to seafood dishes too.
Keep these quick pickled red onions on hand at all times if you love them! I will be using mine again tonight for homemade sub night. I can't wait!! They are so pretty in pink and wonderful tasting!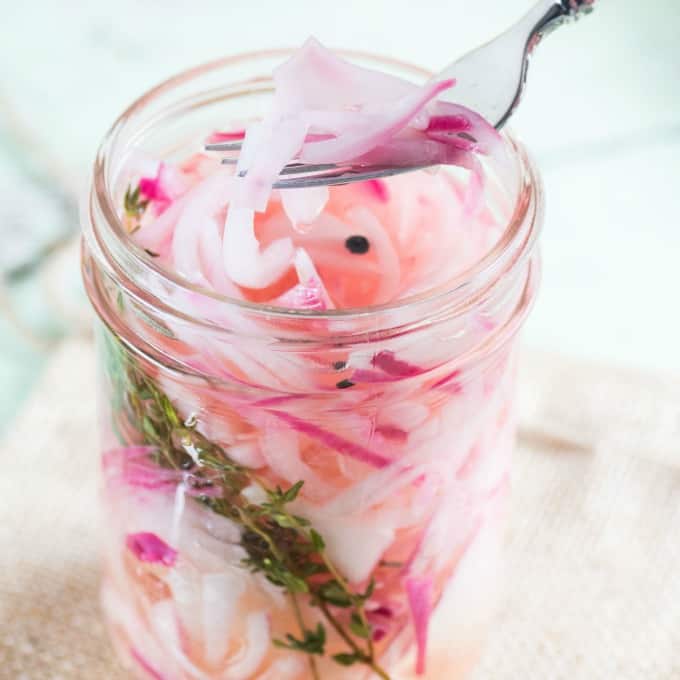 Quick Pickled Onions Recipe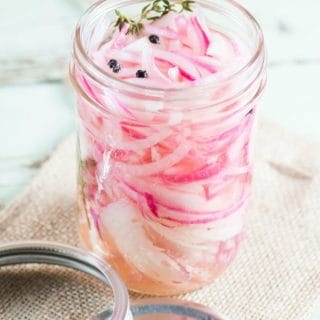 Quick Pickled Onions
Yield: 1 pint jar
Prep Time: 5 minutes
Cook Time: 1 minute
Total Time: 6 minutes
Quick Pickled Onions are a snap to make and are perfect on burgers, tacos, burritos, sandwiches and salads.
Ingredients
I medium red onion, sliced
1/2 cup water
1/4 cup white wine vinegar
1/4 cup apple cider vinegar
1 Tbsp. honey
1 1/2 tsp. sea salt
5 whole peppercorns
3 sprigs thyme
Instructions
In a 1 pint mason jar add in the red onions and thyme tightly. Place the jar in the sink so that if you spill the brine later it is okay.
Combine the water, vinegars, honey, salt and peppercorns in a small saucepan. Bring the mixture up to a simmer and stir to dissolve the salt. Carefully pour the mixture into the jar. I had the perfect amount.
Press the onions down with a fork genty to release any air bubbles. You may need to run it around the sides too. Let them cool for 20-30 min. Serve immediately if needed or they keep well refrigerated for 2-3 weeks covered.
Adapted from Quick-Pickled Onions by Cookie and Kate.
Some information on Pickled Onions obtained from Wikipedia.