Peach lovers, rejoice! This super easy Peach Freezer Jam perfectly captures the flavour of peaches at the peak of their season. The lower sugar, no added pectin jam recipe tastes great and requires zero canning.
Summer fruits are juicy and ripe for the picking! Capture the fleeting essence of these summer delights with one (or more) of these great jam recipes from our blog. We love the wild berry flavour of our blackberry freezer jam and the mixture of blueberries with sweet n tart rhubarb in blueberry rhubarb jam. Enjoy these summer delights all winter long and don't forget to share with a friend, or two. If you want more jam try our Christmas jam, makes for great gift-giving!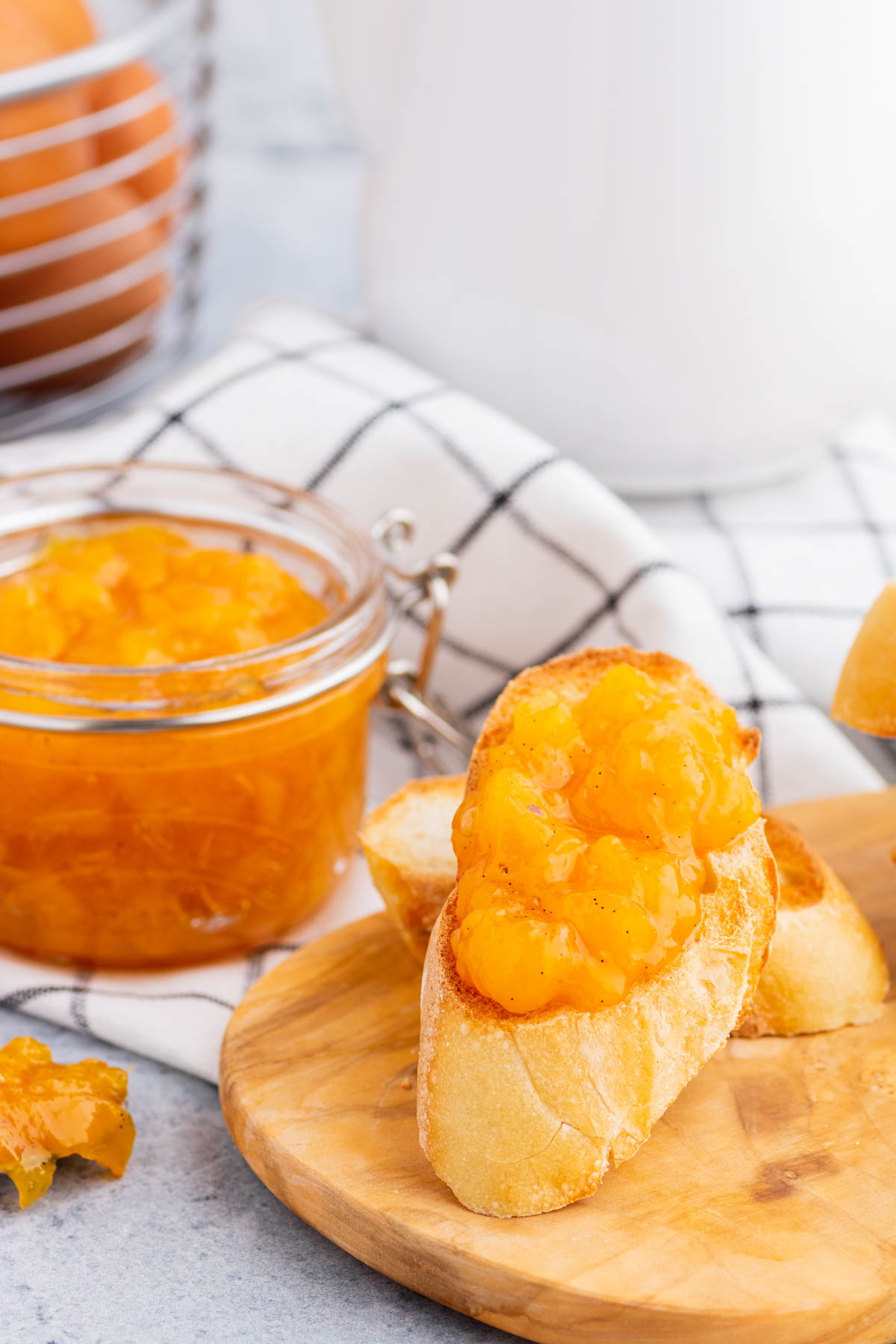 Subscribe To Our Weekly Newsletter
Vanilla Peach Freezer Jam
Do you love a mouthwatering thick and chunky style jam? If so, this is the recipe for you. This jam features large pieces of fresh peach sweetened with a touch of sugar and a drizzle of honey. Additionally, there's a touch of lemon juice and just a smidge of real vanilla bean caviar to round out the flavour. Check out those photos…can you see the vanilla caviar among the glossy peaches?
This small-batch recipe makes four half-pint jars (250ml) that store conveniently in the freezer until you need them. Additionally, because there is no added commercial pectin, you can double the recipe whenever you like. Eight jars is always better than four when we're talking jam.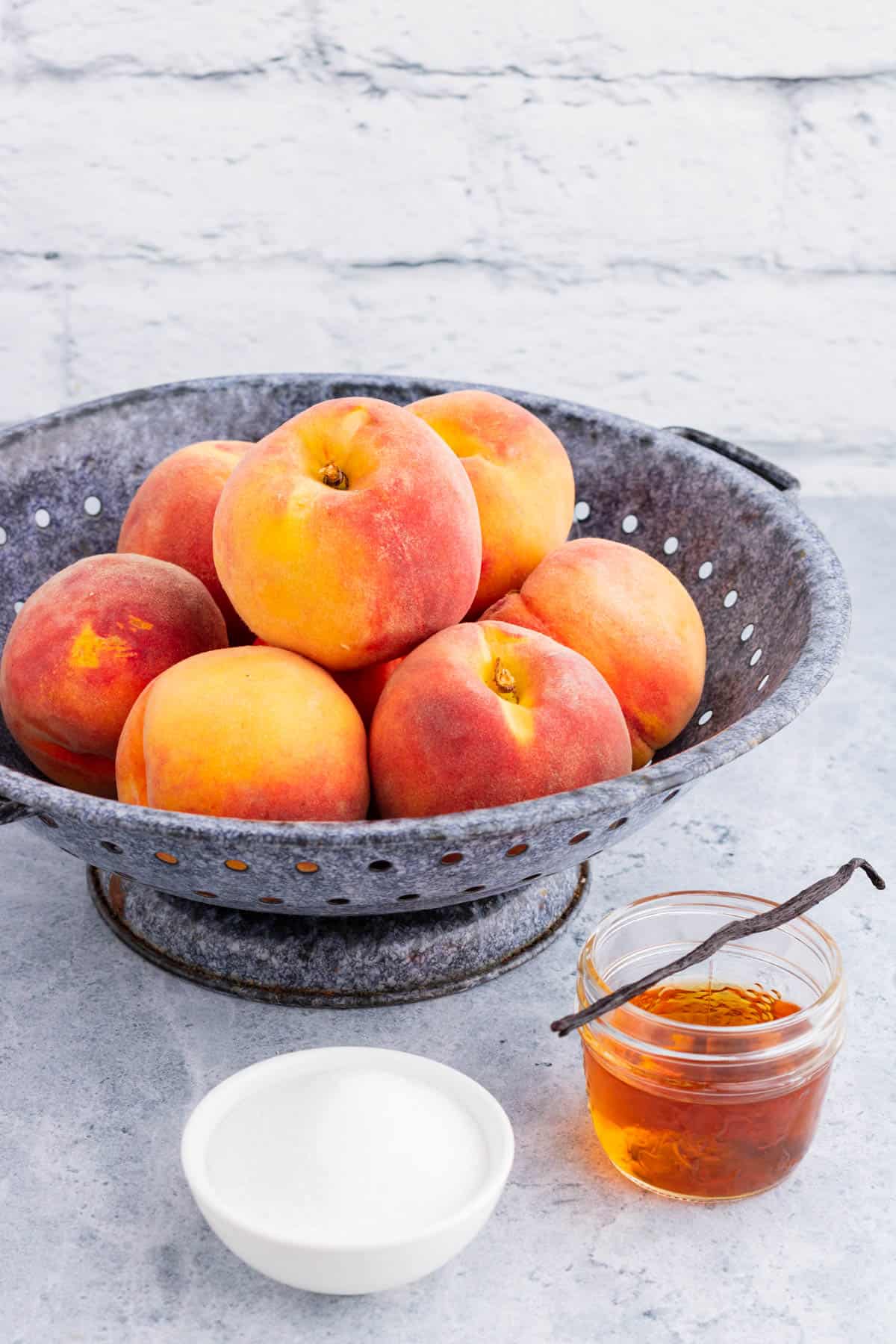 Enjoy the jam all on your own or share a few jars with friends and family. The choice is yours. Personally, I love giving them away, as much as I enjoy receiving gifts of food, especially when the jam turns out this darn good.
Ingredients List For Vanilla Peach Freezer Jam
Peaches (almost ripe peaches)
Sugar
Honey
Lemon Juice
Vanilla Bean
Yes, you read that right. There are only five very simple ingredients in this recipe. However, that means that each ingredient is able to shine all on its own. The peaches are the star of the show in this jam so they are the most important ingredient.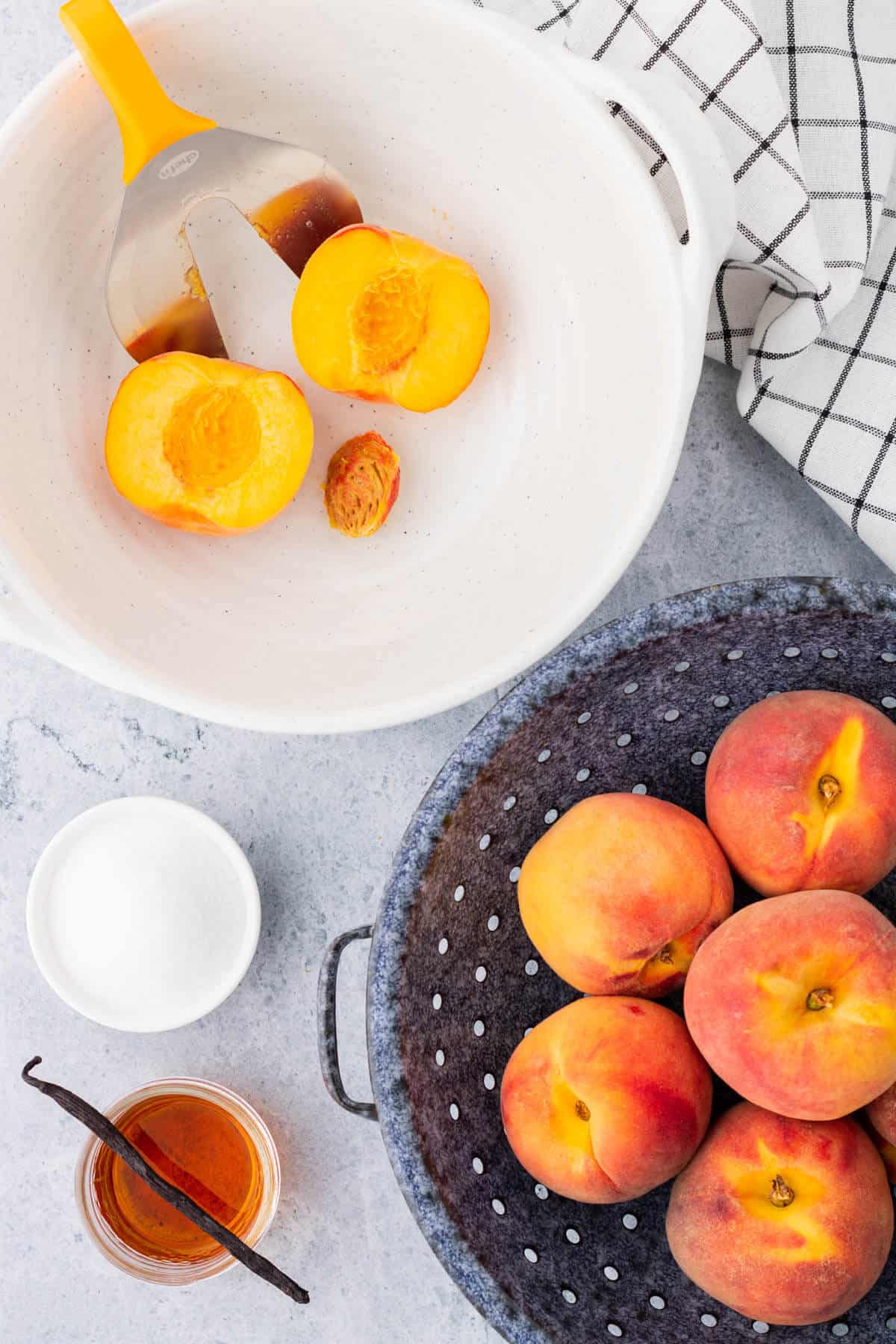 Try to find peaches that are only ripe, juicy, and delicious. In other words, pick the peaches at their peak! They will be easier to work with and will have incredible flavour.
Though this is a relatively low sugar jam, there is still a need for a small amount for both flavour and texture. Jam is, after all a sweet condiment. Additionally, a bit of honey makes this jam such a tasty treat while acting both as a sweetener and thickening agent.
Great jam is all about the balance of flavours. The sweetness of the sugar and honey is balanced with the acidity of the lemon juice and of the peaches themselves. Furthermore, the lemon juice helps to keep the peaches from oxidizing and turning into an unappetizing brown colour.
Lastly, the addition of vanilla bean 'caviar' (which is a fancy name for the seeds scraped from the inside of a vanilla bean) adds another depth of flavour. You can leave this ingredient out if you like, however, I highly encourage adding it if it is available to you.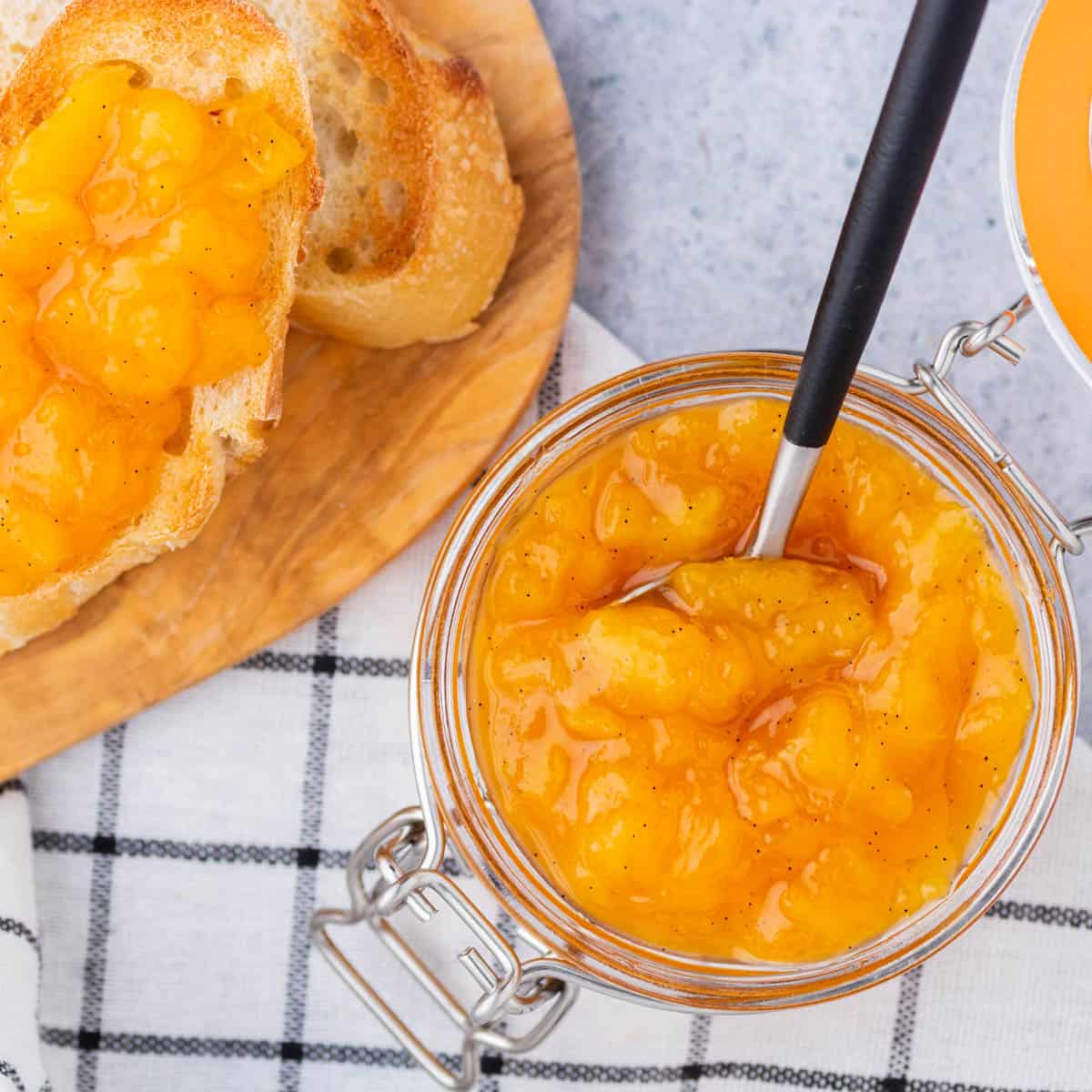 Fruits vary in the amount of pectin they contain, with peaches and other soft fruits containing the lowest amount. Since peaches are relatively low in pectin, this jam needs a fair bit of simmering time in order to gel. If you want to speed it up a touch, grate half an apple or pear into the mixture.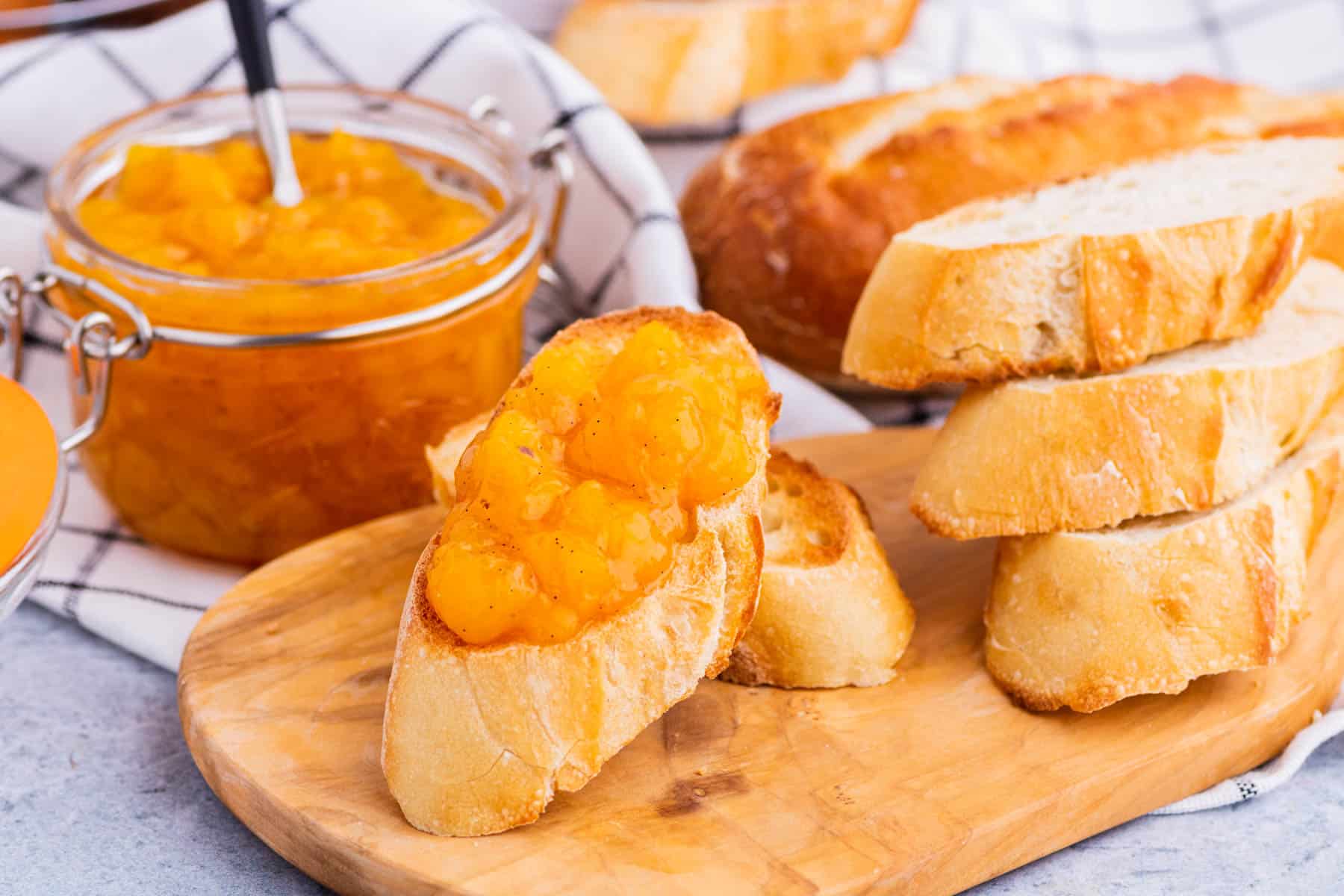 How to Make Vanilla Peach Freezer Jam
For the first time or 'newbie' preserver, freezer jam is the way to go. There is no need to sterilize any equipment or have a large hot water bath canner of boiling water waiting. Simply inspect and wash all the canning jars and their corresponding lids. Once they are clean, it's time to make jam!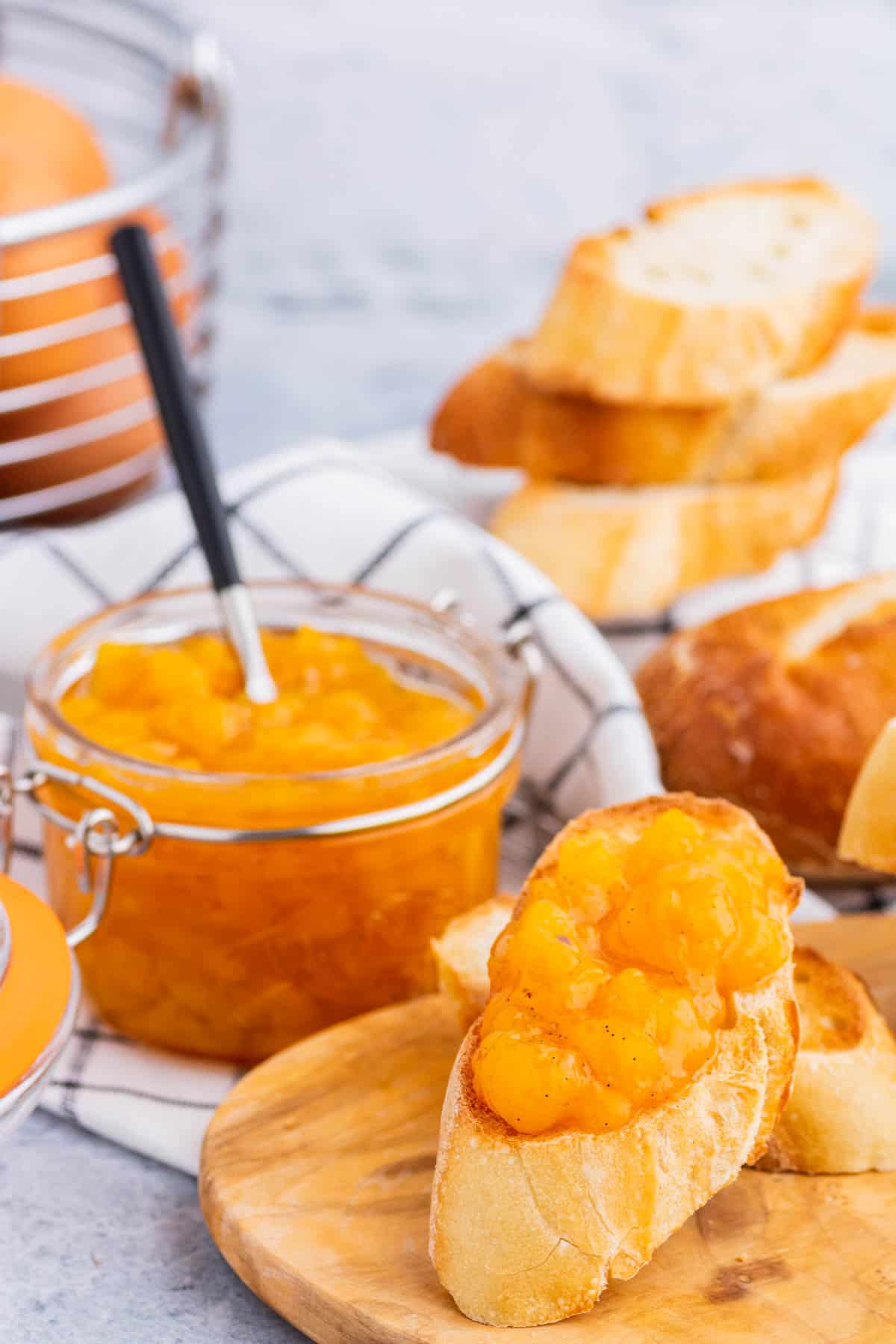 Preparing the Peaches
For this recipe, the peaches must first be peeled. If they are quite ripe, you can peel peaches by hand or use a paring knife. If the peels are a bit more stubborn you can blanch the peaches in a pot of boiling water.
To blanch peaches, set a large pot of water to boil on the stove. Mark a small 'x' on the side opposite the stem. Once the water is boiling, immerse each peach for one minute. Remove, then plunge it immediately into a waiting bowl of ice water. Repeat with remaining peaches. The peels should just slip off easily following this procedure.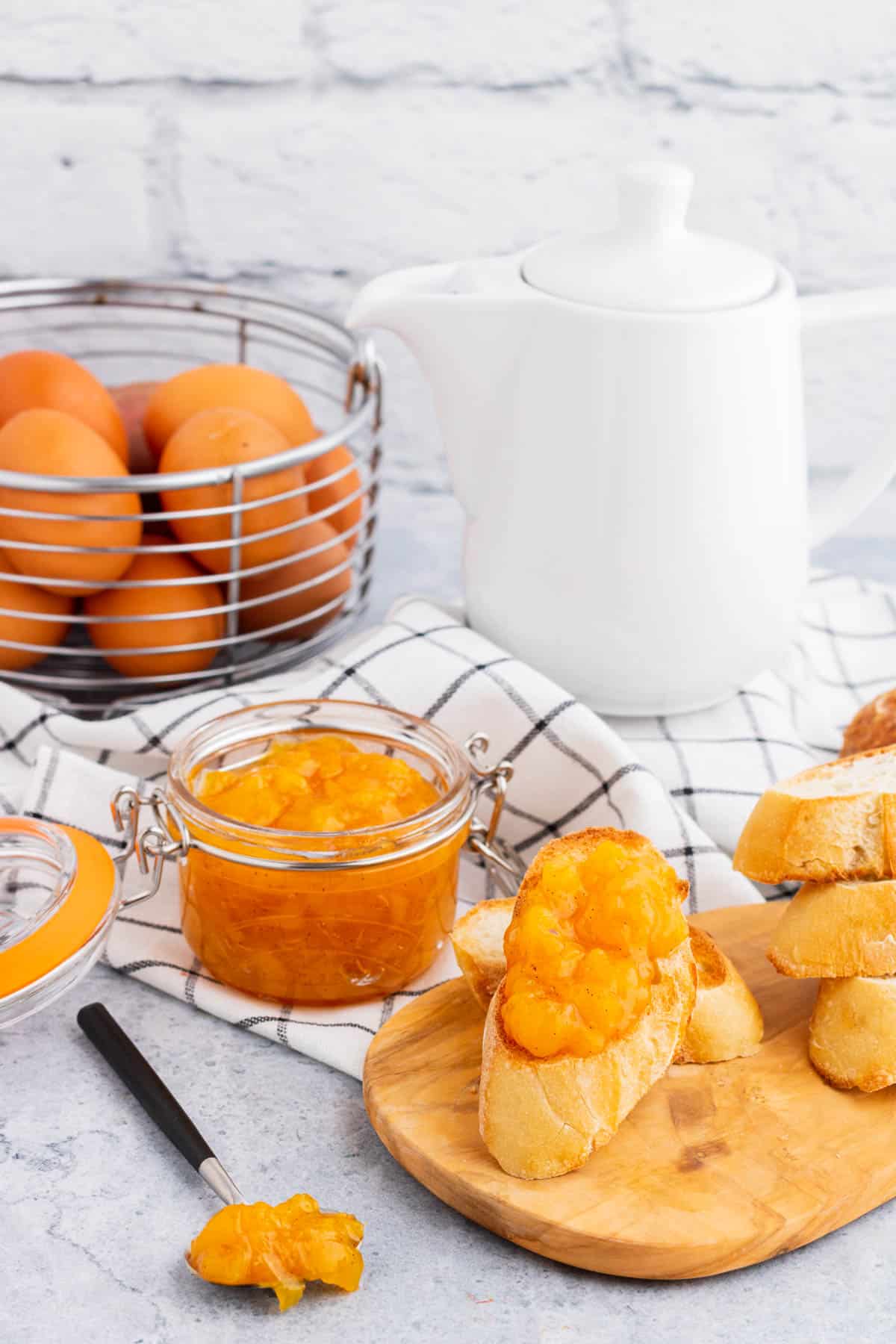 Slice the peeled peaches in half from the stem end through the pointy bottom then up to the stem again. Remove the pit and discard. Slice each peach half 6 or 7 times, rotate the slices ninety degrees, then slice 6-7 times again. Place the diced peaches in a large bowl or Dutch oven or heavy-bottomed saucepan and add the lemon juice, sugar, and honey.
Allow the peaches to macerate in the sugar for an hour. This allows the fruit to soften and release some of its natural juices.
Boiling the Jam
Once the peaches are all happy and juicy, set the Dutch oven or heavy-bottomed saucepan on the stove and allow it to come to a rolling boil. Turn the heat down slightly, just enough to keep it simmering. Add the vanilla seeds and simmer peach mixture 40-60 minutes, stirring often to prevent scorching.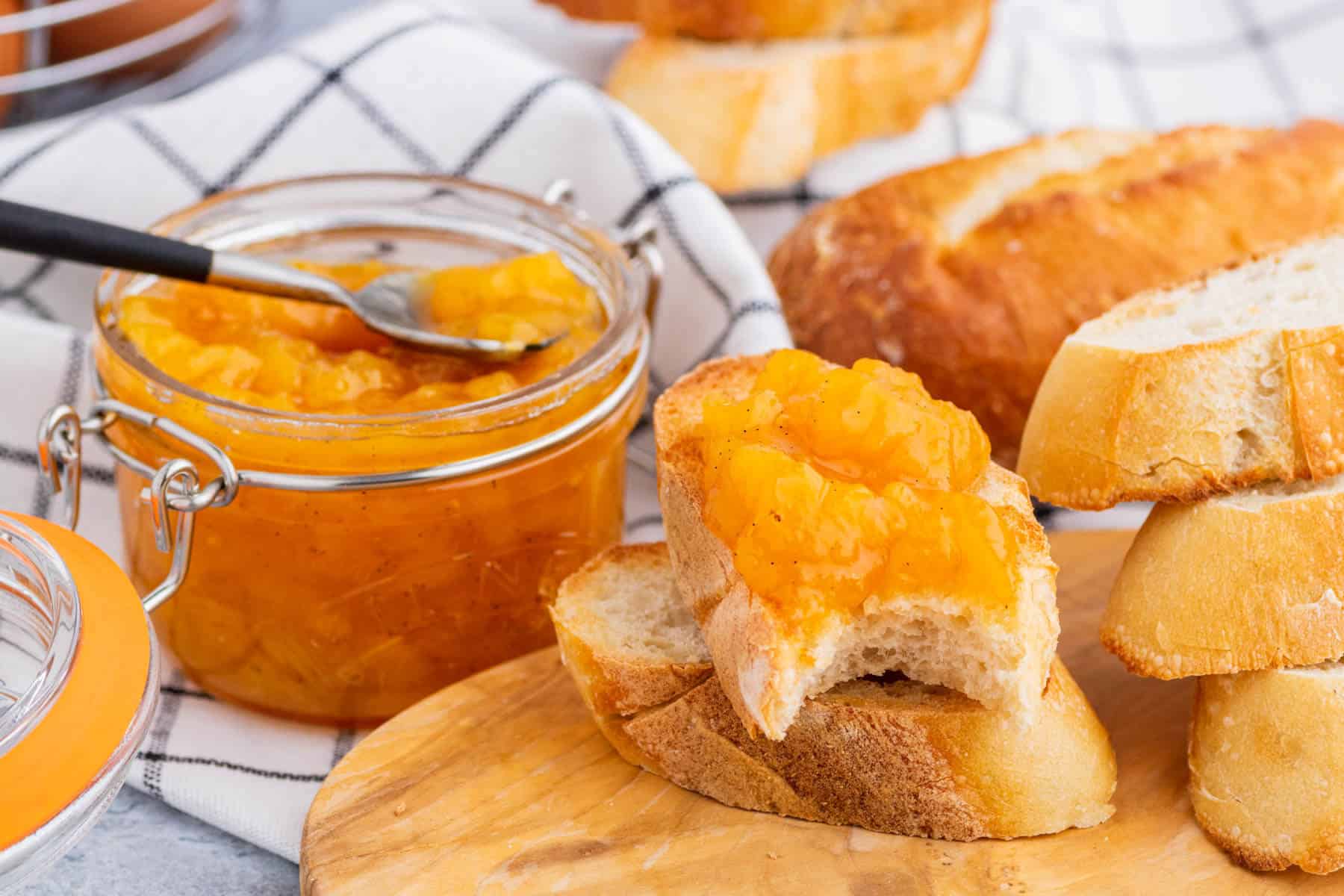 How to Tell When Jam is Done
Simmer the jam until you see the bubbles get larger, and it starts to look 'set' around the edges of the pan. There are two ways to test if a jam will be set.
Trace a line with your finger along the back of the wooden spoon (careful, the jam is hot!). If the liquid stays separated, it is ready.
Place a small plate in the freezer before you start boiling the jam. When it shows signs of thickening, place a spoonful on the tester plate and allow it to cool. If it wrinkles when you push it with your finger, it is done. Note: I prefer this second method.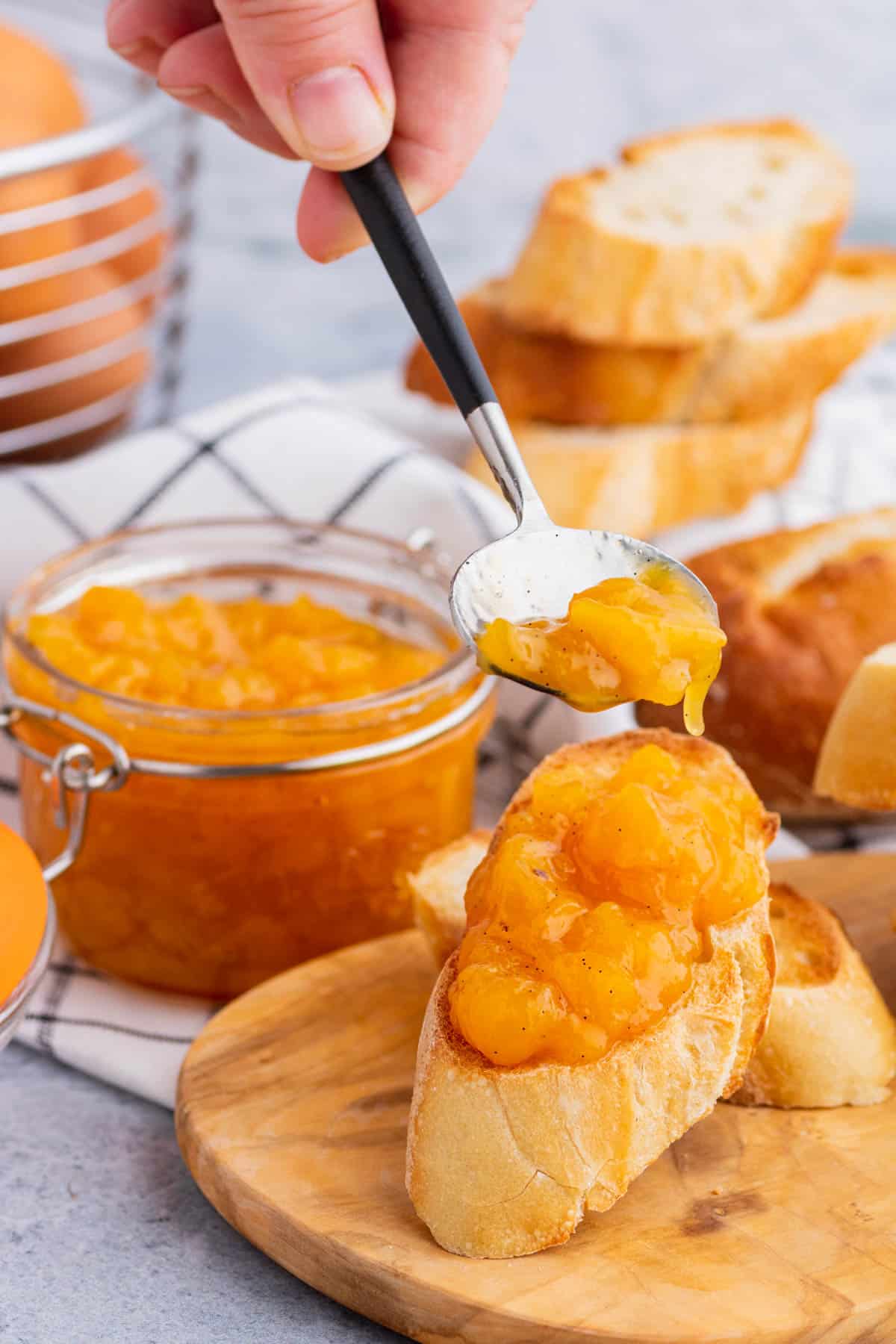 How to Store Vanilla Peach Freezer Jam
When the jam has reduced to your desired viscosity, remove it from heat, and continue stirring constantly for a few minutes. Carefully fill glass jars leaving about 1/2 inch headspace. Cover with lids, then let jars stand at room temperature for 24 hours.
Store in refrigerator or freezer for up to one year. To use frozen jam, thaw in refrigerator overnight then enjoy on toast, freshly baked scones or on ice cream.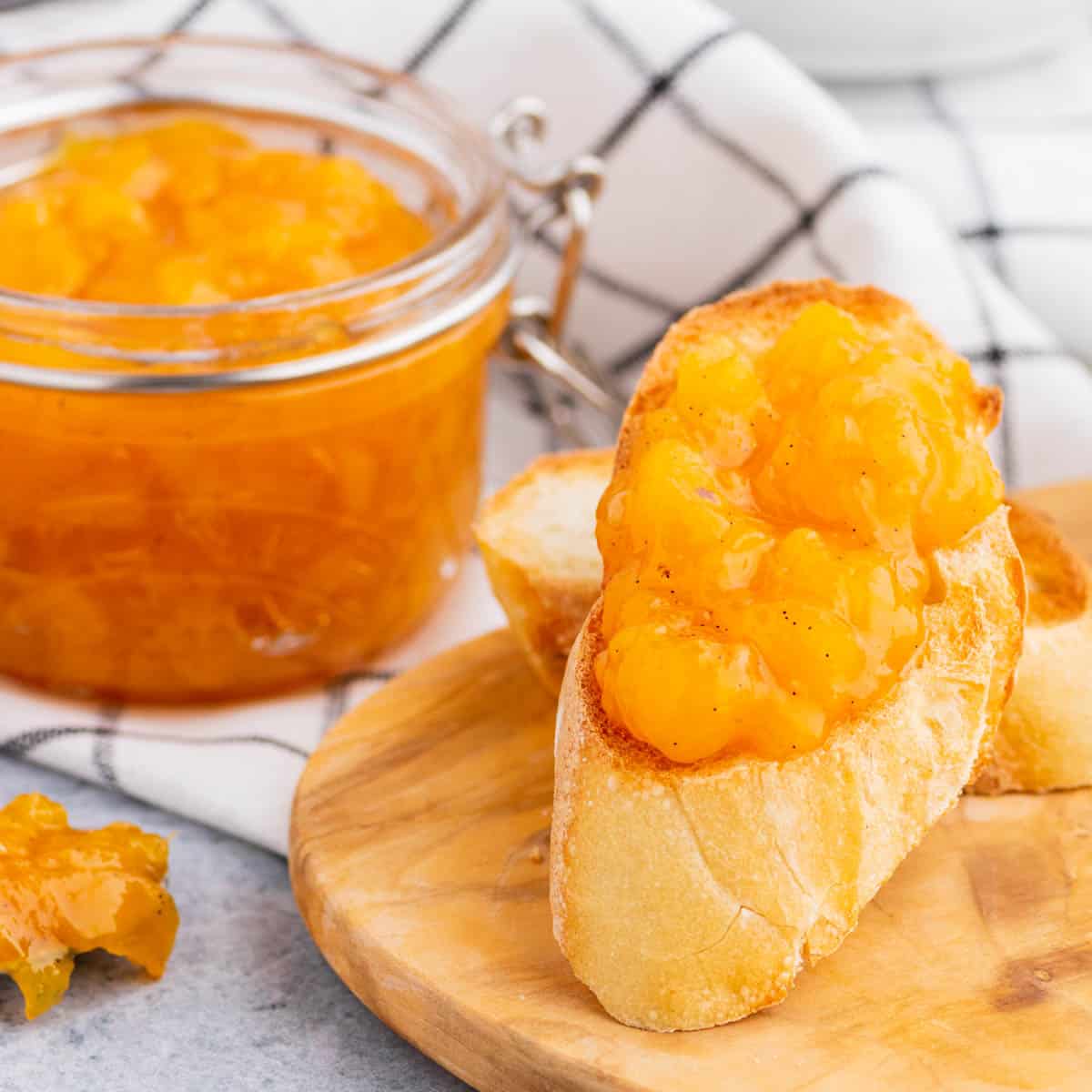 Pin it HERE!!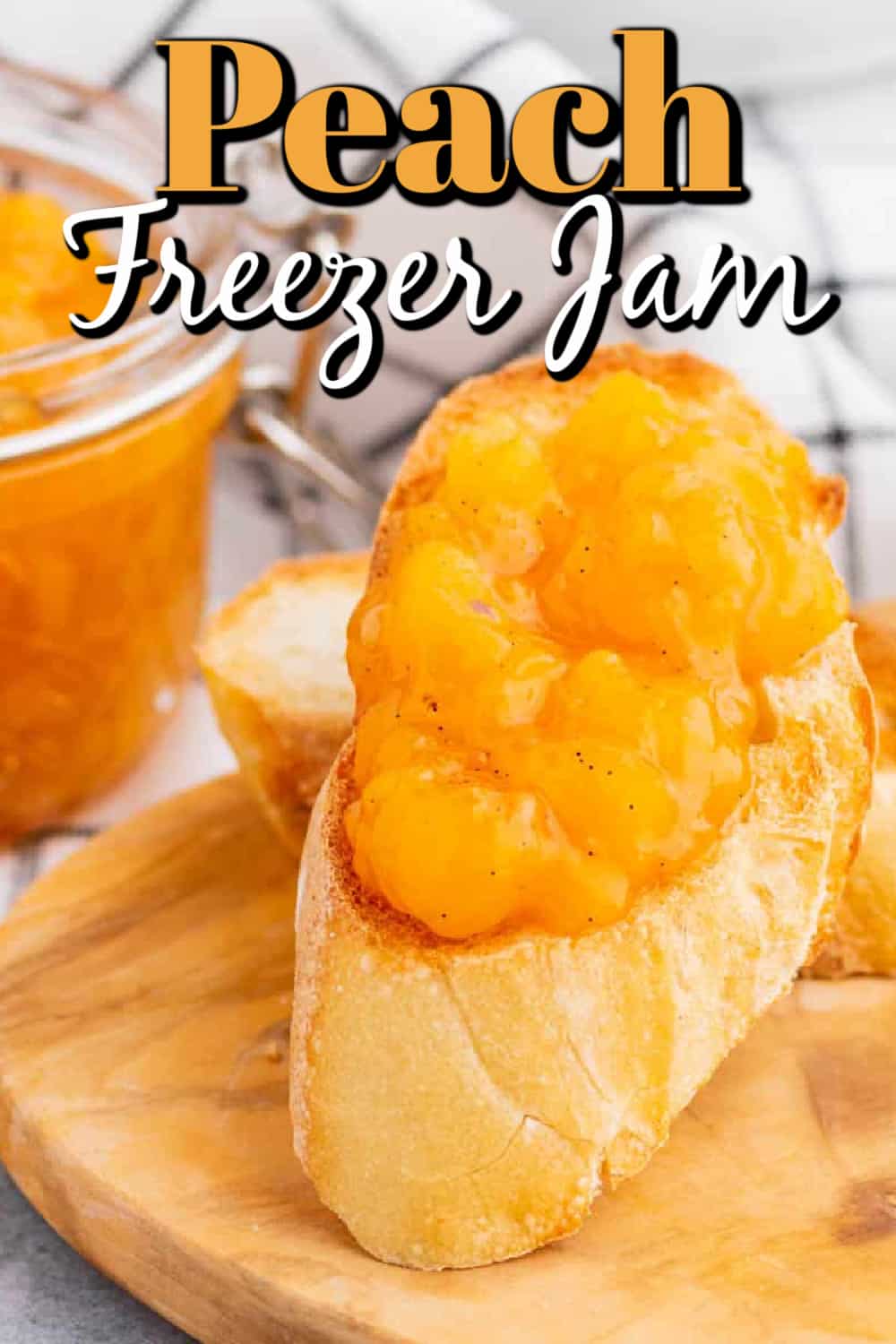 Pin it HERE!!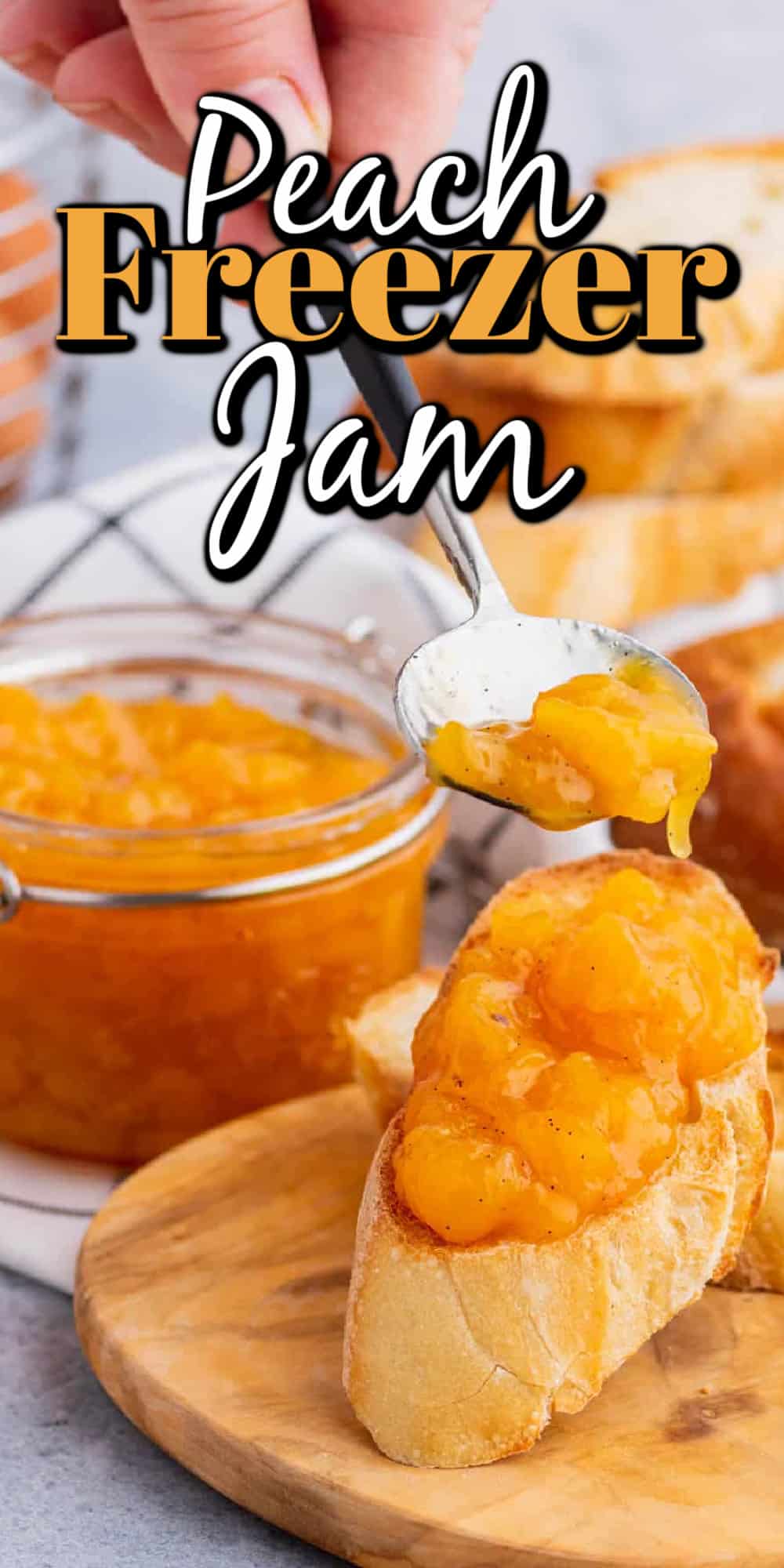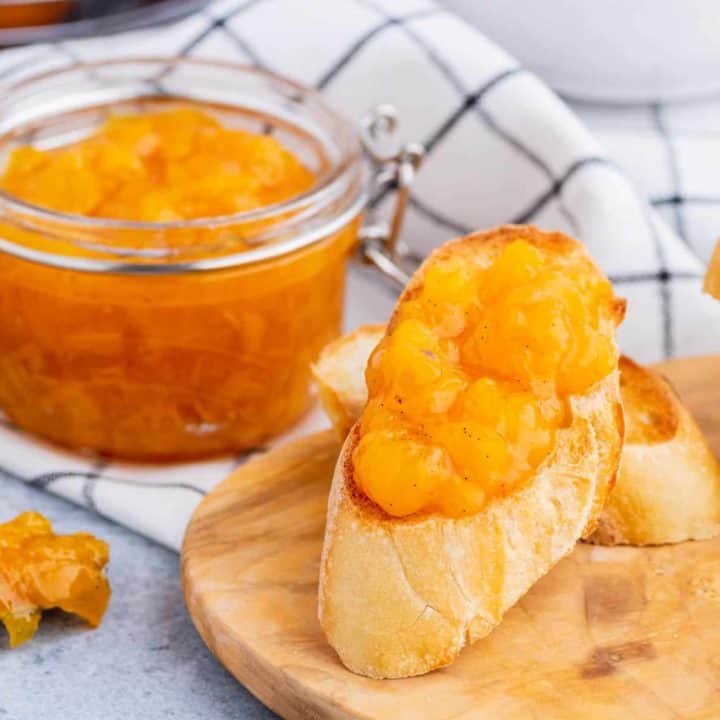 Easy Vanilla Peach Freezer Jam
Yield: 4 - 250 ml jars
Prep Time: 10 minutes
Cook Time: 50 minutes
Additional Time: 1 hour
Total Time: 2 hours
Making Peach Freezer Jam is easy with low sugar and no pectin too! Delight in the goodness of peaches all year round. This small-batch freezer jam can be easily doubled to make some for friends too.
Ingredients
8 medium peaches (almost ripe)
3 tbsp lemon juice
1 1/2 cups sugar
1/3 cup honey
1 vanilla bean
Instructions
Prepare the peaches by filling a large pot of water and setting it to boil.
Cut a small x on the non stem end of the peach and immerse it in the boiling water for 40-60 seconds.
Remove the peach and place immediately in a bowl of ice water. Peel. Repeat with remaining peaches.
Slice each peach in half and remove the pit. Slice each half 6-7 times, then rotate 90 degrees and slice again. Place diced peaches in a bowl.
Pour lemon juice over the peaches and stir. Add the sugar and honey and stir again. Allow peaches to macerate for an hour.
Place a small plate in the freezer.
Inspect and wash five 250 ml jars and their lids (I always do one extra then the recipe yields just in case).
Add macerated peaches to a heavy bottomed pot such as a Dutch oven. Allow to come to a rolling boil, then reduce and allow to simmer 40-50 minutes. Stirring occasionally.
Once the jam has begun to thicken, test a spoonful on the frozen plate. If it thickens, the jam is ready. Time required may vary depending on water content of the fruit so it's important to test the jam.
Divide jam into jars, cover with lids and allow to cool to room temperature. Place in freezer until you are ready to use the jam.
Recommended Products
As an Amazon Associate and member of other affiliate programs, I earn from qualifying purchases.
Nutrition Information:
Yield: 16
Serving Size: 1/4 cup
Amount Per Serving:
Calories: 124
Total Fat: 0g
Saturated Fat: 0g
Trans Fat: 0g
Unsaturated Fat: 0g
Cholesterol: 0mg
Sodium: 1mg
Carbohydrates: 32g
Fiber: 1g
Sugar: 31g
Protein: 1g