What is the Scoville Scale?
When it comes to hot peppers, there's one thing most pepper fans can agree on – the Scoville Scale for Peppers. What is the Scoville Scale? It is the way to tell how hot a pepper is going to be.
I like to cook with hot peppers, smoked peppers, hot sauces and seasonings. I do want to know though how hot it is going to be in the end. For me there is nothing worse than a burning heat where you can't actually enjoy the other flavors of the dish. Having some pepper knowledge really helps.
Invented by American Pharmacist Wilbur Scoville in 1912, it was originally called the Scoville organoleptic test before becoming standardized as the Scoville Scale. The Scoville Scale measures the capsaicin concentration, or what makes the peppers taste hot.
Interestingly the original Scoville test involved feeding peppers to volunteers! Scientists mixed the ground peppers with sugar water – and measured how many additions of sugar water the pepper needed before it no longer tasted hot to the tasters. That means that jalapeño peppers, with a Scoville scale rating of 5000 would have needed 5000 additions of sugar water before they stopped tasting hot to the volunteers.
Thanks to modern science, we no longer need people to volunteer to taste hot peppers – we can use high-performance liquid chromatography to measure the amount of capsaicin in a pepper or other substance.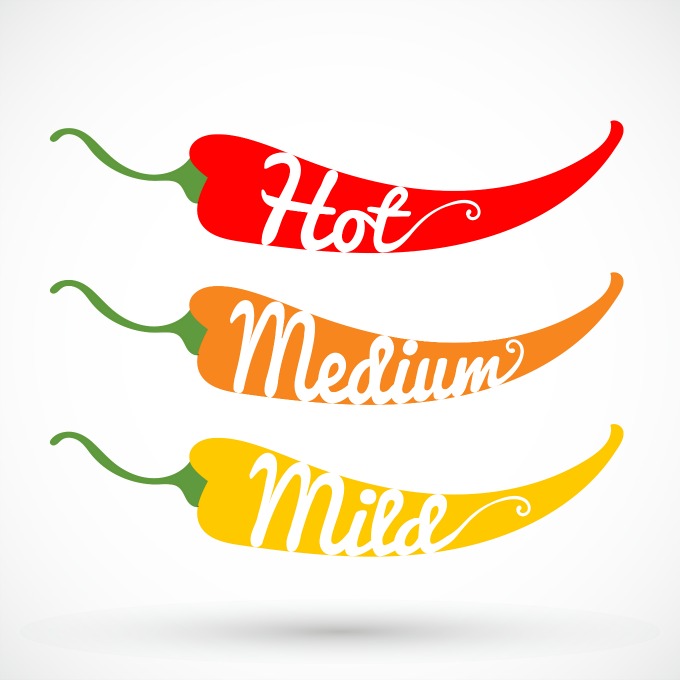 WHAT PEPPER IS THE HOTTEST?
The hottest pepper ever measured was a Carolina Reaper pepper. It clocks in between an amazing one million five-hundred thousand and two million Scoville Heat Units (SHUs).
It has the Guinness World Record for the hottest pepper in the world. Only a few people have ever dared to try it (with good reason I think!) and they compare the taste to eating molten lava.
I'm going to take their word for it and you probably should too if you value your taste buds. The average sweet pepper has between 100 and 300 SHUs , Frank's Red Hot sauce has about 450 SHUs, and Sriracha has anywhere between 1200-2200 SHUs (depending on the brand), and Tabasco sauce has 3500 SHUs.
All considerably below the jalapeño pepper which most hot pepper aficionados consider to be relatively mild.
HOW HOT IS IT?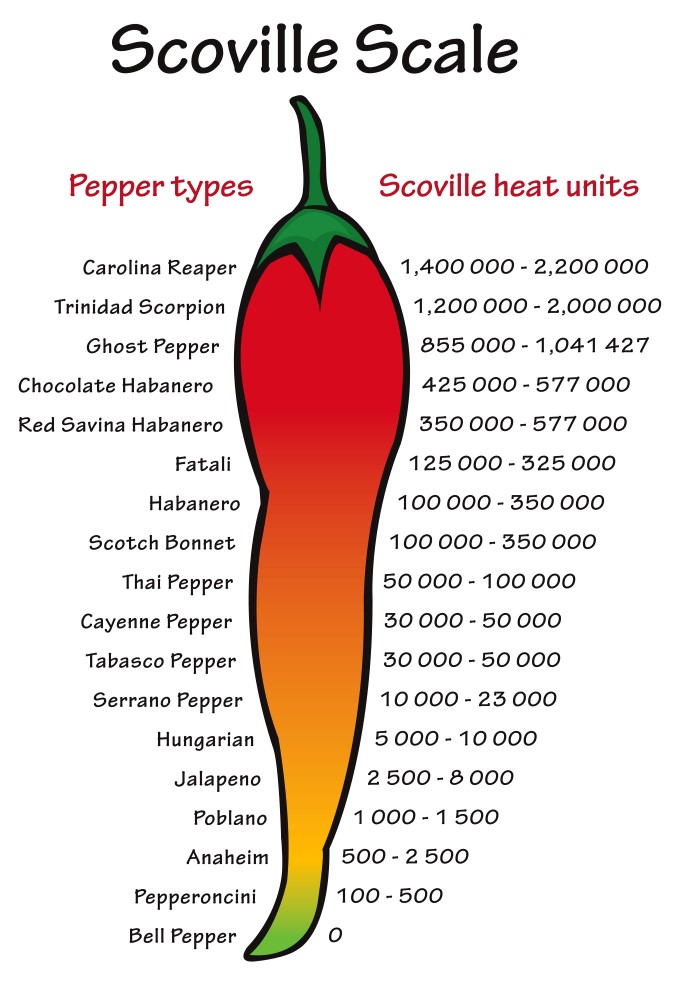 SCOVILLE SCALE CHART
The following table lists some common peppers from around the world and their approximate Scoville Heat Units.
| | |
| --- | --- |
| Name | Average SHUs |
| Bell Pepper | 0 |
| Sweet Peppers | 100-300 |
| Frank's Red Hot Sauce (Hot Chicken Wings) | 450 |
| Ancho Chili (Poblano) | 1250 |
| Sriracha Sauce | 1200-2200 |
| Tabasco Sauce | 3500 |
| Jalapeño | 5000 |
| Cayenne Pepper | 50 000 |
| Bird's Eye Chili Pepper | 100 000 |
| Habanero | 250 000 |
| Ghost Pepper (Bhut Jolokia) | 855 000- 1 000 000 |
| Carolina Reaper | 1 500 000 – 2 000 000 |
SCOVILLE HEAT SCALE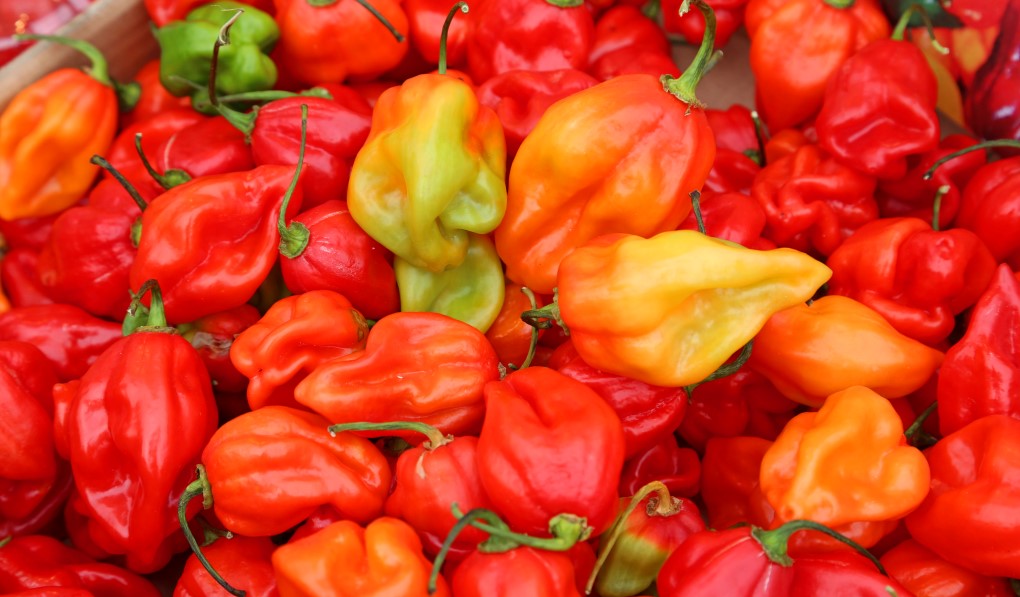 The reason there's a range for some of the peppers is that peppers can vary in their heat. If the same type of pepper is grown in two different places, there can be a difference in how hot those seemingly identical peppers are.
Factors such as soil acidity, sunlight, and what plants are nearby all affect the heat a pepper produces. There's also random genetic differences in peppers – just as no two snowflakes are alike, no two peppers have identical amounts of spice.
The Carolina Reaper is a great example of a pepper that has been cross bred to create an even hotter pepper. It's not a variety that spontaneously appears in nature.
Why create something that can best be described as eating "molten lava"? Good question. People who eat super-hot peppers claim they get a pleasurable sensation after eating them – most likely because the body releases endorphins (feel-good chemicals) as a response to the pain of eating something so hot.
This is also why chili peppers and capsaicin are popular ingredients in over the counter pain creams. When applied to the skin, the heat of the chili can bring on pain relief. So even if there are only a few people who will ever taste these ultra-hot peppers, many more can benefit from them.
What's the hottest pepper you've ever tried? Let me know in the comments.