Pineapple Jalapeno Margarita & 1918 Tap and Table
Summer is in full swing and there is nothing better than to enjoy a great cocktail, so today I bring you Pineapple Jalapeno Margarita & 1918 Tap and Table. You wonder why these two are together today.
Well, I had the pleasure of attending yet another media event at the brand new 1918 Tap and Table and we received a little gift bag when we left. In it along with other goodies was Jalapeno Simple Syrup made with pineapple juice, so heck I was all over making myself a margarita or two!!
Another favorite of our along the same vein is the Mango Habanero Margarita. Full of delightful sweet heat also.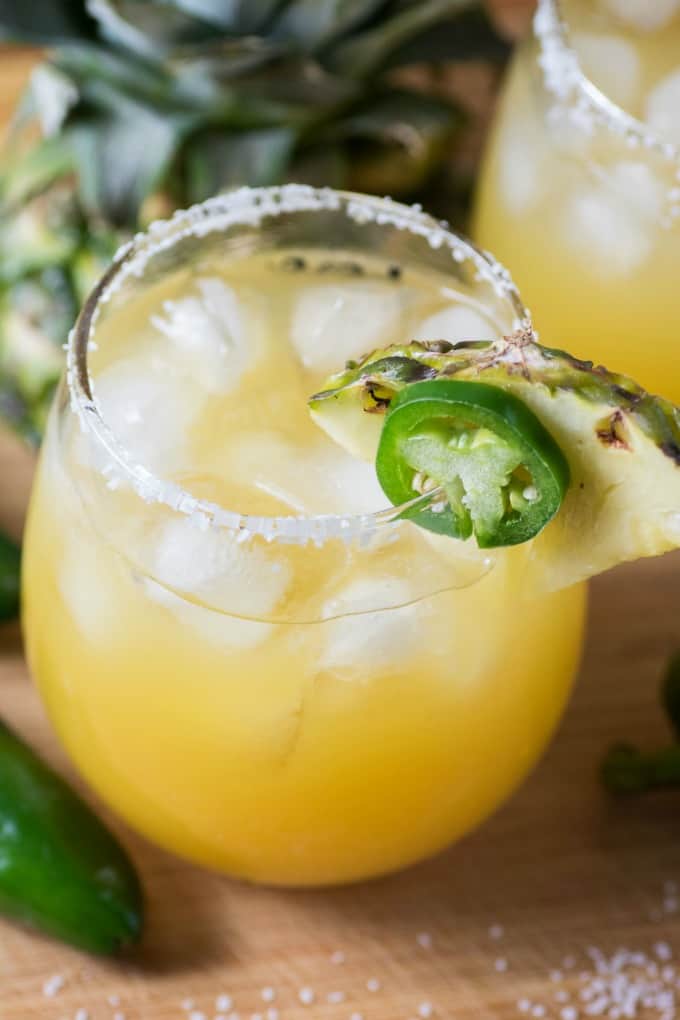 This margarita stands apart. It has all the luscious pineapple flavor with just a slight warming in the back of the throat from the jalapeno. The jalapeno syrup is not hot and very enjoyable in this libation. A tropical beverage you are going to want to indulge in this summer.
1918 Tap and Table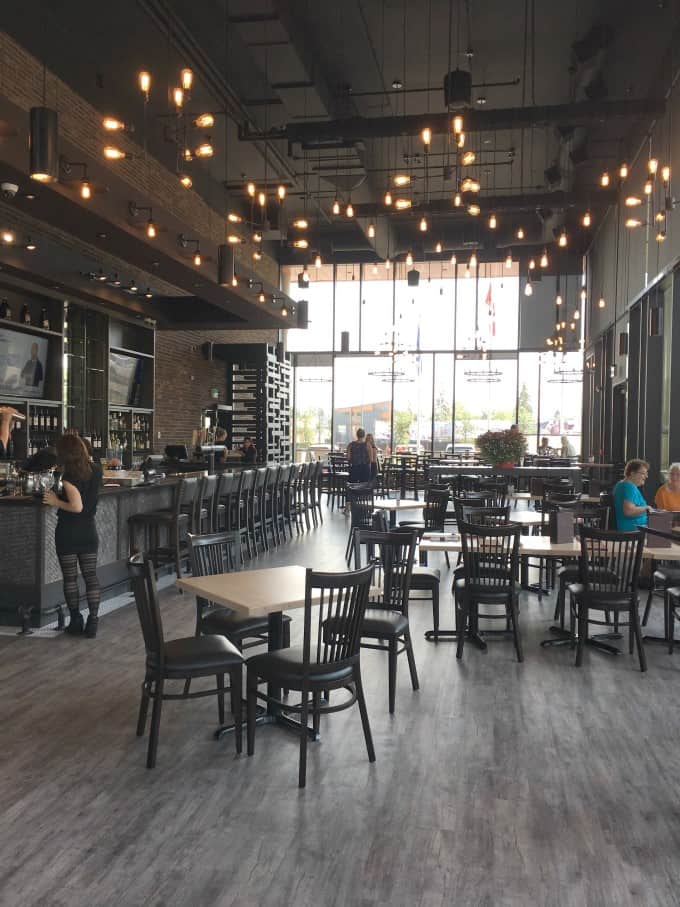 The new Legion 1918 Tap and Table is bright, open and inviting. Not like Legions of yore. 1918 is a significant number not only is it the end of the first world war and the start of the Legions to support veterans but it is also the address of this building on Kensington Rd. NW and belongs to North Calgary Branch No. 264.
The new Legion comes from a swap with the Truman group where they will build condos on the old legion site and in exchange the legion got this gorgeous space with also a 40 seat patio and a members lounge upstairs.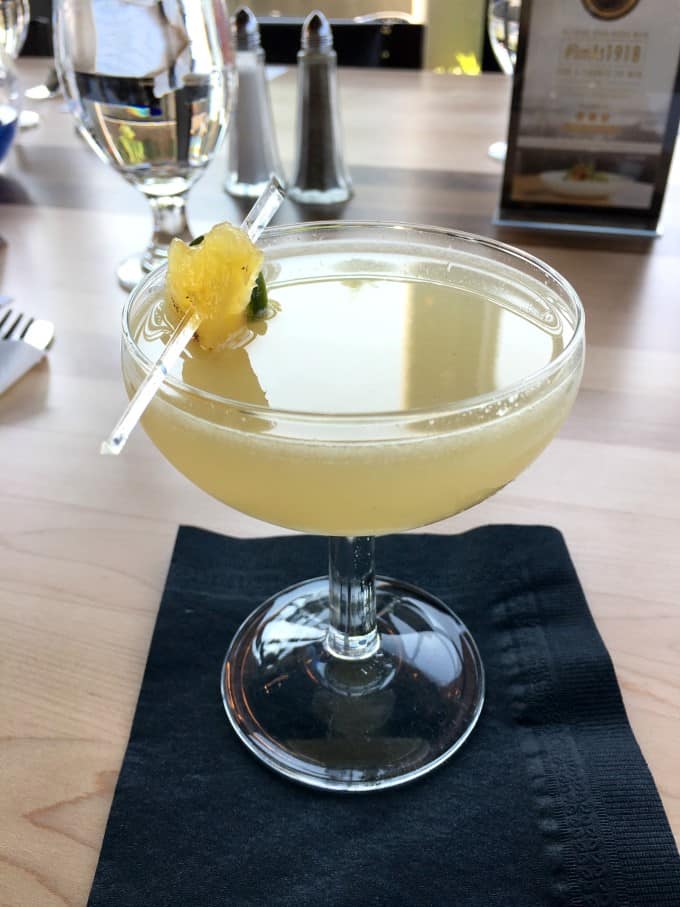 The inspiration for my cocktail today came from The Other Girlfriend, a hybrid concoction of pisco, mezcal, lemon juice, St. Germaine, housemade pineapple jalapeno simple syrup, and grilled pineapple. This is a gorgeous sipper. The pineapple offers a bit of a punch of heat!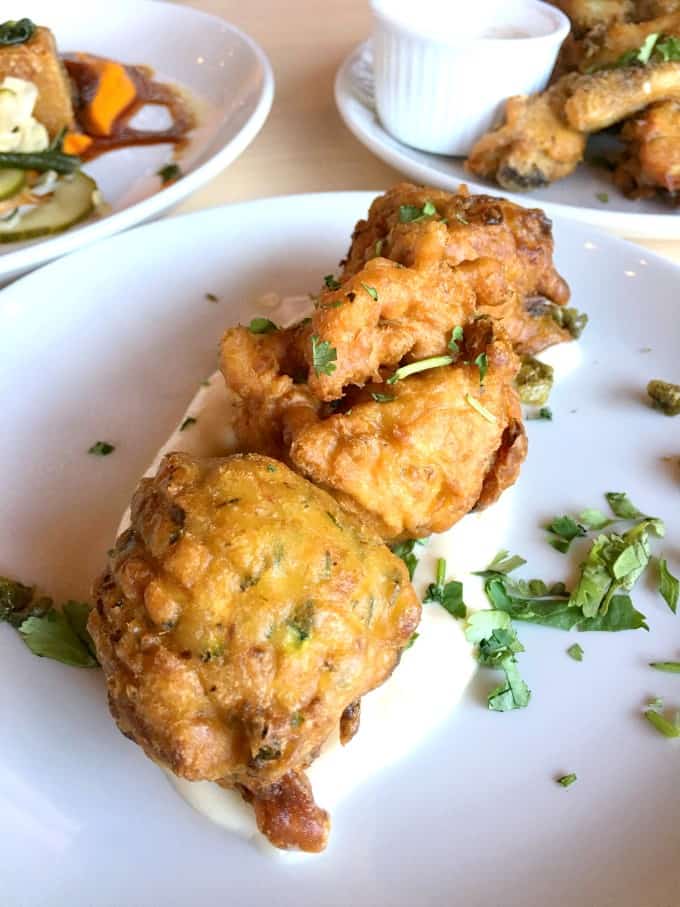 There are the usual fare of appetizers that we all love, like wings, frites, soup, Caesar salad and flatbread. Executive Chef Chris Murphy springs into action though with items like Zucchini Fritters on a bed of lemon aioli and served with crispy capers. Also offered as a starter is a Crispy Pork Belly with roasted carrot purée, chili sauce, and gaufrette potatoes.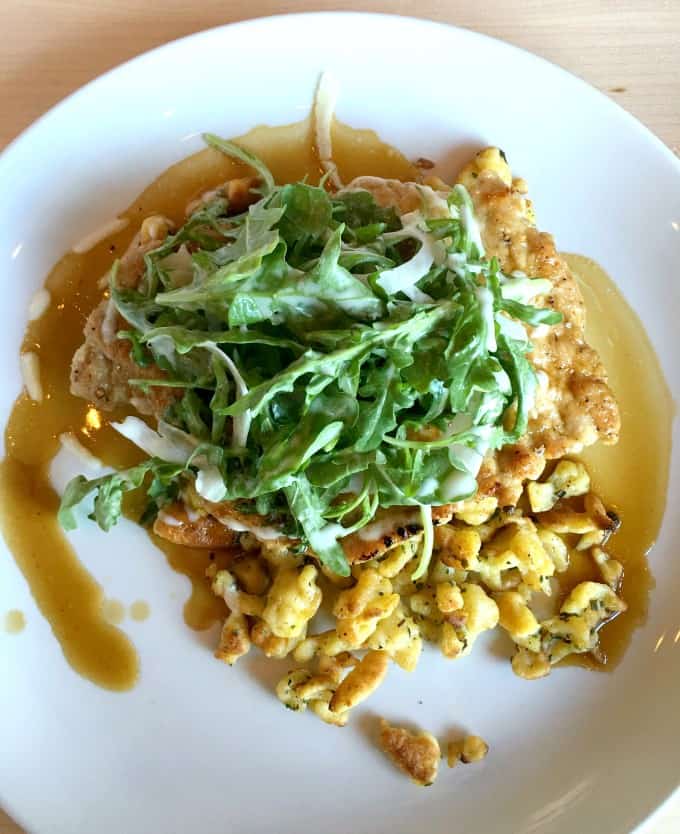 The dish that I am in love with is this Pork Schnitzel with herb spätzle, stout jus, arugula, shaved fennel & lemon vinaigrette. A masterpiece of perfection. I loved that is was decadent without being breaded. Seemed light yet satisfyingly filling. Can't wait to dig my fork and knife into this again.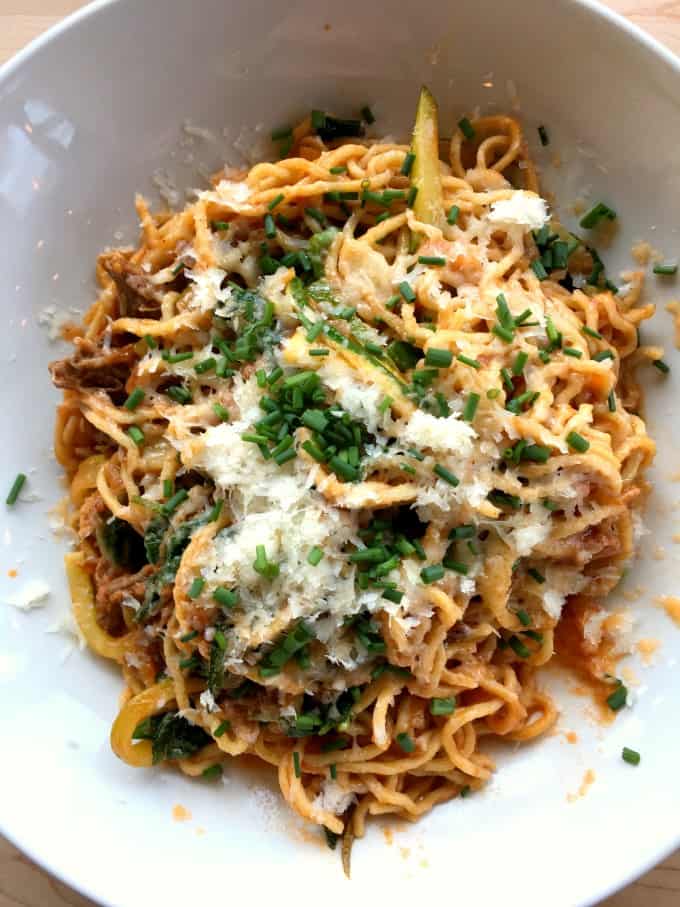 Returning for a media luncheon I wanted to try this Lamb Linguini. The portions are very healthy. I love the housemade fresh pasta with the braised Alberta lamb shoulder, zucchini, arugula & Grana Padano.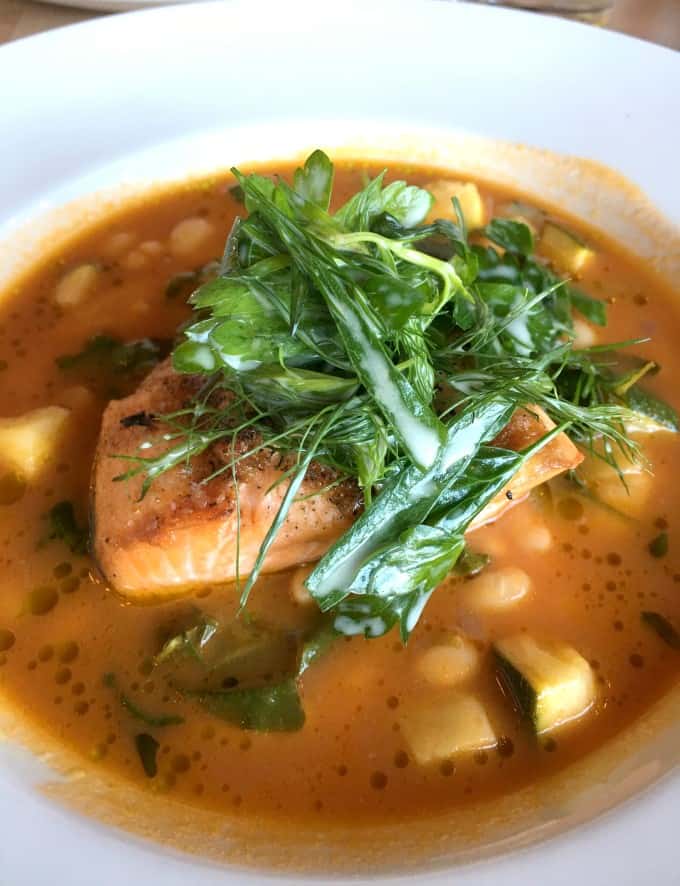 The Grilled Spring Salmon looked gorgeous. This was Ken's entree. It is on top of white bean purée, and served with spinach, summer squash, tomato broth & fresh herbs.
If you want a great burger the Alberta Beef Chuck Burger looked amazing. It is served up with stunning tomato jam, aged white cheddar, double smoked bacon, arugula & roasted garlic aioli on a classic bun. The frites are also amazing and I have had them on a few occasions now.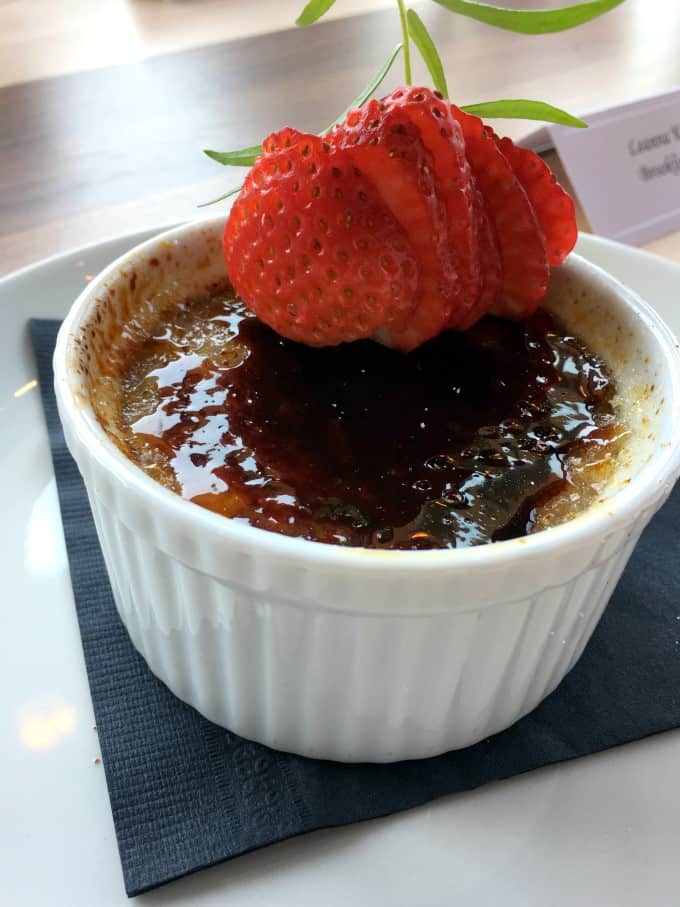 To finish off your meal are some fabulous desserts. I heard rave reviews on the Fratello Espresso Crème brûlée. Follow along with the fun on Facebook, Twitter, and Instagram and come down to the new 1918 Tap and Table at 1918 Kensington Road NW in Calgary as soon as you can!
The Recipe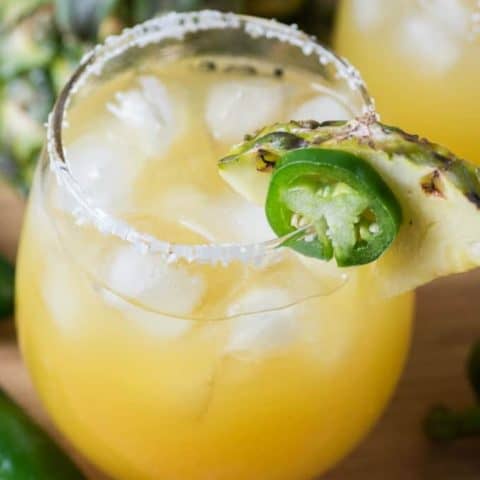 Pineapple Jalapeno Margarita & 1918 Tap and Table
Yield: 2 cocktails
Prep Time: 15 minutes
Total Time: 15 minutes
A refreshing and tropical Pineapple Jalapeno Margarita served up with a little heat from the homemade jalapeno simple syrup.
Ingredients
Kosher salt for rim on a small plate
1 oz. lime juice, freshly squeezed
2 oz. tequila, good quality
1 oz. Triple Sec
2 oz. jalapeno simple syrup, recipe to follow
6-10 oz. pineapple juice, diluted to your liking
Pineapple wedges and sliced jalapeno for garnish
Jalapeno Simple Syrup courtesy of 1918 Tap and Table
2 cups water
2 cups sugar
2 fresh jalapenos
2 cups pineapple juice
Instructions
For the simple syrup boil the water and sugar until the sugar dissolves. Add in the jalapenos, sliced in half and the pineapple juice and let steep for 20 min. or longer. Strain the jalapenos out.
Run a slice of pineapple around the top of two glasses and then rim the glasses with the salt.
Fill the glasses with ice and top with the lime juice, tequila, Triple Sec, 2 oz. of jalapeno simple syrup and pineapple juice to liking.
Garnish with pineapple and jalapeno slices and serve immediately.