Potato Cheese Bacon Mini Tarts
Don't you love making easy recipes? This one is child's play and it is so easy that you can get your Little Chefs into the kitchen making these for loads of occasions over the holiday season and beyond. Potato Cheese Bacon Mini Tarts will be loved by everyone and they also freeze well so they are a great make ahead recipe too. With a bit of guidance and instruction any little chef can easily master this recipe and mom and dad will be thrilled with the results!
Creamer potatoes are an excellent way to get your kids to eat more vegetables also! They are a fantastic source of potassium, Vitamin C, antioxidants, dietary fibre, and other vitamins and minerals, including iron. They are very easy to work with, they come already washed and ready to use. For this recipe they just needed a quick 15 min. boil.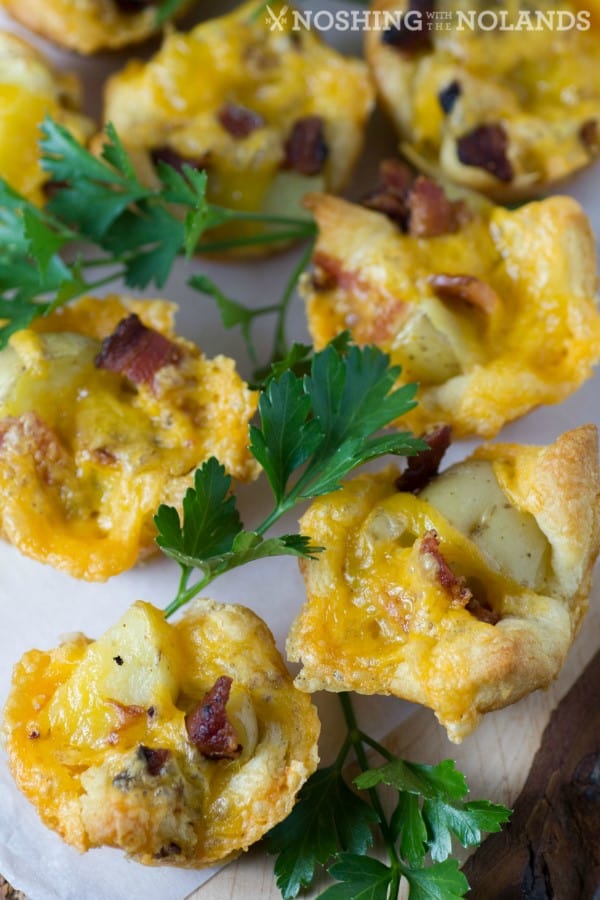 Don't these look heavenly, well they are!! What is not to love with potatoes, bacon, and cheese all in a crispy little tarts bottoms. They would be great for Thanksgiving, Christmas or even game day!!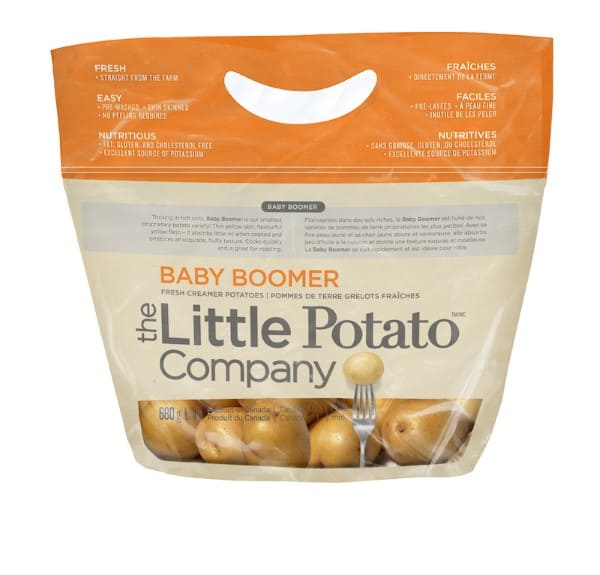 For this recipe I used Baby Boomer Creamer potatoes. They are the smallest of the little potato family. They are yellow skinned and have a pale yellow flesh. They are mild with a buttery finish so they work perfectly in this little decadent appetizer. Little potatoes are hugely versatile as you can see in this Little Chef recipe for Potato Cheese Bacon Mini Tarts!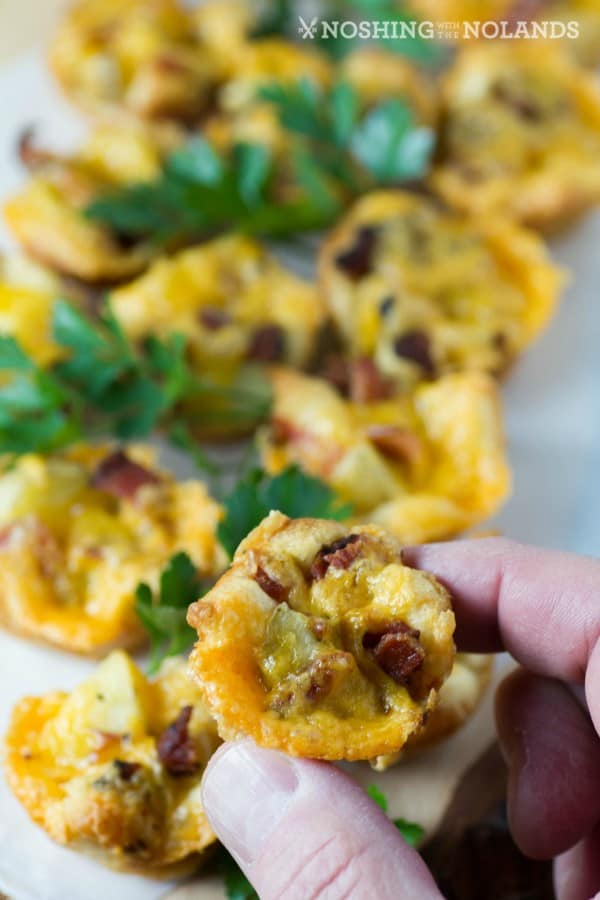 Come on in and grab one, you will love these little perfect nibbles!!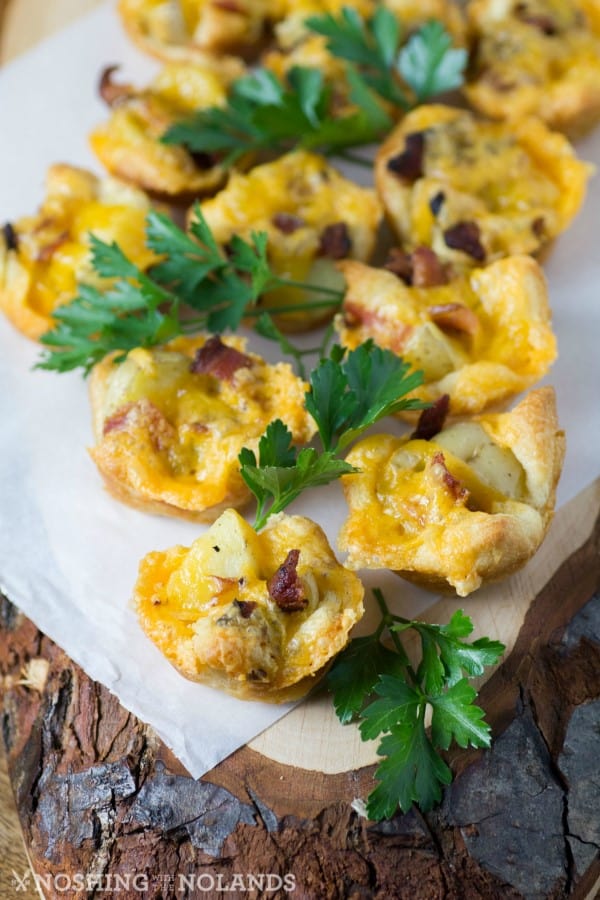 Here is a simple guide to help you get your kids into the kitchen.
Cooking with 5 – 7 year olds
Kids at this age will be interested in grown-up activities, but may show signs of being picky eaters. Cooking with them
can help them warm up to the idea of trying new foods. Try letting them:
Use simple kitchen equipment such as a grater, toaster, blender switches or can-opener after you show them how to do so safely
Stir ingredients together (like sauces or dressings, or toss together salad ingredients)
Slice soft-cooked vegetables, soft fruit, cheese or tofu with a plastic or child-safe knife
Cook with a friend for a fun play date
Try making this recipe for Smashed Potato Pizza – the kids can help with the smashing and placing the pre-cut ingredient toppings.
Cooking with 8 – 10 year olds
At this age, kids can follow simple steps for recipes. Try letting your kids:
Use the microwave with your help
Stir dishes on the stove to prevent sticking
Add some of their favorite healthy ingredients (eg. fruits, vegetables, seeds or nuts) to a dish, such as a salad
Help select what recipe you'll make together
Write out a grocery list
This recipe for Bacon Wrapped Creamer Potatoes is delicious! Modified to use our Blushing Belles, kids can help to mix and lay on the baking tray.
Cooking with 11 – 13 year olds
Kids at this age are able to understand how to use appliances safely and are usually more adventurous in trying new flavors and textures. They can:
Use the stove on their own to make basic recipes: omelets, frittatas, pancakes, quesadillas, soups or grilled sandwiches
Decide what healthy meal they would like to prepare and write a shopping list of ingredients
Depending on their level of experience, improvise and substitute ingredients in a recipe
Choose what is needed to balance out a meal so it has food from each food group, based on the Canada Food Guide
The Recipe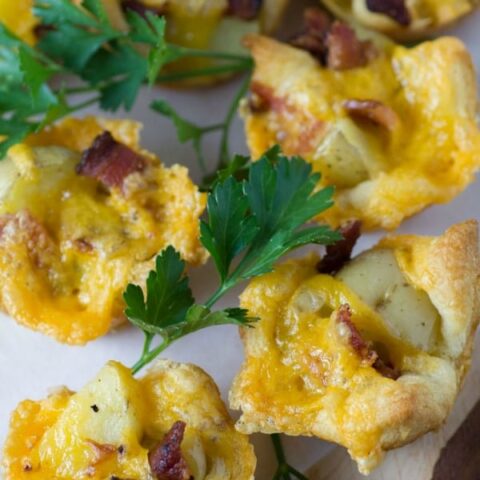 Potato Cheese Bacon Mini Tarts
Yield: 40 mini tarts
Prep Time: 20 minutes
Cook Time: 12 minutes
Total Time: 32 minutes
Potato Cheese Bacon Mini Tarts are a great easy appetizer that the Little Chef in your house can create!
Ingredients
12 oz. Baby Boomer potatoes, boiled and cooled
2 cups grated cheddar cheese
375 gms. (13 oz.) bacon, cooked crisp and crumbled
1 container refrigerator crescent rolls (8 pieces)
Cooking spray
Instructions
Preheat oven to 375F. Lightly spray a mini muffin pan. Cut the cooled potatoes into small chunks. Cut the crescent rolls into 5 fairly equal pieces and stretch them to fit the muffin pan. Place two or three pieces of potatoes into each pan. Top with bacon and cheese. Repeat for the remaining tarts. Bake for 10-12 min. Cool slightly and serve.
The tarts freeze will. To reheat, place on a cookie sheet in a 375F oven for 7-10 min. until hot.