One of my daughter's favorite things is cranberries for the holiday season. I think she could eat a whole bowl of them herself, plus she adores pears!! With those both in mind we made Cranberry Pear Almond Chutney. The chutney would be the perfect accompaniment to chicken, turkey, pork or ham for the holidays. A warmed brie would be wonderful to pair with this also and it would make such a pretty topping. Furthermore it makes a gorgeous little gift for a hostess or as part of a kitchen basket for Christmas.
This is a simple condiment to can and one that is perfect in little jars. Simply decorating the jars or add a label with the name of the recipe and the date it was canned. Fill up a larger one for yourself and have the small 4 oz. jars for gifts. You might even be tempted to make a double batch of this for the holidays as it may be gone by Thanksgiving!!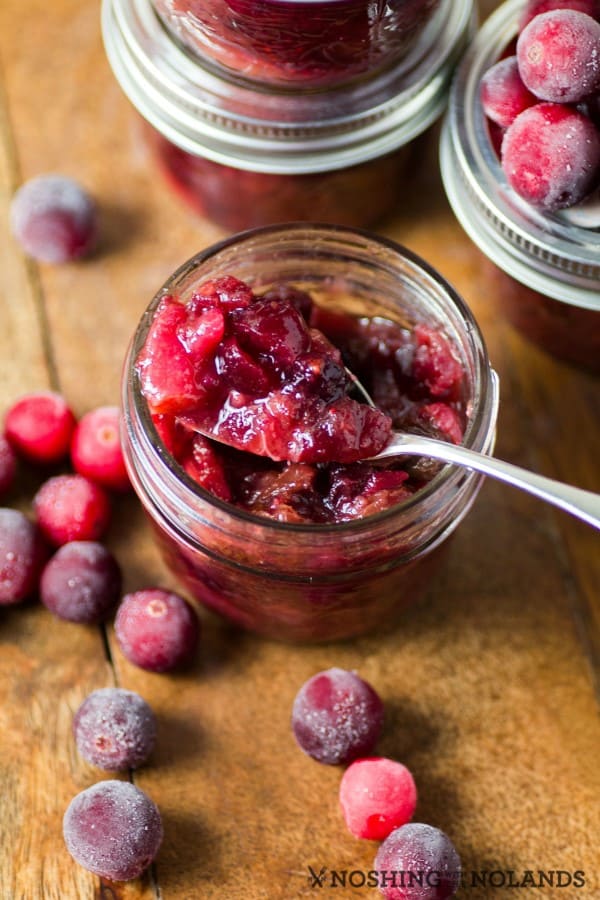 This chutney is sweet, tart, nutty and super flavorful. Cranberries just sing for the holiday season and are found in abundance!! Their pretty colour makes your table and your dinner plate even more appetizing and festive!! Using either fresh or frozen cranberries works with this recipe.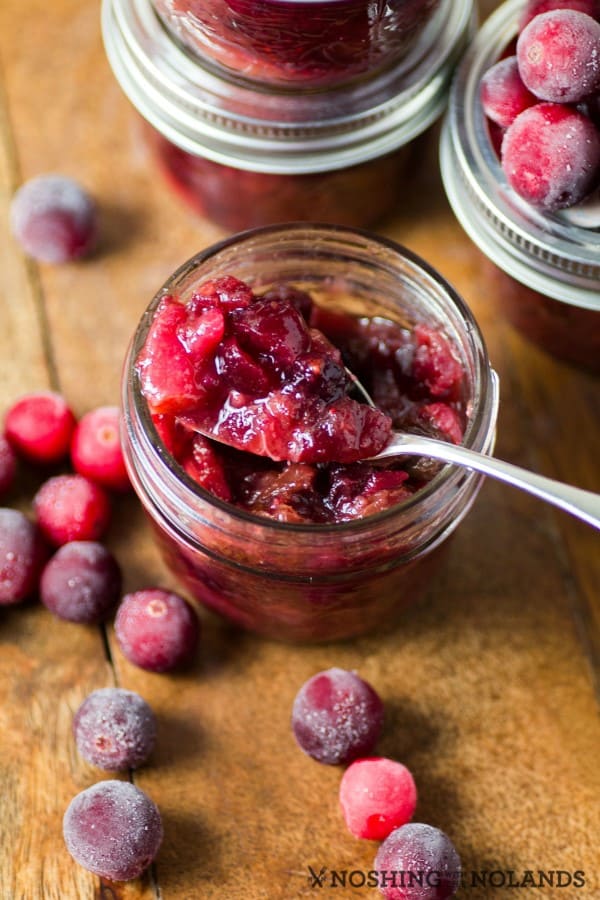 Lastly, the addition of warming spices like cinnamon, nutmeg and, ginger makes this chutney even more delicious. Also noteworthy, is the raisins and orange zest and juice to completely round out this wonderful condiment.
The Recipe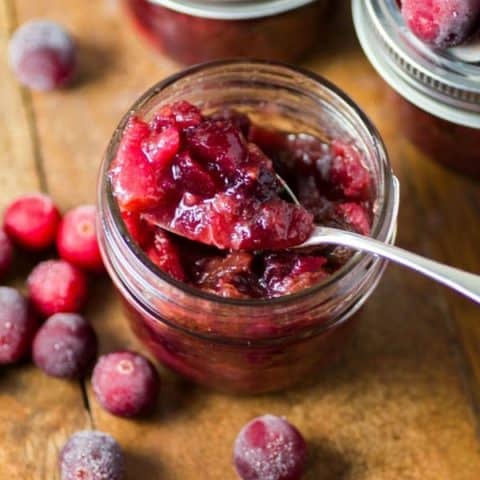 Cranberry Pear Almond Chutney
Yield: 16- 4 oz. jars
Prep Time: 30 minutes
Cook Time: 50 minutes
Total Time: 1 hour 20 minutes
A gorgeously coloured Cranberry Pear Almond Chutney that is perfect with ham, turkey or a warmed brie cheese.
Ingredients
2 cups very hot water
1 cup raisins
1 cup sugar
1 cup golden yellow sugar
2 Tbsp. cider vinegar
2 large navel oranges, zested and juiced (about 1 cup of juice)
2 Tbsp. gingeroot paste
6 cups fresh or frozen cranberries
2 pears, peeled, cored and chopped
1 cup slivered almonds, toasted
1 tsp. cinnamon
1/4 tsp. nutmeg
16 - 4 oz. jars, cleaned
Instructions
Add raisins to the hot water and let sit for 20 min. to plump, then drain reserving a 1/2 cup of liquid. Set raisins aside.
In a large pot add the reserved water along with the sugars and vinegar. Cook, stirring slowly to dissolve sugar and then bring up to a boil. Cook syrup for about 15 min. without stirring. Add the orange zest, orange juice, ginger, and cranberries. Bring back up to a boil and cook for 10 min. until mixture starts to thicken enough to mound onto a spoon. The cranberries should have popped for the most part.
Add in the pears, almonds, raisins, cinnamon and nutmeg. Boil for an additional minute. Soak lids in hot water for 5 min. Ladle into sterilized jars, leaving a 1/2" head space. Wipe down rims with a clean cloth. Apply the lids and close with the rims to finger tip tight. Process in a water bath. Cover the jars with at least 1-inch of water. Bring to a rolling boil and process for 10 minutes. Then turn off heat and let the jars sit in the hot water for 5 minutes. Remove to a towel lined counter and let rest until lids have sealed and the jars are cooled. If any don't seal place in the fridge and use within 3 weeks.
Recipe adapted from Best of Bridge Home Preserving