Stuffed Pasta Shells
Stuffed Pasta Shells – Day 3 of 5 Days of Pasta. Ken selected this dish from our QOOQ tablet that we have on the counter. There seems like an endless stream of gorgeous pictures displayed on it.
I am always thinking, oh I have to try that one or that looks so delicious. I love having the pretty red tablet on our countertop and at the ready for me to pick up and glance through at any time.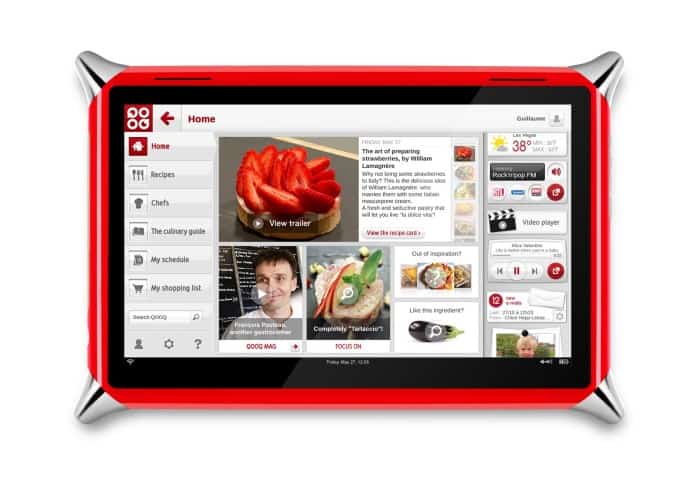 The recipes are easy to follow but sometimes they omit an ingredient quantity I have discovered. Most of the time it is pretty easy to figure out. The tablet can do whatever you like it to do, check on Facebook, the weather, play songs, you know, the list is endless.
Plus it is downloaded with tons of recipes and videos with chef tips and techniques to help you with loads of recipes. There are explanations of ingredients with background information. You can create meal plans, shopping lists, etc.
The list of what you can do with tablets is endless. You can also purchase additional recipes and continue to fill your tablet with your favorites.
As I said Ken choose this recipe and it is perfect to go with our 5 days of cheesy pasta. The ingredients are simple and this made a very flavorful entree.
Maybe we didn't stuff the shells as much as they did but I found that the recipe made two 9×13″ pans of stuffed shells.
Lucky me I have one in the freezer. I love that!! Enjoy!!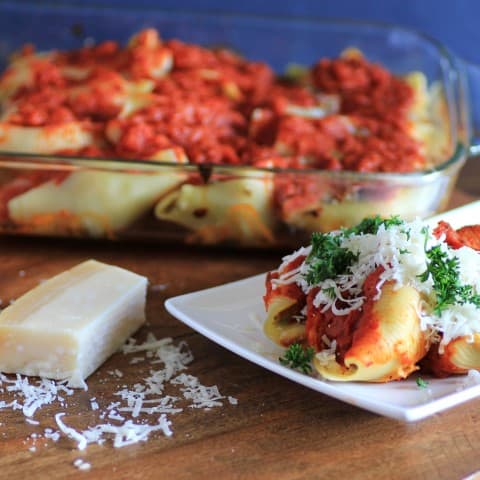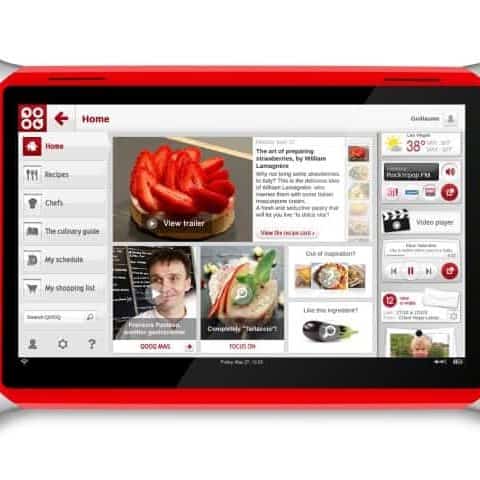 Stuffed Pasta Shells
Yield: 10 Servings
Prep Time: 30 minutes
Cook Time: 40 minutes
Total Time: 1 hour 10 minutes
An easy stuffed pasta dish
Ingredients
8 cups of water
1 Tbsp. salt
18 Jumbo pasta shells
Filling
1 onion
1 garlic
1 lb. ground beef
4 oz. Parmesan
8 oz. mozzarella
2 Tbsp. flat-leaf parsley
1/2 cup breadcrumbs
2 eggs
1 tsp. salt
1/2 tsp. ground pepper
2 1/2 cups tomato sauce (pasta sauce)
2 sprigs flat-leaf parsley
Instructions
Combine the water and salt in a large pot. Bring the water to a boil and add the jumbo shells. Boil for 8 min. or until tender. Drain the shells with a colander and run under cold water for 2 min. Set aside.
Peel the onion with a paring knife and chop with a kitchen knife. Peel and mince the garlic. Combine the beef, onion, and garlic in a frying pan.
Saute over medium until the ground beef is browned and the onions are tender. Stir regularly with a wooden spoon.
Drain the grease from the beef and transfer the mixture to a mixing bowl.
Preheat oven to 375F. Grate the Parmesan and cut the mozzarella into very small cubes. Wash and pat dry the parsley with a paper towel. Chop with a kitchen knife.
Add the breadcrumbs, eggs, Parmesan, mozzarella, salt, pepper, and parsley to the beef mixture. Stir with a wooden spoon to combine.
One at a time, using a spoon, stuff the jumbo shells with the meatball mixture. As each jumbo shell is stuffed, place it in a 9" square baking pan. Top the shells with the pasta sauce.
Bake the stuffed shells for 30 min. or until bubbly. Remove the pasta from the oven and let cool slightly.
Wash the parsley and pat dry with a paper towel. Chop with a kitchen knife. Divide the cooked stuffed shells between plates. Top each serving with chopped parsley and serve immediately.
Nutrition Information:
Yield: 10
Serving Size: 1
Amount Per Serving:
Calories: 593
Total Fat: 19g
Saturated Fat: 8g
Trans Fat: 0g
Unsaturated Fat: 8g
Cholesterol: 105mg
Sodium: 1673mg
Carbohydrates: 69g
Fiber: 5g
Sugar: 4g
Protein: 34g
Recipe calculation was provided by Nutritionix and is estimation only. If you need nutritional calculations for medical reasons, please use a source that you trust.