Caramel Corn
When standing at the popcorn stand in the mall, which one do you pick? Buttered popcorn, cheese, Caramel Corn, or another flavor?
Well for me, I love a good buttered popcorn but I save that for the theater. Cheese corn is great too but I can get that in a bag. The one adore is Caramel Corn and probably the one we make most if we are making one from scratch. Popcorn is addictive you can't just have one!!!
Today we are reviewing a cookbook called Classic Snacks Made From Scratch. Look at those divine-looking Cupcakes on there, they look just like your Hostess cupcakes!!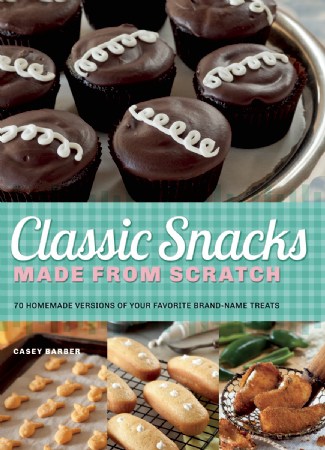 There were lots to choose from in this cookbook, like McDonald's Apple Pie, Goldfish, Twinkies, Oreos, Fruit Roll-Ups, or Pop-Tarts and all from scratch.
I took one look at the caramel corn and had to make it. Well, actually Ken made it, he is really good and patient with hot, gooey candy and he did an amazing job with this popcorn!!!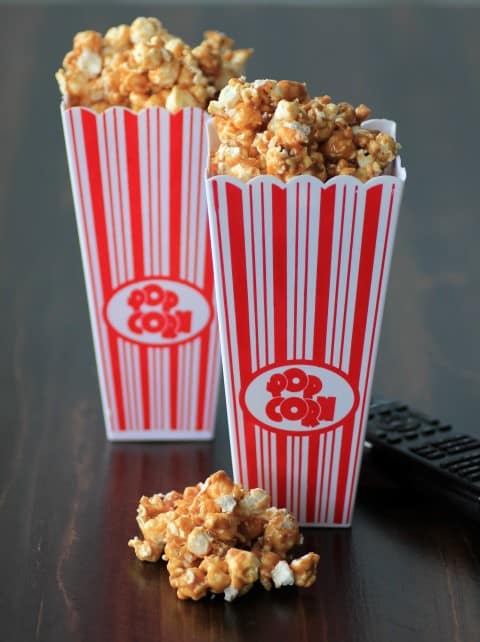 There are over 70 recipes for homemade versions of your favorite brand-name treats. Imagine having homemade Nutter Butter Cookies for your kids when they get home from school or Cool Ranch Doritos as you and your family watch a movie or football game.
Take your own Sour Patch Kids to the movies or have a Klondike Bar for dessert. All of these recipes are better than the originals in terms of flavor and nutrition and they don't have additives and preservatives!!
"As a nostalgia addict and DIY fanatic, replicating classic snacks from my childhood has become an obsession ever since I made my first batch of marshmallow fluff, " says author Casey Barber.
Casey is a New Jersey-based freelance food writer, recipe developer, and editor of the online magazine Good. Food. Stories. Her work also appears in many other publications and print.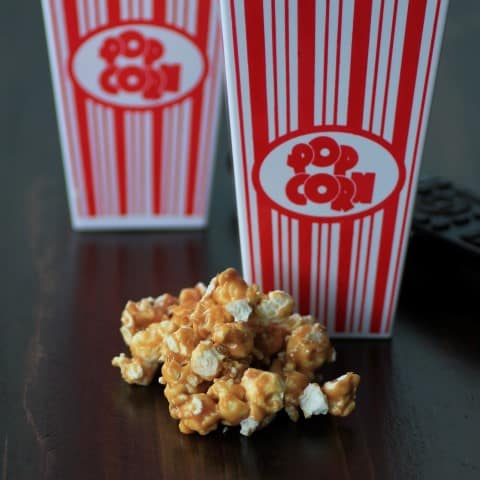 Yield: 10 cups
Caramel Corn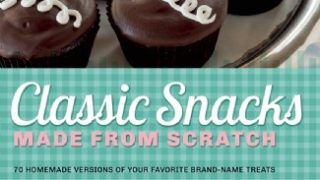 Crunchy sweet delicious caramel corn brings you back to your childhood!!
Ingredients
Popcorn
2 Tbsp. vegetable oil
1/4 cup plus 1 Tbsp. yellow or white popcorn kernels
Caramel
8 Tbsp. unsalted butter
1/4 cup light corn syrup
1 cup lightly packed brown sugar
1/4 tsp. Kosher salt
1/2 tsp. baking soda
1/8 tsp. cream of tartar
Instructions
Make The Popcorn:
Pour the vegetable oil into a 3 or 4-quart heavy-bottomed stockpot and add 2 or 3 popcorn kernels. Cover the pot and heat over medium heat until you hear 1 or 2 of the kernels pop.
Add the remaining corn kernels in an even layer and re-cover. Cook, shaking gently to evenly distribute the hot oil as the kernels pop. Once the popping sounds slow to a crawl, remove the pot from the burner and transfer the popped corn to a large bowl.
Make the Caramel:
Preheat the oven to 200F. Line a large rimmed baking sheet with parchment paper or a Silpat liner.
In the same pot, you used for the popcorn, melt the butter and corn syrup over medium heat.
Add the sugar and salt and whisk until the sugar is no longer granular and pasty but opaque and smooth, with bubbles forming around the edges.
Whisk in the baking soda and cream of tartar; the liquid will puff and bubble up. Continue to whisk frequently for 3 to 4 min. as the caramel changes from pale to deep golden amber.
You'll start to smell the sugars caramelize as you whisk, and the caramel will look "broken" and curdled from time to time-don't worry this is normal.
Remove the caramel from the heat when the caramel is golden like a penny. Carefully fold the popcorn into the hot caramel a few cups at a time until each kernel is coated; if you've ever made Rice Krispies Treats, the process will be familiar. Slow and steady wins the race here.
When the popcorn is fully coated, turn it out onto the prepared baking sheet in an even layer. Bake for 15 min. then cool to room temperature before breaking into bite-size pieces.
Store the popcorn at room temperature in an airtight container for up to a week.
Nutrition Information:
Yield:
10
Serving Size:
1
Amount Per Serving:
Calories:

199
Total Fat:

12g
Saturated Fat:

6g
Trans Fat:

0g
Unsaturated Fat:

5g
Cholesterol:

24mg
Sodium:

133mg
Carbohydrates:

25g
Fiber:

0g
Sugar:

24g
Protein:

0g
Recipe calculation was provided by Nutritionix and is estimation only. If you need nutritional calculations for medical reasons, please use a source that you trust.