The old-fashioned Valentine's Day Pink Popcorn is a classic recipe of popcorn coated with a sweet, pretty pink caramel. You can use store-bought popcorn or make your own at home. A childhood classic, remembered as Lucky Elephant Pink Candy Popcorn if you are Canadian, is easy to prepare and can be colored and built as you wish.
This old-fashioned pink popcorn recipe can be enjoyed for several occasions, such as a baby shower, a birthday, or as a treat for Valentine's Day. For example, you could prepare a sweet pink table with this Pink Lemonade Cake, this Valentine's Day puppy chow, and this punch recipe.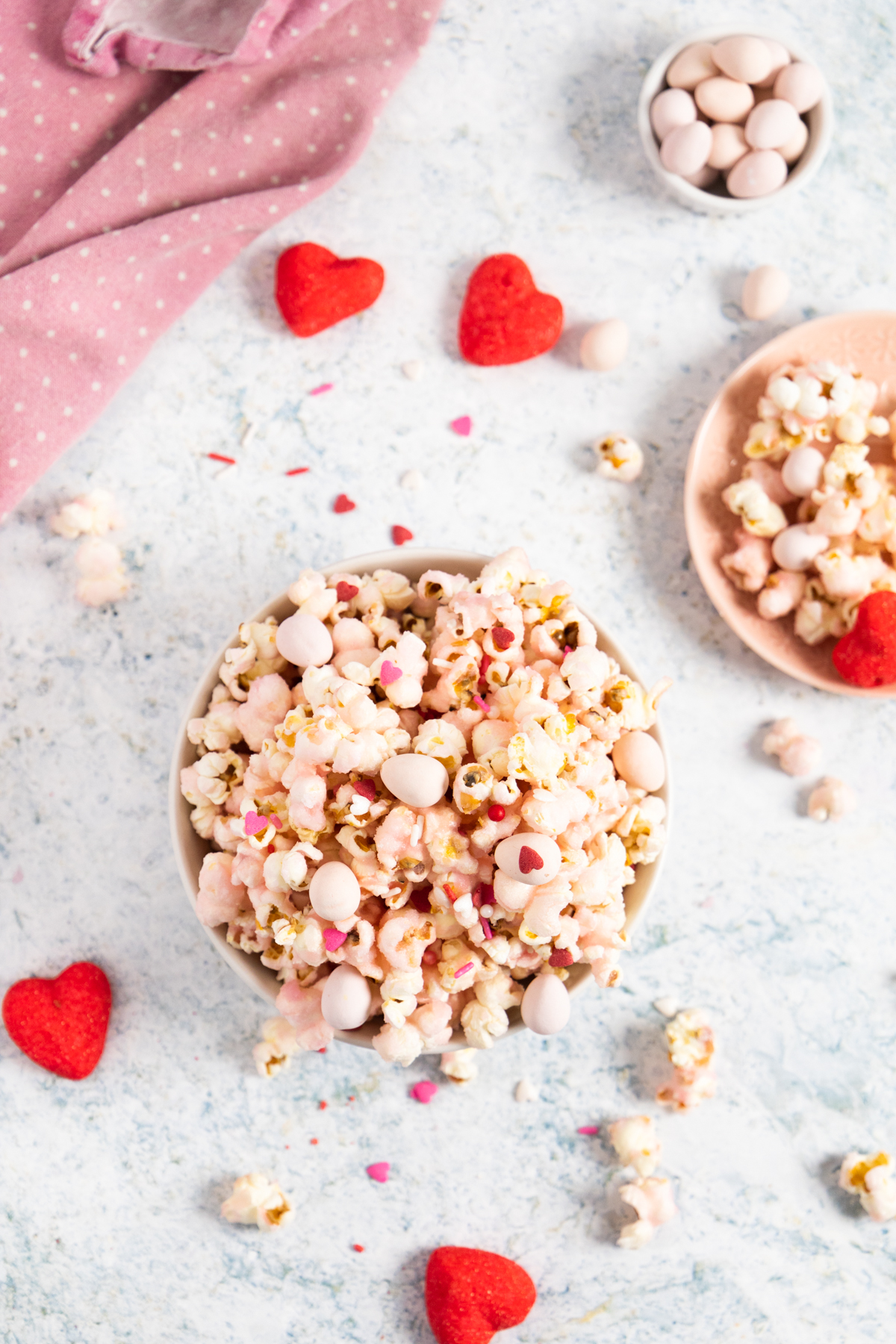 Helpful Items For This Recipe
This post contains affiliate links from various companies. As an Amazon Associate or Thermoworks, I earn a small portion from qualifying purchases at no extra charge for you.
Thermoworks Instant Read Thermometer
What is in Valentine's Day Pink Popcorn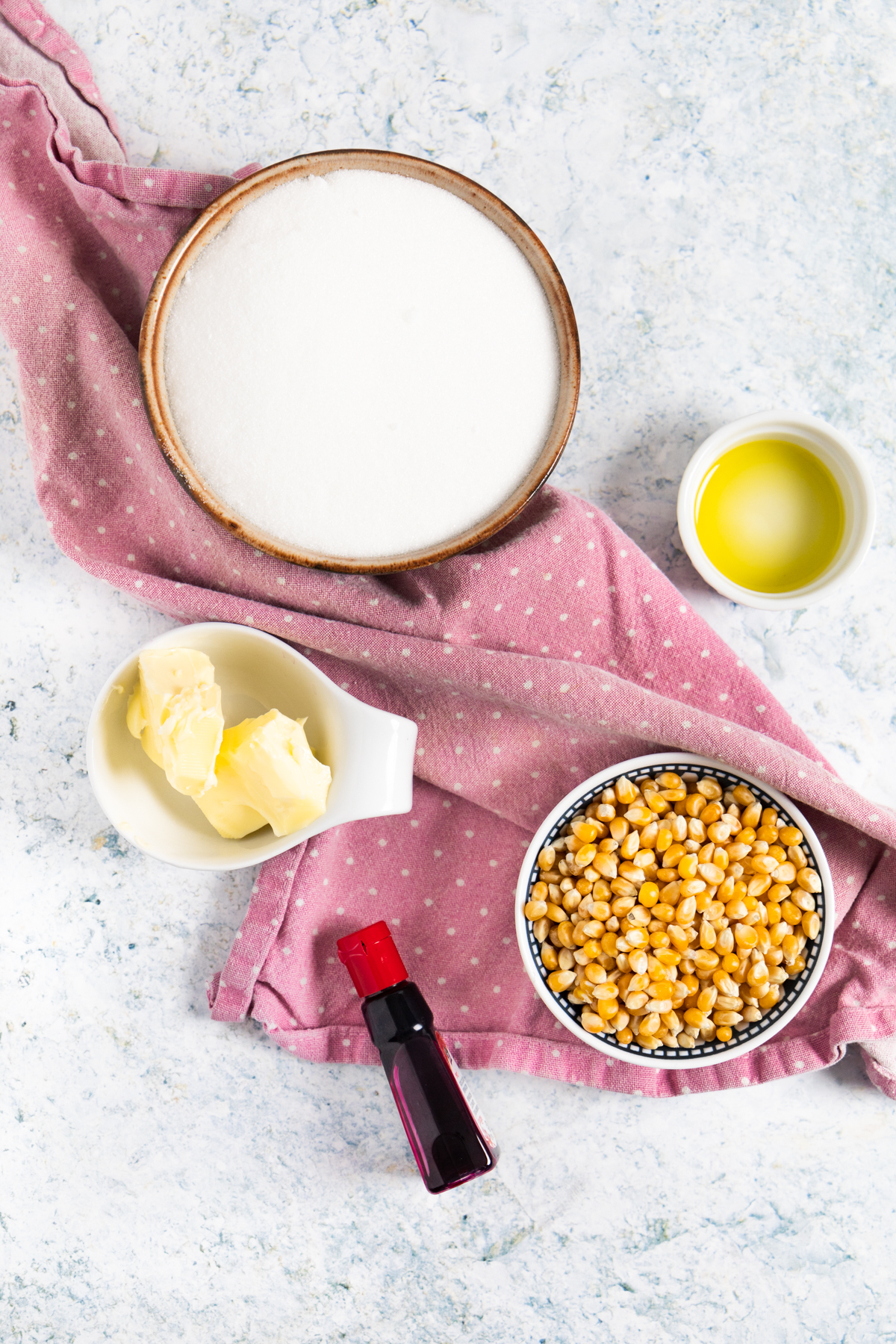 Pink Popcorn is a simply popped corn with a sweet vanilla mixture coating it; it has this cute retro look to it. If you want to travel back to your childhood, this would be the way!
First, you will need to gather the ingredients you will need:
Vegetable oil
Popcorn kernels
Granulated sugar
Butter, salted or unsalted
Water
Red food coloring
Optional: vanilla extract
Next, get the equipment needed to prepare the recipe:
A pot with a lid or a Dutch oven such as Le Creuset
A smaller pot or saucepan for the caramel
A large bowl
A candy thermometer
A baking sheet with parchment paper
How to make Valentine's Day Pink Popcorn
Now that you have gathered everything you need, let's do it!
The popcorn
Making the popcorn is pretty simple; however, these tips will be helpful:
Temperature: Stay on medium heat. Anything higher will burn the kernels and your pot.
Oil: Make sure it covers the bottom of your skillet.
Kernels: Test the oil by placing 2 or 3 kernels and once these ones pop, add the rest. Toss well to coat and cover.
Patience: Trust the process! Once the kernels are added, shake your pot, with the lid on, a few times. You will hear the popping and once the noise slows down, turn off the heat and remove from the stove. A few more will pop.
Note: The oil will take 2 to 3 minutes to heat and then the kernel will take about 3 to 4 minutes to pop.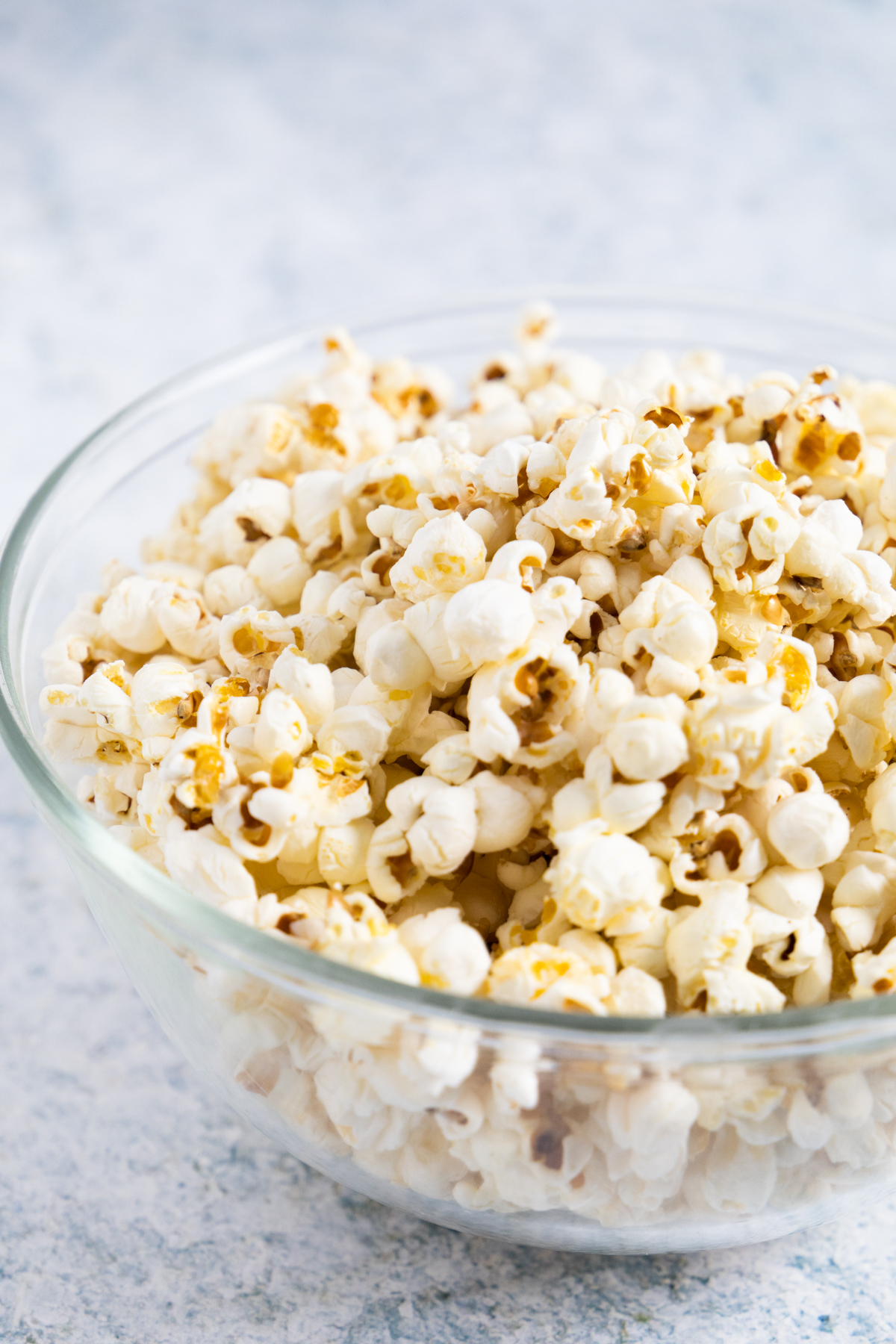 The Sweet Coating
This step is also simple, and there are a few things to know along the way:
In a pot, on the stove top, pour the sugar, water and butter. Stir gently to combine before heating up.
Using a candy thermother, let the sugar mixture come to a boil and reaching 230F.
Then, add the vanilla and food coloring of your choice.
Tip: As you wait for the sugar mixture to reach 230F, do not stir otherwise the sugar will crystallize.
If this is your first time making caramel and you are worried it might crystallize, add another type of sugar such as honey or glucose syrup.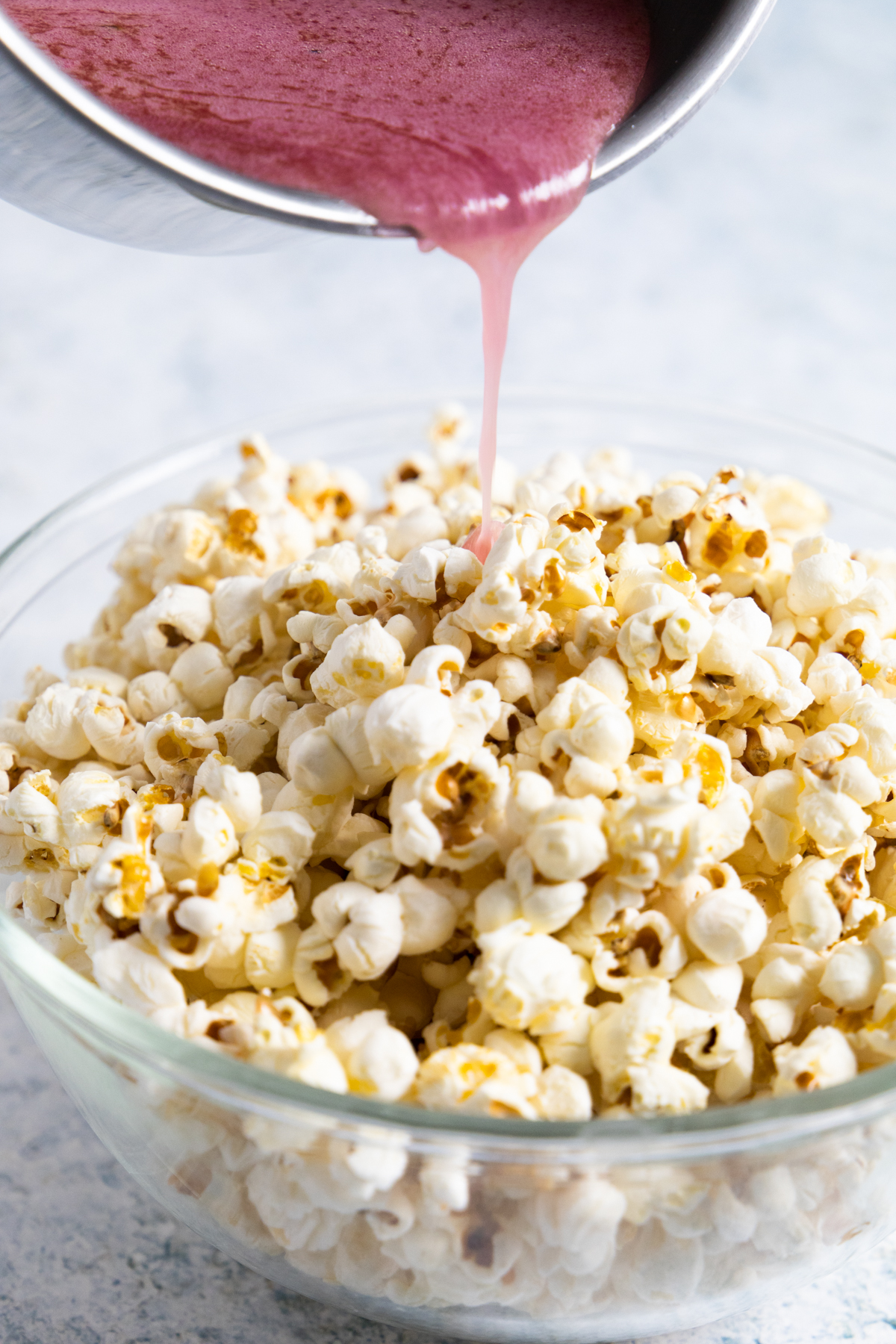 What to remember here:
Timing is everything:
Once your caramel reaches 230F, you need to add the red food color right away, stir and pour that mixture on the popped corn.
Mix the sugar mixture and popcorn and spread it quickly on a baking sheet with parchment or wax paper.
Allow to cool before putting in a bag or serving it.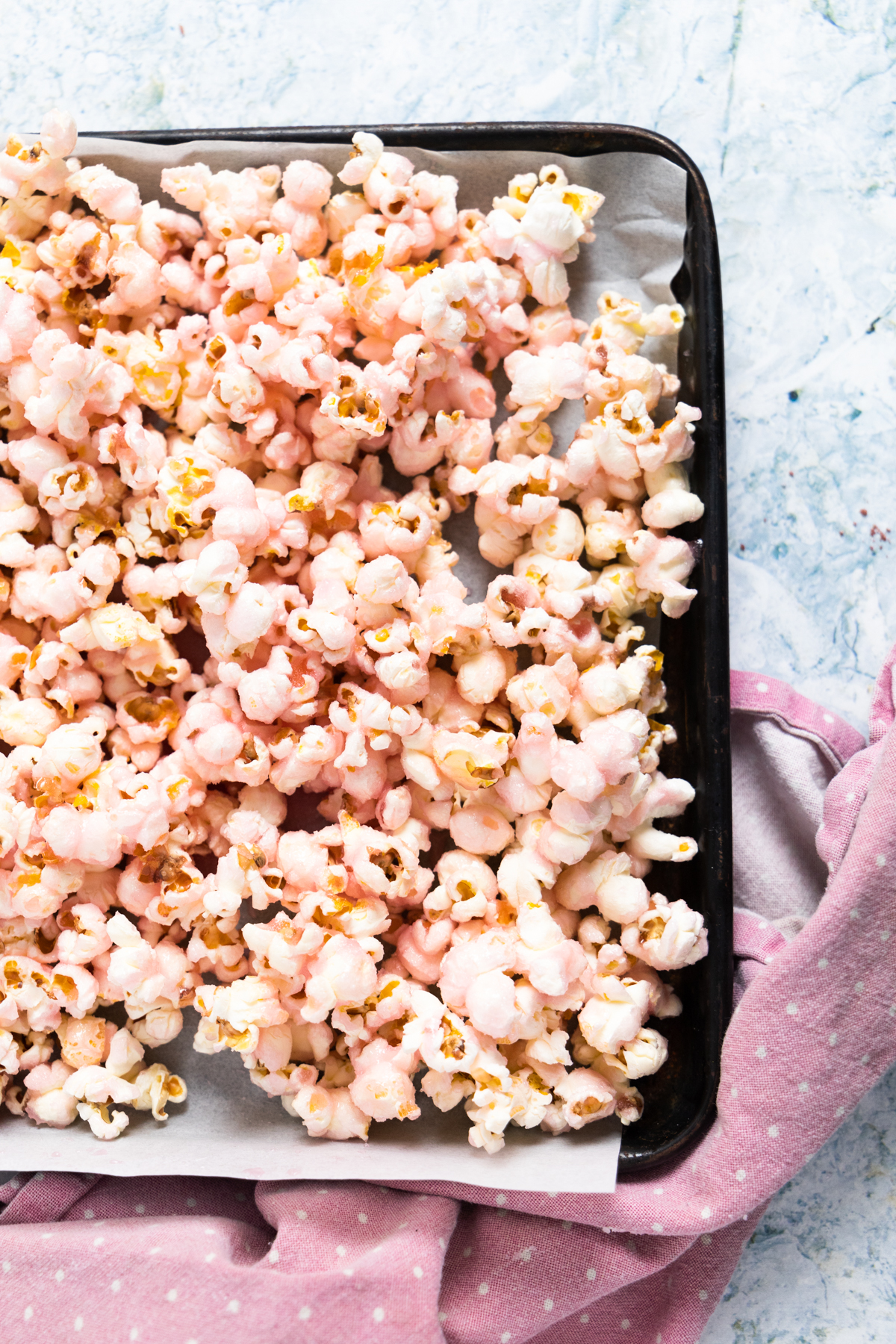 Variations
Let's make this Valentine's Day Pink Popcorn even more romantic and sweet by adding a few toppings such as:
Sprinkles
Chocolates such as mini M&Ms, chocolate eggs, melted white or milk chocolate drizzled over the popcorn
Candy like these heart-shaped marshmallows
Cookies or biscuits, crumbled
Sea salt if you like the sweet and salty combo
Popcorn: You may buy some microwave popcorn to make this recipe quicker or use an air popper too.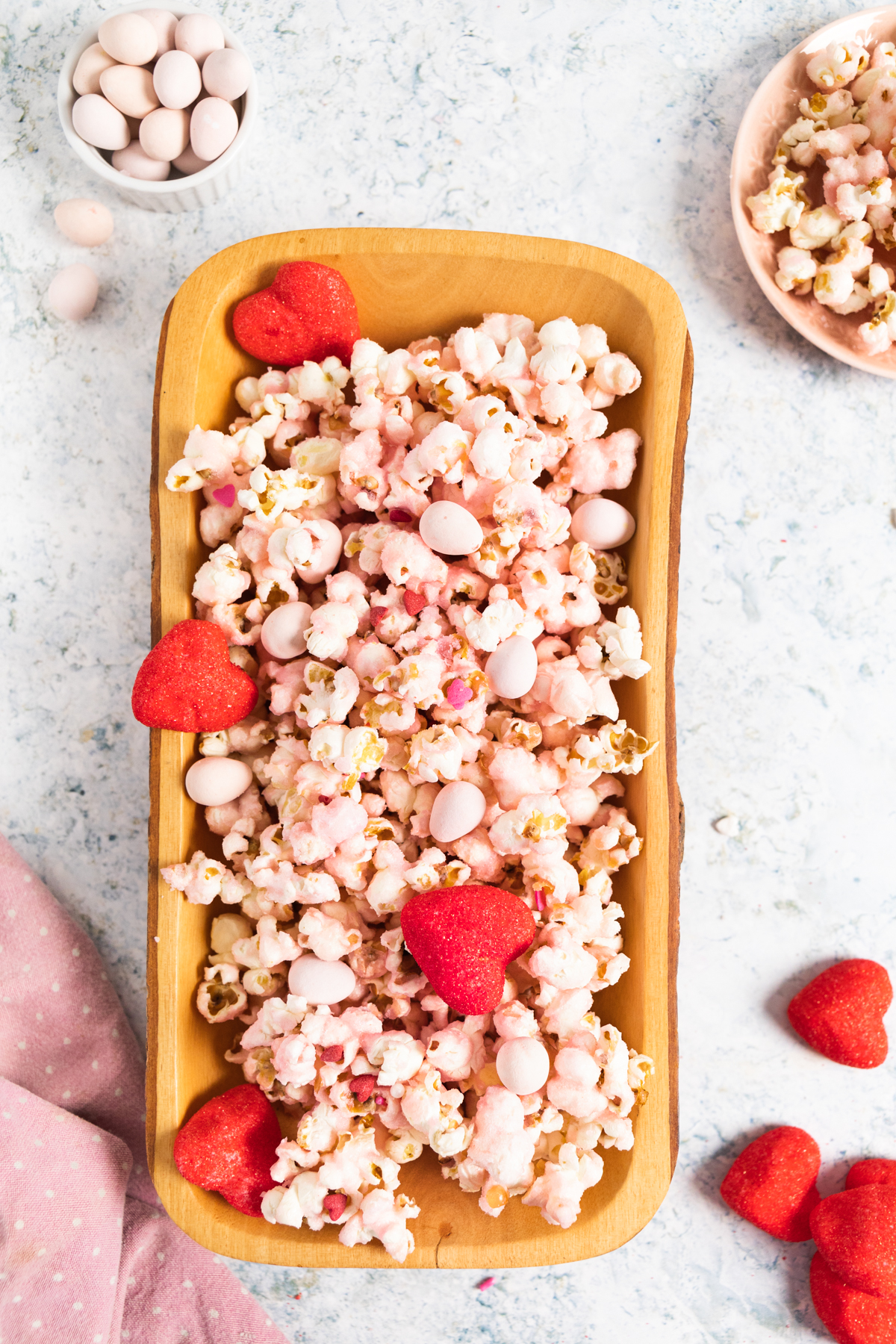 FAQ
Can I use microwaved popcorn? Yes! However, I would suggest you make sure to choose plain popcorn. The sugar mixture adds enough flavor to it.
How to Store Valentine's Day Pink Popcorn? You may store it in an air-tight container to eat the next day, but I would recommend enjoying it on the day of for a maximum crunchiness.
Could I skip the vanilla extract? Absolutely. Or you can even swap it for another flavor, such as almond or lemon.
Could I cook the caramel over 230F? For this recipe, no. The temperature of 230F is the perfect stage, also called thread, for a syrup-like caramel. Hence, this is the perfect texture to coat the popcorn.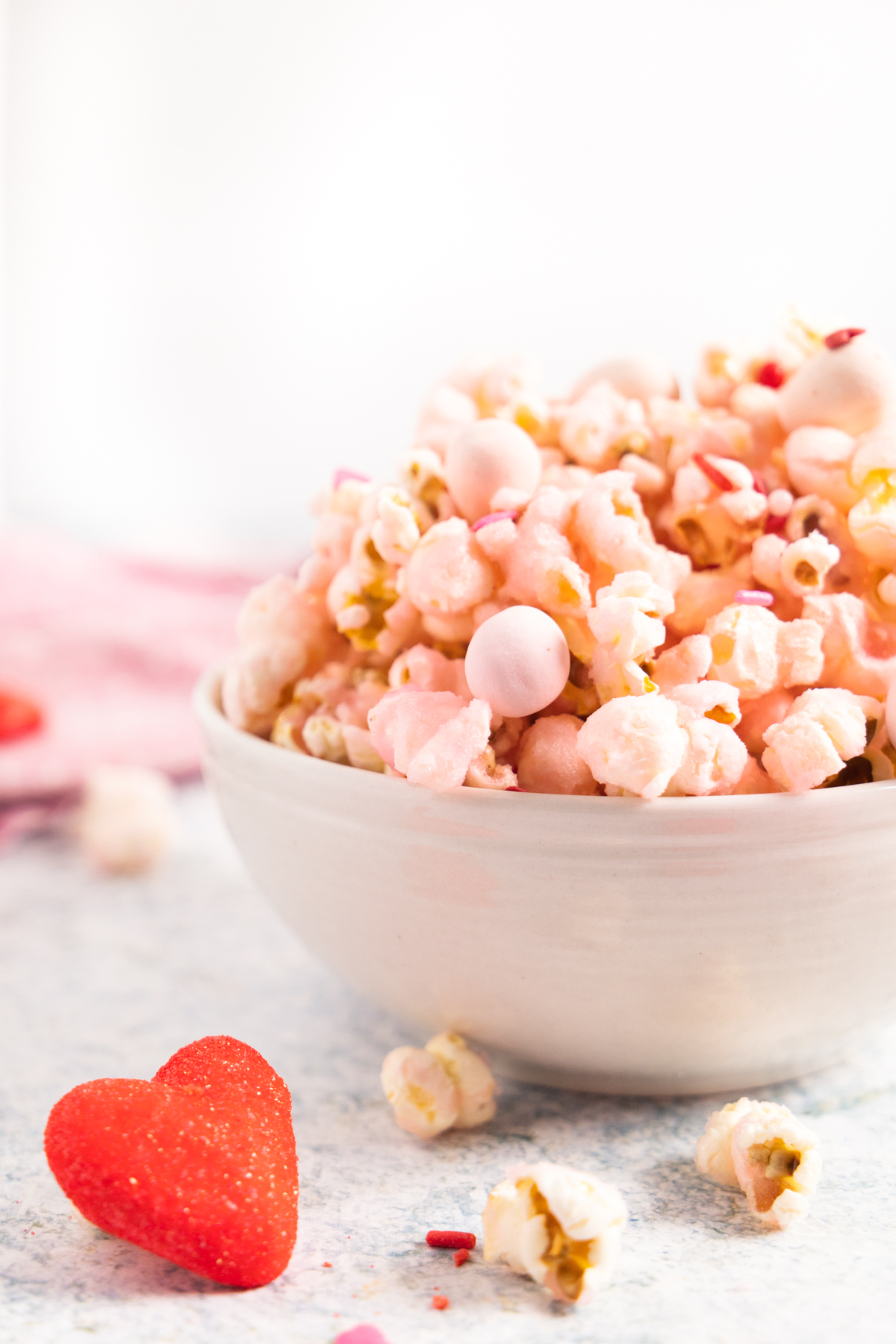 More Valentine's Day recipes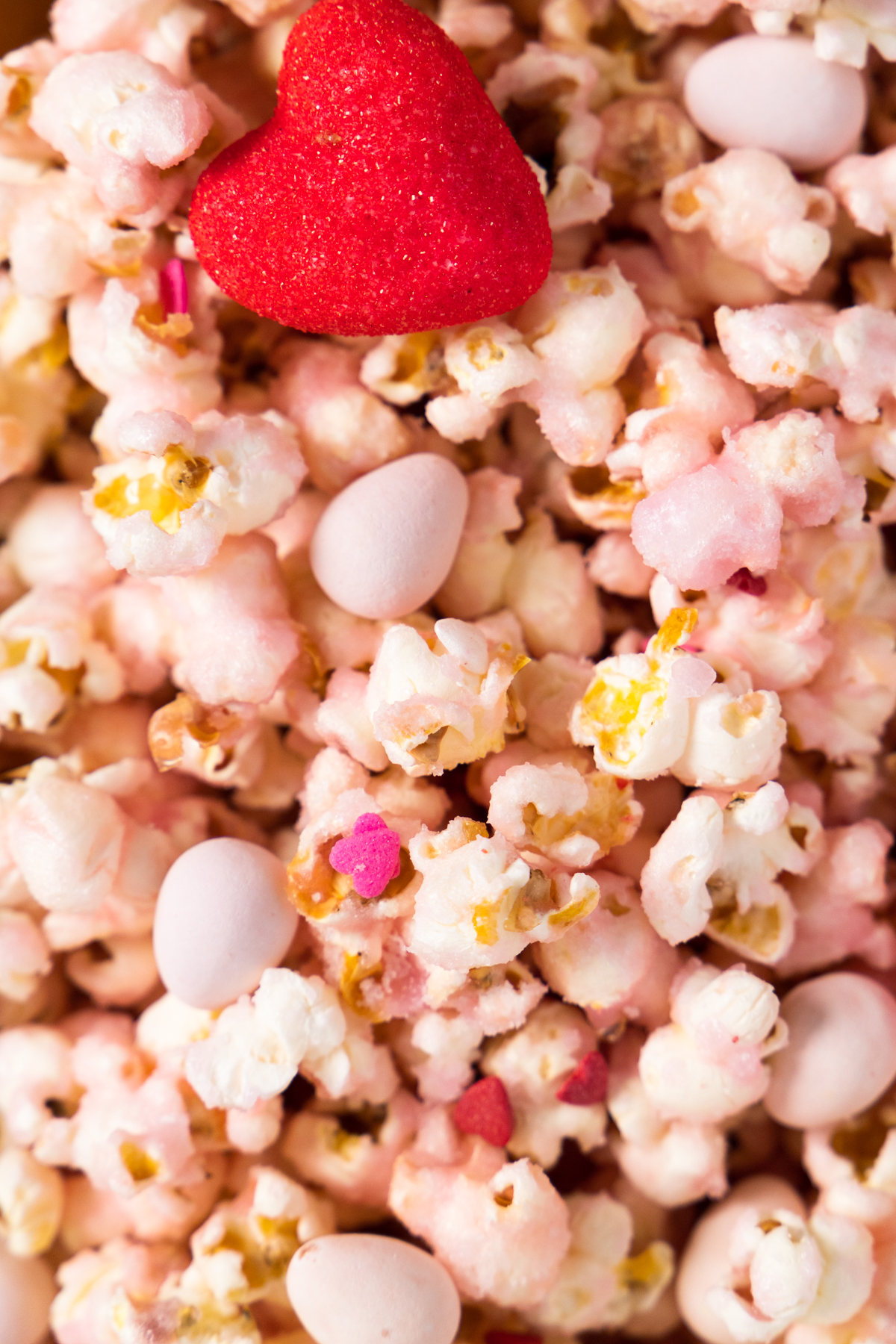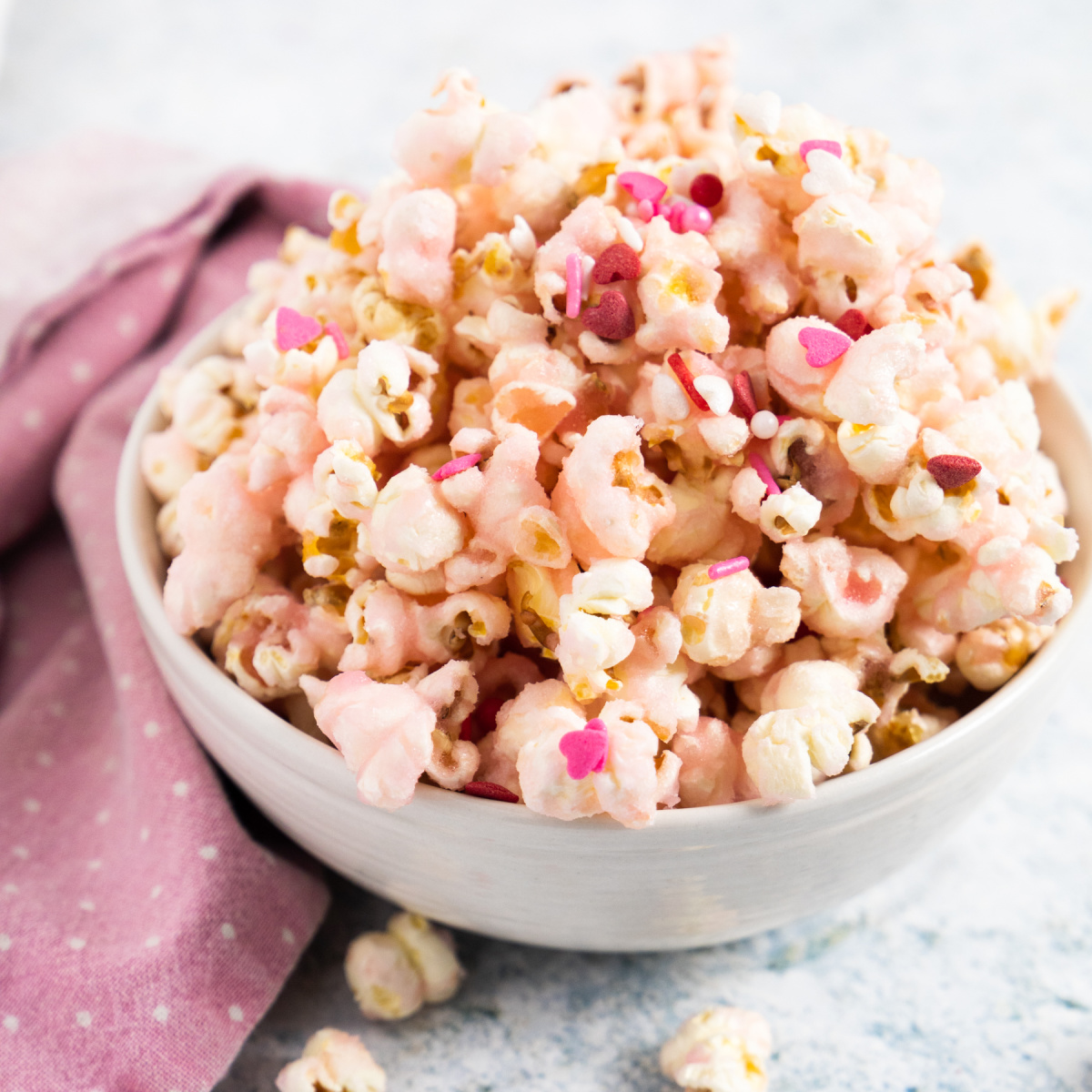 Pin it HERE!!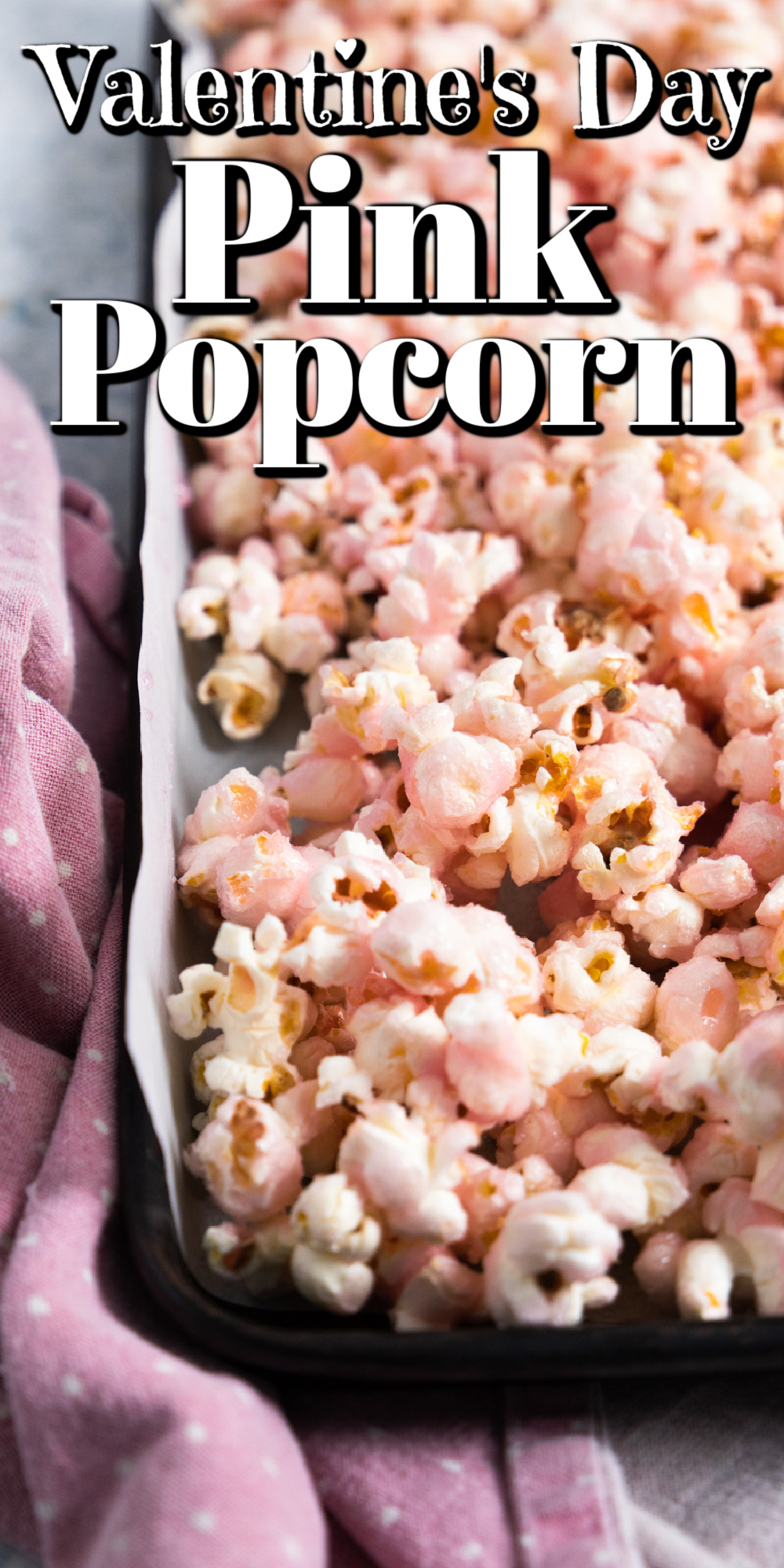 Pin it HERE!!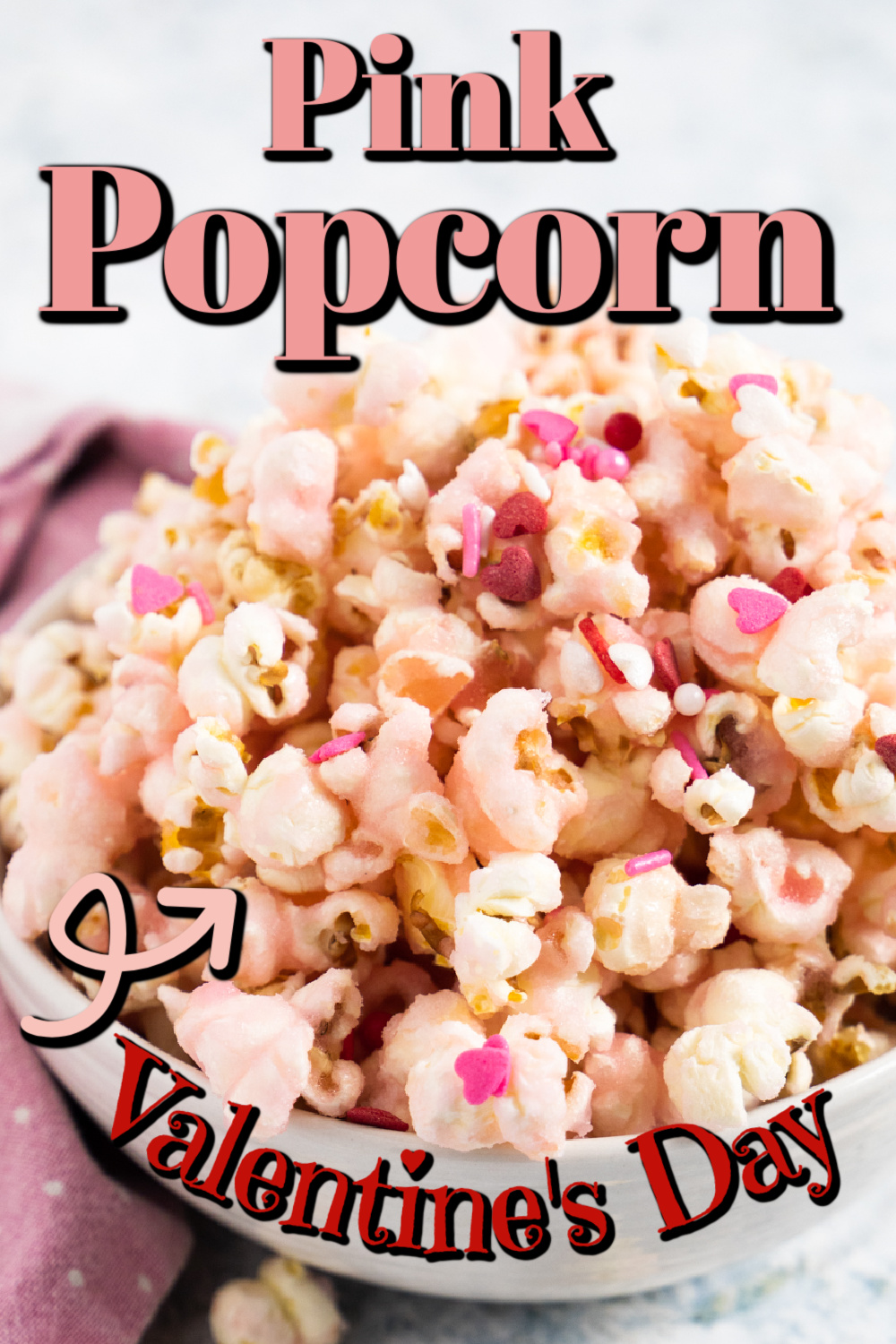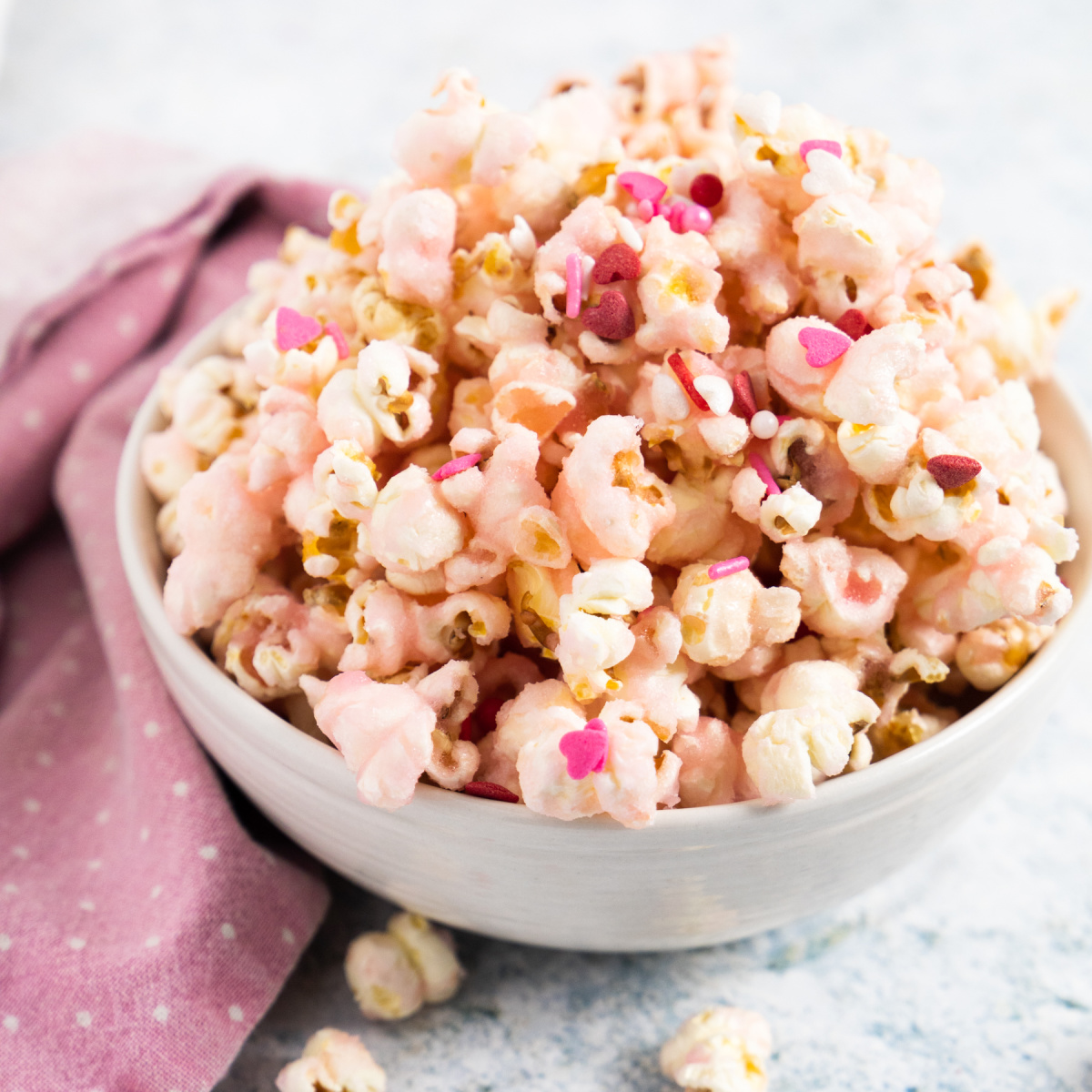 Valentine's Day Pink Popcorn
Yield: 10 cups
Prep Time: 5 minutes
Cook Time: 15 minutes
Additional Time: 10 minutes
Total Time: 30 minutes
The old-fashioned Valentine's Day pink popcorn is a classic recipe of popcorn coated with a sweet, pretty pink caramel. It is perfect for this holiday or at any time, changing up the colors and flavor.
Ingredients
1/2 cup of kernels, good quality will yield the most and few will be unpopped
1 and a half cups of sugar
1/4 cup water
2 tbsp butter
6 drops of red food coloring
2 tbsp of olive oil
Instructions
On medium heat, in a large pot, pour the olive oil. Add 2 or 3 kernels and wait for it to pop.
Once it pops, add all the kernels and cover with a lid. Shake the pot occasionally. The process will take about 4-5 minutes from hearing the first kernel pop.
Once the popping slows down, remove from the heat and leave the lid on. A few more kernels will pop.
In a saucepan, over medium heat, pour sugar, water, and butter. Place the candy thermometer and wait for it to reach 230F. Do not stir.
Once ready at 230F, take off the heat, add the food coloring and stir.
In a large bowl, place the popcorn, pour the sugar mixture over it and toss well, so it coats all the kernels.
Spread the popcorn on a baking sheet to allow it to cool down.
Bag it or serve it! Enjoy!
Notes
Any questions? Review the blog post for tips on the recipe.
Nutrition Information:
Yield: 10
Serving Size: 1
Amount Per Serving:
Calories: 83
Total Fat: 5g
Saturated Fat: 2g
Trans Fat: 0g
Unsaturated Fat: 3g
Cholesterol: 6mg
Sodium: 19mg
Carbohydrates: 10g
Fiber: 0g
Sugar: 10g
Protein: 0g
Recipe calculation was provided by Nutritionix and is an estimation only. If you need nutritional calculations for medical reasons, please use a source that you trust.