Valentine's Day is a day to share with the ones we love and what better way to show love than a gorgeous cookie. These sweet Valentine's Day Sugar Cookies will surely be appreciated by everyone that receives them. You can do so many things with sugar cookies, they are like a blank canvas to create whatever you like. Kids can make their own creations while mom can show off her skills a little more.
For these cookies today our daughter Amber did them. She hadn't flooded cookies before so we went about her learning this new technique. It is fairly easy, the outlined icing is thick, almost like a toothpaste while the inner icing is more like the consistency of corn syrup. A little toothpick goes along way with enabling the icing to be guided into all the nooks and crannies.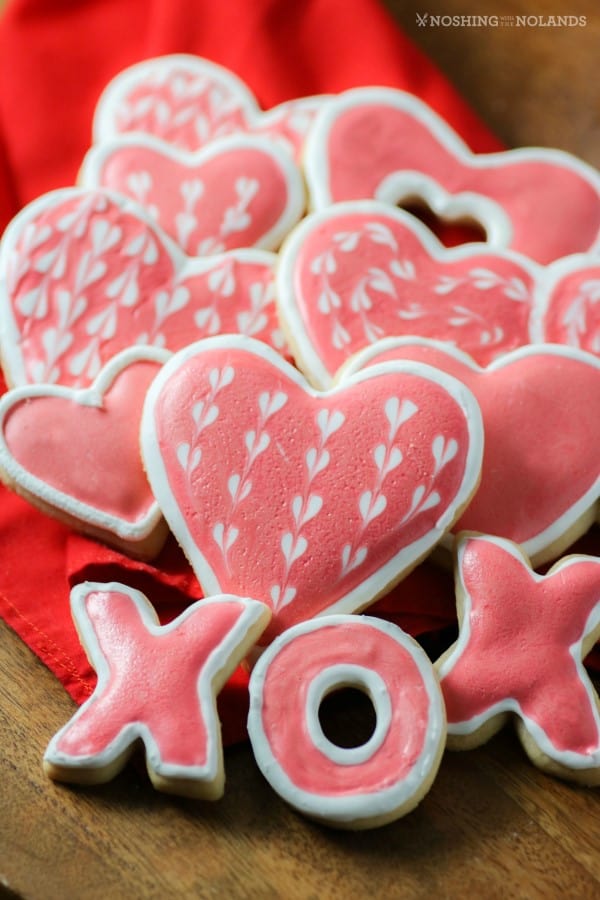 I showed her the initial technique and then she started doing the little dragged hearts on her own. Here are some tips for you in the next few pictures.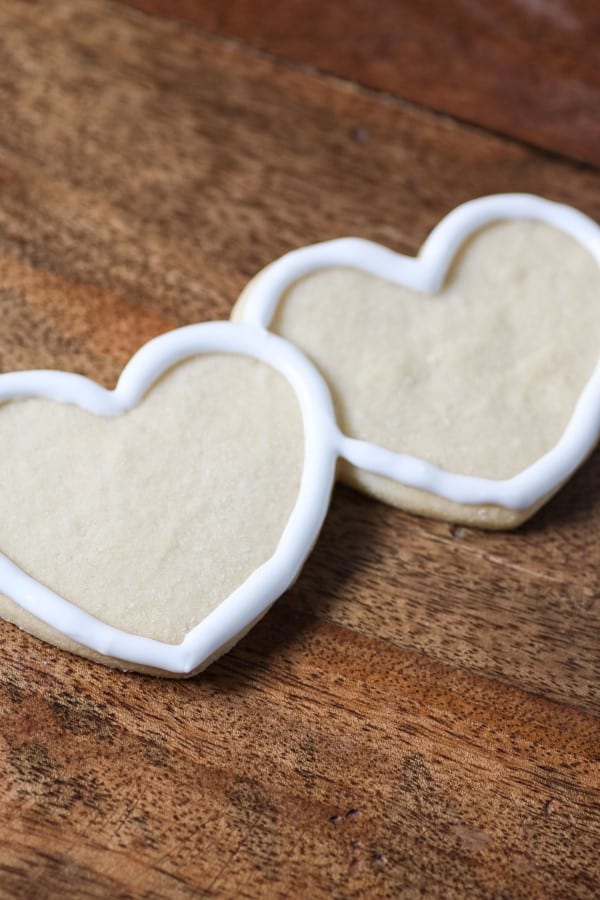 Outline your cookie with the thicker of the two icing.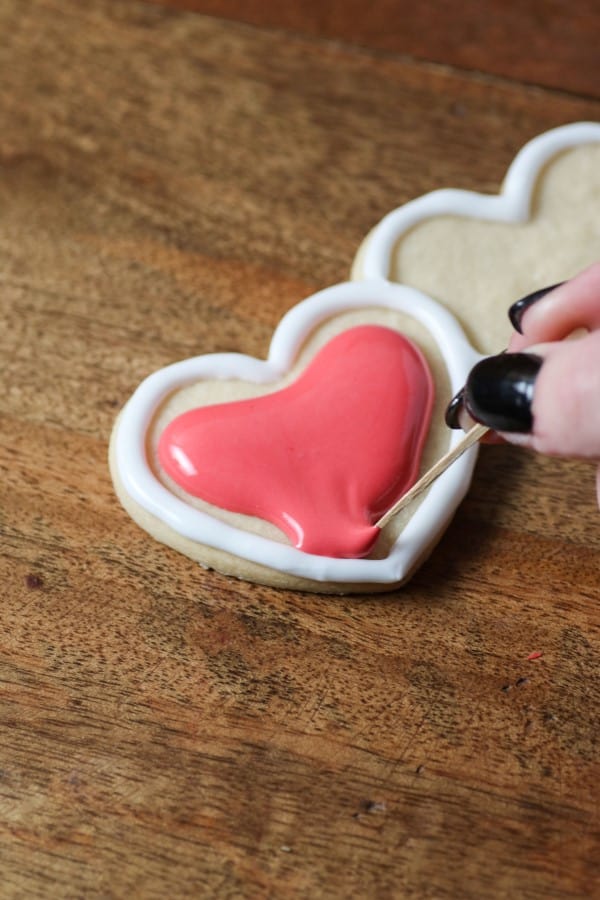 Pipe some of the thinner icing into the center of the cookie and using a toothpick pull it to the outer edges. You can also use the piping tip to get closer and then just finish off any little areas with the toothpick.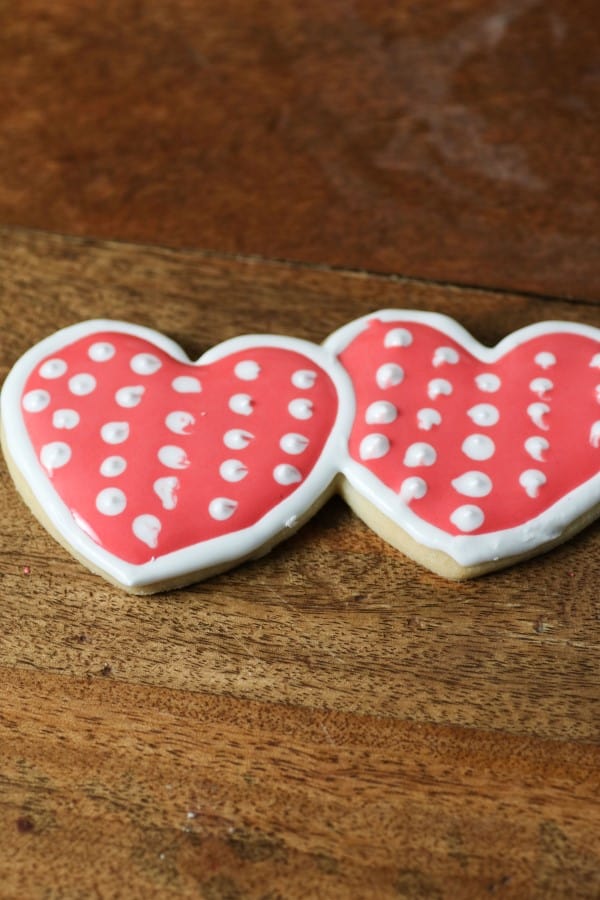 With thinned white icing (same consistency as the pink) dot the cookies as you like.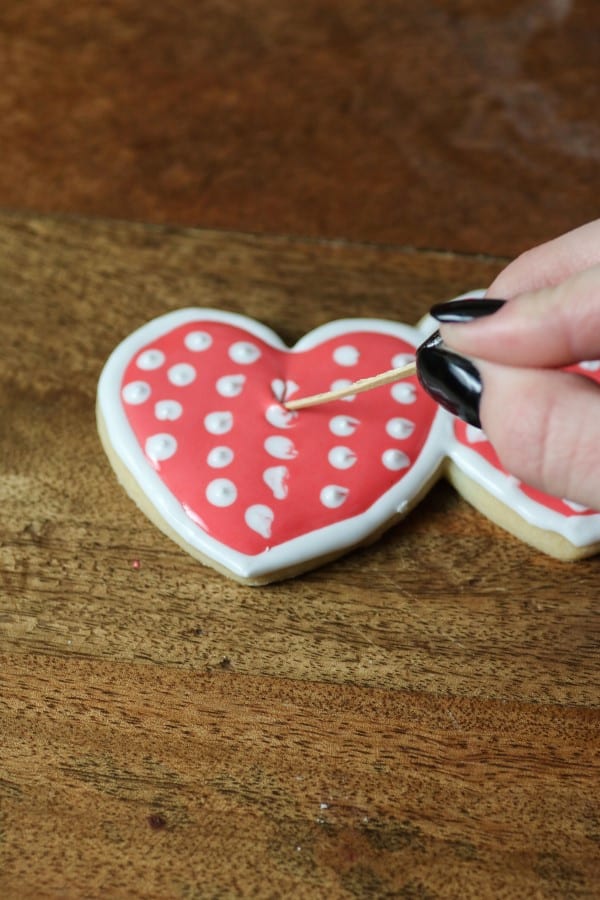 Then take a toothpick and either drag up or down to create the little hearts. Get creative and try other things with the little hearts too!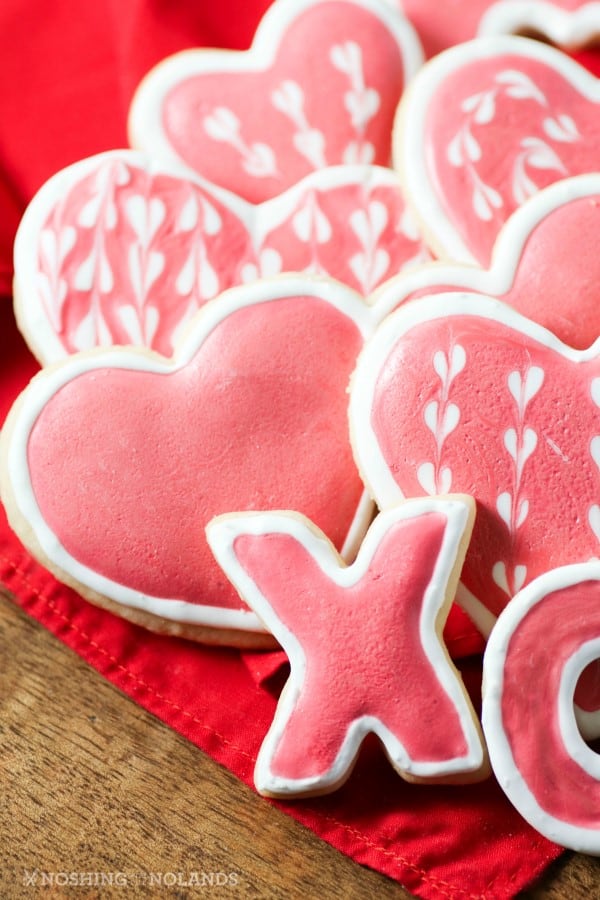 Getting a variety of fun cookie cutters will add to the enjoyment of this Valentine's Day project.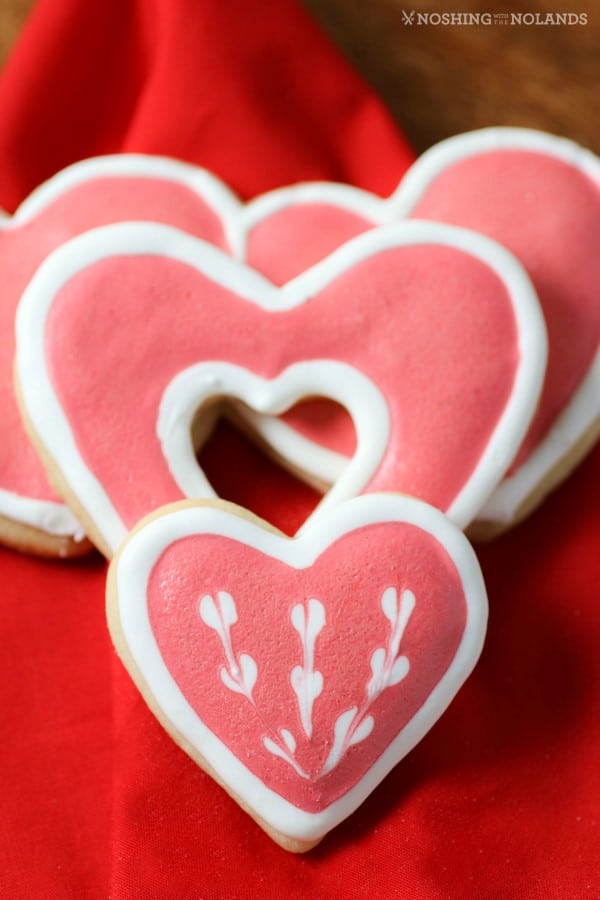 The recipe for the sugar cookies makes a lot. You can do a huge batch for one season or make them for two and freeze one. Get ahead of the game and do St. Patrick's Day or Easter too! The cookies freeze well iced or plain.
The Recipe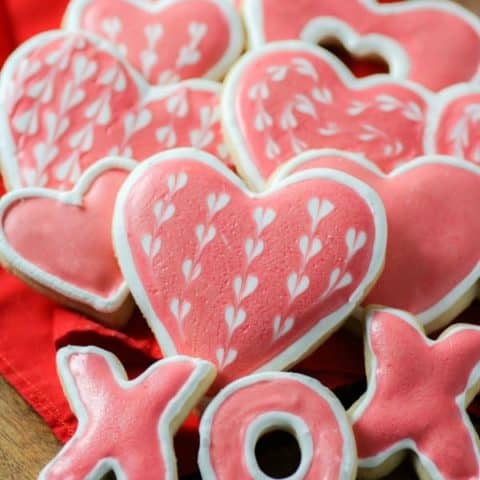 Valentine's Day Sugar Cookies
Cook Time: 10 minutes
Total Time: 10 minutes
Ingredients
Sugar Cookies
½ cup brown sugar
½ cup white sugar
1 cup butter, softened
2 eggs
1 tsp. vanilla
½ cup white corn syrup
pinch of salt
2 tsp. baking powder
3¼ cups flour
Icing
4 cups confectioners' sugar
3 Tbsp. meringue powder
5-6 Tbsp. water, plus more to thin
Food colouring, liquid or gel
Instructions
For the sugar cookies, in a stand up mixer cream butter and sugars together and then beat in eggs until well mixed. Add vanilla and syrup and mix well. Whisk together dry ingredients and add slowly, mixing well until all is incorporated. Chill the dough well, best if done overnight. Roll out dough onto a well floured surface and cut into various shapes. Bake at 325F for 8-10 min. on a lightly greased cookie sheet. Let cool 5 min. on the tray and then remove to further cool on a cooling rack.
For the icing, add the ingredients to a standup mixer with a paddle attachment and mix for 5-7 min. until soft and glossy, if too thick add more water. Add additional water to thin to a toothpaste consistency. Take out about 1/2 cup for piping the outside, depending on the size and shape of cookies you may want more. Thin the rest of the icing sugar to a corn syrup consistency, continuing to beat. Divide for different colours. And place in piping bags with plain tips. Cover any remaining icing with a damp towel.
Outline cookies with the thicker frosting and flood with the thinner, use a toothpick to guide the icing right up to the border or use the tip of the icing bag itself to come in closer and finish off any tiny areas with a toothpick.
If desired, dot cookies with alternate thinned white icing and drag with a toothpick to make hearts.
Let cookies dry for 1-2 days before storing. Cookies freeze well and also last in a sealed container for a couple of weeks.