Crock Pot Saucy Asian Ribs
These are easy to make but don't just throw them in a crockpot for 8 hours and walk away. You will have meat and bones as they will be way overcooked, especially if you use tender baby back ribs. These Crock Pot Saucy Asian Ribs are fantastic.
You want the meat to still be on the bone and to easily pull off but not be falling off. The sauce with this recipe is the best, get in there, get your fingers dirty and sticky. It is finger-licking good!!
Ribs can be cooked so many ways, smoked, grilled, baked, broiled and slow-cooked. All of them are delicious as you are starting with a great cut of flavorful meat.
How to Cook Asian Ribs in a Slow Cooker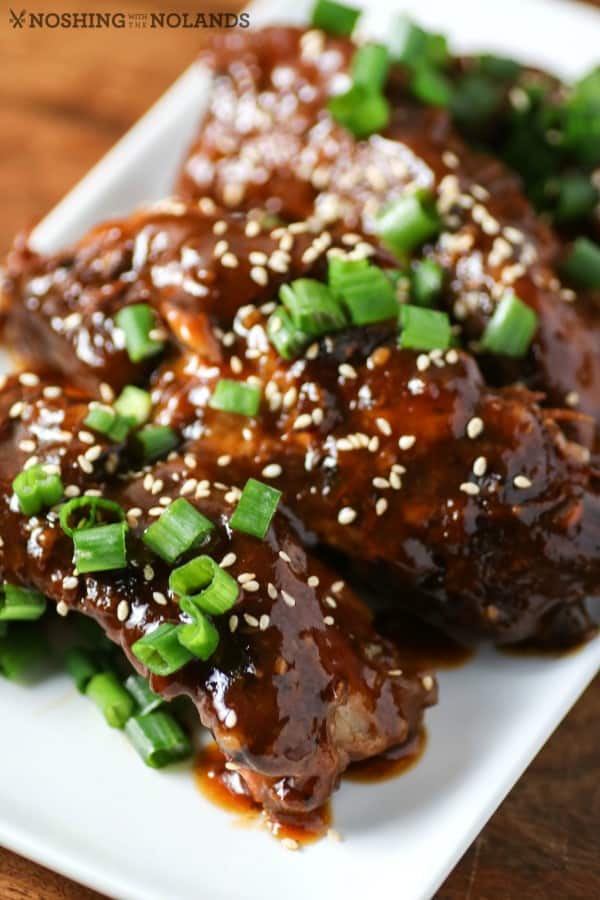 I know you want to get right to this, so let me tell you that this recipe is simple. You cut up a large rack of ribs into 3 or 4 sections and place them into a crockpot.
Then in a small bowl combine the sauce ingredients and whisk and pour over baby back ribs or side ribs.
Cook the ribs for 4 1/2 to 5 hours or until they are tender but not completely falling off the bone. Don't overcook them! Remove the ribs and set aside.
You then thicken the sauce, pour it back over the ribs and you have the perfect dinner or game day scrumptiousness!!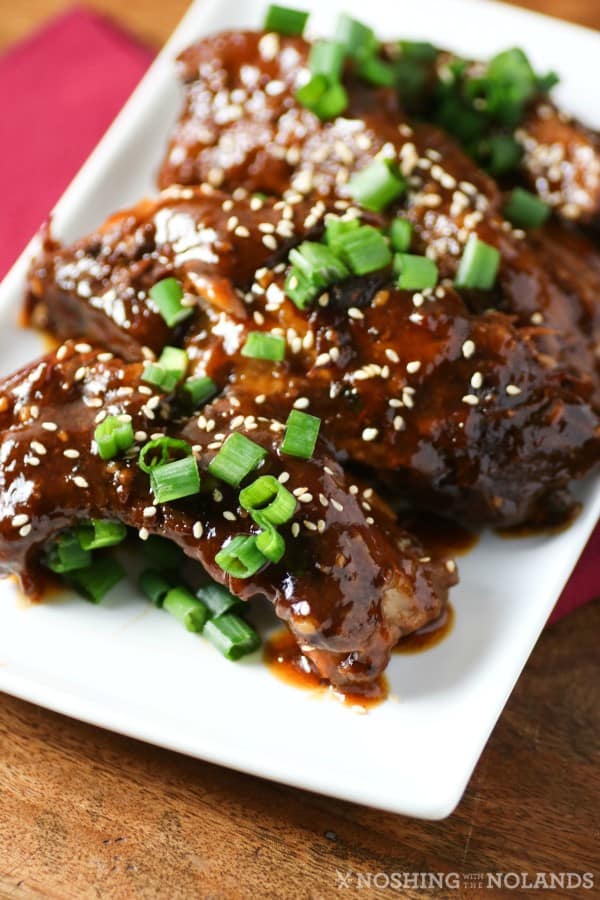 I love that you can serve these ribs up with rice and have sauce for that too! How amazing and your family will love you for this recipe.
The ingredients are commonplace if you do any Asian cooking. They are all staples in our fridge or pantry.
What Can I Serve with Spare Ribs?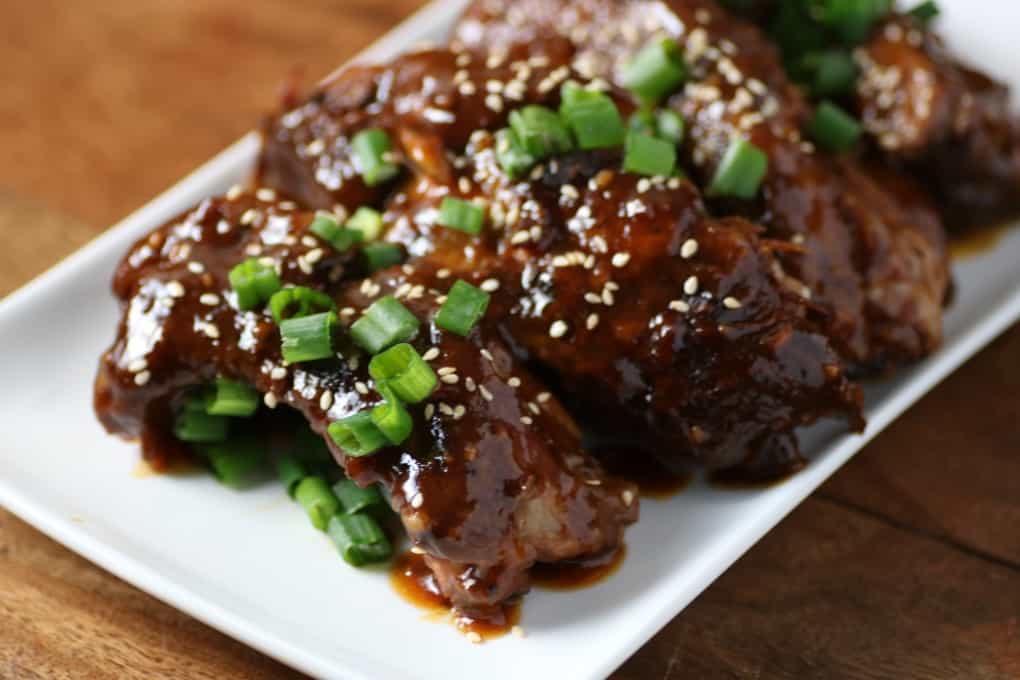 I love to serve rice with any Asian meal. Basmati rice would work well with these ribs. Then an Asian Skillet Stir Fry would make a feast out of your meal. It is another one of our favorites!! Add in a few spring rolls or egg rolls and you have a meal way better than take out!!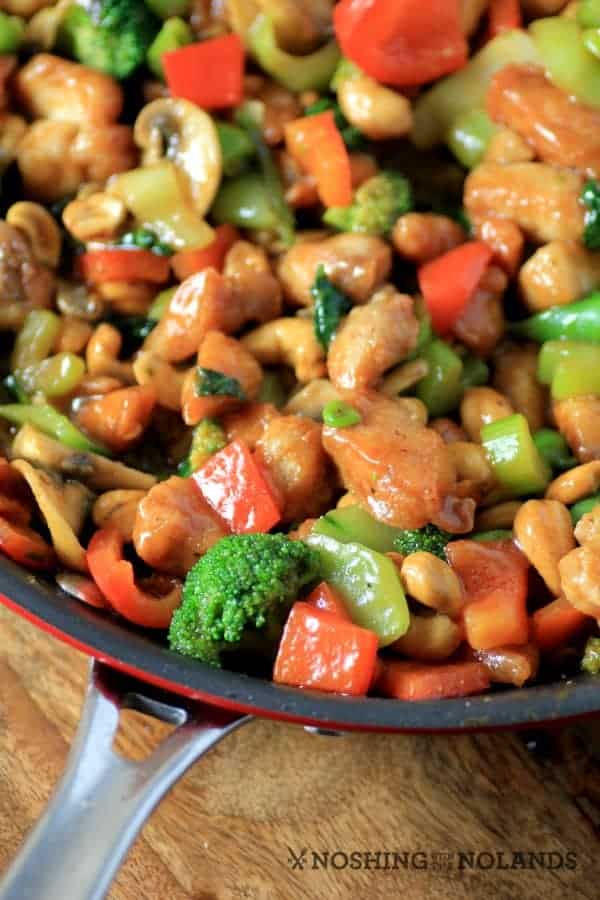 I love the colors in this stir fry and the sauce is delicious plus some great crunch from the cashews. Another must make of a recipe!!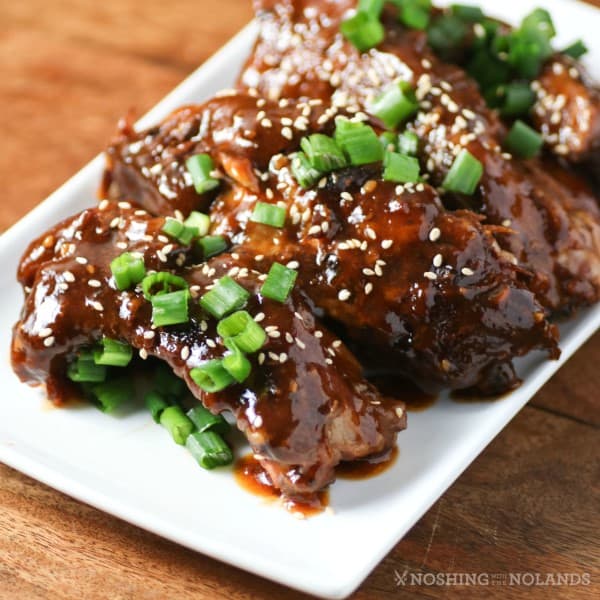 A ginger garlic combination is perfect for me in Asian cooking; it gives us so much flavor. Cooking these in a crockpot couldn't be simpler.
This rib dinner will have everyone asking for you to make it again. We love making Asian meals at home!! One of our favorites!! Enjoy this recipe!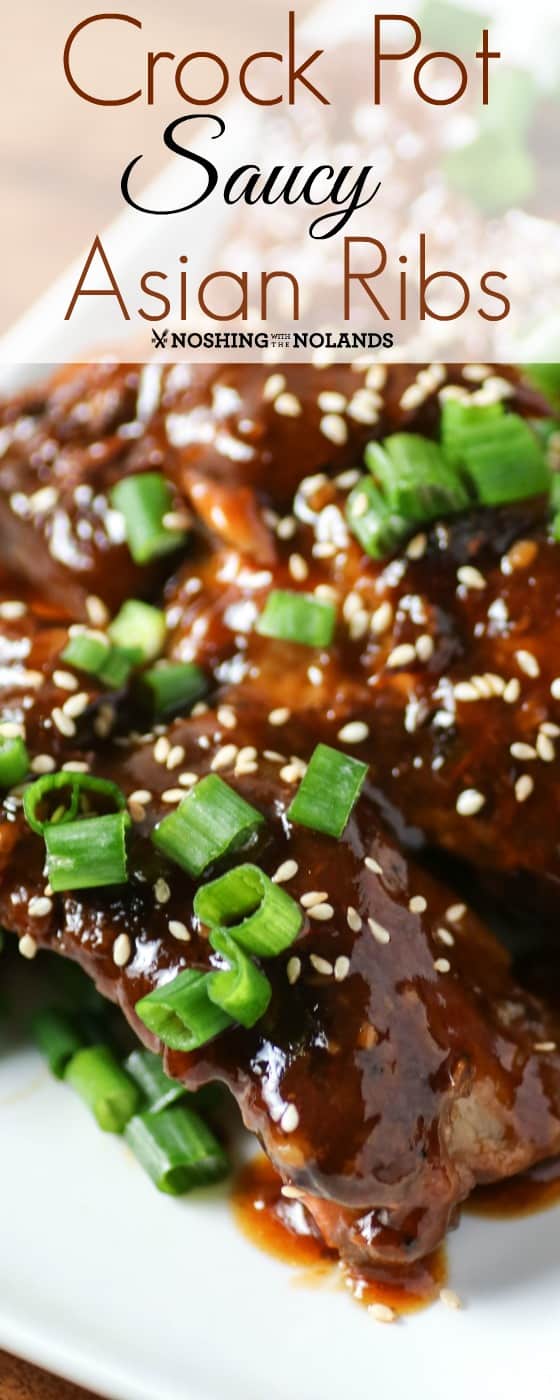 Crock Pot Saucy Asian Ribs Recipe
Yield: 3-4 servings
Crock Pot Saucy Asian Ribs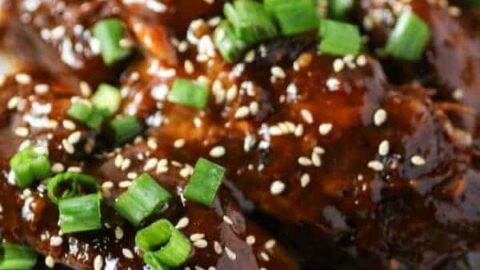 An easy recipe that will get you succulent, full of flavor ribs, Crock Pot Saucy Asian Ribs await you!
Total Time
5 hours
15 minutes
Ingredients
2 Tbsp. sesame oil
2 Tbsp. jarred fresh minced ginger
1/2 cup brown sugar
1 Tbsp. garlic, minced
1/2 cup chili sauce, choose your favorite
1/2 cup low-sodium soy sauce (gluten free if needed)
1/4 cup rice wine vinegar
1/4 cup honey
1 large rack of pork baby back ribs (or side ribs)
Salt and pepper
1-2 Tbsp. cornstarch
Sesame seeds and green onions for garnish
Instructions
Cut the ribs up into 3-4 sections, salt and pepper on both sides and place in a crock pot. Whisk together the sesame oil, ginger, garlic, brown sugar, chili sauce, soy sauce, honey and vinegar. Pour over the ribs. Cook on low for 4 1/2 to 5 hours until ribs are tender but not falling off the bone.
Remove the ribs from the crock pot. Degrease the top by spooning off the top layer of fat. Mix 1 Tbsp. of cornstarch with water and whisk into the sauce. Turn the crock pot to high and whisk occasionally until thickened. If needed you can add another Tbsp. of cornstarch mixed with water to thicken further. Serve the sauce over the ribs.
Nutrition Information:
Yield:
4
Serving Size:
1
Amount Per Serving:
Calories:

405
Total Fat:

15g
Saturated Fat:

3g
Trans Fat:

0g
Unsaturated Fat:

11g
Cholesterol:

26mg
Sodium:

1722mg
Carbohydrates:

56g
Fiber:

2g
Sugar:

45g
Protein:

13g