Mushroom, Spinach, Feta-Stuffed Chicken with Parmesan Cream Sauce
I have an amazing cookbook for review today, Firehouse Chef by Patrick Mathieu. Not only did the cover capture my attention right away as I know firemen can cook but once cracked open, recipe, after recipe were drawing me in. It was hard to just select one to show you but the winner was this Mushroom, Spinach, Feta-Stuffed Chicken with Parmesan Cream Sauce. I adored the method they used to stuff the chicken with "no-strings" attached. Nothing could be easier than rolling the chicken breast into a ball and placing it on a baking sheet. That simple step is pure genius. No fighting with string to tie off and no string to mess with while you are trying to eat either. They also stayed together perfectly while cooking. This simple step was life changing, I love it!!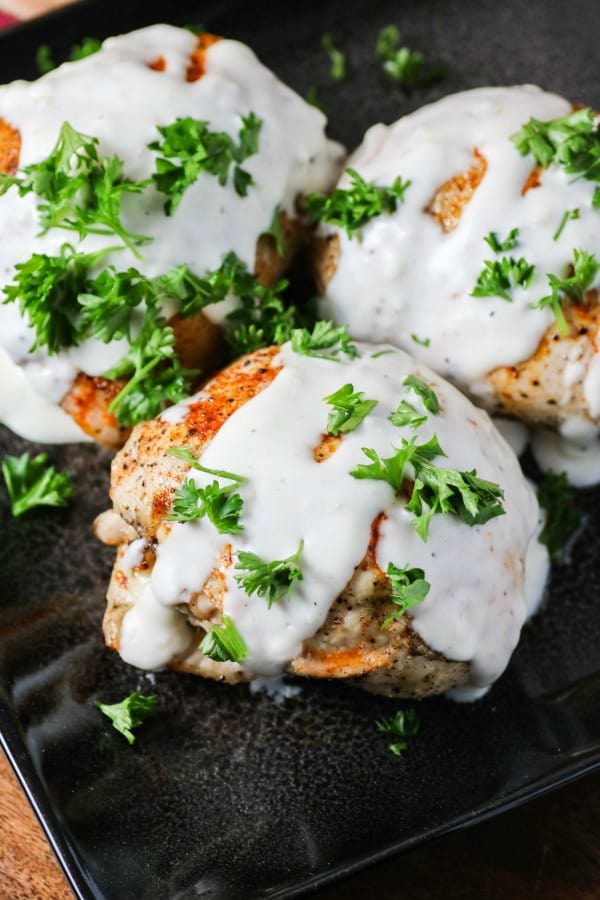 With complete enthusiasm for this recipe, I look forward to many more to try! The Firehouse Chef is an account of Mathieu's culinary experience as a Canadian Firefighter. He has prepared meals for his fellow firefighter for 15 years now. With his own original recipes and ones added by firehouses from Newfoundland to BC, this cookbook is a real winner. If the recipes can feed these hungry men on the go, they sure can feed your busy family.
The Firehouse Chef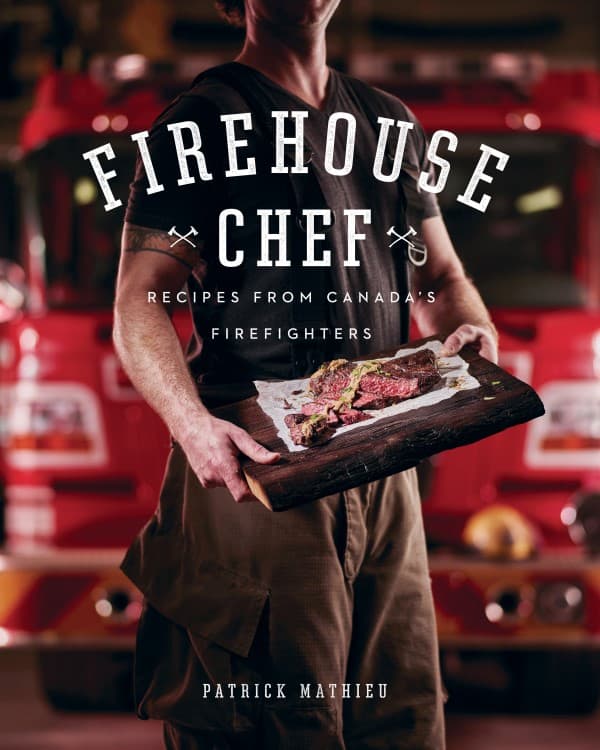 As mentioned the cookbook is filled with fantastic recipes, like Old South FireHouse Pulled Pork, Cauliflower Steaks with Salsa Verde, Yukon Elk Chili with Chocolate and Cinnamon and Thai Drunken Noodles. The cookbook is complete from simple starters, to hearty mains and gourmet desserts. These recipes have been tried and tested by firefighters who like to speak their mind! The book is filled with colourful anecdotes and scrumptious photography.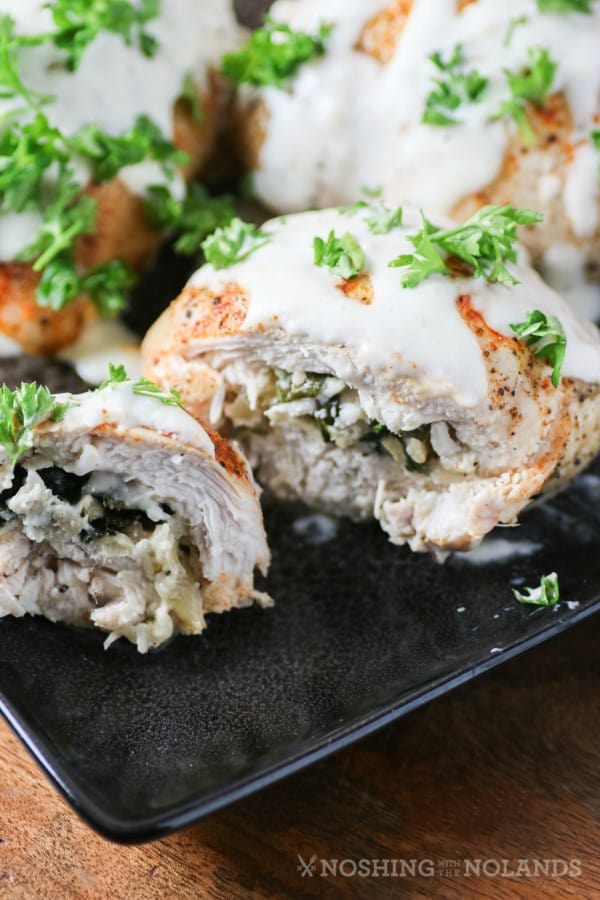 This recipe we absolutely loved with the Greek inspired stuffing. The chicken is moist and delicious, the stuffing perfect and the cream sauce outstanding!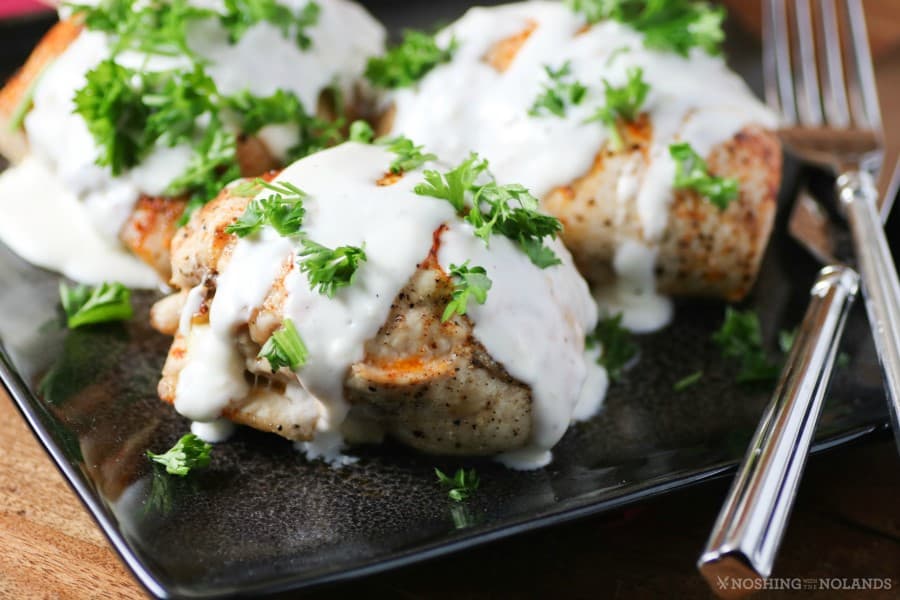 This meal is fit for company or for any night of the week as it comes together very easily. Simple ingredients yet a fantastic result! I know you will want to try this recipe soon!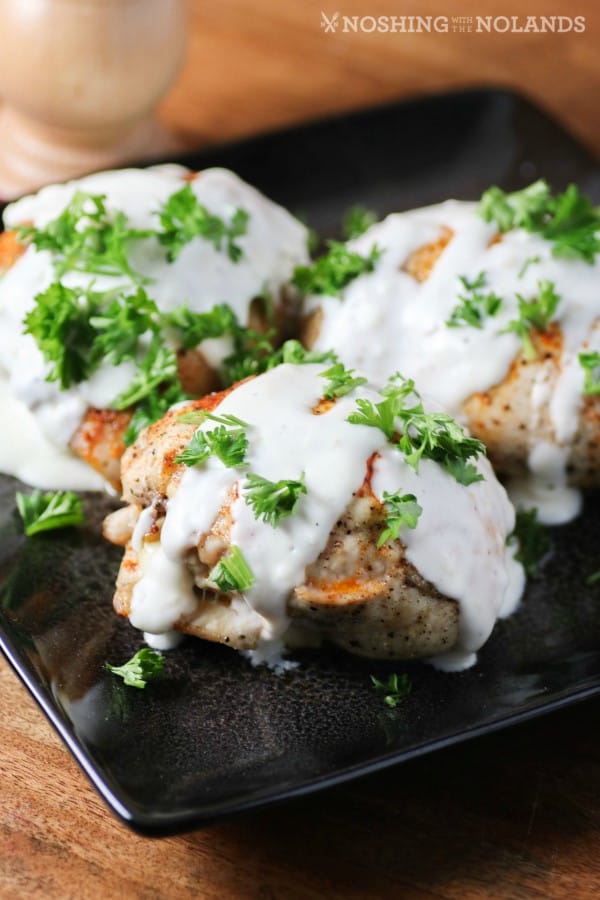 Firefighter Patrick Mathieu is a very passionate foodie. He is a self taught chef who has followed his French Canadian roots. He is also the proud owner of StationHouse Catering and Private Chef Services which he runs with his wife Andrea Lauren. Patrick appeared in Season 2 of Chopped Canada and also is a culinary instructor and columnist. He lives just outside Waterloo, Ontario with his wife and two children.
The Recipe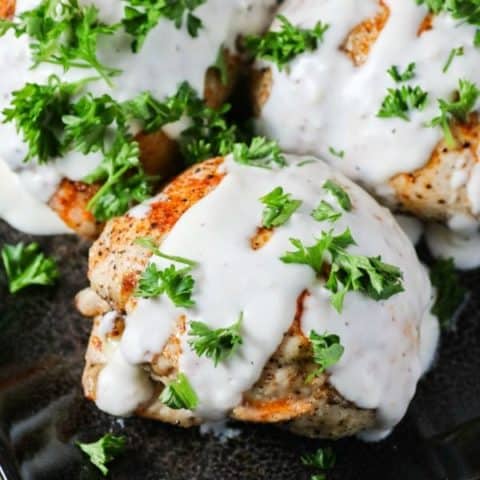 Mushroom, Spinach, Feta-Stuffed Chicken with Parmesan Cream Sauce
Yield: Serves 4
Prep Time: 20 minutes
Cook Time: 35 minutes
Total Time: 55 minutes
This stuffed chicken firehouse specialty turns a regular chicken breast into a superb main that is sure to impress.
Ingredients
3 Tbsp (45 mL) extra virgin olive oil, divided
1/2 cup (125 mL) chopped onion
1 clove garlic, chopped
1 cup (250 mL) sliced mushrooms
1/4 cup (60 mL) white wine
2 cups (500 mL) baby spinach
Kosher salt, to taste
Freshly ground pepper, to taste
1/2 cup (125 mL) crumbled feta cheese
4 boneless, skinless chicken breasts (about 4 oz/110 g each)
1 tsp (5 mL) paprika, thyme, oregano or garlic (optional)
1 batch Parmesan Cream Sauce (recipe follows)
Parmesan Cream Sauce:
3 Tbsp (45 mL) butter
1 clove garlic, chopped
3 Tbsp (45 mL) flour
1 cup (250 mL) 18% cream
1/2 cup (125 mL) Parmesan cheese
1/4 cup (60 mL) chopped fresh parsley
Kosher salt, to taste
Freshly ground pepper, to taste
Instructions
Preheat your oven to 350°F (175°C).
Heat olive oil in a pan. Add onion and garlic and cook over moderate heat until clear, about 5 minutes.
Add mushrooms and continue to cook until softened. Add white wine and spinach. Cook until spinach is wilted. Season to taste with salt and pepper and remove from heat; allow cooling for about 5 minutes. Add feta cheese.
Flatten chicken breasts with a mallet between sheets of plastic film. Season the chicken breasts with salt and pepper.
Add 2 Tbsp (30 mL) of the mushroom, spinach and feta mixture to the centre of the chicken breast and roll into a ball with the seam side facing down.
Place on a parchment-lined baking tray and brush with olive oil. You may add seasoning to the olive oil of your choice (paprika, thyme, oregano, garlic).
Bake at 350°F (175°C) for 25 minutes or until an internal temperature of 170°F (77°C) has been reached. Spoon the Parmesan Cream Sauce over top.
Parmesan Cream Sauce:
For the Parmesan Cream Sauce, melt butter in a small saucepan over medium heat. Add garlic and flour and stir until combined. Slowly whisk in the cream and continue to mix until combined and thickened.
Add Parmesan cheese and season to taste with salt and pepper. Continue to cook until the sauce no longer tastes like flour. Add the parsley just before serving.
Nutrition Information:
Yield: 4
Serving Size: 1
Amount Per Serving:
Calories: 405
Total Fat: 21g
Saturated Fat: 7g
Trans Fat: 0g
Unsaturated Fat: 13g
Cholesterol: 123mg
Sodium: 406mg
Carbohydrates: 9g
Fiber: 3g
Sugar: 2g
Protein: 43g
Recipe calculation was provided by Nutritionix and is an estimation only. If you need nutritional calculations for medical reasons, please use a source that you trust.