Cheese Spaetzle Recipe (Kaesespaetzle)
Recently, my daughter Amber had Kaesepaetzle, or cheese spaetzle, in a local German delicatessen and promptly asked me why I don't make it. I used to cook it quite often but usually don't make Kaesespaetzle. I didn't really have an answer, and I do own a spaetzle maker, so why not try it? The end result was this very delicious Cheese Spaetzle Recipe (Kaesespaetzle).
I made this recipe for her and she said she liked mine even better! I have to admit it made me really proud to hear that! This recipe also goes amazing with our rouladen recipe or with our schnitzel. Both are fantastic comfort food recipes!!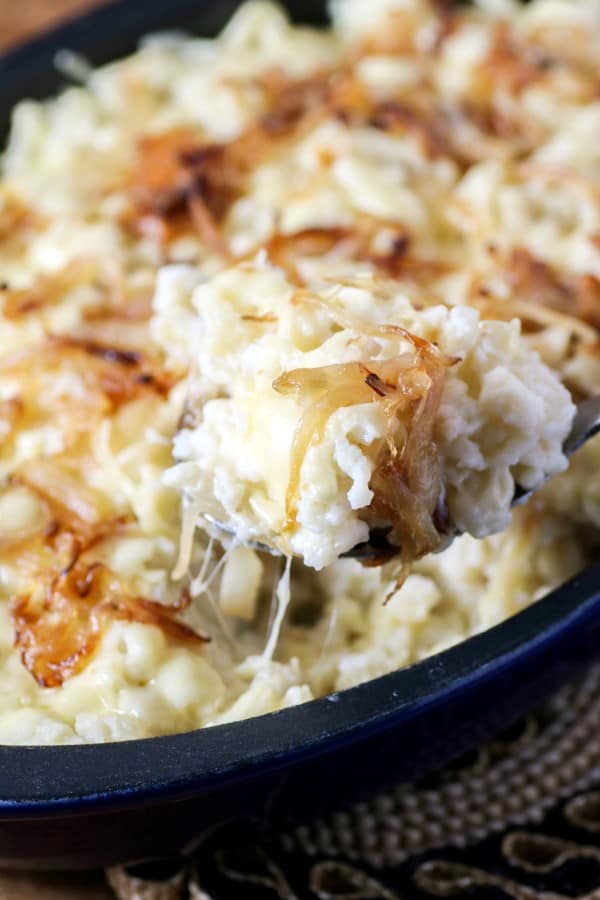 What is Spaetzle Made From?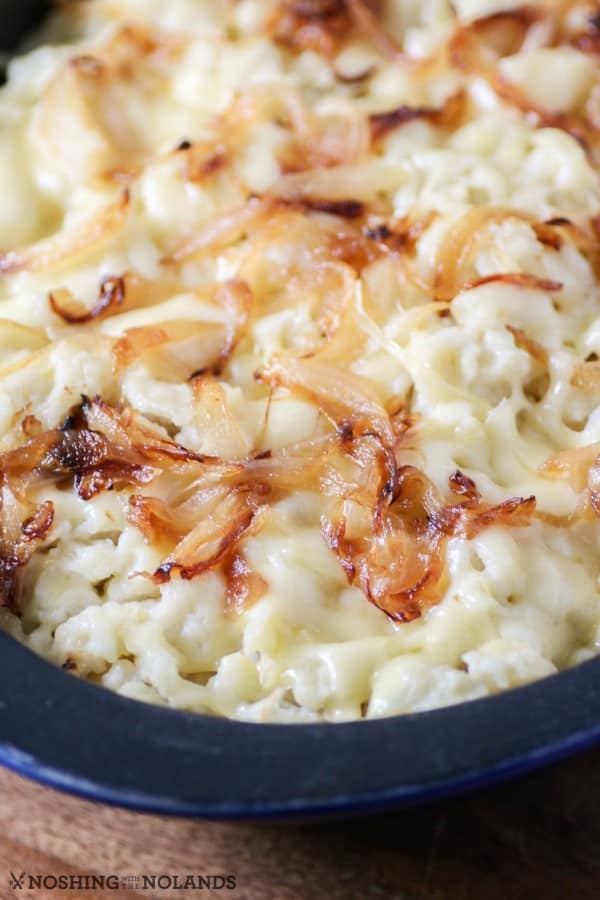 Spaetzle is made from flour, eggs, and milk or water and salt and pepper. Essentially, it is a German egg noodle that goes wonderfully with all German cuisine but can be a meal by itself. It is like taking macaroni and cheese to another level!!
You can chop up the onion and caramelize it and then add it right into the spaetzle, or add the caramelized onions on top. You can also add loads of cheese. I did cut back compared to many recipes that I saw as it can get extremely rich.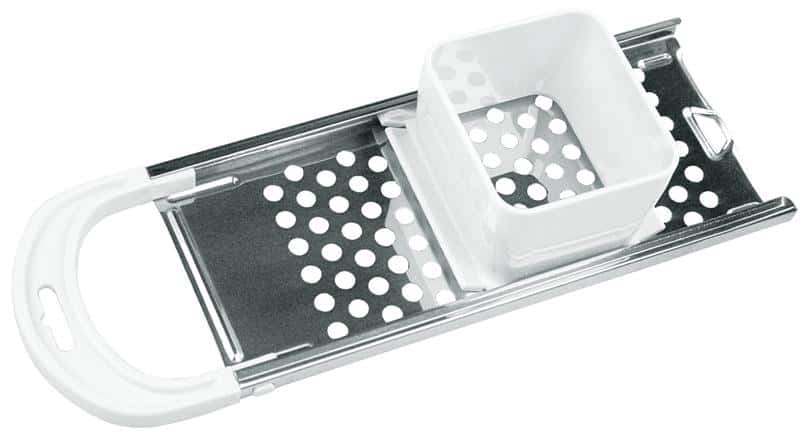 Spaetzle makers are very inexpensive and you sure don't need a fancy one, as a simple one does the trick. It is like a grater with a slider and the dough falls through into the boiling water as you slide the compartment where the dough sits back and forth.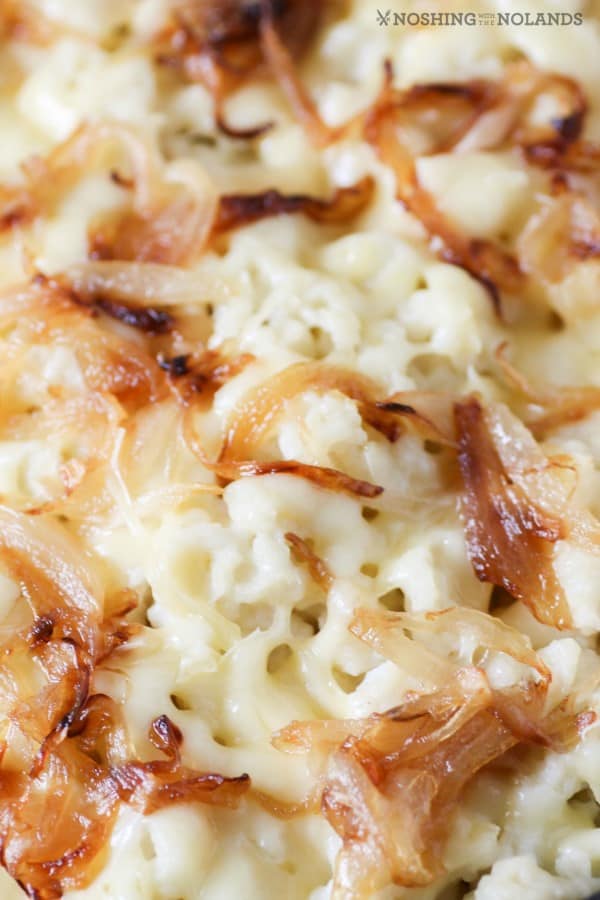 Can You Buy Spaetzle at the Grocery Store?
You can, in fact, buy the noodles at the grocery store but with a spaetzle maker and a little time, it's easy to make it yourself at home. If you want to try your hand at homemade German spaetzle and don't have a spaetzle maker and aren't interested in getting one right away you can use a metal colander and a wooden spatula and press the dough through the holes.
How to Make Spaetzle
The recipe to make it is very straight forward, simply whisk together 4 eggs and1 ½ cups of water in a large bowl. Then in the bowl whisk in 3 cups of flour and 1 teaspoon of salt by adding them a cup at a time. Mix until a dough has formed.
Take the dough and run it through a spaetzle maker in batches. You can drop the spaetzle noodles directly into boiling water – just be sure not to overcrowd the pot.
Cook the spaetzle in a large pot of boiling water over medium-high heat for about 2 minutes or until it floats. Remove using a slotted spoon. Repeat until all of the dough has been used.
To make Cheese Spaetzle, grate 250 grams of Jarlsberg or Swiss cheese and set aside. Caramelize 2 thinly sliced onions in a large pan with 3 tablespoons of melted butter and half a teaspoon each of salt and sugar. Sauté on medium-low until caramelized. Add half the cooked noodles, half the caramelized onions, and half the grated cheese to a greased casserole dish then add the other half of each item on top. Bake, at 350˚F with a lid on for 20 minutes, then remove lid and bake for an additional 10 minutes. Serve warm.
Ooey, gooey, cheesy decadence!! You will be wanting to make this right away! It makes a great side for so many dishes or a perfect vegetarian dinner too with salad!
A gorgeous egg noodle wrapped up in Jarlsberg cheese and served with a scattering of caramelized onions.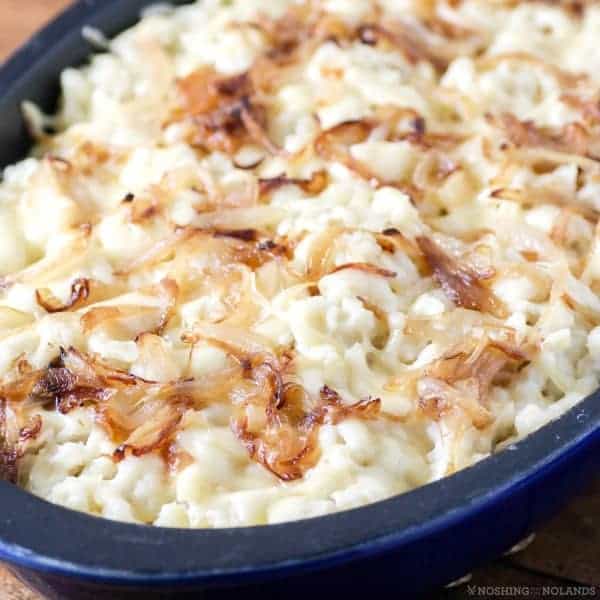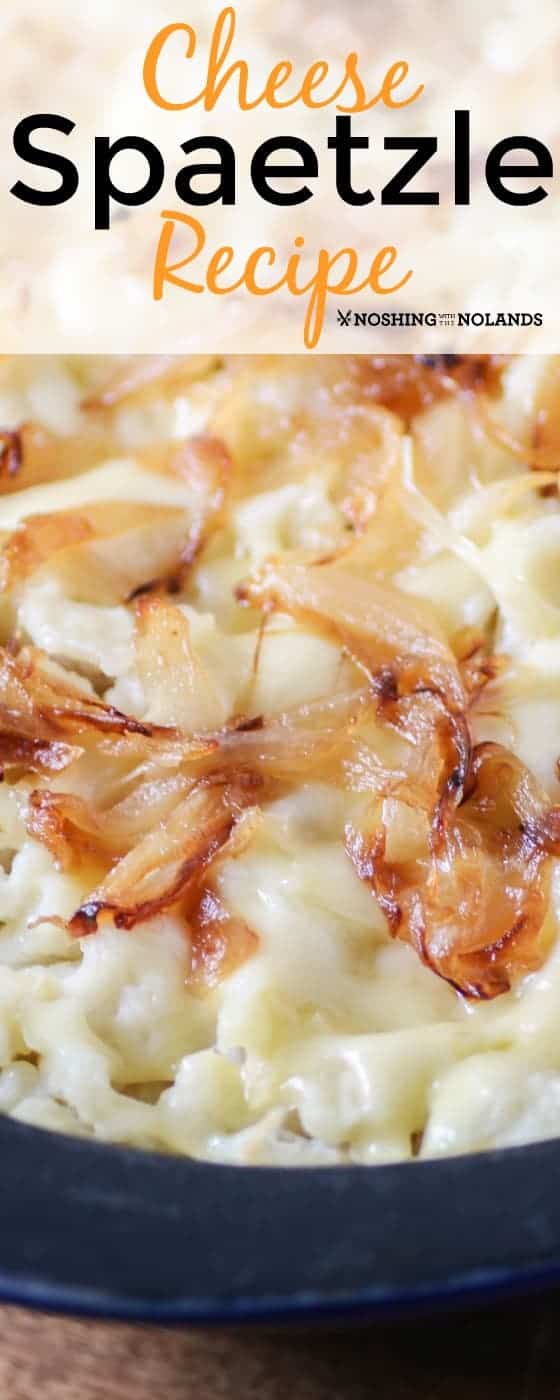 Cheese Spaetzle Recipe
Yield: 4-6 servings
Cheese Spaetzle Recipe (Kaesespaetzle)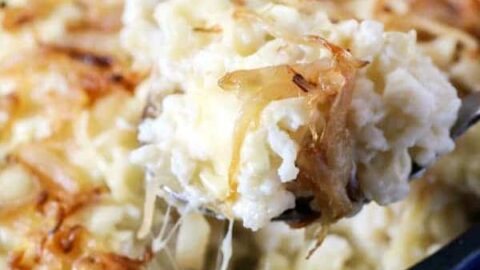 A gorgeous egg noodle wrapped up in Jarlsberg cheese and served with a scattering of caramelized onions.
Total Time
1 hour
2 minutes
Ingredients
Caramelized Onions
3 Tbsp. butter
2 onions, cut in half and thinly sliced
1/2 tsp. each salt and sugar
Spaetzle
3 cups flour
1 tsp. salt
4 eggs
1 1/2 cups water
250 gms. (9 oz.) Jarlsberg or Emmentaler, grated
Instructions
Melt the butter in a medium skillet and saute on medium-low the onion with the salt and sugar until caramelized. It could take up to 20 min.
Butter an 8x11" casserole and set aside.
Whisk together the eggs with the water and stir in the flour and salt until combined.
Bring a pot of salted water to boil.
Run the dough through a spaetzle maker in batches, into the boiling water. Boil for 2 min. or until it floats. Remove spaetzle with a slotted spoon to a bowl and continue cooking until all are done.
Preheat oven to 350F.
Place half the spaetzle in the prepared casserole with half the cheese and onions and then repeat. Bake for 20 min. covered. Uncover and bake for 10 more min.
Recommended Products
As an Amazon Associate and member of other affiliate programs, I earn from qualifying purchases.
Nutrition Information:
Yield:
6
Serving Size:
1
Amount Per Serving:
Calories:

343
Total Fat:

10g
Saturated Fat:

5g
Trans Fat:

0g
Unsaturated Fat:

4g
Cholesterol:

139mg
Sodium:

679mg
Carbohydrates:

52g
Fiber:

2g
Sugar:

2g
Protein:

11g
Recipe calculation was provided by Nutritionix and is an estimation only. If you need nutritional calculations for medical reasons, please use a source that you trust.