Easy Delicious Pork Schnitzel
We went on a little German feast! First off we made Kaesespaetzle, which is spaetzle (a homemade noodle) with cheese and caramelized onions. Now we moved on to Easy Delicious Pork Schnitzel. German food for the most part is rich and wonderful. I was amazed at the price of boneless, small pork chops, they are so inexpensive. You can change this up to Weinerschnitzel and use veal but it will be much more pricey!!
A quick pound out of the pork chops and they were ready to roll. The whole process really took no time at all. Your family will go nuts for these. Such a simple meal and very inexpensive. Being fried it is not something you want to be doing all the time but add in a gorgeous big salad and be conservative and you can enjoy this dinner! If you want other amazing pork dinners try our Pork Tenderloin Wrapped in Puff Pastry or Bacon-Wrapped Pork Tenderloin.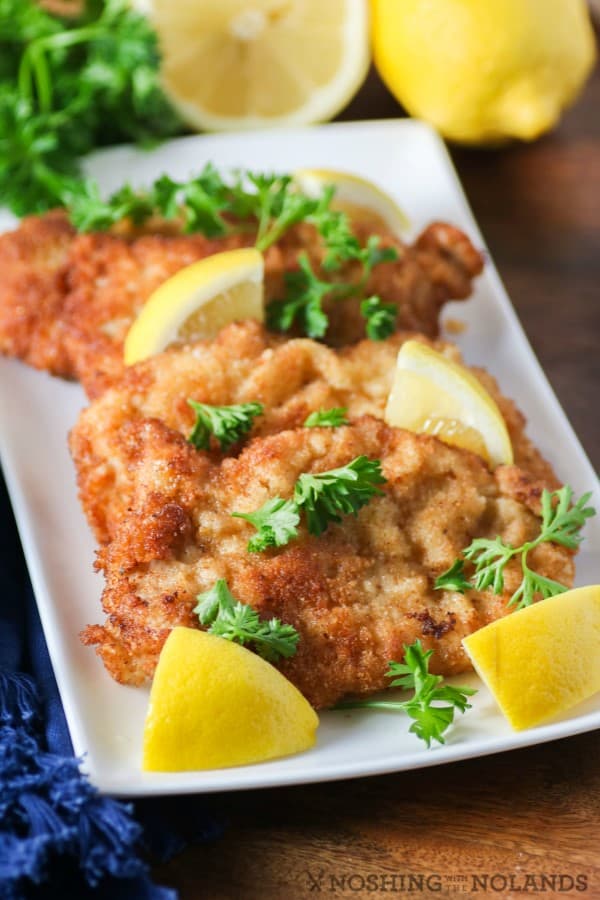 The birth place of schnitzel is Austria and many dishes overlap and are fused between the two countries of Germany and Austria. Other countries all influence their cuisine, such as France, Italy, Hungary and more.
Crispy and delicious on the outside and tender and juicy on the inside. A fresh squeeze of lemon and parsley is all you need to give this schnitzel even more flavor! One thing I always suggest is when you take something out of hot oil, then you need to immediately salt again. This will give you the flavor you are looking for.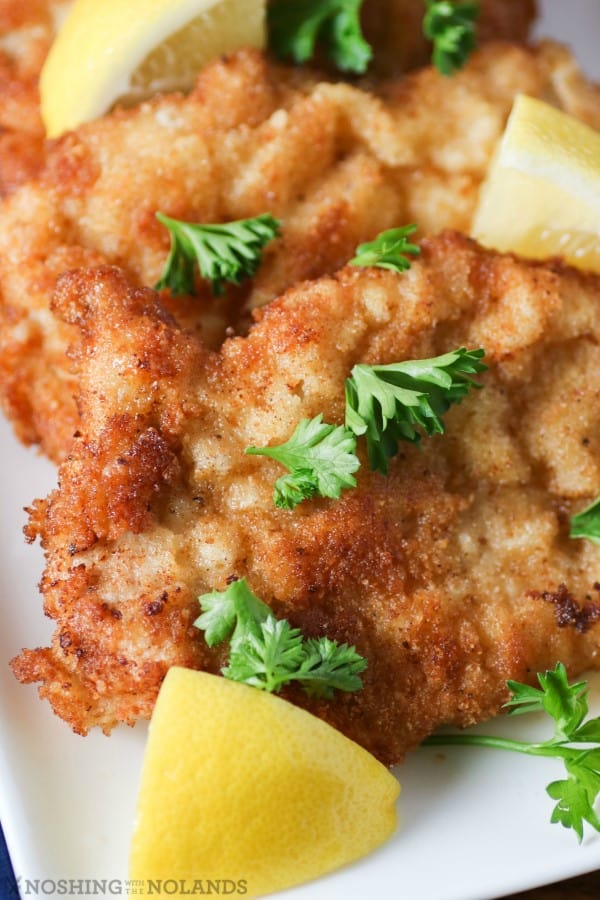 Up close you can see how crispy and delightful this is. A real treat that you usually only find in a German restaurant but now you can easily make at home and your family will love you for it. Even the pickiest of kids are going to love to dive into this schnitzel.
The Recipe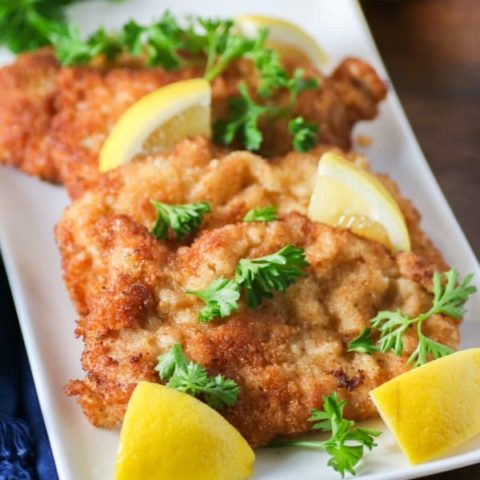 Easy Delicious Pork Schnitzel
Yield: 4-6 servings
Prep Time: 10 minutes
Cook Time: 12 minutes
Total Time: 22 minutes
Easy Delicious Pork Schnitzel is inexpensive and a scrumptious meal that can make a weeknight meal feel special.
Ingredients
6 boneless pork chops
1 tsp. salt and more for seasoning pork
Freshly ground pepper to taste
1/2 cup flour
3 large eggs, lightly beaten
1 cup plain breadcrumbs
Canola Oil
Lemon wedges
Parsley
Instructions
With a meat mallet pound the pork chops between two pieces of wax paper until they are 1/4" thick. Lightly season with salt and pepper on both sides.
Prepare a large saute pan with a generous amount of oil, enough so that the schnitzel will float slightly. Heat to about 350-375F but not smoking.
Meanwhile, place the flour, with 1 tsp. salt, the eggs and the bread crumbs into 3 bowls. Dip the pork into the flour, then the egg and then the bread crumbs and immediately fry. Do three at a time and then repeat. Turning to brown on both sides, about 3-4 min per side. Drain on a paper towel lined plate and salt. Serve immediately with lemon wedges and parsley.