Have you made or heard of rouladen before? This is a traditional German dish and one that I have made many times but not for years! This Traditional Beef Rouladen Recipe is pure comfort food and until the really warm weather hits, we are still wanting dishes like this.
Served up with some creamy mashed potatoes, creamy polenta, potato dumplings, or spaetzle and steamed veggies or red cabbage this is a great dinner for any weeknight (but you do need time for it to cook) or this recipe would be perfect for a Sunday supper. Another great beef meal is our Perfect Beef Wellington, a real show stopper.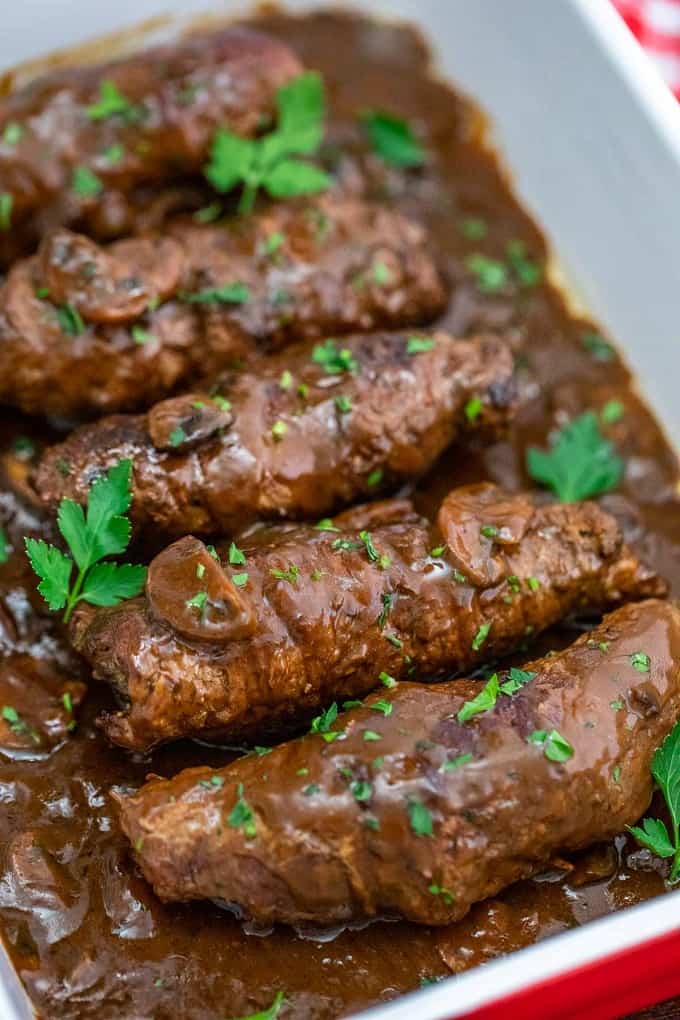 What Cut of Beef Is Used for Rouladen?
In Canada, we can buy meat that is actually called inside round rouladen, which is thinly sliced and meant for this dish. You could also use round steak, which may also be known as a rump steak.
The dish consists of a bacon strip, onions, mustard, and sometimes a pickle rolled up inside.
This time I omitted the dill pickle, but in discussion with my girlfriend, Cheryl, she now chops hers up finely and adds it to the middle of the beef roll. What a great idea! Let's dive into this recipe!!
How Do You Make Beef Rouladen?
Your beef slices should be no more than 1/2 an inch thick. Lay your beef out flat on a butcher block or large cutting board and brush on the mustard. Place a bacon strip in the middle and sprinkle with onions and parsley, salt, and pepper. This is also where you would add the pickle if using.
Roll up the steak and secure with toothpicks, repeat with the other steaks. Dredge the rolls in flour and fry the rolls with butter on medium-high heat until they are browned on all sides but not cooked through.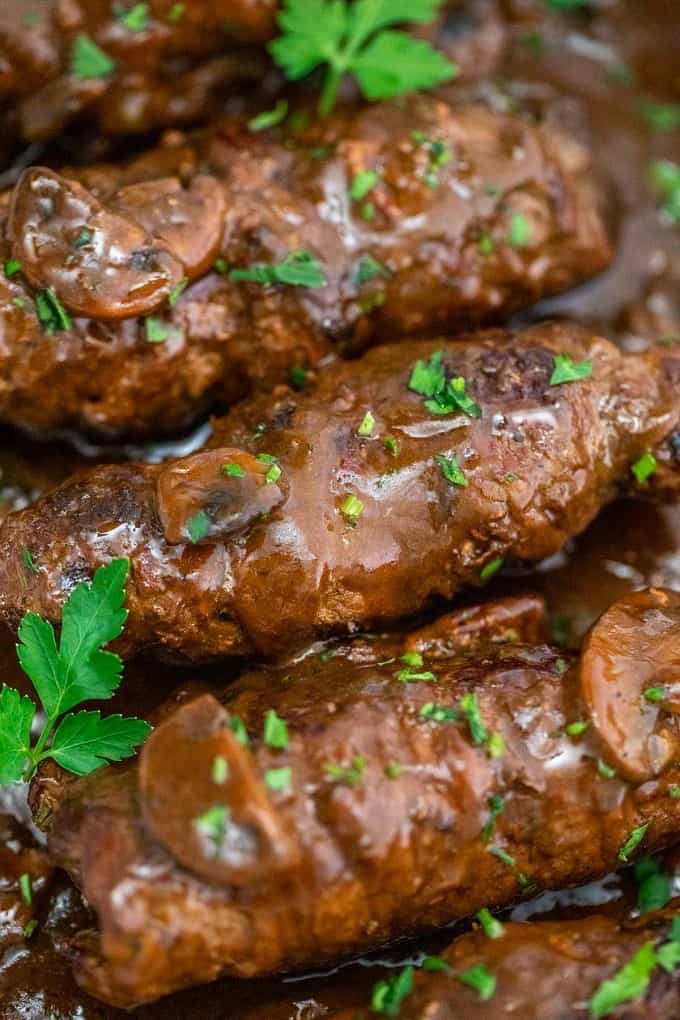 Place them in a casserole dish or dutch oven, leaving a little space in between each beef roll. Add water or beef broth to the frypan and scrape up the drippings, pour over the rouladen. Then add in the soy sauce (not traditional but delicious), Worcestershire sauce, and additional water or beef broth to come halfway up the rouladen.
Add the mushrooms and season to taste with salt and pepper. Bake it in the oven for 1 1/2 to 2 hours.
The gravy is simple and just needs a little thickening at the end, you could also add some red wine to the gravy for some additional depth of flavor. The meat is so flavorful being slowly cooked and with the wonderful ingredients stuffed inside and out.
Can I Make Rouladen in Advance?
The short answer here is yes, of course, you can. In fact, making it a day ahead will not only free up your time before serving the rouladen for dinner, but it will also enhance the flavors. Make the rouladen as you normally would and after it is done simply allow it to cool, cover and refrigerate for the next day. Make sure you take it out of the refrigerator a half-hour to an hour before reheating it, to allow it to come to room temperature.
Reheat it low and slow in your oven. You and your family or guests will love it!
Because this dish has German origins it is often served during Oktoberfest, a fall celebration featuring great food, singing, dancing and of course beer… a lot of beer! Spending time with family and friends eating great food and drinking beer shouldn't only happen during Oktoberfest! You should plan events and gatherings throughout the year, and of course, serving up a fantastic dish like this will always be popular with everyone!!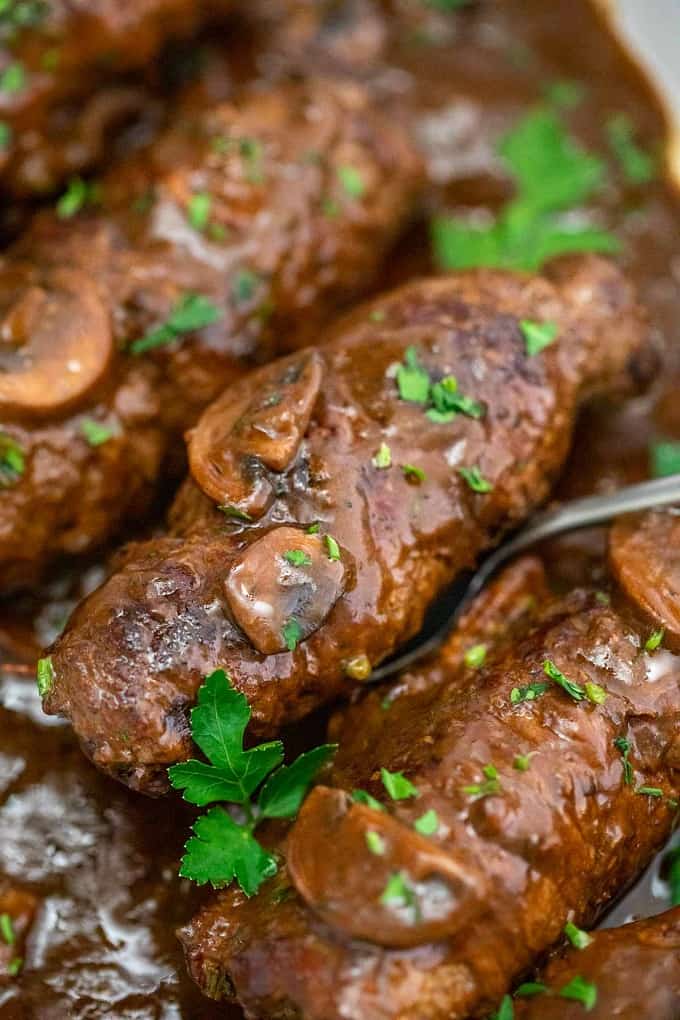 This dish can be served with a dollop of sour cream and is fantastic all year round as it is a beloved dish that will be welcomed on the supper table.
Ingredients
Rouladen
Large inside round rouladen
Dijon mustard
Onion, finely chopped
Chopped parsley and more for garnish
Bacon
Salt and pepper to taste
Flour
Butter
Low sodium soy sauce
Worcestershire
Mushrooms, sliced
Gravy
Flour
Butter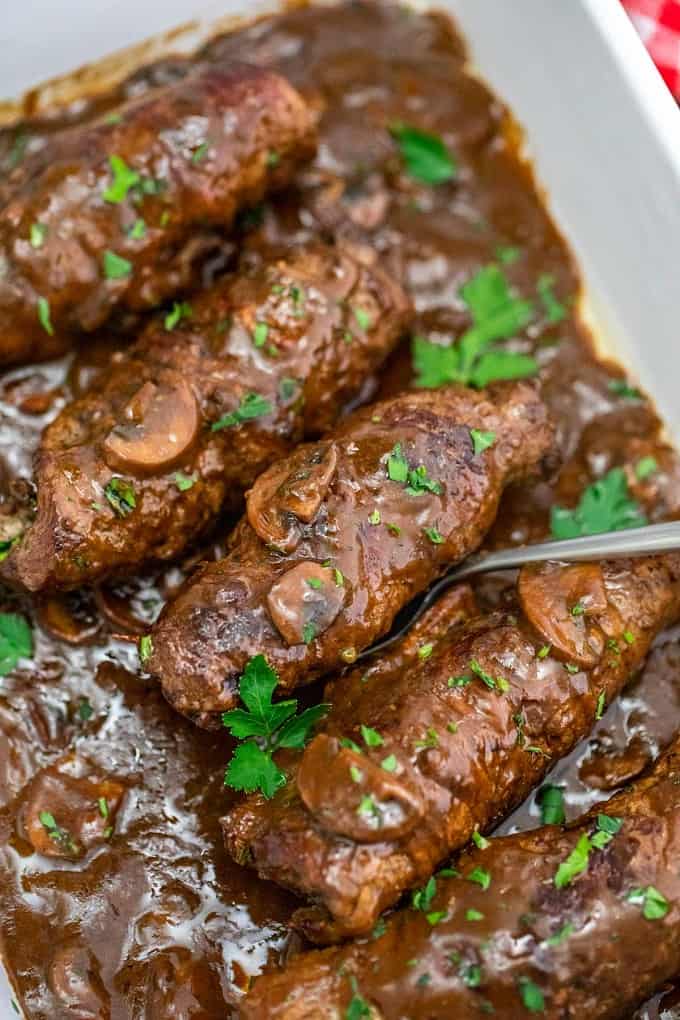 Rich gravy, scrumptious bacon, onions and pickle, mustard, and topped with mushrooms, that is cooked on a slow braise! What is not to love about this traditional dish that has been around for ages.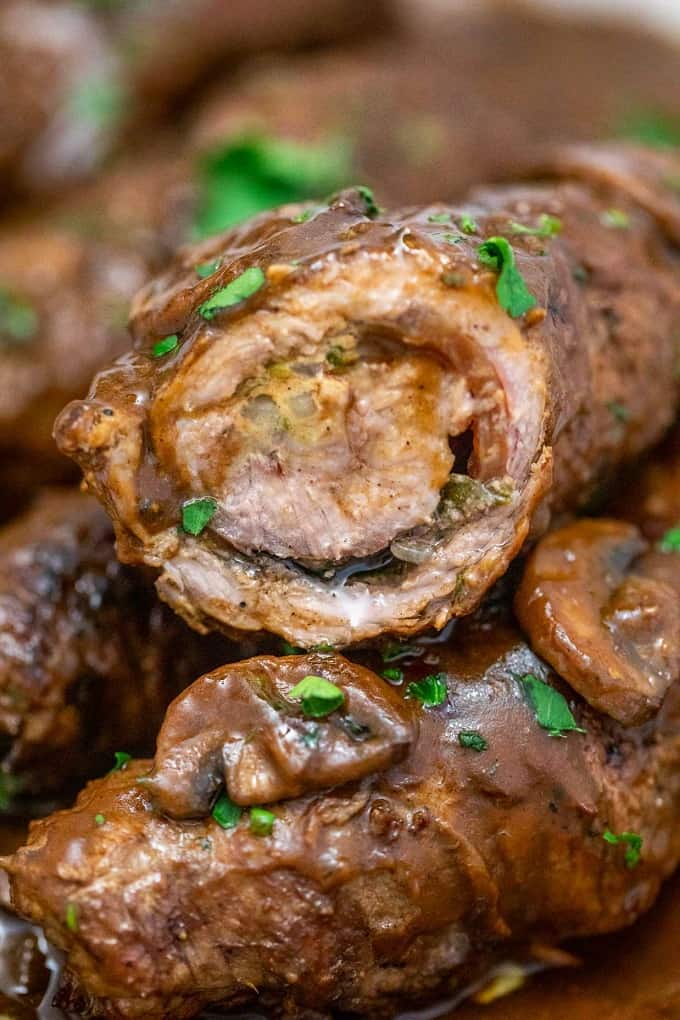 Here is a sneak peek inside the rolls, they are so juicy, tender, and gorgeously flavored. I know you will be making this meal again and again.
Beef Rouladen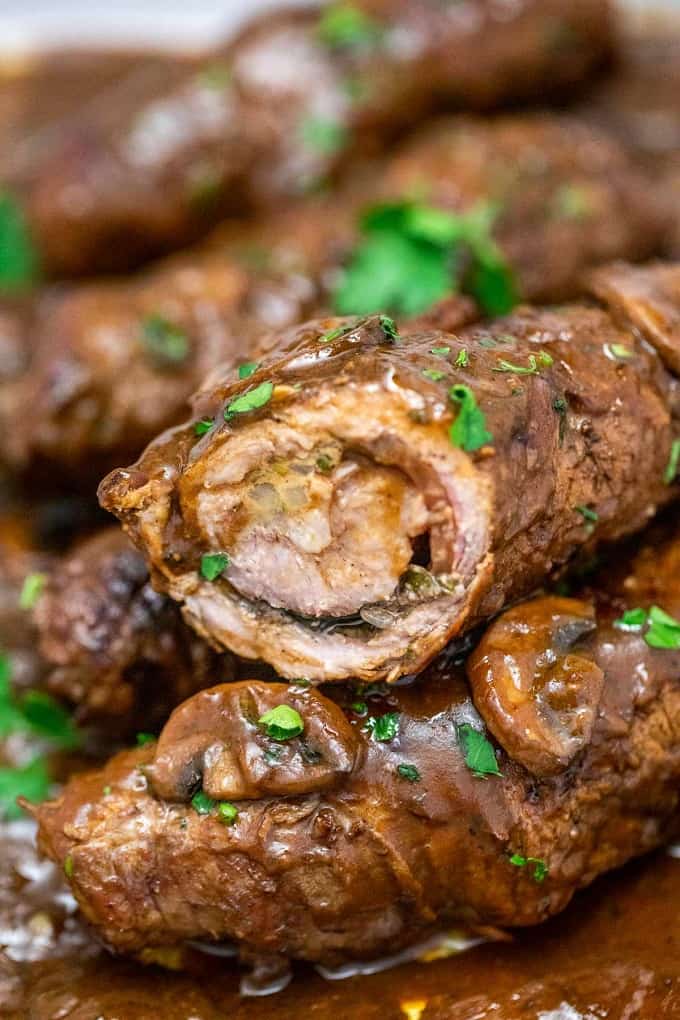 Pin it HERE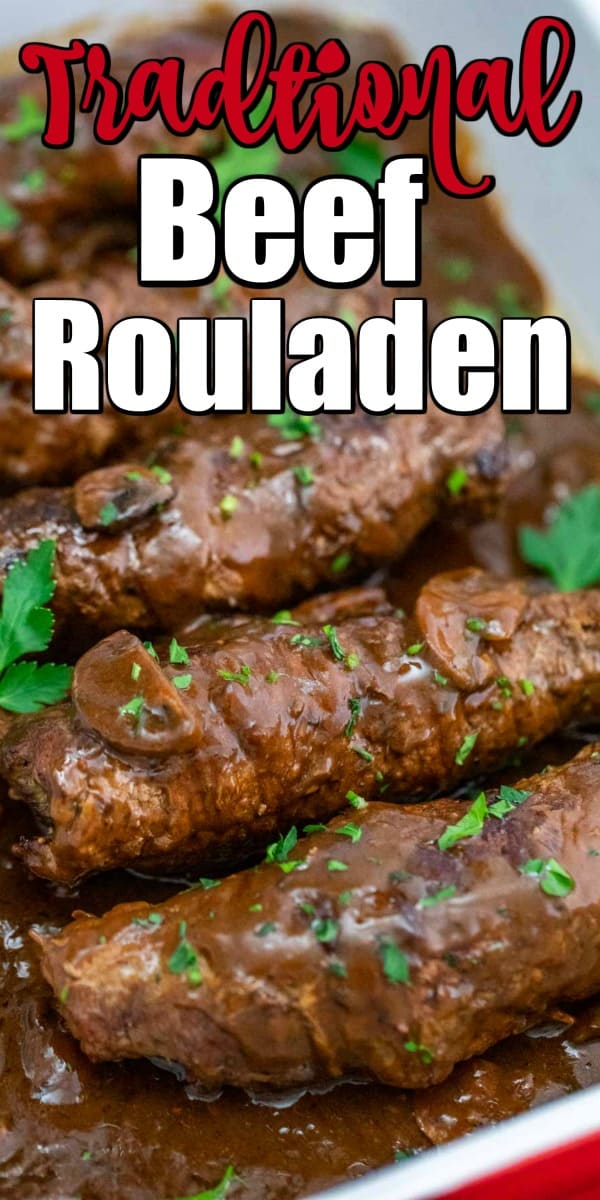 Old pin before new pictures!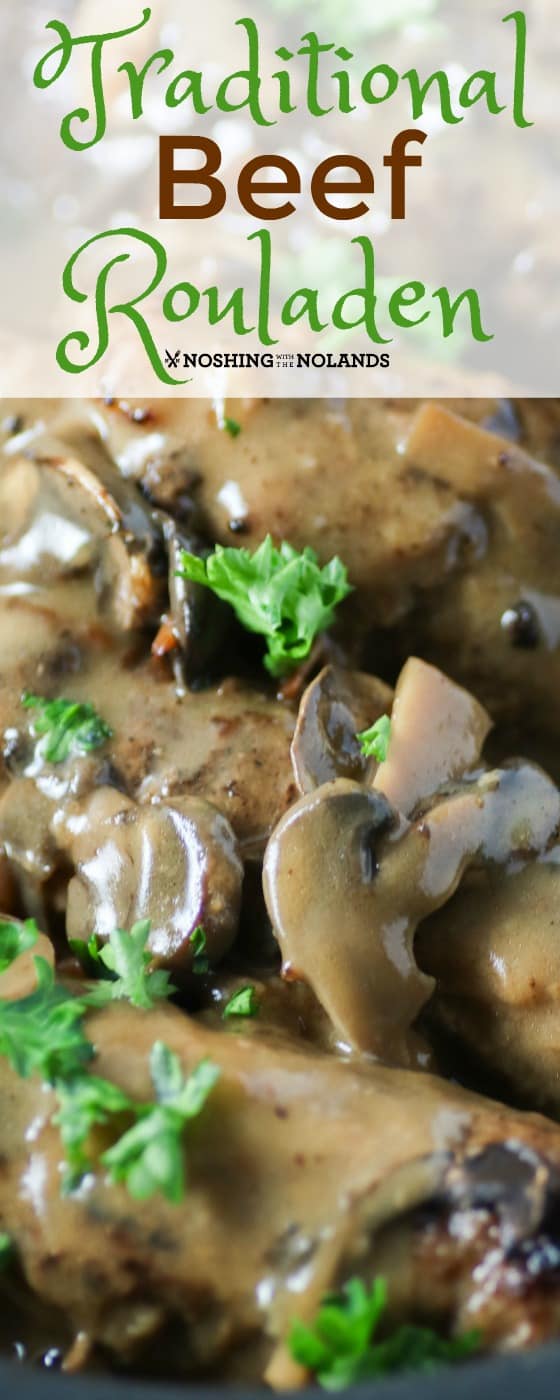 Traditional Beef Rouladen Recipe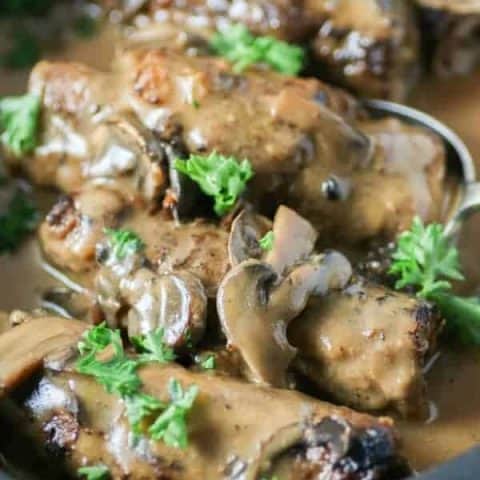 Traditional Beef Rouladen Recipe
Yield: 4-6 servings
Prep Time: 20 minutes
Cook Time: 2 hours
Total Time: 2 hours 20 minutes
A Traditional Beef Rouladen Recipe is pure comfort food and very easy to make. This is a dish that can be served any night of week or splendid for Sunday Supper also.
Ingredients
6 large inside round rouladen
Dijon mustard
1/2 small onion, finely chopped
1/4 cup chopped parsley and more for garnish
6 slices bacon
6 - 1/4 dill pickle (optional)
Salt and pepper to taste
1/3 cup flour
3 Tbsp. butter
3 Tbsp. low sodium soy sauce (not traditional but adds so much flavor)
1 Tbsp. Worcestershire
8 mushrooms, sliced
Gravy
2 Tbsp. flour
2 Tbsp. butter
Instructions
Lay out the 6 slices of meat and brush with Dijon mustard. Lay on a slice of bacon on each, cutting if needed for size. Add the 1/4 pickle spear if using. Sprinkle on the onions and fresh parsley. Season with salt and pepper. Roll up and fasten with a toothpick. Dredge in the flour.
Heat a large saute pan and add the 3 Tbsp. butter. Fry the rouladen until nicely browned on all sides. Cook in batches if needed.
Place in a casserole dish big enough for a single layer. Add water to the saute pan to get the drippings and scrape up, and pour over the rouladen. Add in the low sodium soy sauce, Worcestershire, and additional water to come about halfway up the rouladen. Sprinkle on the mushrooms. Season with salt and pepper. Bake covered in a 325F oven for 1 1/2 hours to 2 hours.
When finished cream the butter and flour together. Remove the rouladen and keep warm. Pour the gravy in a saucepan and heat. Add the flour/butter mixture and whisk to thicken. Adjust seasoning if needed. Let simmer and pour over the rouladen. Sprinkle with parsley and serve.
Nutrition Information:
Yield: 6
Serving Size: 1
Amount Per Serving:
Calories: 188
Total Fat: 14g
Saturated Fat: 7g
Trans Fat: 0g
Unsaturated Fat: 5g
Cholesterol: 37mg
Sodium: 627mg
Carbohydrates: 10g
Fiber: 1g
Sugar: 1g
Protein: 6g