Haluski – Fried Cabbage and Noodles is an easy Polish fried buttery comforting dish recipe that is made from egg noodles and cabbage, which also has little bites of flavorful pancetta added in.
We love traditional comfort food and adore fried cabbage or roasted cabbage when we have it every year for St. Patrick's Day. I wanted to find another use for cabbage as we tend to only make that once a year. Just like our Corned Beef and Cabbage – Slow Cooker recipe. Not sure why, as it is so darn good. Also, try our Stuffed Pepper Casserole for another easy weeknight meal.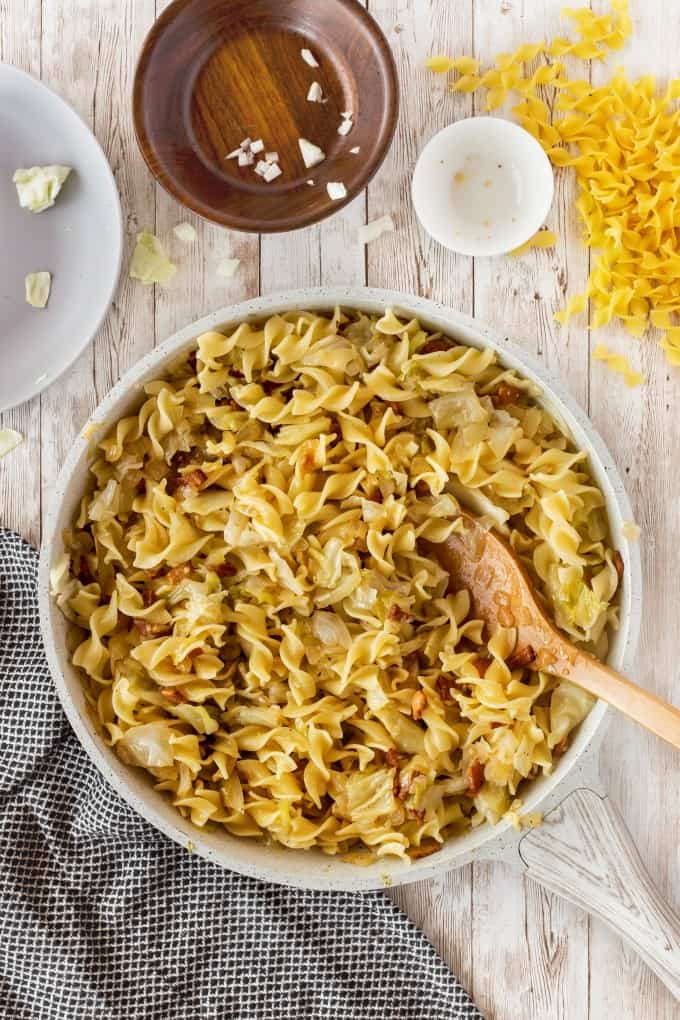 When I found recipes for Haluski I knew this would be a huge hit in our family the second I saw it. I also love that it is a great one-pot comfort meal. Let's dive in and find out what this recipe is all about.
Helpful Items for This Recipe
This post contains affiliate links. As an Amazon Associate, I earn a small portion from qualifying purchases at no extra charge for you.
What is the Origin of Haluski?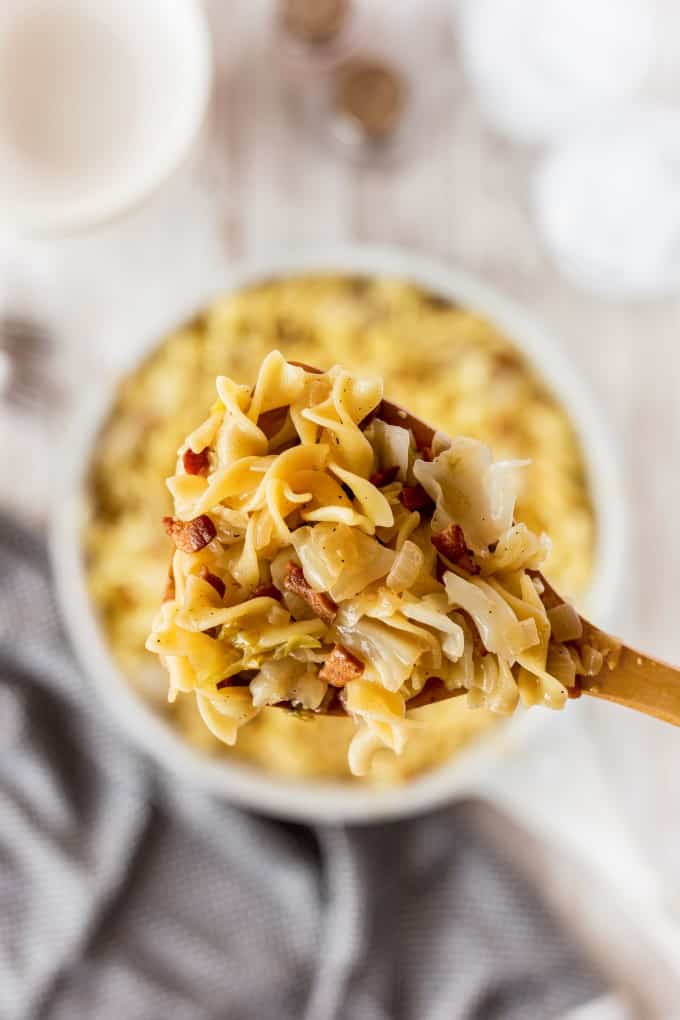 Haluski is a central or eastern European dish, commonly served in Poland, Slovakia and the Ukraine and Hungary.
With no exact foundation to where it originated, it is hard to pinpoint where it came from, but it has just evolved over the years into this amazing, comforting dish.
It was first made with a potato dumpling called Halusky made from flour and potato, made in a Haluskar which has holes that the tiny dumplings drop through into boiling water. This kind of reminds me of Spaetzle, which is of German origins, and we love to make.
I like our easy version today with a big wide egg noodle instead. Not to mention that it is infinitely easier to make, inexpensive, and easy to find egg noodles at any grocery store.
We love using egg noodles in another dish with a Jewish origin called Noodle Kugel. We would make that almost every time we would go to San Diego for some reason, and we all loved it. I will have to share with you that recipe very soon. Let me see if I can dig that one up!
I have also heard people adding in cottage cheese to their Haluski, but now that is making me think that is it going more to the Noodle Kugel side of things.
Have you tried it with cottage cheese? Maybe serve it with sour cream like you would a pierogi. I have heard it being called a lazy pierogi casserole or dish.
What is Haluski?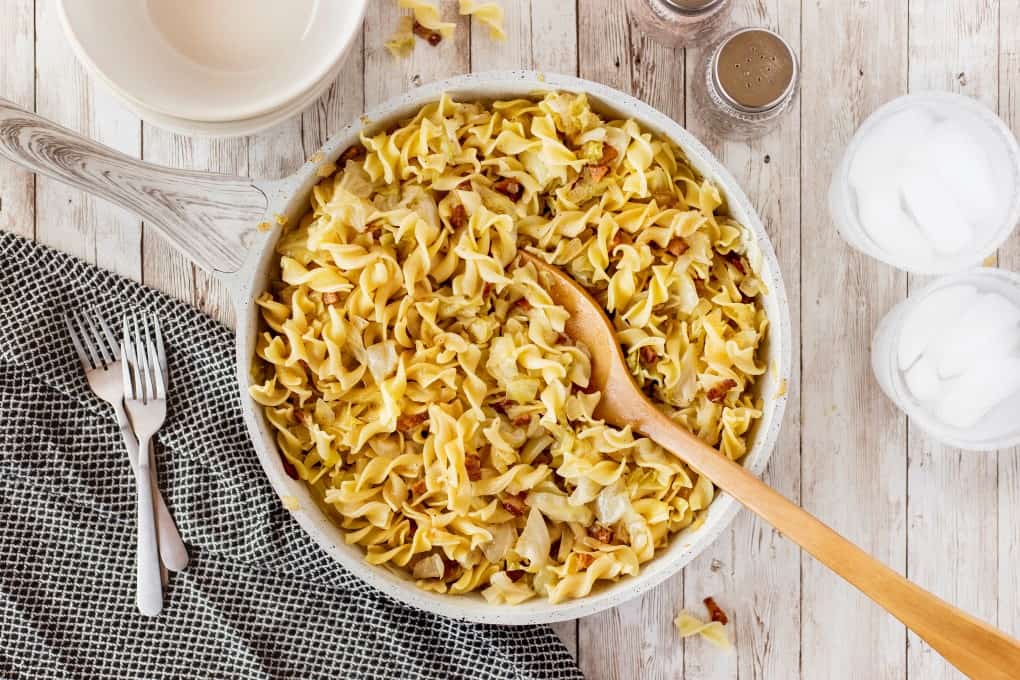 Haluski has simple, homey ingredients that I knew my family would love and I was right, they sure did! As you already know it is cabbage and noodles but what else is added?
Butter, onions, garlic, pancetta and salt with lots of freshly ground black pepper.
This dish will feed a big family with little expense and in such a delicious way. Kids will like it because of the noodles!
Some recipes use bacon or sausage like a kielbasa but I opted for a package of already diced pancetta, which makes my life even easier!! It may not be traditionally used, but oh my, it is the perfect addition. Sometimes you have to go with what you find and what you personally want to add to a recipe too.
How to Make Haluski – Fried Cabbage and Noodles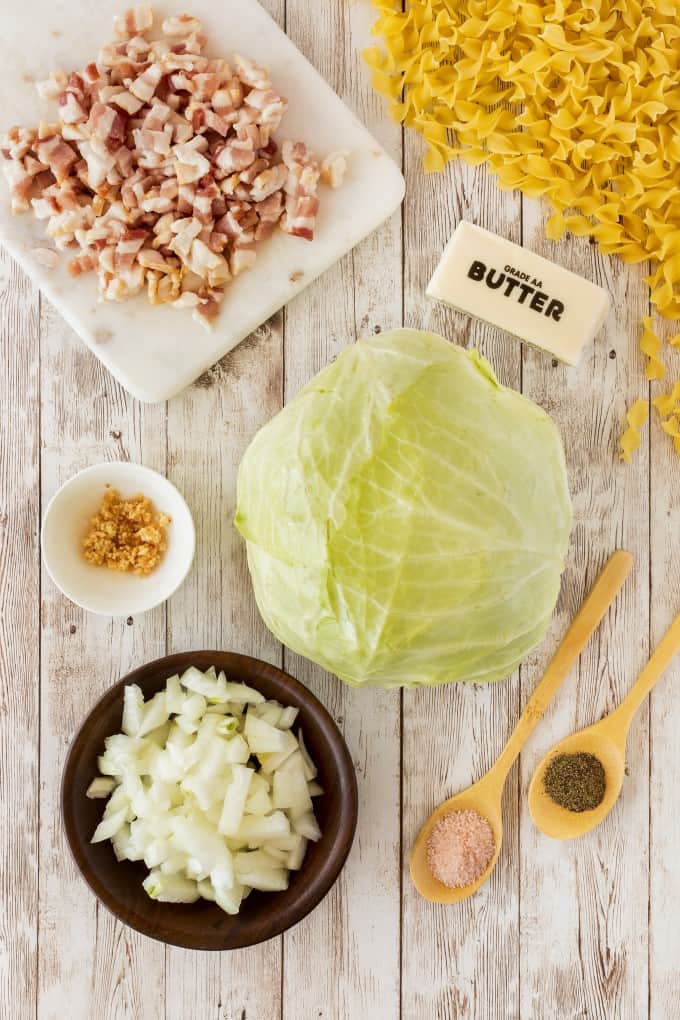 Have at the ready the following ingredients. The recipe is basically one step after the other so to have everything "mis en place" or everything ready and waiting is important.
All ingredients are easily found in any grocery store but are transformed into an amazing dish that I know you will love. It rapidly became one of our favorite side dishes or even served as a main.
Ingredients
Pancetta

Butter

Onions

Garlic

Green cabbage

Kosher salt

Freshly ground pepper

Egg noodles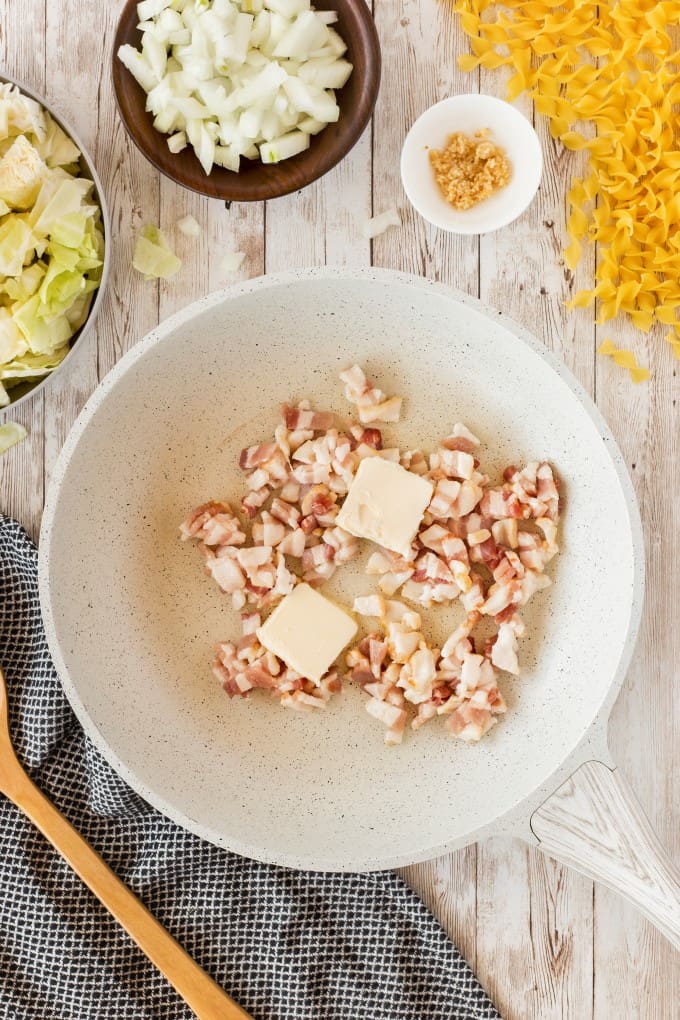 Have your pancetta diced, the garlic minced and the onion chopped and ready to go.
How do you cut cabbage for Haluski? The cabbage is simply cored and cut into bite-sized chunks. Pretty easy stuff so far! Right?
In a large saute pan, skillet or large Dutch oven over medium heat cook the pancetta in 2 Tbsp. melted butter until just crisp.

Don't drain the bacon fat but add in the onions and garlic to the pan and saute for 2 minutes until they start to get tender, stirring occasionally.
Add in the cabbage, salt, and pepper to taste. Stir well and then place a lid on for 10-15 minutes.
Meanwhile, cook the noodles according to package directions and drain.
Add the noodles to the cooked cabbage mixture and the remaining butter and stir. Serve with more freshly ground pepper.
It is so good peppery so don't be shy with it. Also don't try to skimp on lots of butter or the bacon grease as this is what makes a haluski recipe so good.
This is in no way a diet dish but pure comfort indulgence. I love the combination of the fried cabbage and onions with the pancetta, noodles and seasonings.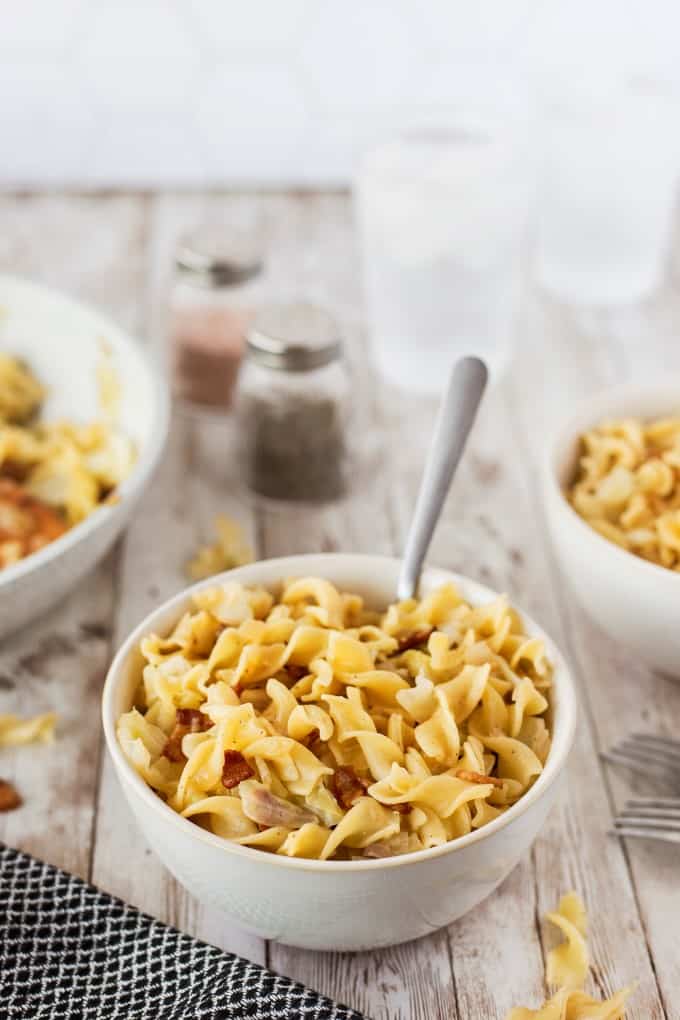 What to Serve with Haluski?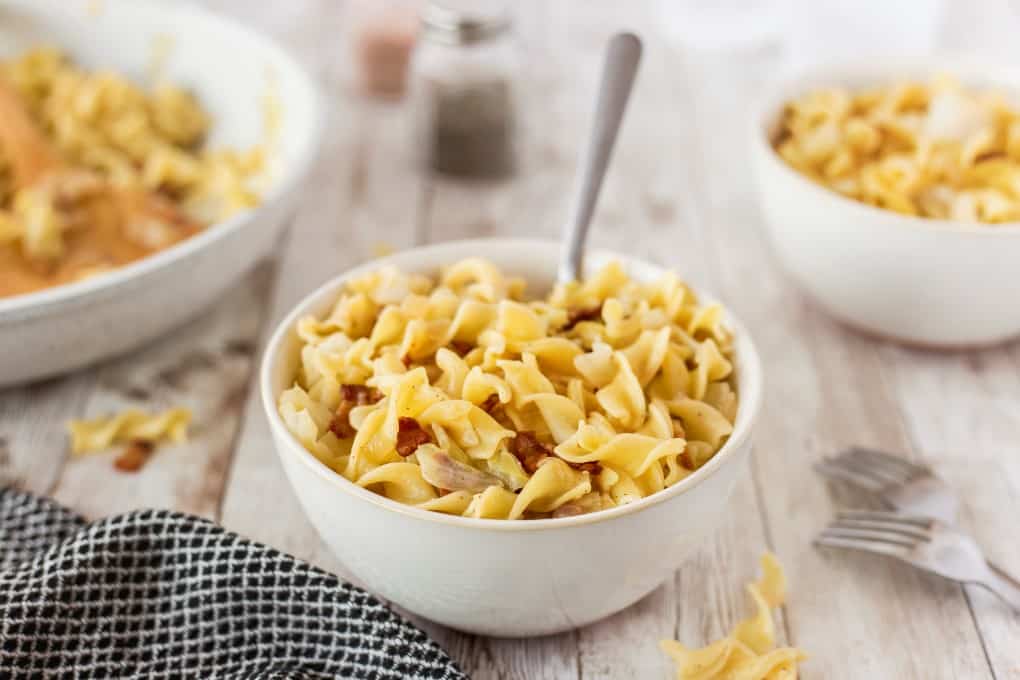 Haluski can seriously be a meal onto itself with a simple salad or part of a bigger picture. As mentioned before, maybe serve it with a little sour cream on the side. That would add in some tang to the dish.
If you want to have a feast add Haluski to Cabbage Rolls, Perogies, Smoked Kielbasa, Potato Pancakes, or just Potatoes, the list can go on and be as traditional as you like or what you like.
We love Polish foods so this dish was easy to enjoy! If you have never tried fried cabbage before you need to as this vegetable is transformed when it gets browned or has a little char on it. It is the best!
We so enjoy recipes like this Roasted Cabbage with Blue Cheese Sauce. Another great use of cabbage for a wonderful side dish. Cabbage is inexpensive but yet can still make a very elegant side dish like this recipe. I had this in a restaurant once and actually ordered it again for dessert. Yup, it was that good, kind of life changing! I love experiences like that.
Can Haluski Be Frozen?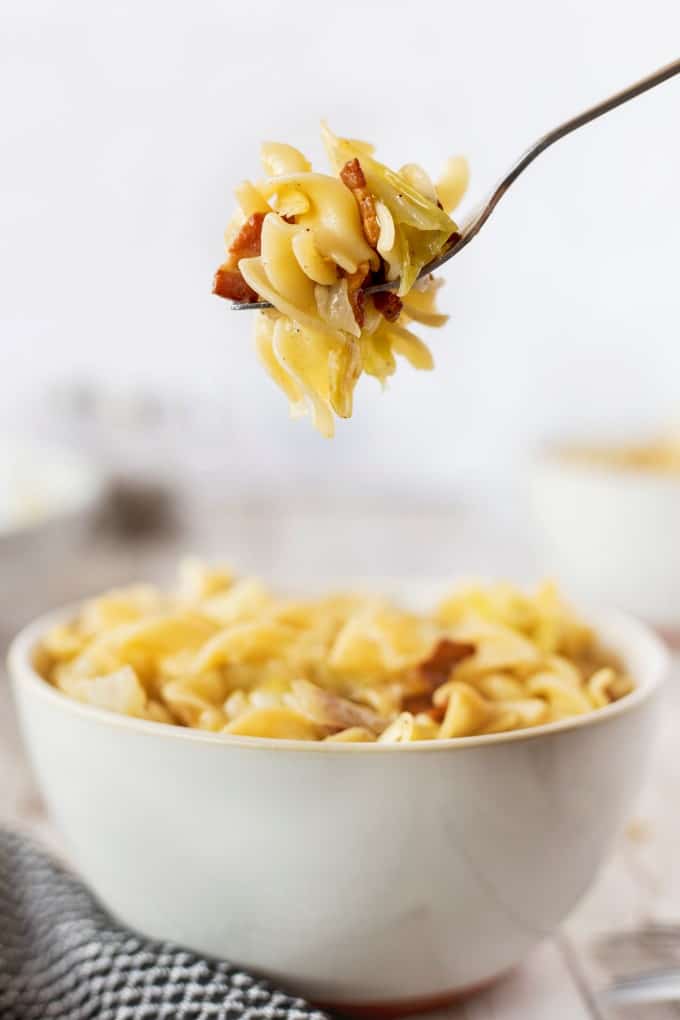 Can you freezer Haluski? As a leftover, I would certainly freeze it. Wrap it up carefully with plastic wrap and then foil and it should keep in the freezer for 2-3 months.
I don't think I would make Haluski ahead of time to freeze and then serve though. This is an easy dish and best made hot and fresh.
Other items freeze better for making ahead like pierogies, cabbage rolls, etc. I have made them many times and frozen them with great success.
Enjoy this recipe and put it in your family rotation of favorites.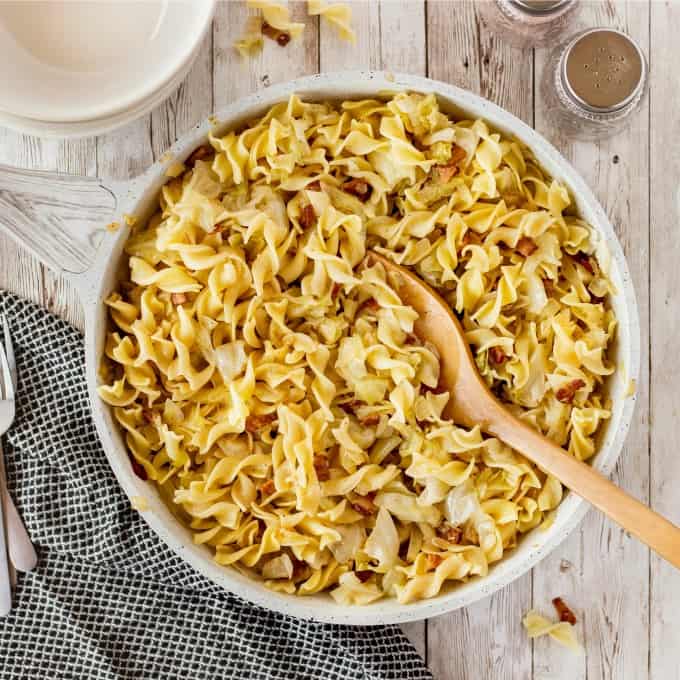 Pin it HERE!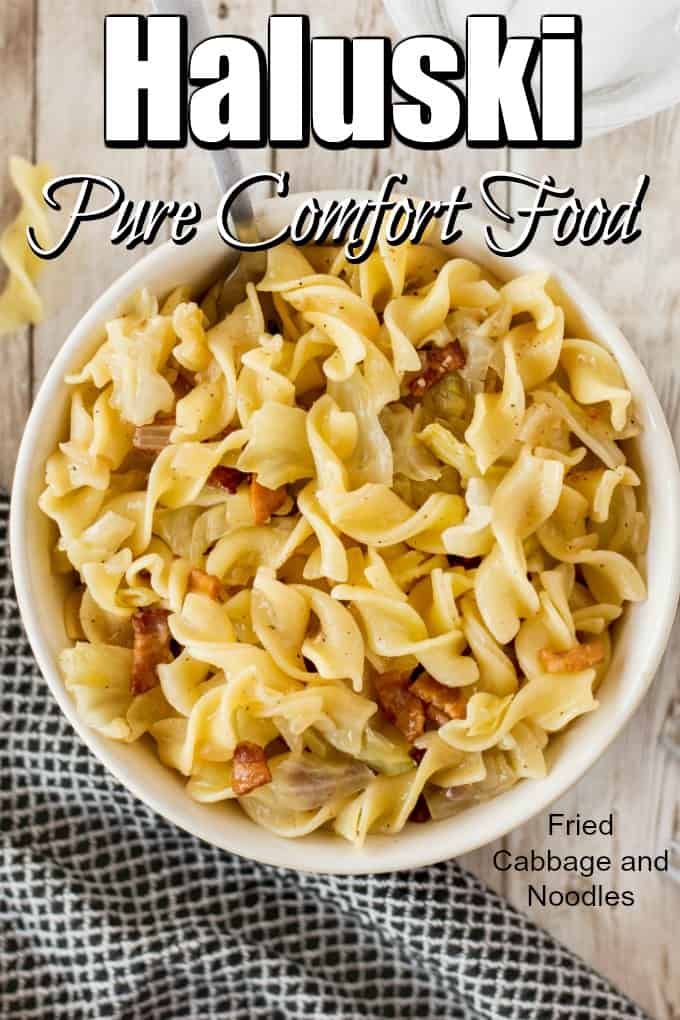 Pin it HERE!!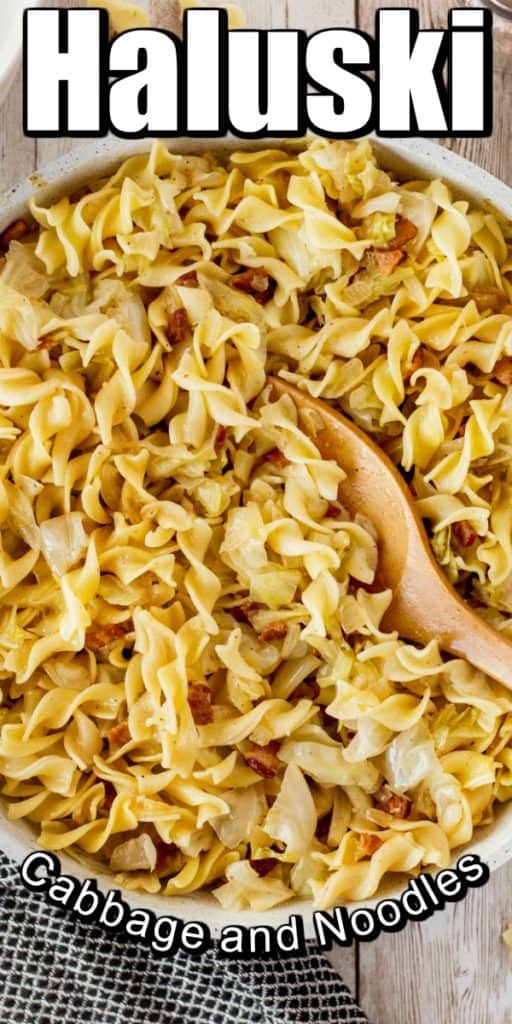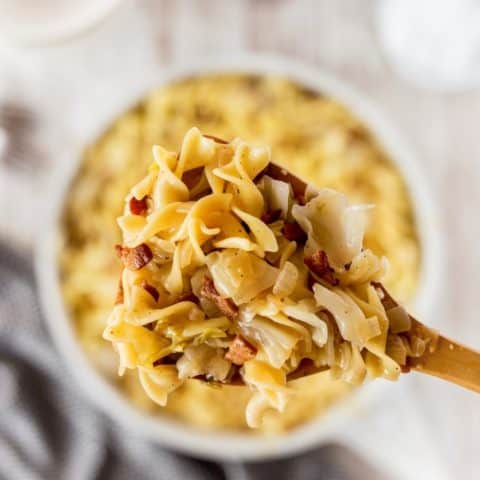 Haluski - Fried Cabbage and Noodles
Yield: 4 Servings
Prep Time: 10 minutes
Cook Time: 25 minutes
Total Time: 35 minutes
This pure comfort food recipe for Haluski is made with fried cabbage, egg noodles, pancetta, and lots of butter and pepper. Your family will be running to the table to enjoy this amazing meal.
Ingredients
150 gms. (5 oz.) pancetta, diced small
4 Tbsp. butter, divided
2 cups onions, diced
1 tsp. garlic, minced
2 lbs. green cabbage, cored and cut into bite-sized chunks
1-2 tsp. Kosher salt
Freshly ground pepper
10 oz. egg noodles
Instructions
In a large saute pan or skillet over medium heat cook the pancetta in 2 Tbsp. butter until just crisp.

Add the onions and garlic to the pan and saute for 2 minutes until they start to get tender. Add in the cabbage, salt, and pepper to taste. Stir well and then place a lid on for 10-15 minutes.

Meanwhile, cook the noodles as per the package and drain.

Add the noodles to the cooked cabbage and the remaining butter and stir. Serve
with more freshly ground pepper.


Recommended Products
As an Amazon Associate and member of other affiliate programs, I earn from qualifying purchases.
Nutrition Information:
Yield: 4
Serving Size: 1
Amount Per Serving:
Calories: 304
Total Fat: 13g
Saturated Fat: 8g
Trans Fat: 0g
Unsaturated Fat: 4g
Cholesterol: 51mg
Sodium: 1279mg
Carbohydrates: 42g
Fiber: 7g
Sugar: 12g
Protein: 8g
Recipe calculation was provided by Nutritionix and is an estimation only. If you need nutritional calculations for medical reasons, please use a source that you trust.