White Chocolate Macadamia Nut Cookies are soft and chewy golden baked treats packed full of dreamy white chocolate chips and crunchy macadamia nuts. They are the perfect addition to any holiday cookie platter.
Christmas is coming! It's never too early to start thinking about all the wonderful cookies you'll be baking this holiday season.
Noshing with the Nolands is a treasure trove full of sweet yuletide treats such as Lemon Raspberry Jam Thumbprint Cookies and the ever popular Best Fruitcake Cookies. There's plenty more where that came from, just type 'cookies' into the search bar!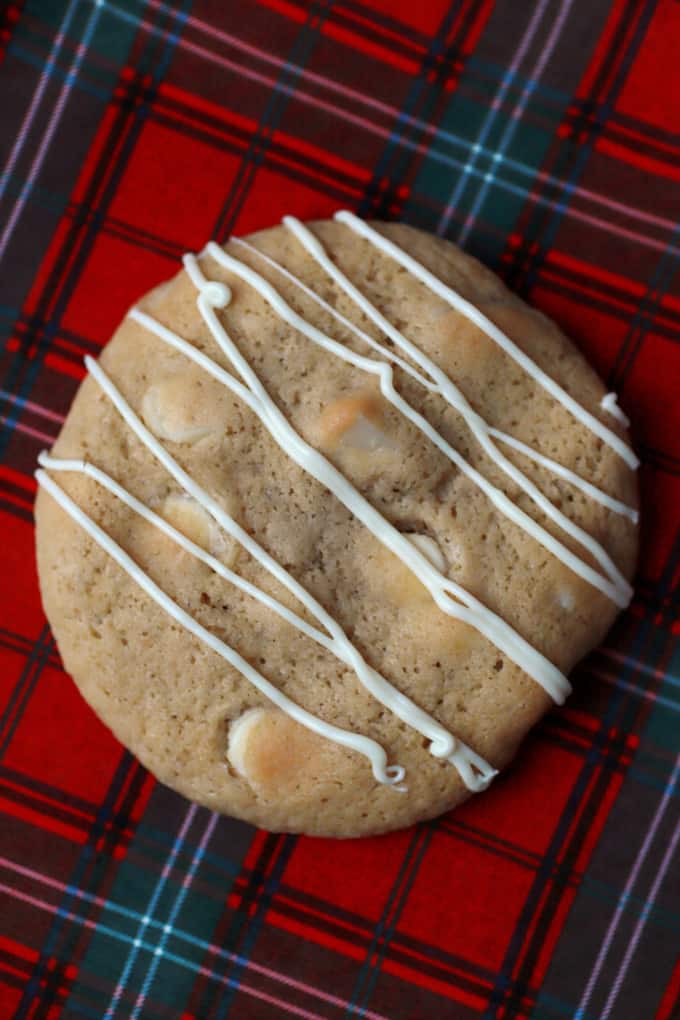 Greetings! It's Bernice from dishnthekitchen.com and I come to you to bringing these delicious little morsels of joy! These White Chocolate Macadamia Nut Cookies were such a hit at our house, I just had to share them on NWTN.
There's nothing I love more than baking up a storm for the holidays. I like to mix in old favourites (the ones I bake every year) such as these super easy Cranberry Bars with new, exciting flavours like Nanaimo Truffles.
Helpful Items for This Recipe
This post contains affiliate links. As an Amazon Associate, I earn a small portion from qualifying purchases at no extra charge for you.
Baking Sheet Set with Cooking Racks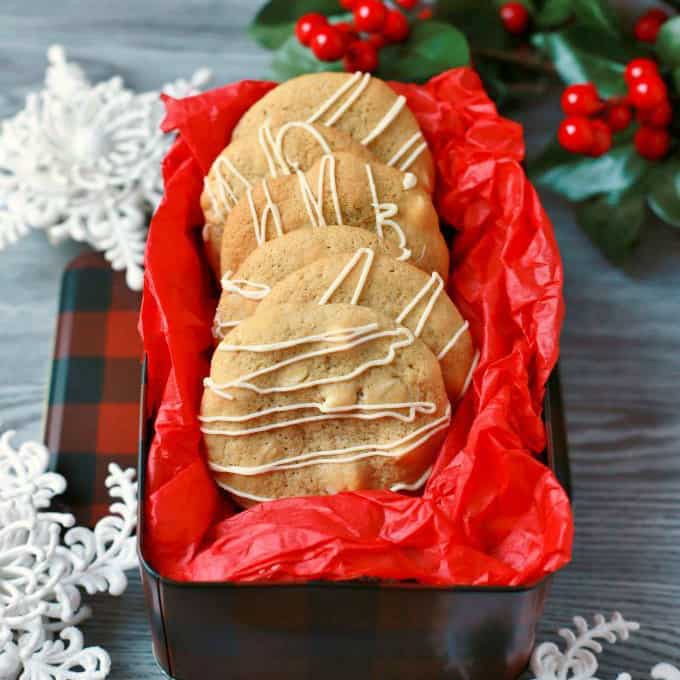 White Chocolate Macadamia Nut Cookies
For the ultimate cookie treat, it's a great idea to think of these White Chocolate Macadamia Nut Cookies as an elevated version of the classic Chocolate Chip Cookie.
Let's talk texture. If you are after a soft and chewy cookie with golden crispy edges, this cookie is for you! Add to that the creamy white chocolate chips and the characteristic crunch of macadamia nuts and this cookie is a real winner in the texture department.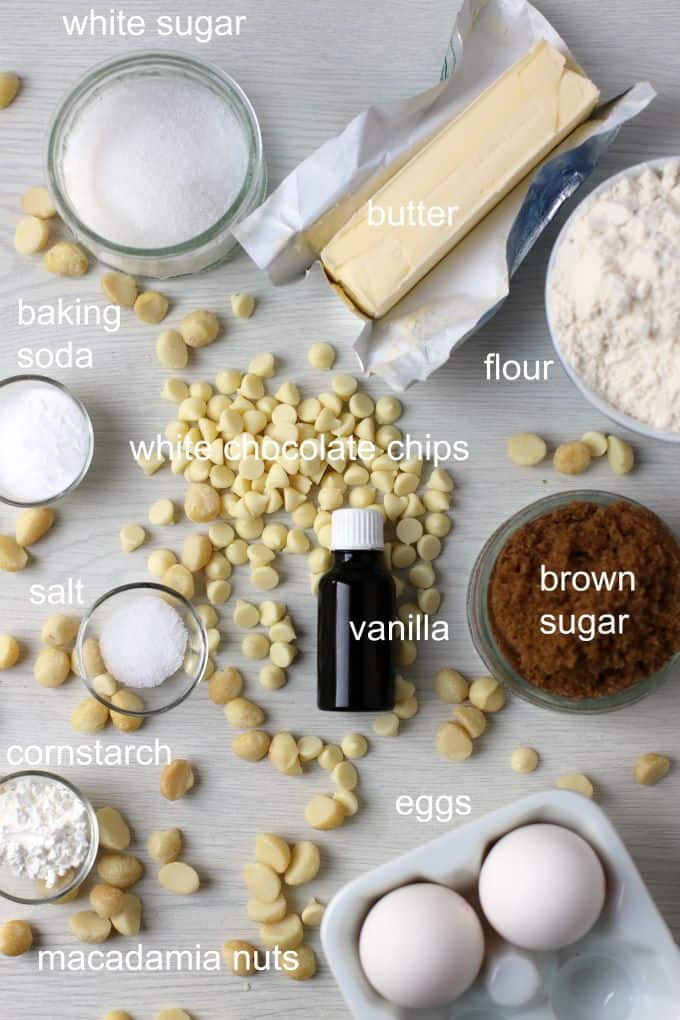 When it comes down to it, it's the classic flavour of a White Chocolate Macadamia Nut Cookie that is the most important factor for cookie bakers and eaters.
This cookie is sweet, but not overly sweet, which allows for the creamy sweet white chocolate chips to shine through. Next, this buttery cookie is kissed with a hint of classic vanilla. What a legendary combination.
Finally, the macadamia nuts do more than just add crunch. They bring a very subtle nuttiness to the cookie's flavour profile.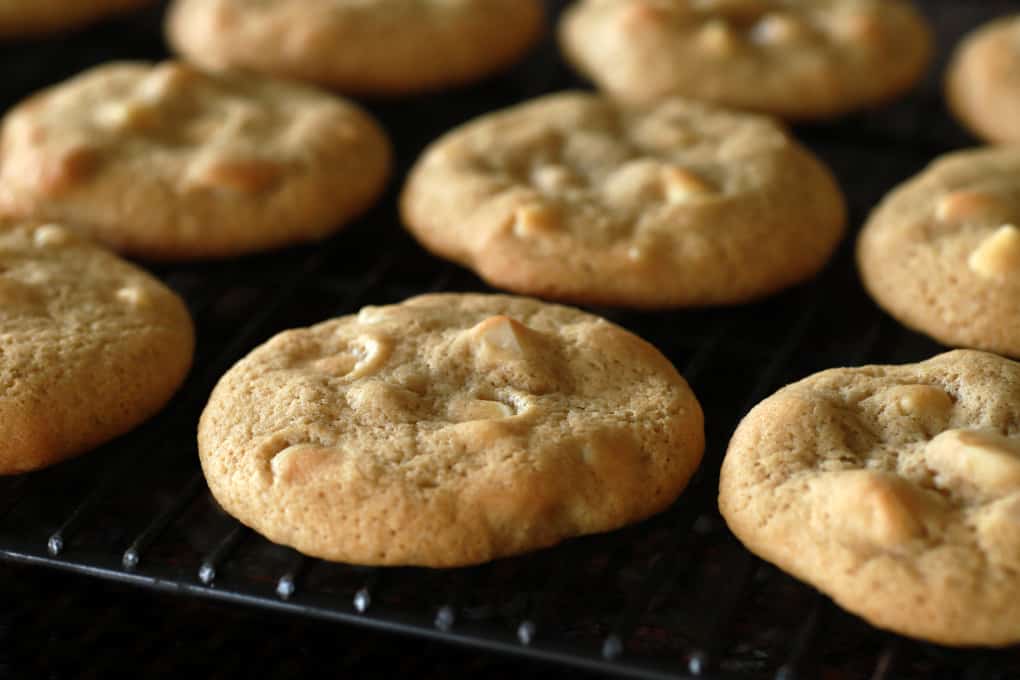 The Ultimate Cookie Ingredients
This is an understated classic cookie made with basic pantry ingredients and a few special treats that elevate it to a whole new level.
Here are some of the basic ingredient tweaks that make these cookies extra special:
Brown and White Sugar – A combination of sugars, rather than just using brown or white sugar, gives a mellow, slightly caramel flavouring that doesn't overpower the other flavours in the cookie.
Unsalted Butter – In general, it is a good idea to bake with unsalted butter because it lets the sweetness of the butter shine through and allows you to control the overall flavour in the recipe.
For this recipe, use room temperature or softened butter (not melted). It is a lot easier to cream the butter and sugar together when the butter is soft.
Eggs – Eggs in baking add moisture (which leads to leavening) and structure to baking. Since these cookies are meant to be only slightly risen, I have reduced the egg measurement to one egg plus an egg yolk. Two whole eggs will result in extra puffy cookies.
Use room temperature eggs for this recipe. Leave eggs on the counter for a few hours OR allow cold eggs to warm up in a bowl of hot water for 5 minutes. I do this a lot because I can never remember to take them out beforehand.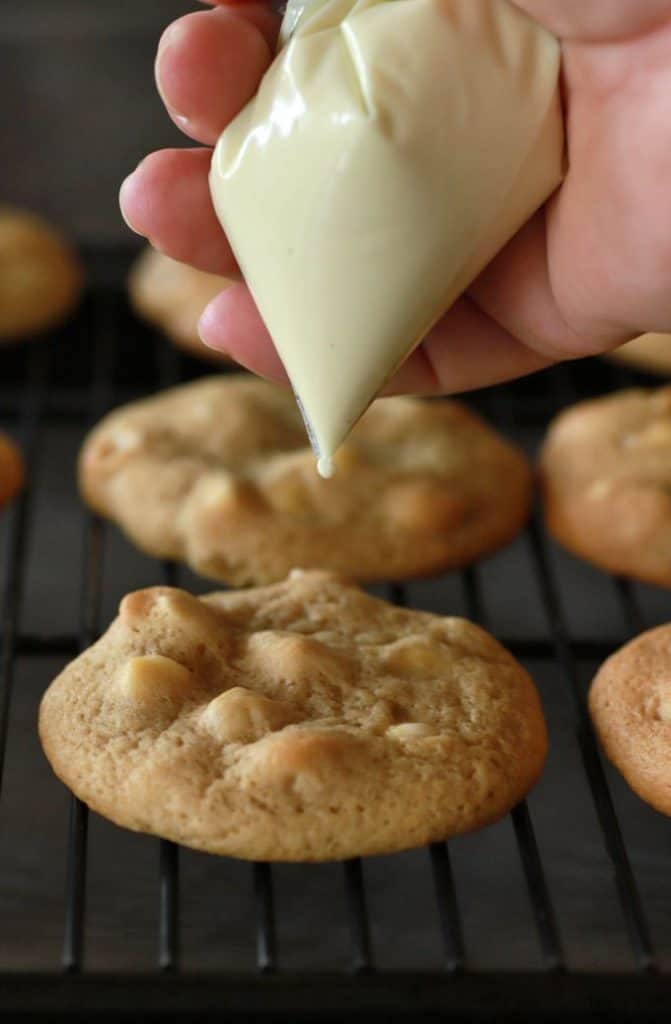 Cornstarch – When added to baking such as cookies, cakes, and shortbread, cornstarch helps to create a more tender crumb. Special thanks to Sally's Baking Addiction for this awesome baking tip!
Special Ingredients
Macadamia Nuts – Salted or unsalted, the choice is up to you. If you like the added 'pop' of salt with sweet (think salted caramel) then add in salted macadamias.
Nutmeg – Do you love the flavour of freshly ground nutmeg in egg nog? Adding it to these cookies creates that special holiday flavour profile. However, try to avoid using 'last year's nutmeg' and spring for either a new tin of this intense spice. Better yet, source whole nutmeg and purchase a tiny grater. Your holiday recipes will thank you for it!
Dried Cranberries – These are not pictured or listed in the recipe, however some bakers like to add dried cranberries to White Chocolate Macadamia Nut Cookies. They bring a more 'sweet and sour' flavour profile to these cookies.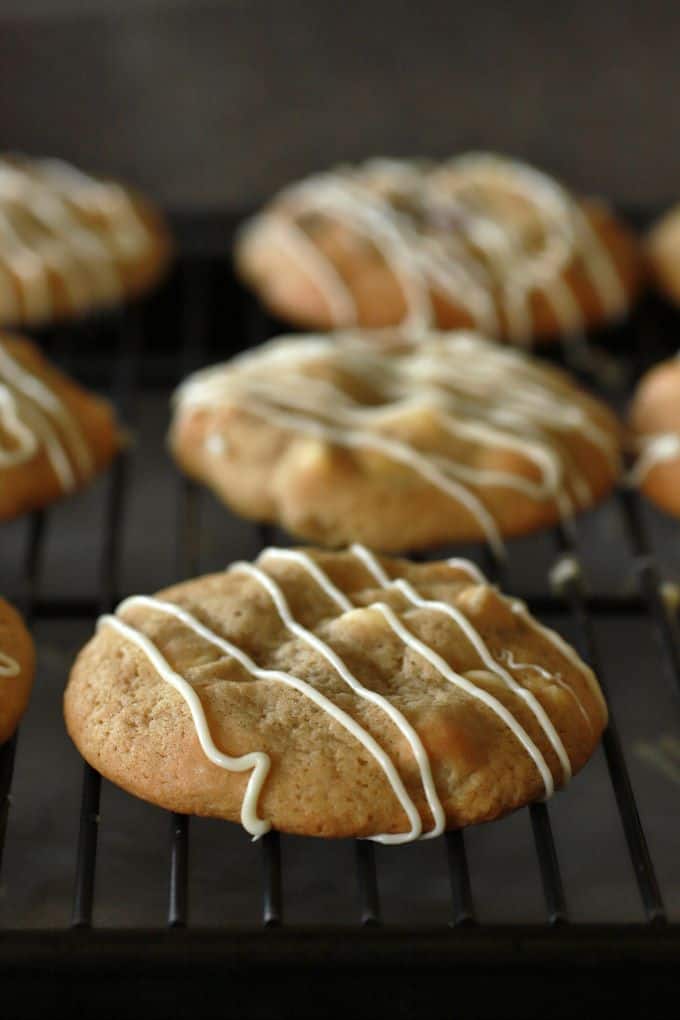 Ingredients
unsalted butter
brown sugar
white sugar
eggs
vanilla
cornstarch
baking soda
salt
all purpose flour
white chocolate chips
macadamia nuts
fresh ground nutmeg (optional)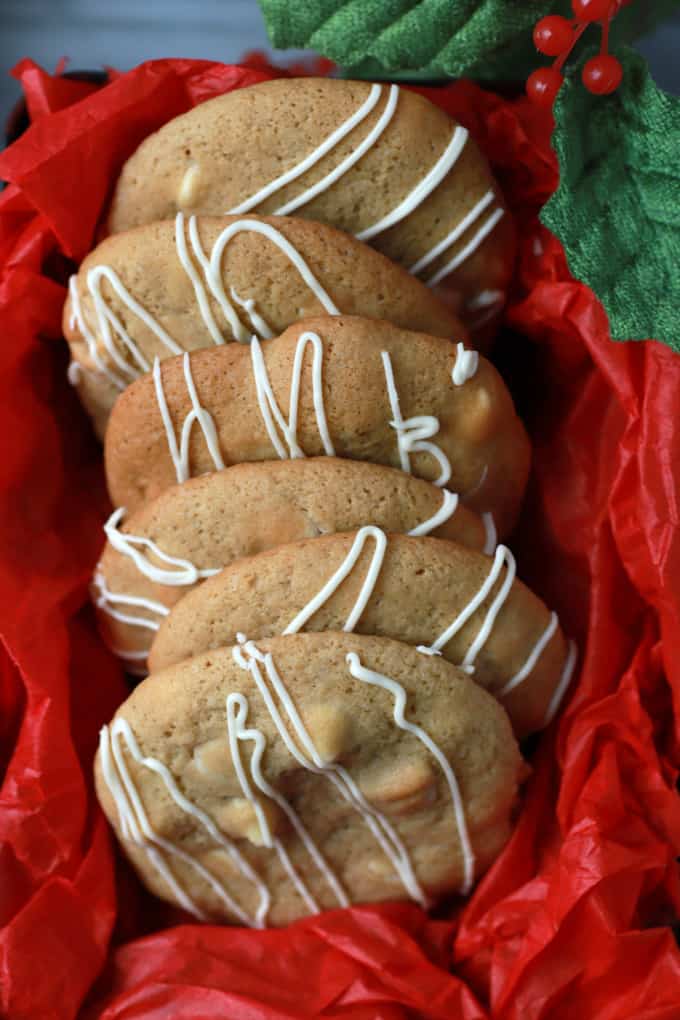 How to Make White Chocolate Macadamia Nut Cookies
Begin baking these cookies by preheating the oven to 350 F and lining baking sheets with parchment paper or silicone baking sheets.
Let's mix up those cookies! Break out the stand mixer, attach the paddle, and cream the softened butter and sugars together for several minutes until you see a textural change. This step is important because it whips air into the butter and gives the cookies structure.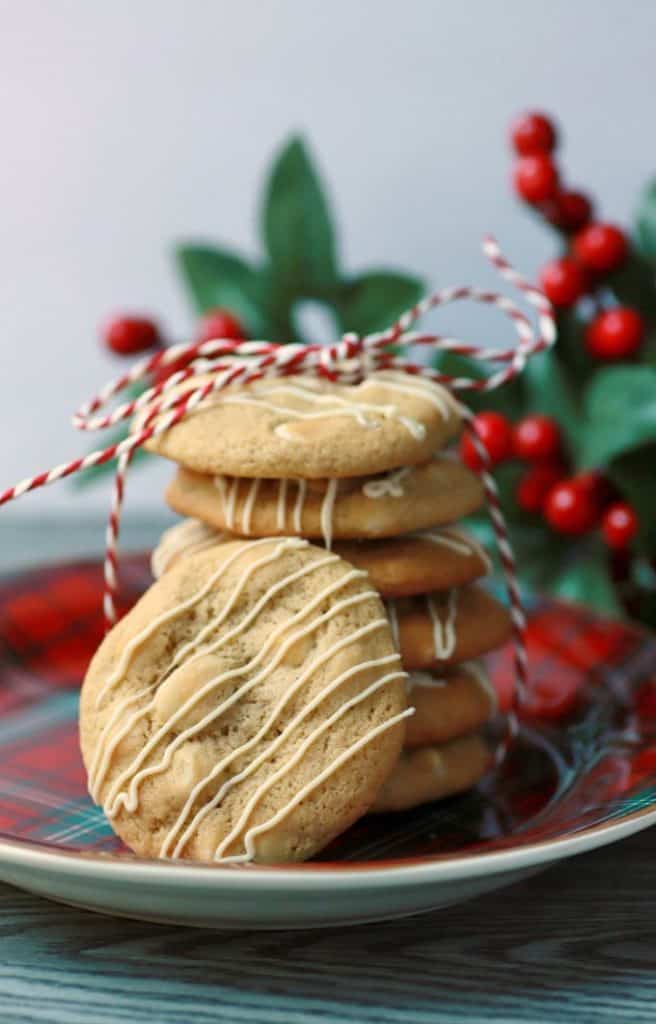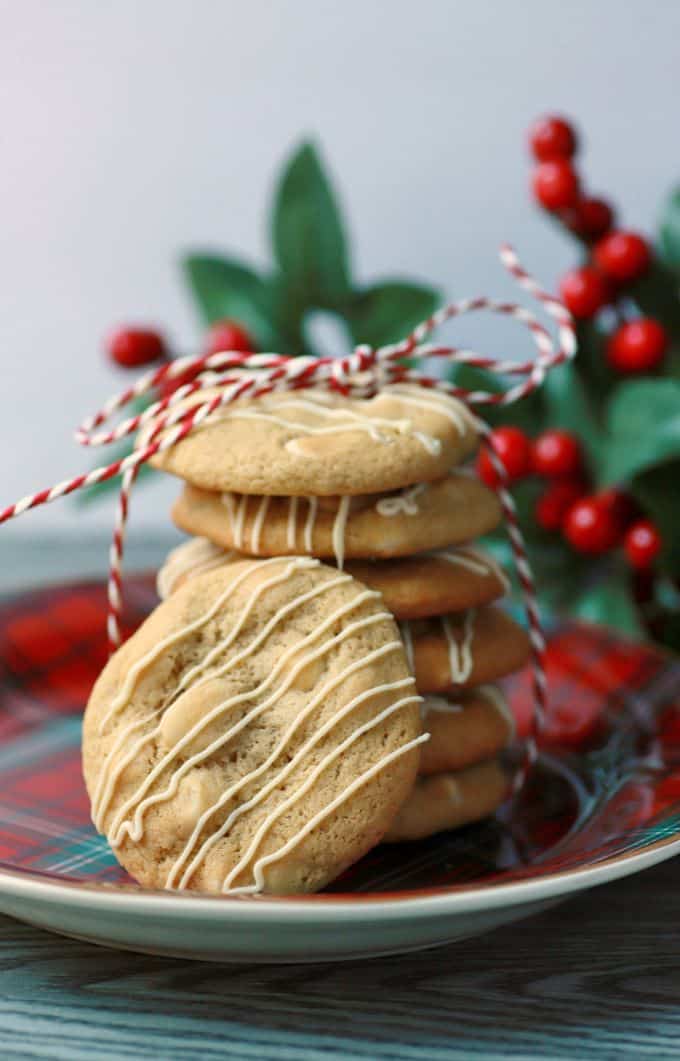 With the mixer running, add the egg (plus another yolk) then the splash of vanilla extract.
Whisk all of the dry ingredients (flour, baking soda, salt, cornstarch, nutmeg) together in a separate bowl then gradually add them to wet ingredients, on the lowest speed. Scrape down the sides a few times to ensure all ingredients are mixed uniformly.
Remove the bowl from the stand mixer and mix in the white chocolate chips and macadamia nuts by hand.
How to Bake Soft and Chewy Cookies
Since we are aiming for these cookies to spread out, revealing the glorious chunky additions of white chocolate chips and macadamia nuts, we will skip chilling the cookie dough.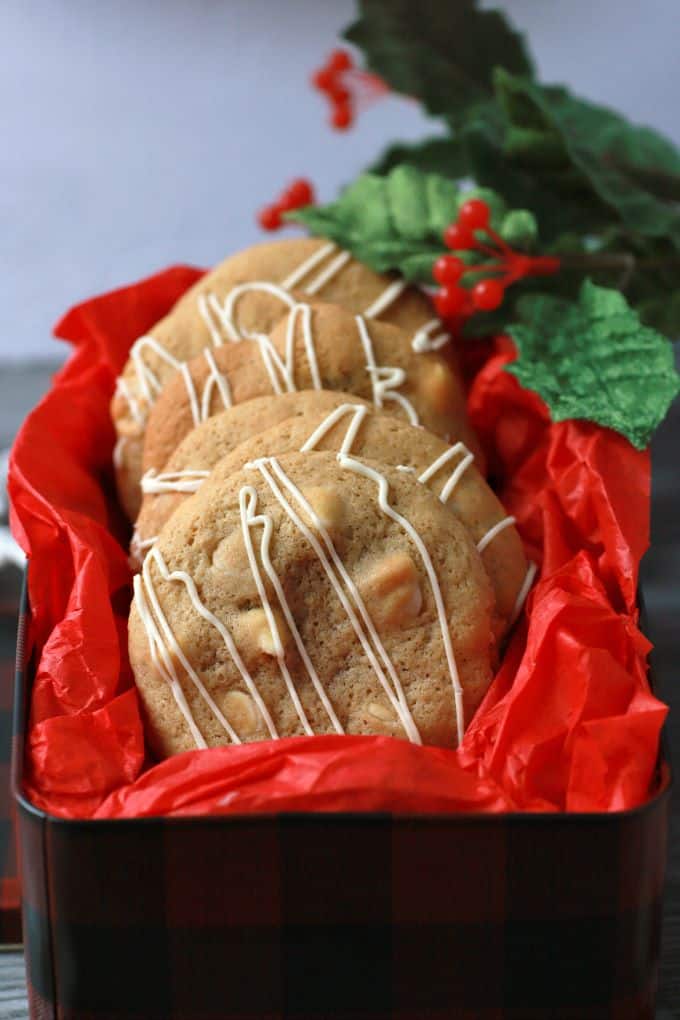 Instead, scoop up a heaped tablespoon of cookie batter and roll it into a ball with your hands. Evenly space 12 cookies on a parchment lined cookie sheet. The batter will be quite sticky, so if you like, you can quickly moisten your hands. This helps to prevent the batter from sticking to your hands.
Before placing in a 350 F oven, flatten the dough balls slightly with the palm of your hand.
Bake for 10-12 minutes, depending on the efficiency of your oven. To ensure the cookies are soft and chewy, do not overbake! In fact, with this cookie, it is best to under bake it. We like to remove them from the oven once the edges begin to turn to a golden brown colour.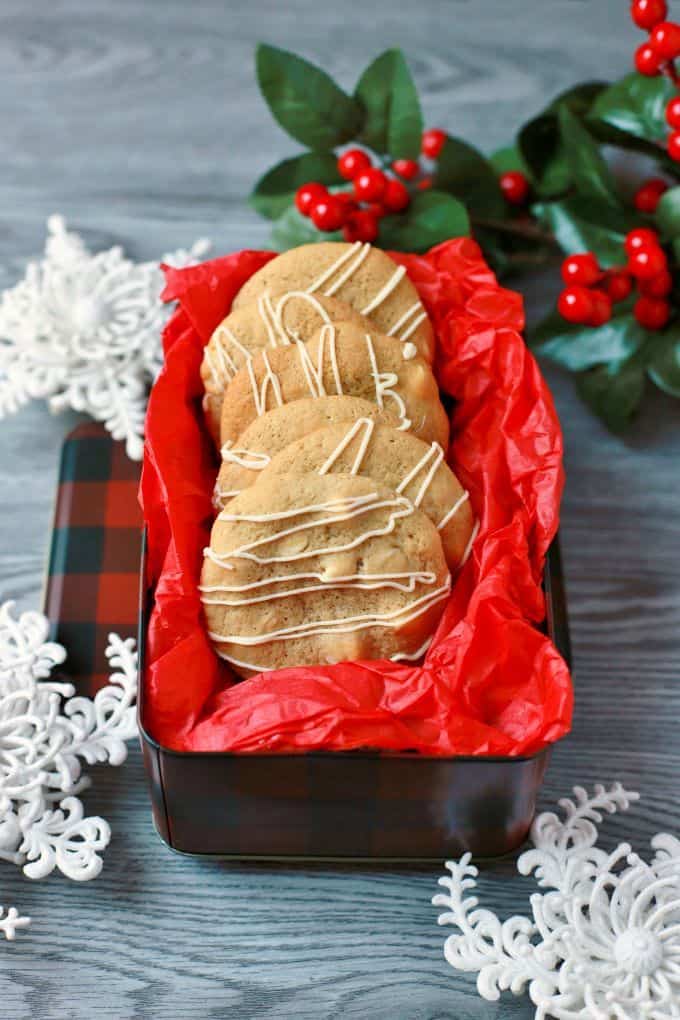 Do the Drizzle fo' Shizzle
Besides the large chunks of white chocolate and macadamia nuts, these cookies are quite plain to look at. For maximum cookie tray impact, dress them up with a simple white chocolate drizzle so they turn out perfectly.
The drizzle is so easy to do. Place 1/2 cup white chocolate chips in a glass measuring cup and microwave for 30 seconds. Remove, stir, and repeat if necessary.
Place the melted white chocolate in a sturdy medium freezer bag and snip a very tiny bit off of one corner. Remove the air from the bag and seal. Press the bag to migrate the chocolate to the snipped corner, then twist the bag just above the level of the white chocolate.
Drizzle the white chocolate in a smooth side to side motion over the completely cooled cookies. Allow the white chocolate to harden for a few hours before packaging.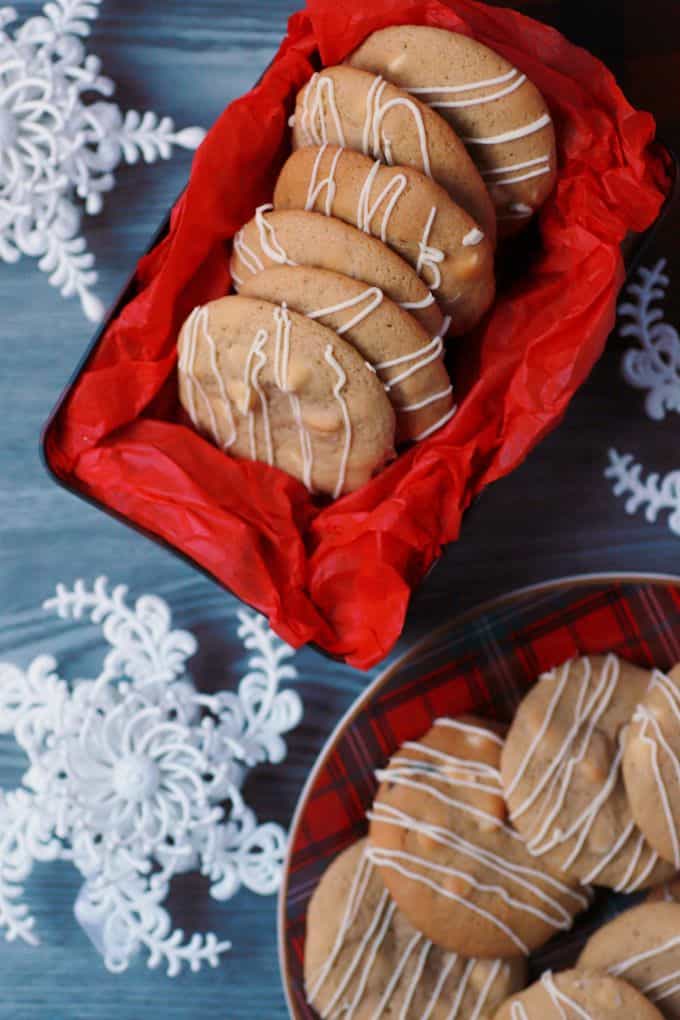 How to Store White Chocolate Macadamia Nut Cookies
Store the White Chocolate Macadamia Nut Cookies in a cookie jar or tin for up to a week…which makes them a great option for sending in a Christmas cookie exchange.
They freeze well too, which makes them a great 'make ahead' Christmas cookie. Just make sure they are in an airtight container so they don't end up tasting like 'freezer'.
Pin it HERE!!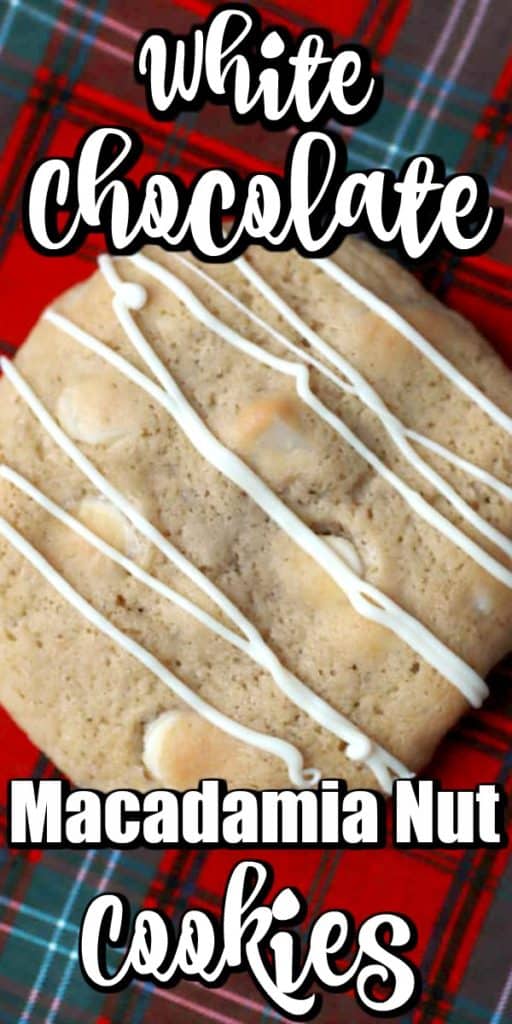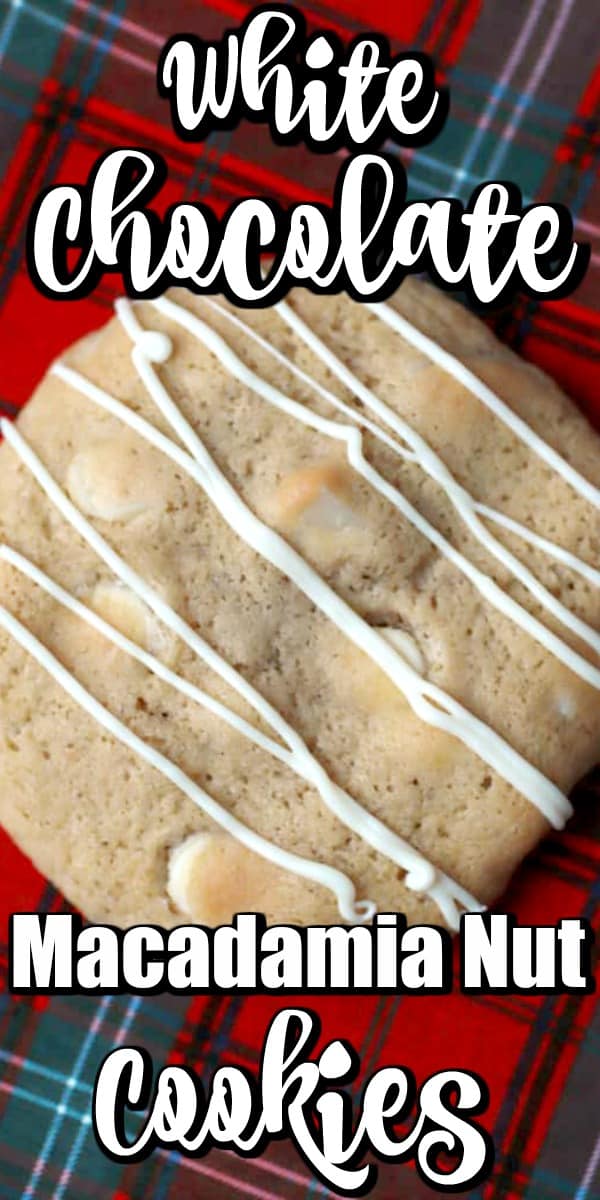 Pin it HERE!!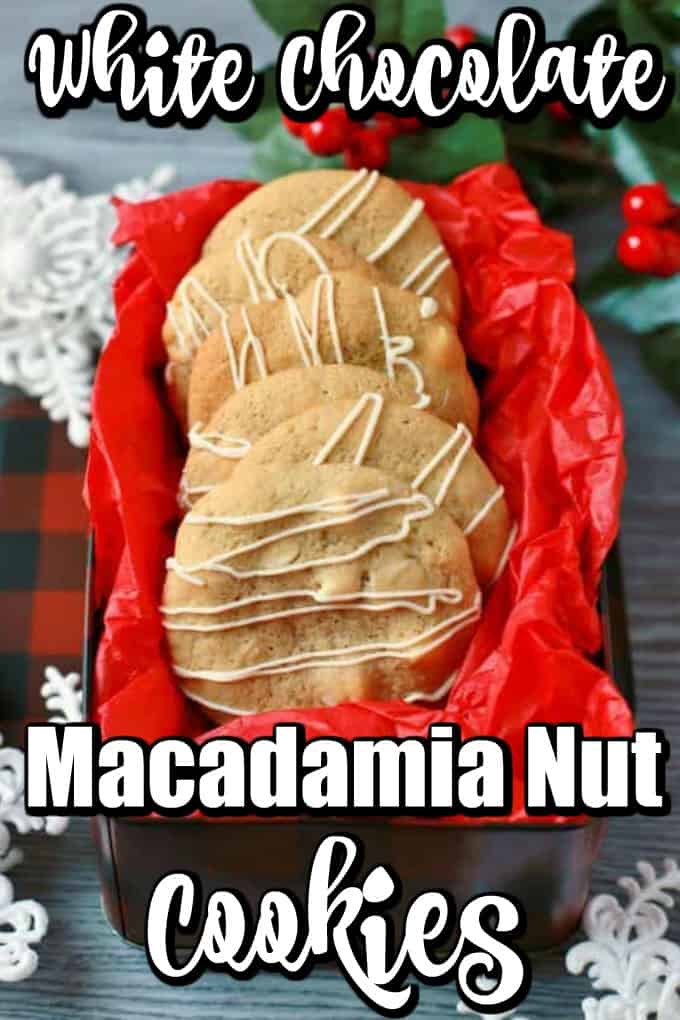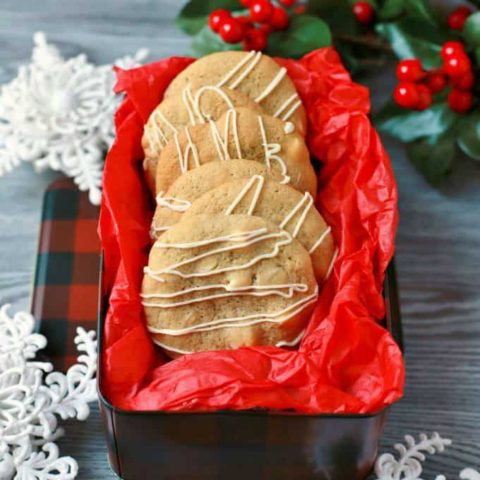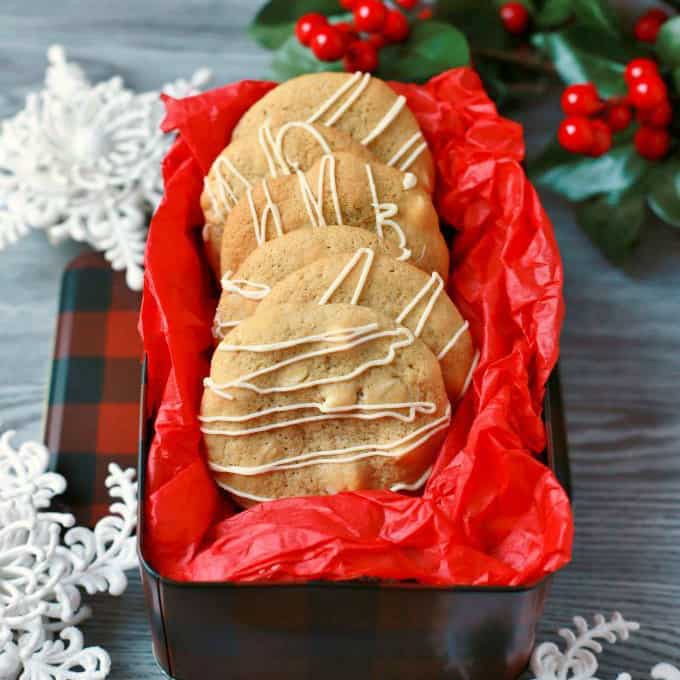 White Chocolate Macadamia Nut Cookies
Yield: 24 cookies
Prep Time: 20 minutes
Cook Time: 24 minutes
Total Time: 44 minutes
White Chocolate Macadamia Nut Cookies are soft and chewy golden baked treats packed full of dreamy white chocolate chips and crunchy macadamia nuts. They are the perfect addition to any holiday cookie platter!
Ingredients
1/2 cup unsalted butter; room temperature
1/2 cup brown sugar
1 egg plus one yolk
1/2 cup white sugar
1 tsp vanilla extract
1 1/2 cups flour
1 tsp baking soda
1/2 tsp salt
1/4 tsp fresh ground nutmeg (optional)
1 tsp cornstarch
1/2 cup white chocolate chips
3/4 cup macadamia nuts
Instructions
Pre-heat oven to 350 F. Line baking sheets with parchment paper.
Beat softened butter with brown and granulated sugars in the bowl of a stand mixer (or by hand) together until well combined.
Keeping the motor running, add in one egg, then the extra yolk. Combine well then add the vanilla extract.
Blend in flour, baking soda, cornstarch, nutmeg, and salt. Mix well, scraping down the sides of the bowl as you go.
Stir in white chocolate chips and macadamias.
Scoop a heaped tablespoon of dough and roll it into a ball with your hands. Place onto parchment paper and flatten slightly (slightly wet hands keep dough from sticking) Repeat until there are 12 evenly spaced cookies per sheet.
Bake in a 350 F oven for 10-12 minutes. It's best to underbake them rather than overbake them. Remove and let cool on wire racks.
White Chocolate Drizzle: Microwave 1/2 cup white chocolate chips in 30-second increments. Stir well then place in a plastic freezer bag. When all of the chocolate is in the same corner, snip a tiny part away from the corner and press slightly to drizzle chocolate over cooled cookies. Allow chocolate to set a few hours.
Nutrition Information:
Yield: 24
Serving Size: 1
Amount Per Serving:
Calories: 141
Total Fat: 8g
Saturated Fat: 4g
Trans Fat: 0g
Unsaturated Fat: 4g
Cholesterol: 26mg
Sodium: 107mg
Carbohydrates: 16g
Fiber: 1g
Sugar: 9g
Protein: 2g