Lemon Raspberry Jam Thumbprint Cookies
Here is a very traditional recipe, these Lemon Raspberry Jam Thumbprint Cookies are wonderfully flavourful and will bring back memories for all!
I have fond memories of these buttery shortbread cookies from my childhood. Usually, we had them during the Christmas season, but they are great any time of year.
I have been making this recipe now for years and years and we just updated it here for you. We have lots of cookies here on our site for the holidays like Snowball Cookies, Fruitcake Cookies, and Ginger Star Cookies and many more.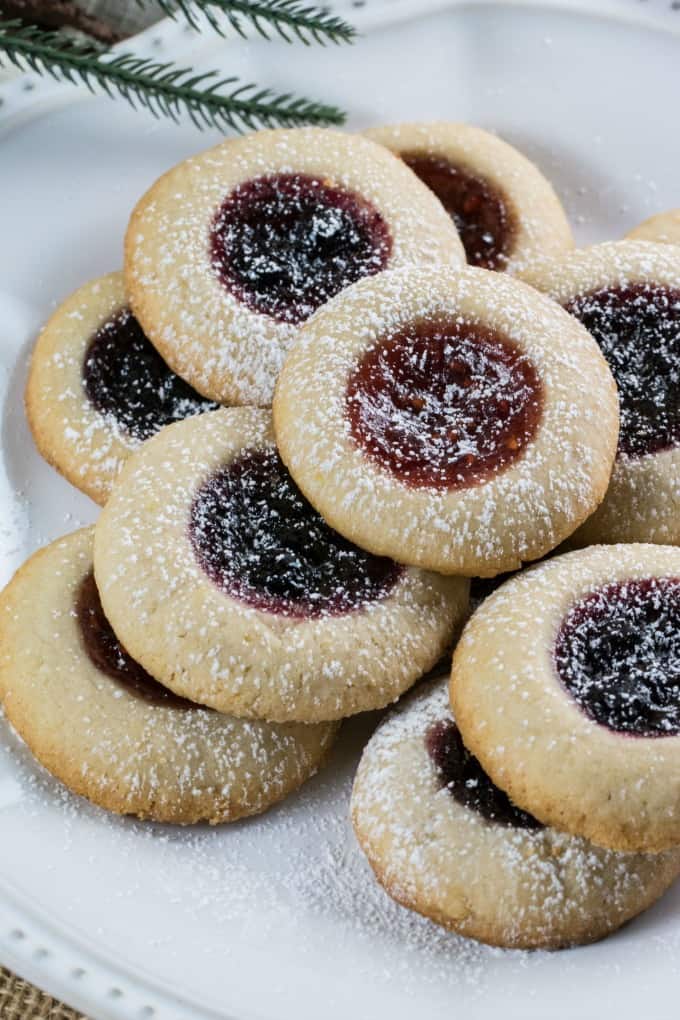 Helpful Items for This Recipe
This post contains affiliate links. As an Amazon Associate, I earn a small portion from qualifying purchases at no extra charge for you.
The citrus taste of the lemon adds just the right amount of zing to the cookies! There are a few different recipes out there for these thumbprint cookies. I have tried a couple of other ones but I always come back to this recipe. To me, it was just the right balance of sweet, with a little tartness.
When I was making them I thought I would check and see who had originally made these and lo and behold it was Emeril. Of course, if Emeril makes them they have to be fabulous, right? So it was really a no brainer to share this recipe with you!
How Do You Make Thumbprint Cookies?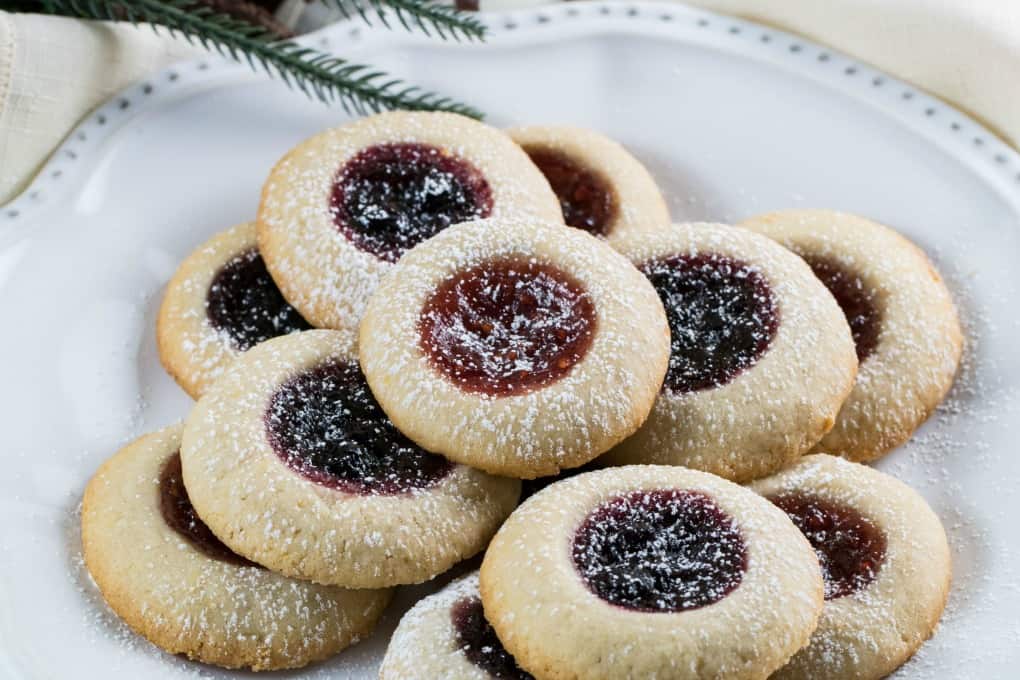 Thumbprint cookies are easy to make. First, in a small bowl mix your jam and Chambord together and set aside. Preheat the oven to 350 degrees F. Lightly grease two baking sheets and set aside.
Then mix together your dry ingredients which are the baking powder, all-purpose flour, and salt.
Then in a stand mixer with a paddle attachment cream butter and sugar together. I always use salted butter for baking instead of unsalted butter. I like it better and it seems to have just the right amount of salt already added.
Add in the egg yolks, vanilla extract, lemon juice, and lemon zest and mix well. Finally, add the flour in two installments. Form dough into a ball and then start to pull off dough in 1 inch balls and place on the prepared baking sheets.
Using a floured index finger or a 1/2 teaspoon measuring spoon create indents in the middle of the cookie. In the indent place a teaspoon of the jam mixture. Bake for about 20 minutes or until light brown.
Cool completely on wire racks. Dust with icing sugar (confectioners sugar) if you like before serving.
How Long Will Thumbprint Cookies Last?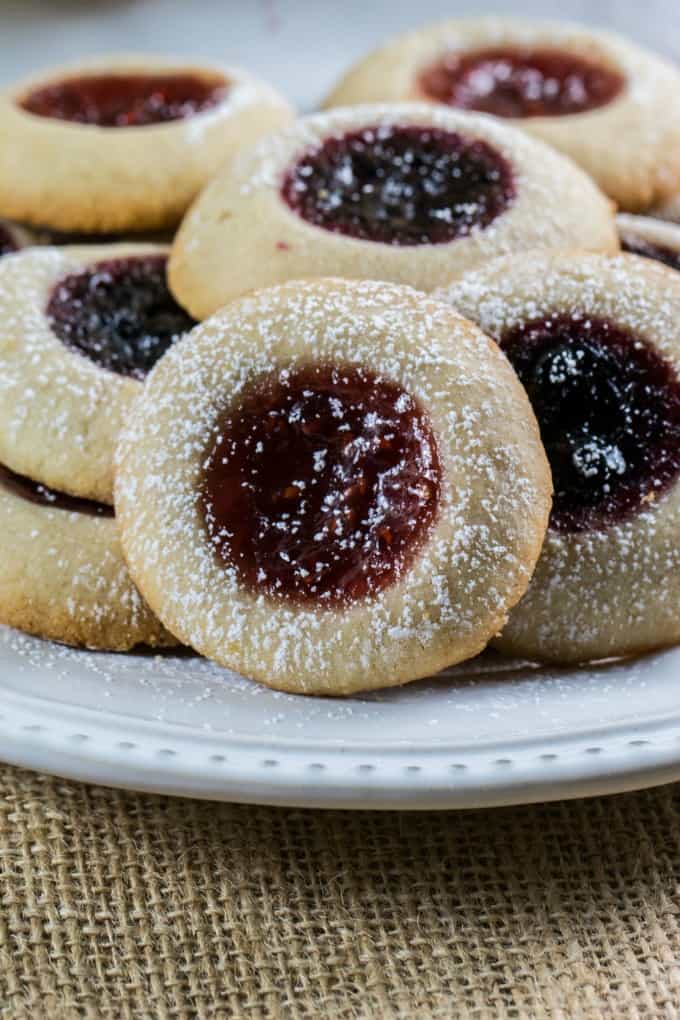 Thumbprint cookies will stay fresh in an airtight container on your counter for up to a week if you don't want to freeze them. I have to put them in the freezer because if I don't they will disappear within a few days!
This year I thought I would mix things up a little with the jam. Of course, I always do some raspberry cookies. But I happened to have a jar of really nice blueberry jam, and I thought, "Hey what the heck let's give this a try." You could also try these with homemade Blackberry Freezer Jam!
Turns out they were fantastic! The blueberry jam married with the tartness of the lemon; they were so tasty! I guess the lesson here is, don't be afraid to try something new or different. Mix it up a little; if you are looking for something really tart you could try marmalade.
My favorite jam is strawberry, but there are so many other choices, blackberry, boysenberry, the sky's the limit! Who knows, you might just create something that is better than the original!
Whatever jam you choose, add in a little Chambord, which is a raspberry liqueur, it really amps up the flavor of the jam and thins it out nicely too.
Why Do Thumbprint Cookies Spread?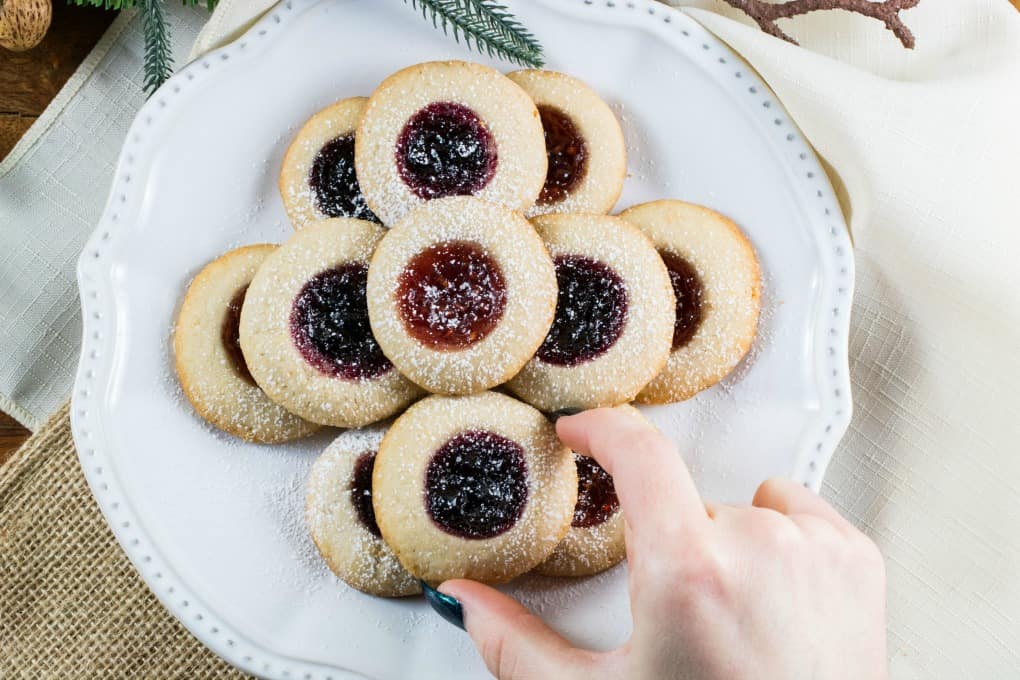 Your thumbprint cookies spread because your oven is too hot. Just like a cold oven can negatively affect your cookies so can an oven that is too hot.
If your oven is at a hot temperature the butter in your cookie dough will melt too quickly, which will cause your cookies to spread. It is good practice to always preheat your oven, making sure that it is fully preheated before putting your cookies in.
I usually try to wait at least a few minutes after it is preheated before I put my cookie sheet pans in the oven. The reason for this is when your oven is preheating the heating elements are on full until the oven reaches the desired temperature.
Once there, it will maintain that temperature within a small range. If you put your cookies in just as the preheated temperature is reached the elements will still be very hot, and your oven will be on the high side of the preset temperature.
Originally I got this recipe from a friend of mine as she told me they were so good. I love little thumbprints but the lemon and raspberry together were so appealing to me. Having made them now for a few years, we totally love them. I hope you make them too and enjoy them as much as we do.
Can Thumbprint Cookies Be Frozen?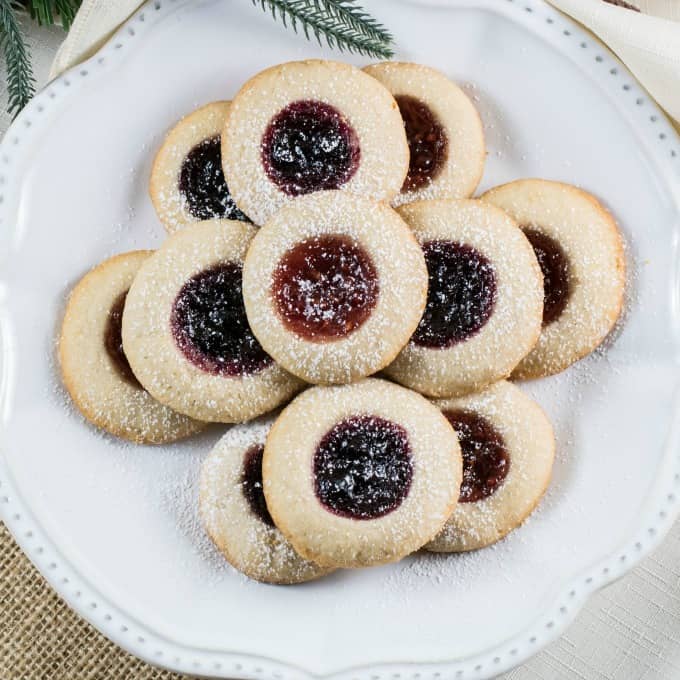 The simple answer is yes. You can store these cookies in your freezer for a month or so, but I doubt they will last that long! In our house, we start baking cookies for Christmas around the first week of November. By the end of December, there is pretty much nothing but crumbs left!
In our house, we bake up a storm for Christmas. I like to pick up a bunch of cardboard cookie boxes from the local craft store and give our baking away as gifts.
We usually put together boxes of baking for our hairdresser, the veterinary office, the dog groomers, and my nail salon. I can tell you they are sincerely appreciated when you give a gift like this from the heart, people know you really care!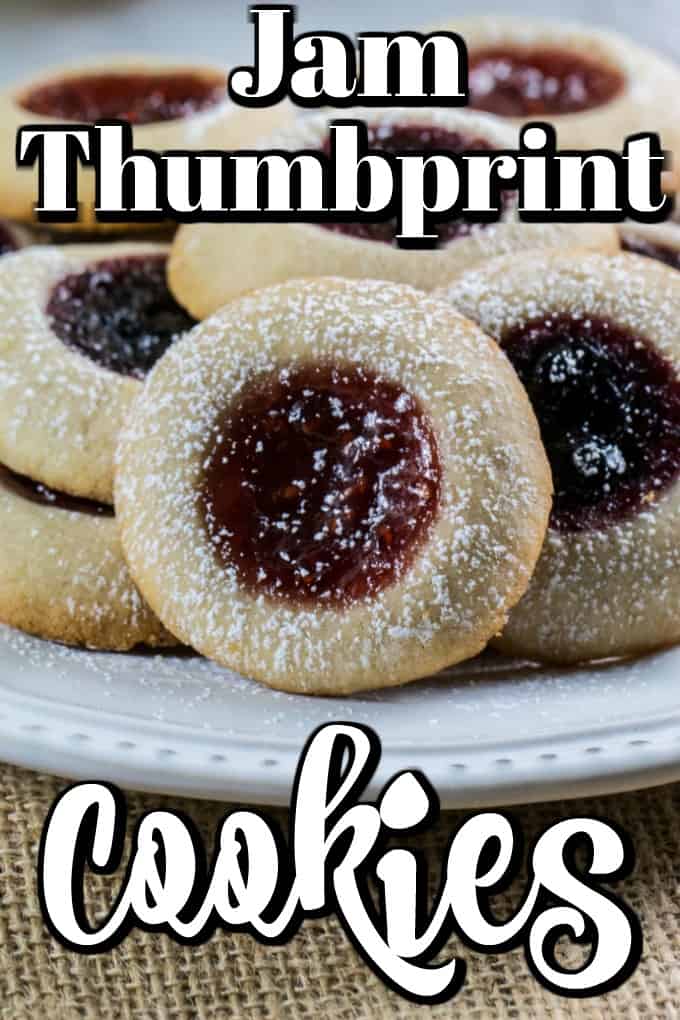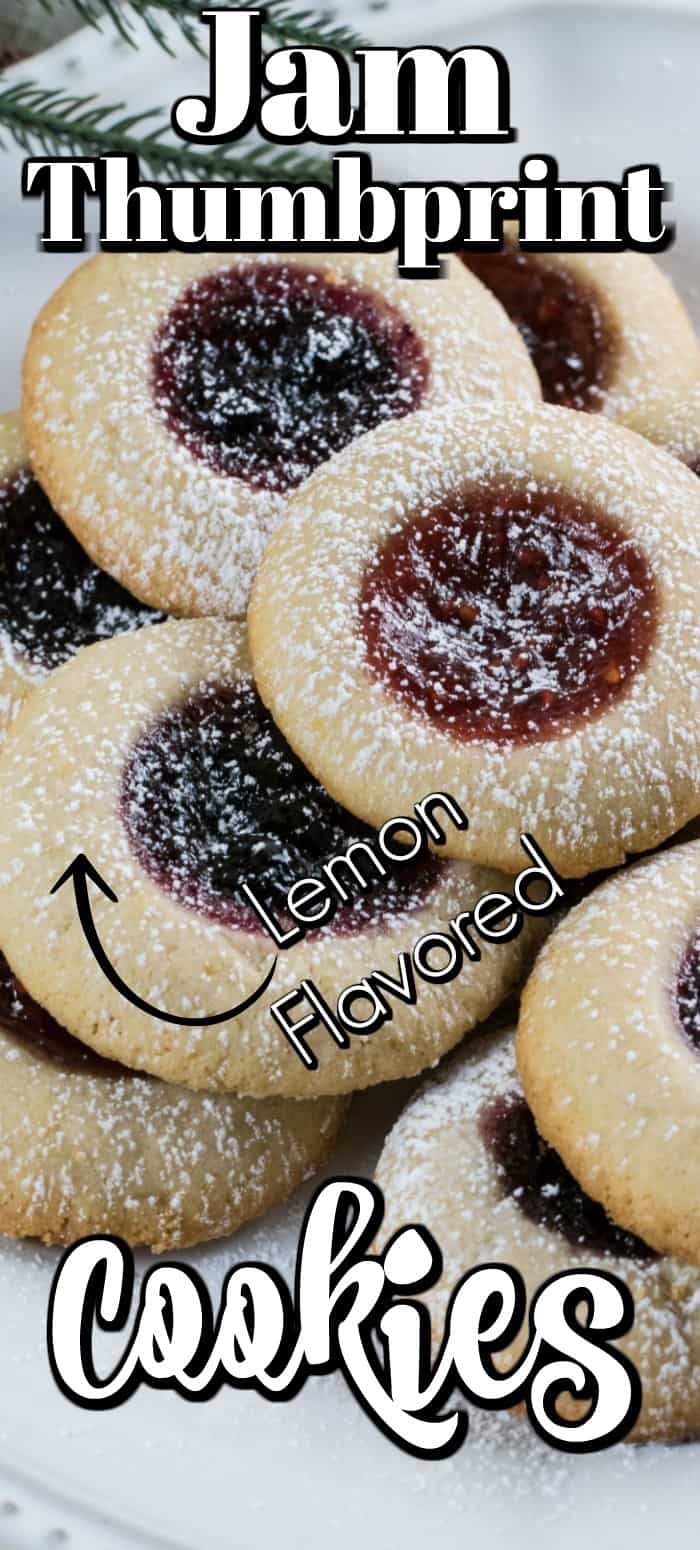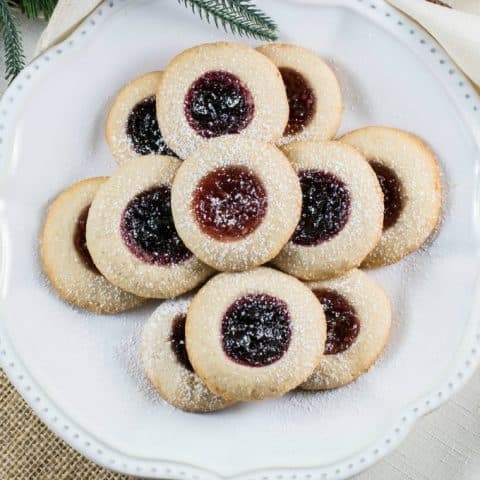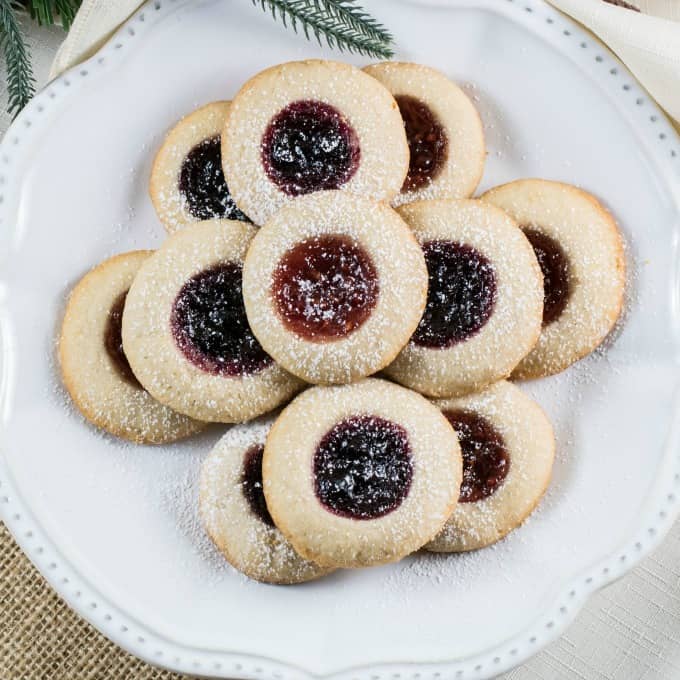 Lemon Raspberry Jam Thumbprint Cookies
Yield: 4 dozen cookies
Prep Time: 15 minutes
Cook Time: 20 minutes
Total Time: 35 minutes
These lemon raspberry jam thumbprint cookies are wonderfully flavourful with a perfect balance of sweet and tartness; you are going to love them!
Ingredients
1/2 cup raspberry jam (or 1/4 cup each of raspberry and blueberry jam, divided)
1 Tbsp Chambord (divided if using both raspberry and blueberry jam)
2 1/4 cups flour
1 tsp baking powder
1/2 tsp salt
2 sticks (1 cup) butter softened
3/4 cup sugar
2 large egg yolks
1 Tbsp each of lemon zest and lemon juice
1 tsp vanilla extract
Instructions
Preheat your oven to 350 degrees F.
In a small bowl, combine and stir the jam and the Chambord, use 2 bowls and divide the Chambord if using both raspberry and blueberry jam.
In a medium bowl add the flour, baking powder, and salt, whisk to blend.
Using a hand mixer or stand mixer, in a large bowl cream the butter and sugar until light and fluffy
Add the egg yolks, lemon zest, lemon juice, and vanilla continuing to mix until well blended.
Add 1/2 the flour mixture and beat until smooth, add the remainder of the flour mixture and beat just until the dough forms moist clumps.
Form the dough into a ball.
Pinch off the dough and form 1 inch balls, placing them on a lightly greased baking sheet 1-1 1/2 inches apart.
Flour your index finger and create a depression in the center of each ball. Using the back of a floured 1/2 tsp measuring spoon works great too.
Fill each indentation with about 1 tsp. of the jam mixture.
Bake until golden brown, approximately 20 minutes.
Allow the cookies to cool for 5-10 minutes on the baking sheet before transferring them to a wire rack to cool completely.
Recommended Products
As an Amazon Associate and member of other affiliate programs, I earn from qualifying purchases.
Nutrition Information:
Yield: 48
Serving Size: 1
Amount Per Serving:
Calories: 48
Total Fat: 0g
Saturated Fat: 0g
Trans Fat: 0g
Unsaturated Fat: 0g
Cholesterol: 12mg
Sodium: 39mg
Carbohydrates: 10g
Fiber: 0g
Sugar: 5g
Protein: 1g