Snowball Cookies
This cookie has a "melt in your mouth" texture but also has a crunch from chopped pecans. For me, they are the best cookie around for Christmas.
What is your favorite Christmas cookie? Does it have deep roots and meanings and memories? Or it is just something that you now love. For me, it is my mom's Snowball Cookies.
This easy recipe mom would make every year. She loved them as much as I do and now I have passed that love onto our daughter as it is her favorite cookie too. For another fun cookie for the holidays try our Candy Cane Cookie too!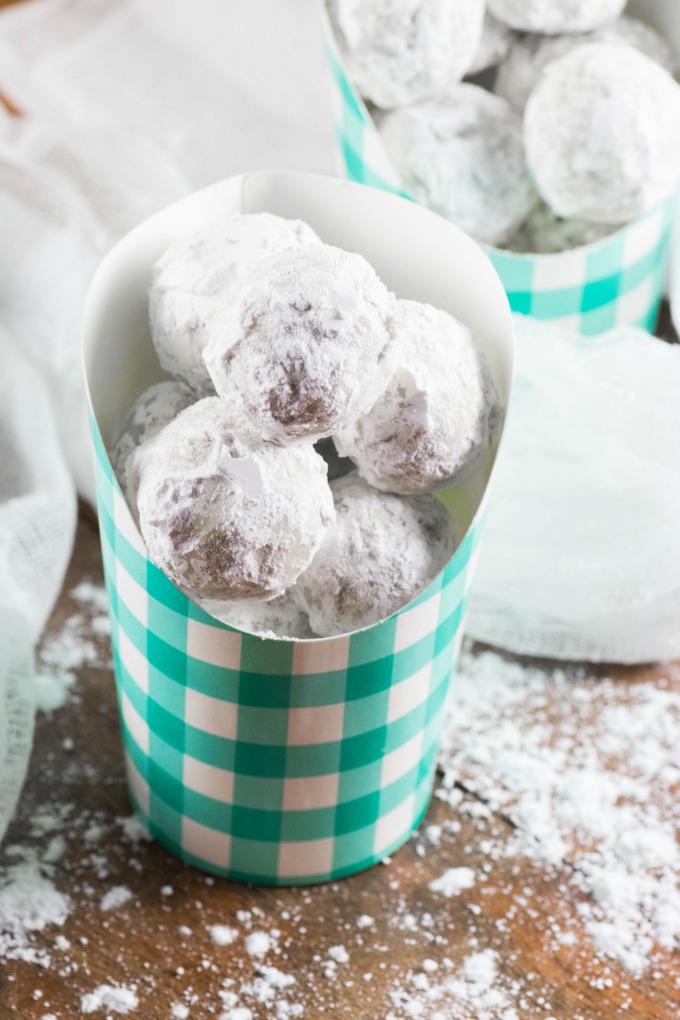 Helpful Items for This Recipe
This post contains affiliate links.
I do a double dip on the powdered sugar so that they are nice and white and really look like a snowball.
For this process I have ready a wire rack with wax paper underneath for easy clean up. I let them cool on the baking sheet but only for 5 minutes and then roll them in powdered sugar and place them back on the wire rack.
They then have to be cooled completely and dipped a second time in the sugar. Otherwise they aren't very sweet and the cookie shows through. This way they get a lovely even coating.
How to Make Snowball Cookies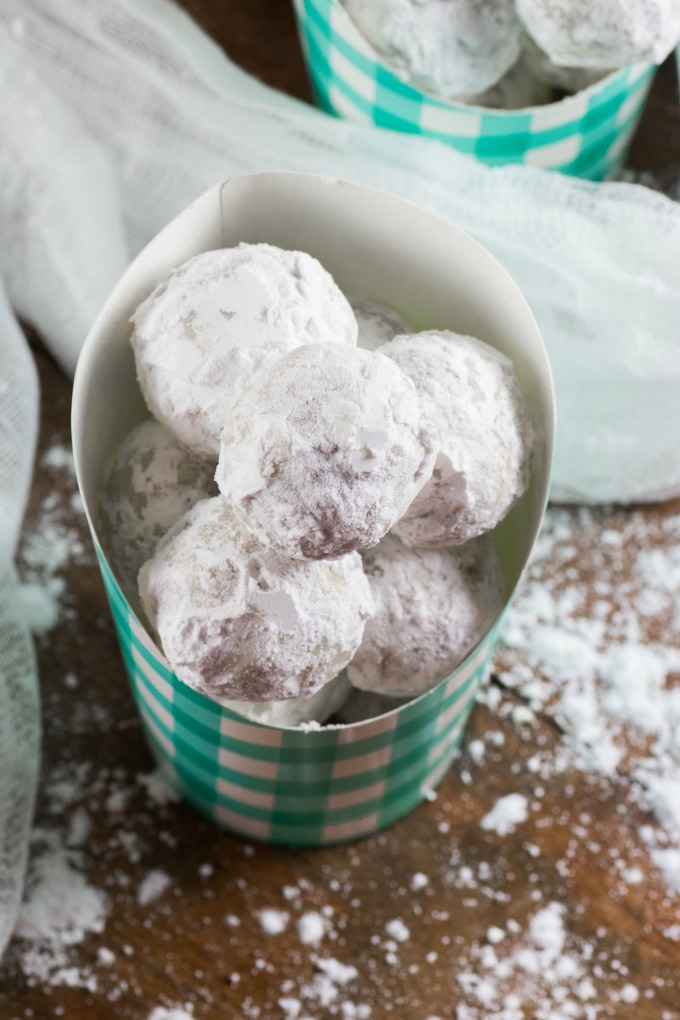 How to make snowball cookies? They are pretty easy to make. Besides the trick with double rolling them in the sugar is that you have to chill the dough.
So give some forethought to making these. They need to be in the fridge for 30 minutes to one hour.
If left longer the dough will be hard coming out of the fridge but don't worry it comes together nicely from the warmth of your hands.
Also you need to finely chop the pecans so that they can be completely incorporated into the dough. Lastly they are baked in a slow oven of 325F.
They don't look very browned at this low temperature. You can carefully turn one over and you should see that it is lightly browned after 18-20 minutes.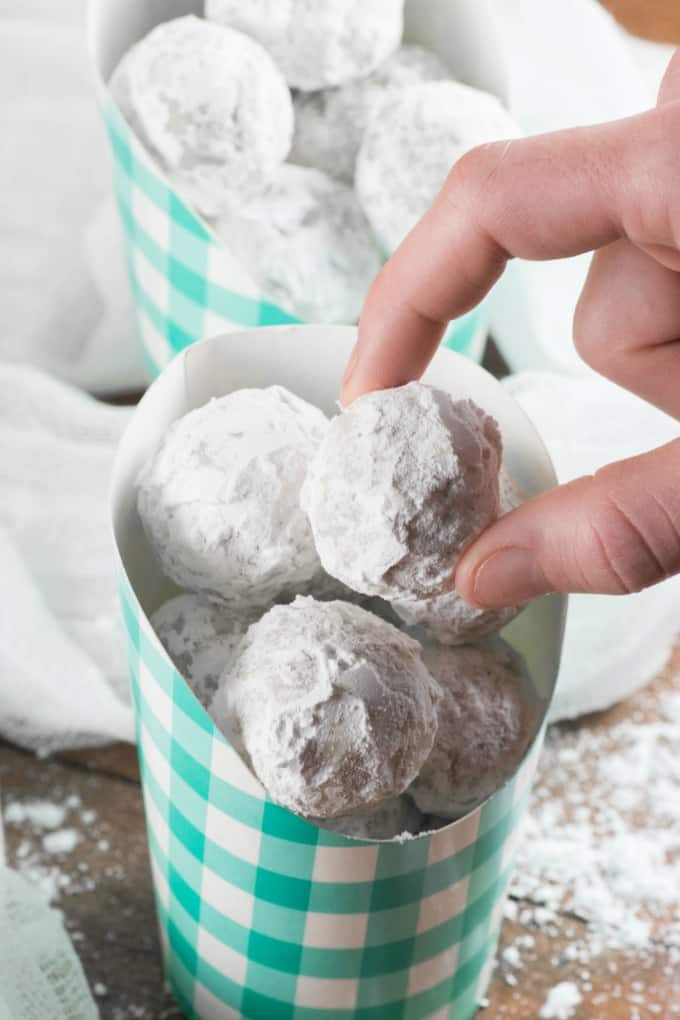 For some reason I have been a bit hesitant to share this recipe with you all. It is like it is our family secret recipe but I know it is out there many, many times.
It is something that I truly cherish as it is a fond memory of my mom.
I still have the cookie tin that she used to store them in. It is a vintage santa cookie tin that my daughter now loves to hold her favorite Snowball Cookies in.
Can Snowball Cookies be Frozen?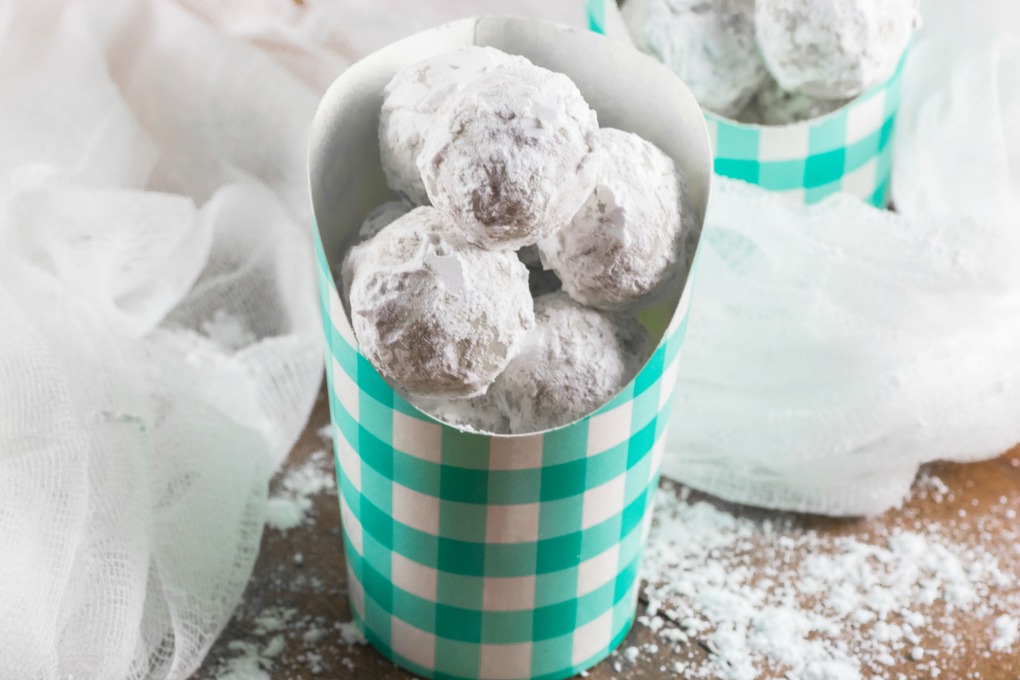 Can Snowball Cookies be frozen? You betcha! Snowball cookies freeze really well. For the most part most cookies freeze well.
Plus, once they make it to the freezer in the basement they are at least then off limits to me!
I have a special post called 26 Freezable Christmas Cookie Recipes that has some wonderful tips on freezing, thawing and packaging Christmas cookies plus lots more cookie recipes to share with you.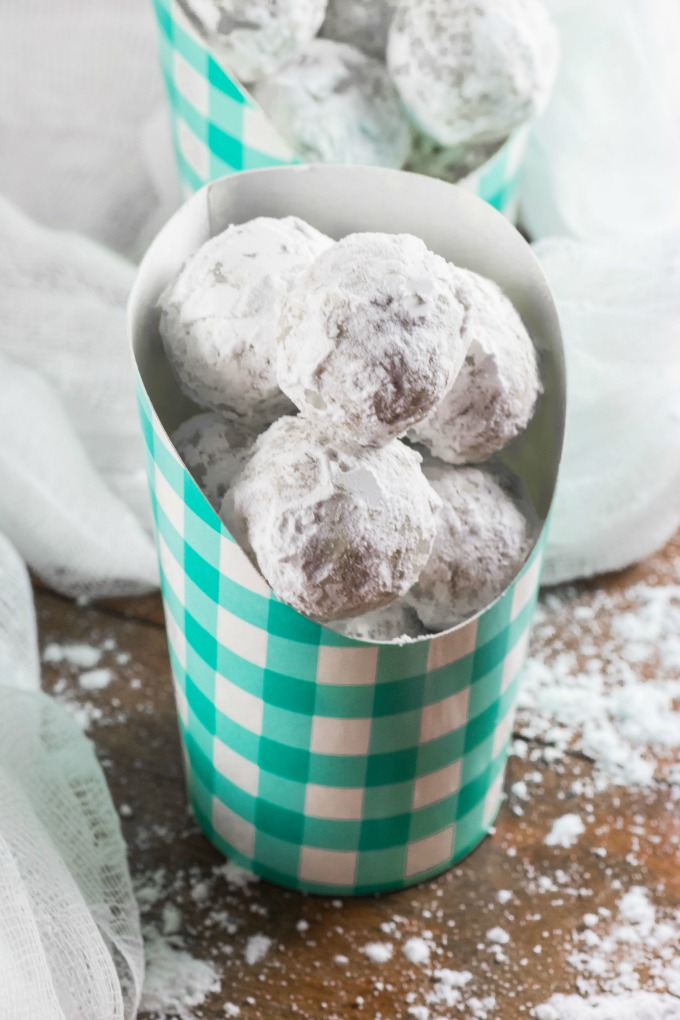 There are many names to these cookies as they seem to have been all over the world!! Some of the common names for these irresistible cookies are Mexican Wedding Cookies, Italian Wedding Cookies, Russian Tea Cakes, Butterballs, Pecan Snowballs and what I like to call them Snowball Cookies.
Once you pop one into your mouth you will then know the wonderful fascination of these cookies that are loved worldwide. You almost always end up wearing a little "snow" from your experience! But that helps with the memories too!
Enjoy these cookies for the holidays and start to create your own magical memories!! Merry Christmas!!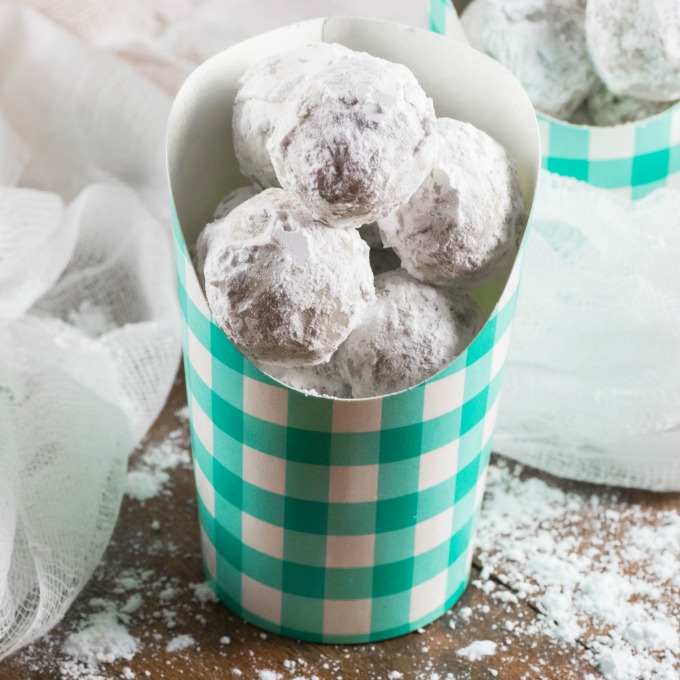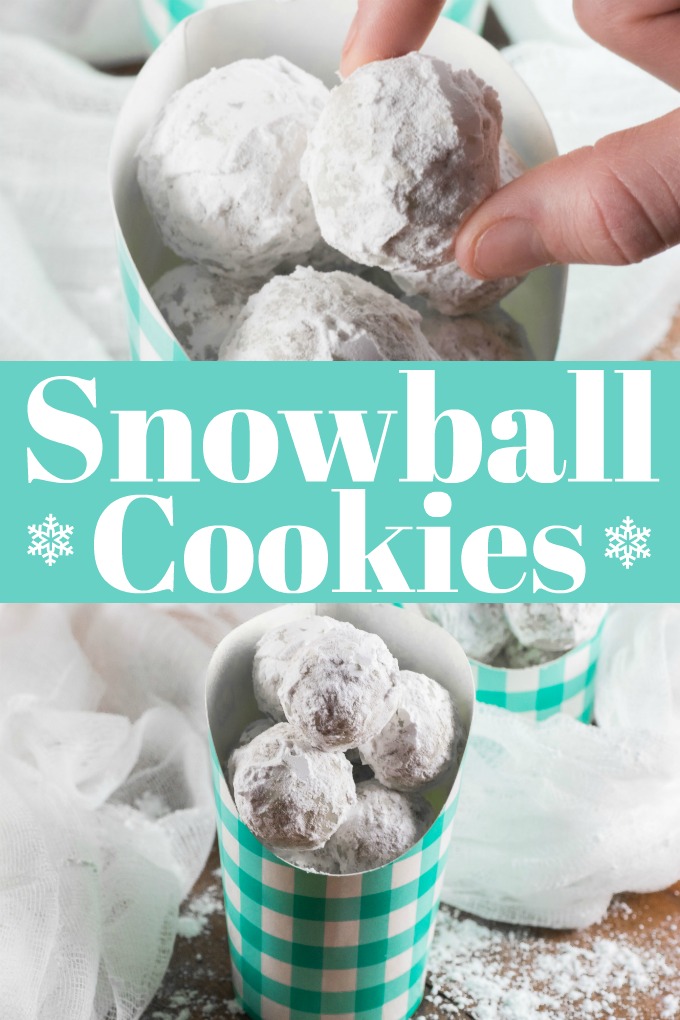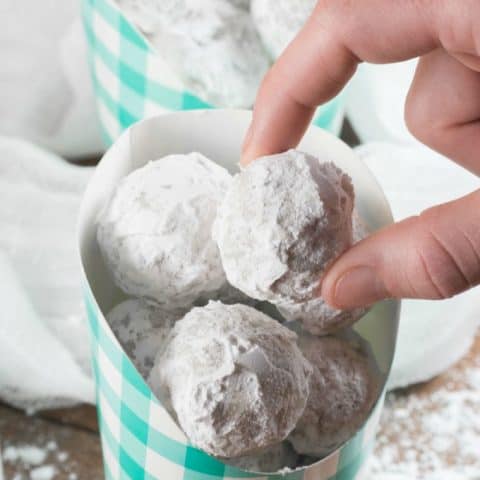 Snowball Cookies
Yield: 3 1/2 dozen
Prep Time: 10 minutes
Cook Time: 20 minutes
Additional Time: 2 hours
Total Time: 2 hours 30 minutes
These "melt in your mouth" Snowball Cookies will become a favorite with your family for the holidays. They are easy to make and so festive looking.
Ingredients
2 cups pecans, finely chopped
1 cup butter, softened
1/4 cup powdered sugar
1 1/2 tsp. vanilla
2 cups flour
1/2 tsp. salt
1 cup powdered sugar for rolling
Instructions
In a large bowl of a standup mixer fitted with a paddle attachment cream the butter and add the 1/4 cup powdered sugar and beat until smooth.
Add in the vanilla and blend well. Stir in the flour, salt and nuts.
Form the dough into a ball and wrap in plastic wrap. Refrigerate for 30 minutes to one hour.
Preheat oven to 325F. Then form dough into 1" balls and place on an ungreased cookie sheet 1" apart.
Bake for 18-20 min. or until under side is lightly golden brown. Watch carefully. Have ready a cooling rack placed over waxed paper for easy clean up.
Let cool for 5 minutes on the cookie sheet. Roll in powdered sugar and place on prepared cooling rack. Let cool completely and then roll again in the powdered sugar.
These cookies freeze well.
Recommended Products
As an Amazon Associate and member of other affiliate programs, I earn from qualifying purchases.
Nutrition Information:
Yield: 42
Serving Size: 1 cookie
Amount Per Serving:
Calories: 114
Total Fat: 7.8gg
Saturated Fat: 3gg
Trans Fat: 0gg
Cholesterol: 11.6mgmg
Sodium: 28.5mgmg
Carbohydrates: 10.6gg
Sugar: 5.6gg
Protein: 1.1gg