Romanesco Broccoli – What is it? What do I do with it?
If you've seen a strange light green vegetable that looks kinda like alien broccoli at a Farmer's Market or in your local grocery store it's probably Romanesco Broccoli.
Often simply called Romanesco, it is a fun and funky addition to your dinner plate. What is it like? More like broccoli or more like cauliflower? Let's investigate.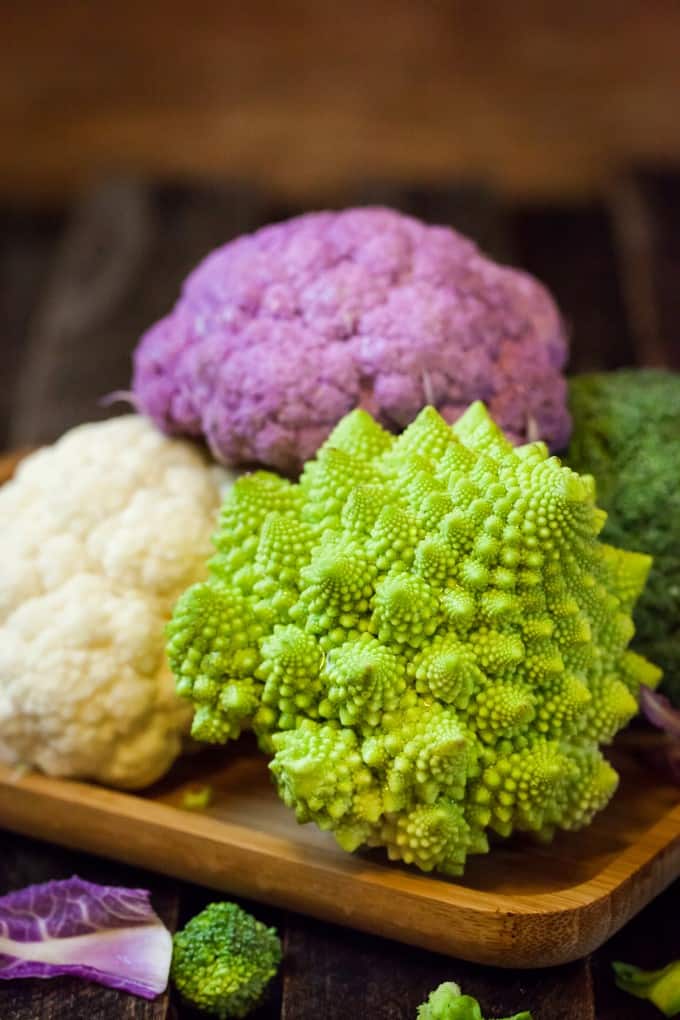 Helpful Items for This Vegetable
This post contains affiliate links. As an Amazon Associate, I earn a small portion from qualifying purchases at no extra charge for you.
Romanesco looks so different that even the pickiest of eaters can usually be coaxed to try it. One of the things that makes Romanesco so cool is that its buds are an approximation of a fractal.
For those of us who have been out of math class for a while, that means that each bud in the spiral is made up of smaller buds in a set pattern.
For the math nerds out there, the pattern is the Fibonacci sequence or golden spiral – every quarter turn is further from the origin by a factor of pi. If your eyes just glazed over, don't worry about it. Romanesco can just be a seriously neat looking vegetable.
What is Romanesco Broccoli?
Romanesco Broccoli, also known as Roman Cauliflower or Romanesco Cauliflower, is part of the brassica family. Other notable members of this family include kale, cabbage, Brussels sprouts, broccoli, and cauliflower.
Similar to broccoli, Romanesco broccoli is the edible bud of the flower of a much larger plant. Although Romanesco looks futuristic and new, it dates back to the 16th century in Italy. But only recently has it caught on in North America.
Where to Find Romanesco Broccoli?
Your best bet at finding Romanesco is to look at a farmer's market, organic market or at a specific vegetable market. You can also find it in some smaller grocery stores but big chain stores don't seem to have jumped on the bandwagon yet.
Romanesco is in season during late summer through fall – though you can sometimes find it in early winter as well.
Can You Eat Romanesco Broccoli Raw?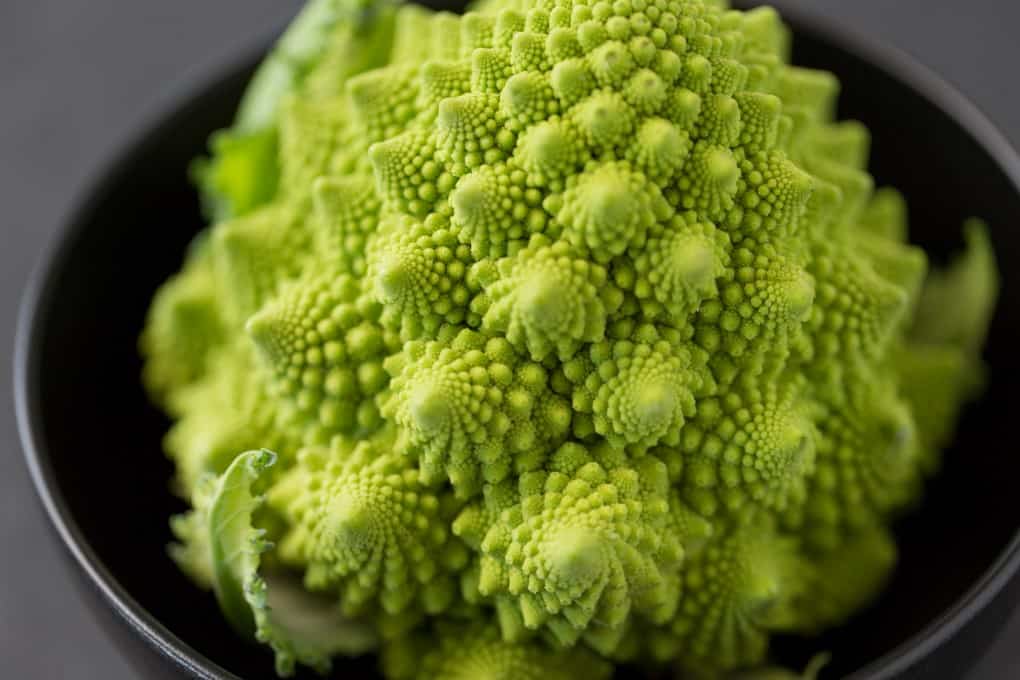 Yes! You can serve it raw, lightly cooked, or cooked fully. Kids especially love trying new vegetables raw so offer them a piece before you cook it. When served raw, just make sure to wash and dry the Romanesco thoroughly.
What Does Romanesco Broccoli Taste Like?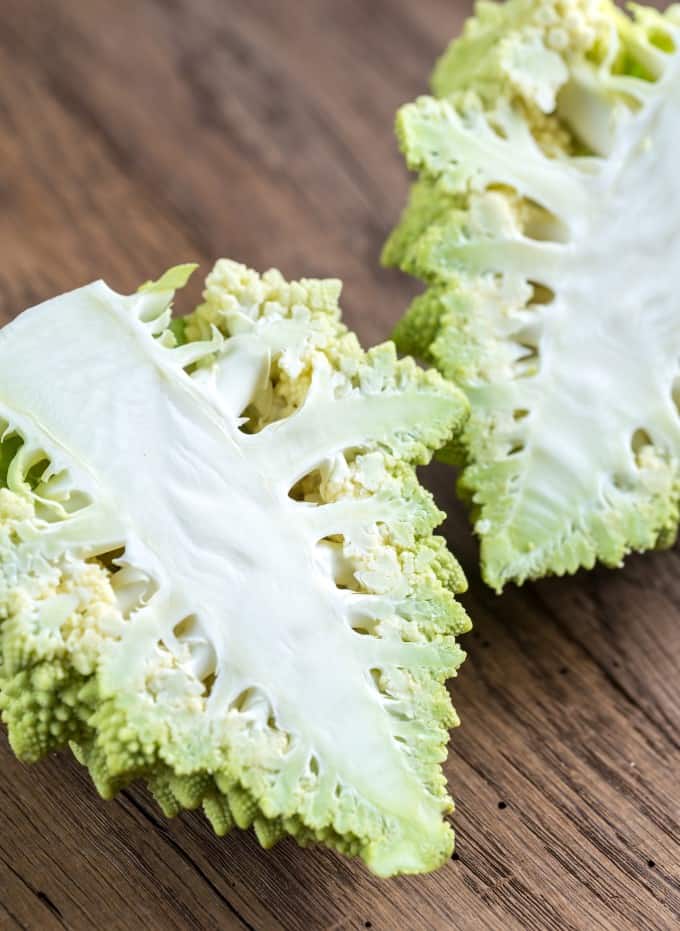 Ah, now here's where it gets interesting. Because it looks like a hybrid of broccoli and cauliflower, most people expect Romanesco to taste like a combination of the two. Which it does to an extent, but it's a much milder flavour.
It's got a subtle nutty or even earthy taste to it as well. Certain methods of cooking can bring out those flavours. People who don't like the taste of cauliflower enjoy Romanesco broccoli.
As Romanesco is heated, it gets a slightly sweet flavour which makes it a very versatile ingredient in dishes such as curry that need something to balance out the heat.
How to Cook Romanesco Broccoli?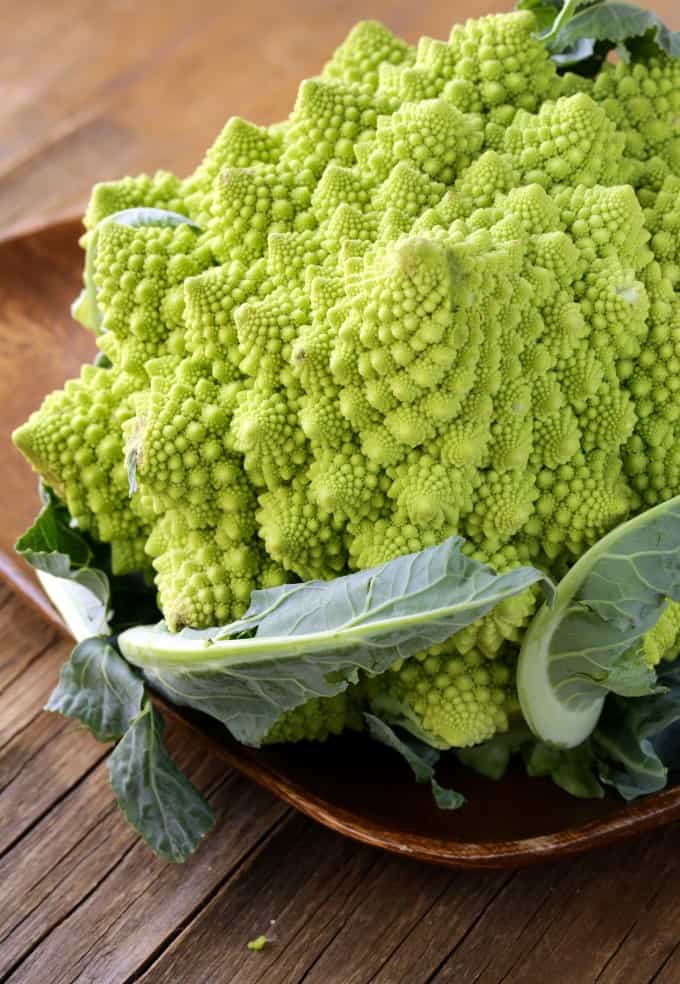 There are lots of choices for how to cook Romanesco broccoli. The easiest one to start with is to steam it, just be sure not to overcook it. I usually start with about 2/3 of the time I'd use to steam a similar amount of cauliflower and then add a bit of time if needed.
You can blanch Romanesco florets, and then shock them with an ice bath immediately after they come out of the hot water. You don't need to shock them but if you don't, the colour will fade.
Another great way to prepare a head of Romanesco is to sauté it in olive oil with a little garlic and maybe some lemon juice. You might get a little bit of char on the Romanesco when you sauté it, but don't cut it off – it tastes great that way too!
My favourite way to cook Romanesco broccoli though is also my favourite way to cook cauliflower – roasted in the oven. Roasted Romanesco is amazing and super easy to make.
Simply preheat the oven to 425°F and get out a baking sheet (or two). Cut the Romanesco up into small pieces. Put the pieces on the baking sheet, drizzle with olive oil, add a little salt and pepper, and bake for 15 to 20 minutes and boom! A side dish everyone will want seconds of.
Have you ever tried Romanesco broccoli? What did you think?
Other Great Vegetables to Investigate
Opo Squash, What Is It? How Do I Eat It?
How to Cook and Eat An Artichoke