How To Cook and Eat An Artichoke
Have you looked at this alien vegetable in the grocery store and wondered How to Cook and Eat An Artichoke? Many people have and then just pass it right by because of its mystic. This spring veggie we are lucky enough to see almost year round.
It is a different vegetable and one that does take some know how, to crack into. I first learned how to cook artichokes from my girlfriend Maureen. I loved them instantly and then turned my hubby and eventually our daughter on to them. Amber adores them and anytime she can she wants me to buy them.
You can get artichokes pretty much year round but lots of times they aren't the best looking. Wait until they look fresh and green, they are in season right now in October and March through May. They are expensive so make sure they look nice and green and have fairly closed leaves.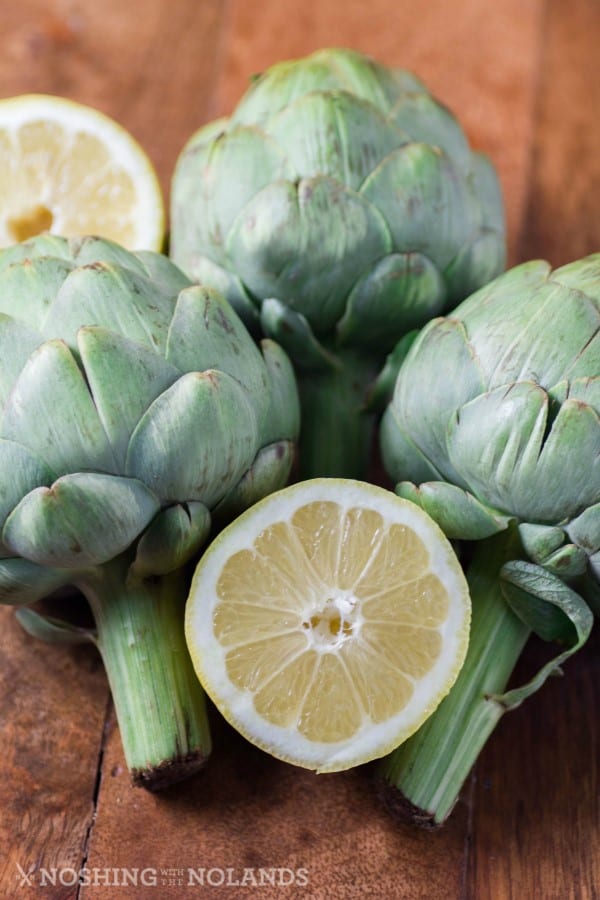 Up in Canada, these California artichokes have to travel a long way. We will never get them as fresh as where they were initially picked but they still will be fantastic. Let me take you on a step by step walk through on How to Cook and Eat An Artichoke.
Steps on How to Start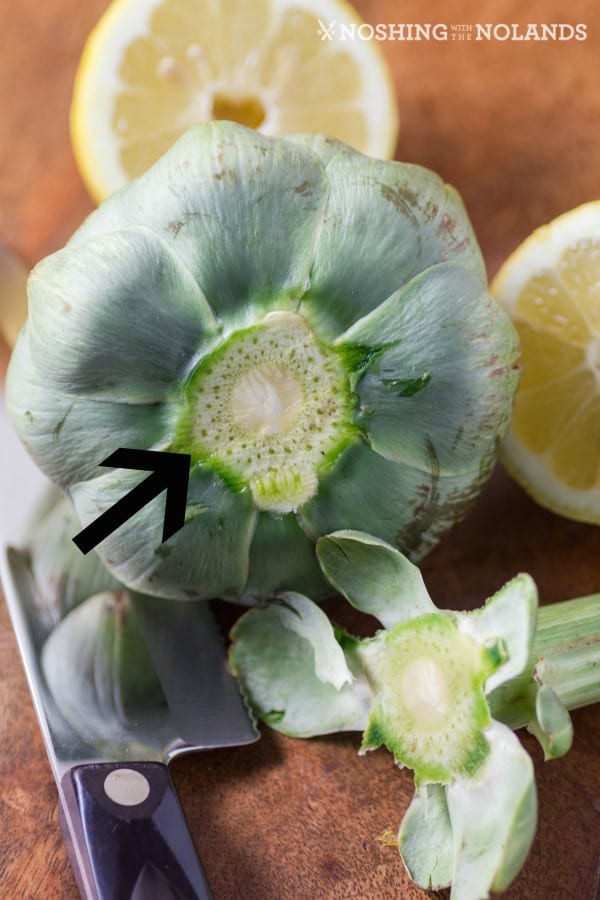 Give your artichoke a rinse. Then cut off the stem, sometimes they come with long stems and sometimes not. Where the arrow is pointing is where the heart of the artichoke is. This is what you are after!! The sweet spot if you will!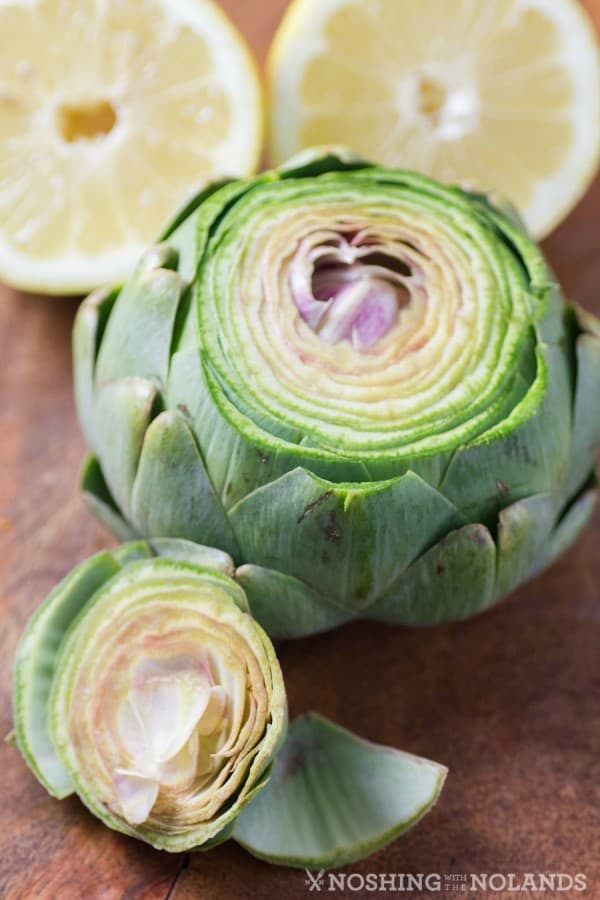 Then slice the top off of the artichoke. You can start to see the pretty purple leaves inside.
Acidulated Water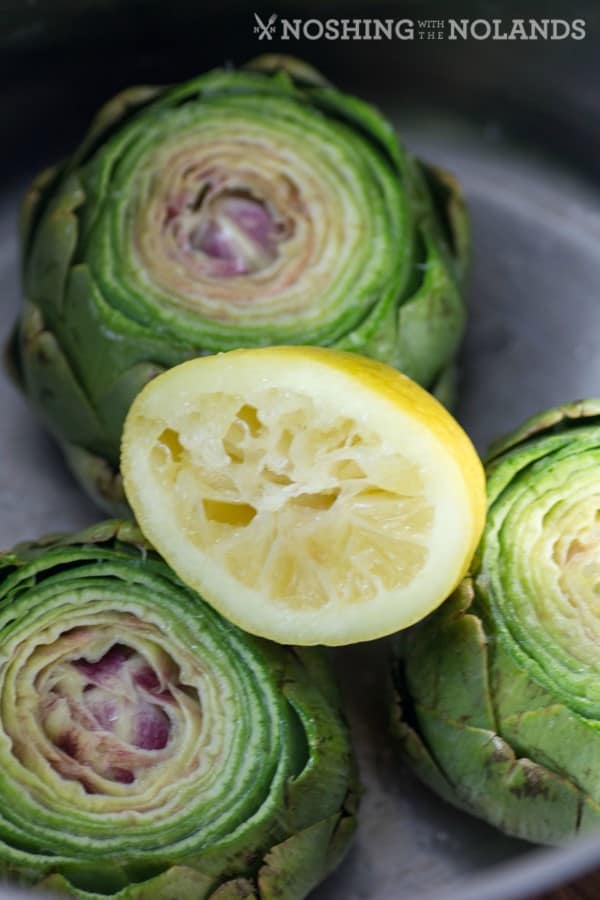 Rub the tops with a half of a lemon and place them into a pot with the squeezed lemon, squeezing more juice into the water from the other half the lemon, this will give you acidulated water.
Fill so that the water is 1/2 way up the artichoke. Place a lid on and bring the acidulated water up to a boil, reduce and simmer for 30-45 min. depending on the size of your artichoke. Make sure the heart is tender, you can test it with a knife or a fork. The heart is where I showed you above.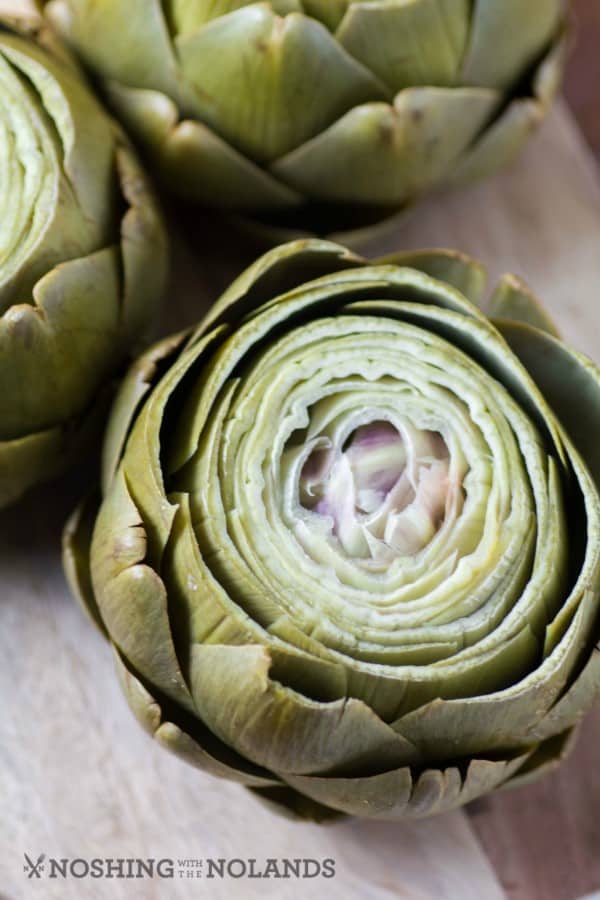 Here are the artichokes cooked. They turn a lovely olive color when cooked but now what to do with them?
Lemon Butter for Dipping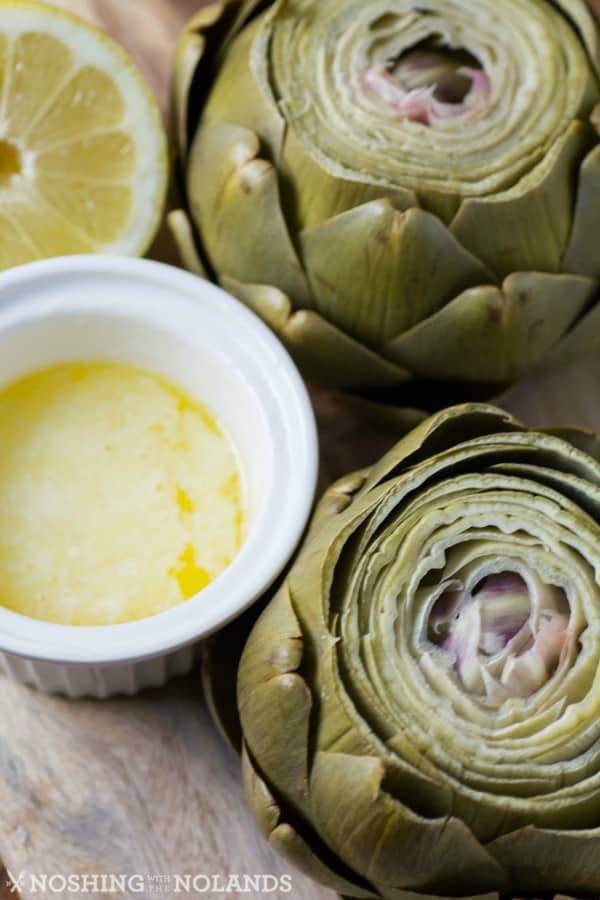 I melt a small amount of butter and add fresh lemon juice to taste. I serve the artichoke and little dipping cup of the lemon butter to each person.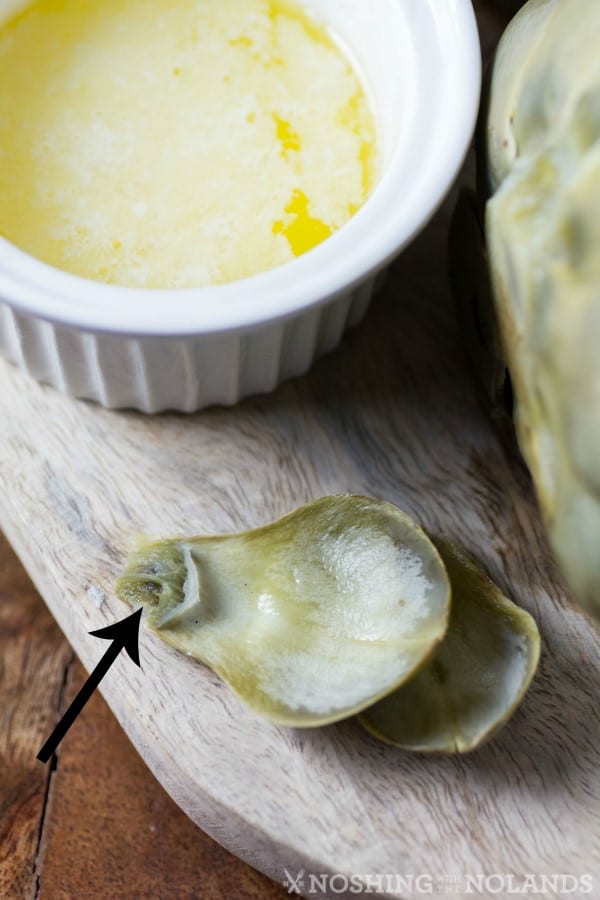 Start to peel off the leaves of the artichoke. Careful they will be hot. The little end where the arrow is pointing is all you eat. Dip it into the butter and using your teeth scrap off the little fleshy bit at the bottom of the leaf, then discard it into a bowl.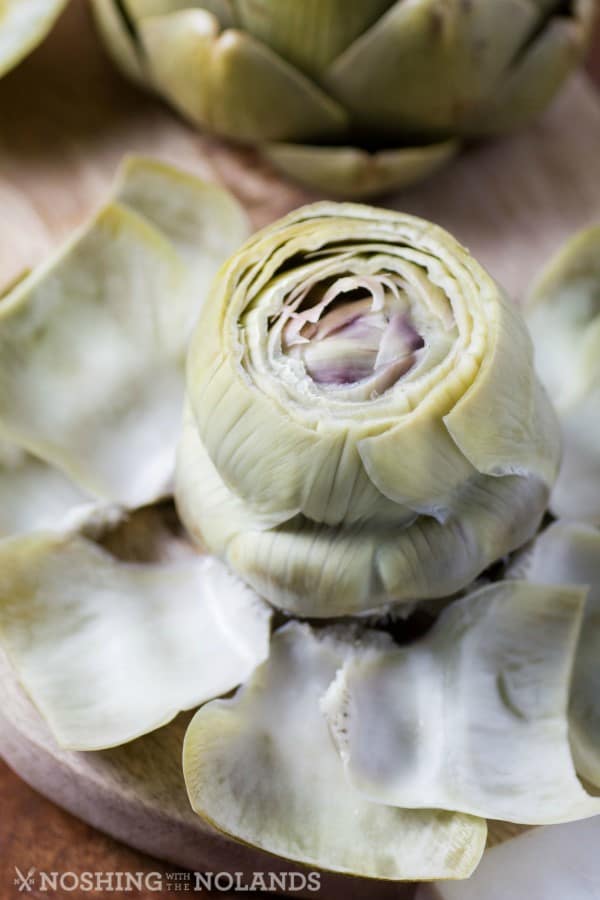 As you continue working your way into the artichoke the leaves get more and more tender and you are able to eat the bottom of the leaf in entirety. You just need to figure out how far down the leaf is tender. Keep dipping in that lemony butter, delish!!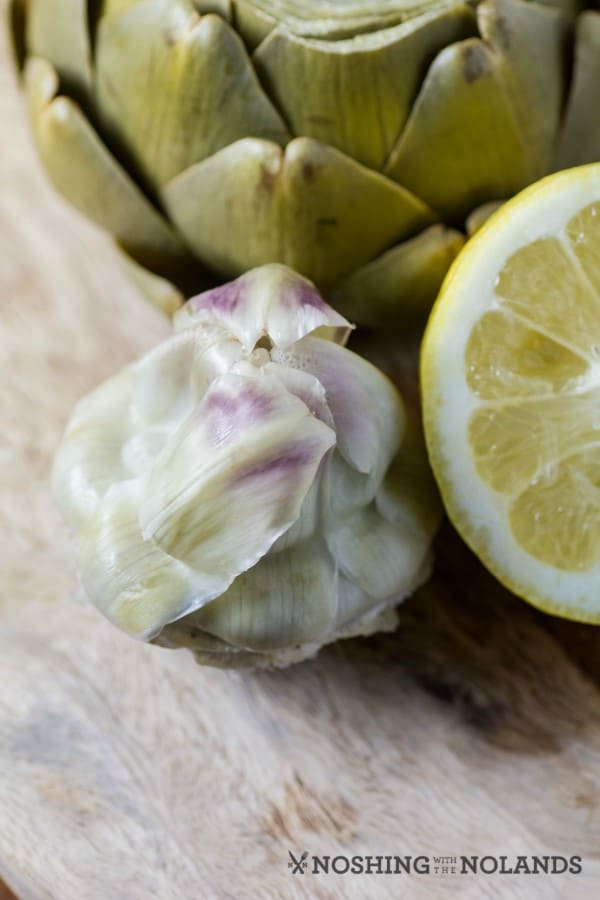 As you get closer and closer to the heart the tops of the leaves get thorny, so be careful. You might want to discard the last few leaves and not worry about eating them. The prize is getting close anyway!!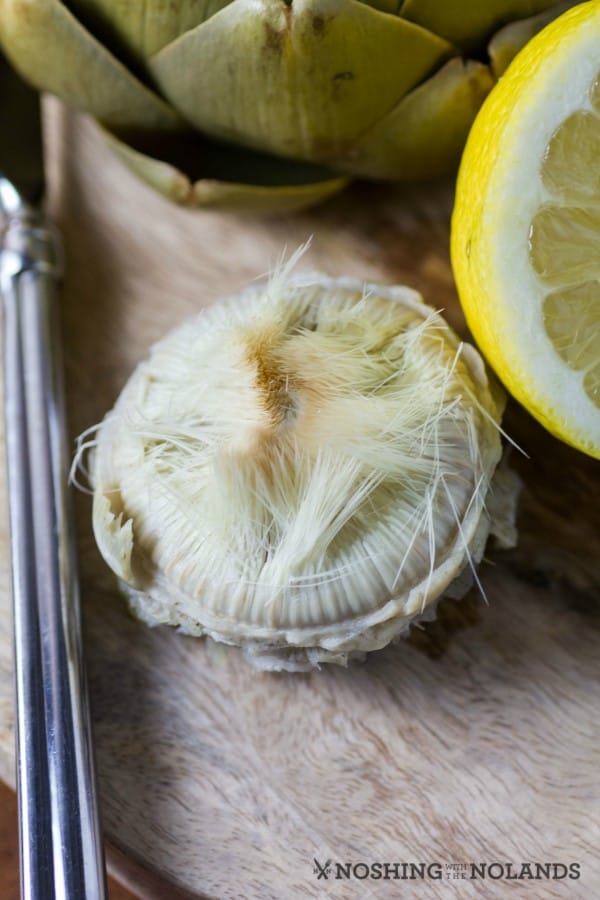 Now pay attention, once all the leaves are gone you end up with this feathery mess. You DO NOT want to eat this, it is the "choke". Don't be afraid though, this is easy to remedy.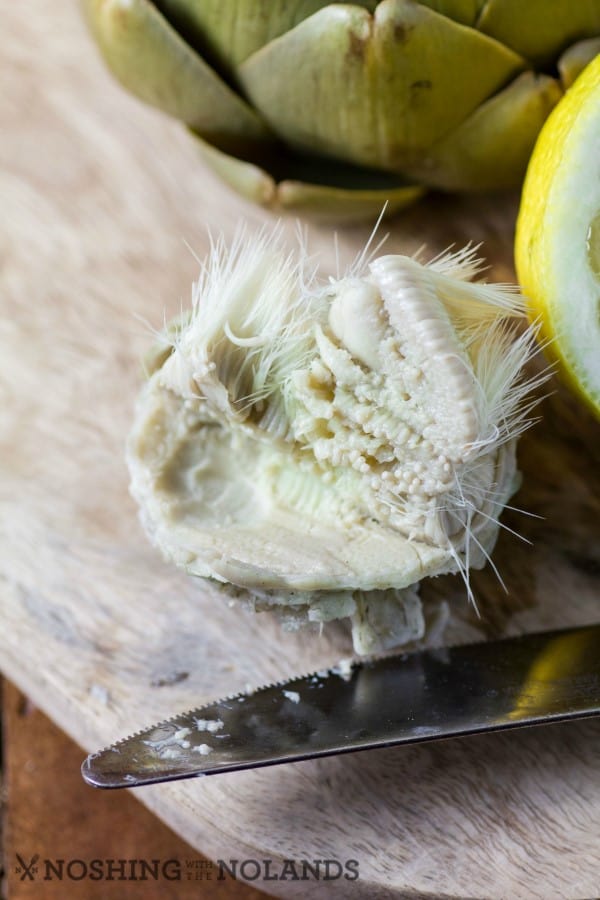 Take a knife and peel the feathers or choke away, they remove very easy. Discard all of the choke.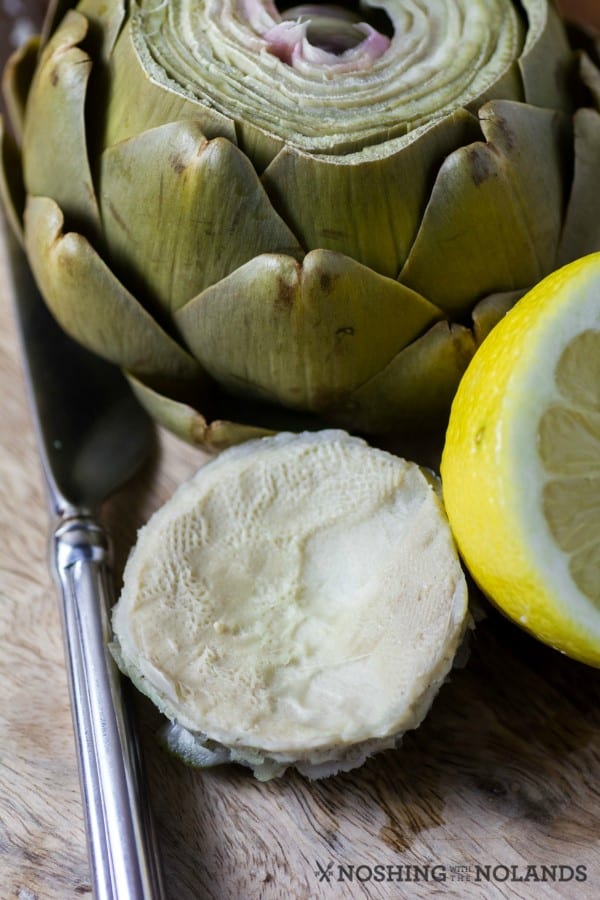 Here is what you are left with, this is the prize!! The artichoke heart!! This tastes divine all dipped in the lemony butter. It is tender and if they are a really good, artichokes have a mild sweet corn flavor. I would also akin the taste to a mild asparagus.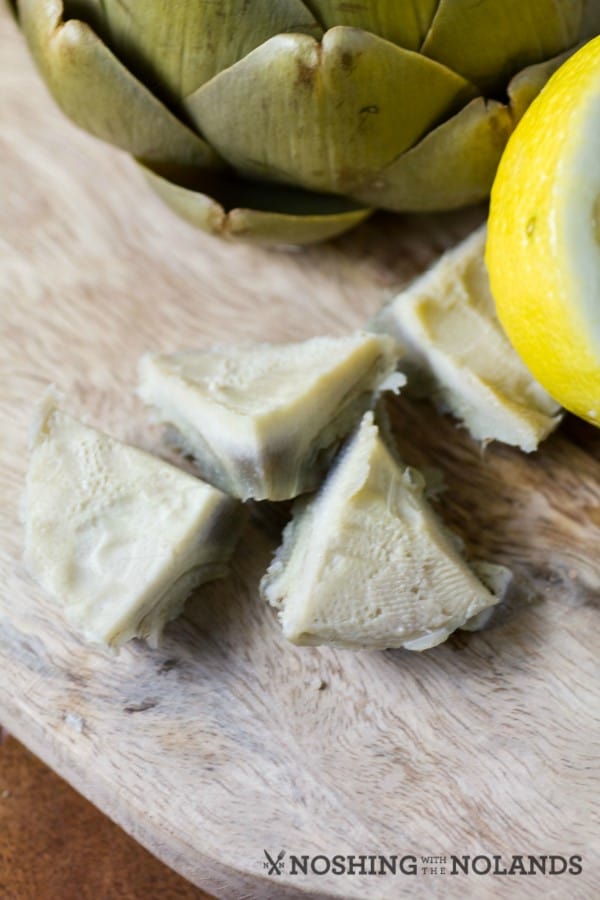 There you have it, we have explored the very mysterious artichoke. There are other recipes for dipping sauces and artichokes that are more dressed up but for me I love the simplicity of this recipe and you get to enjoy the flavor of just the artichoke at its' purest.
The Recipe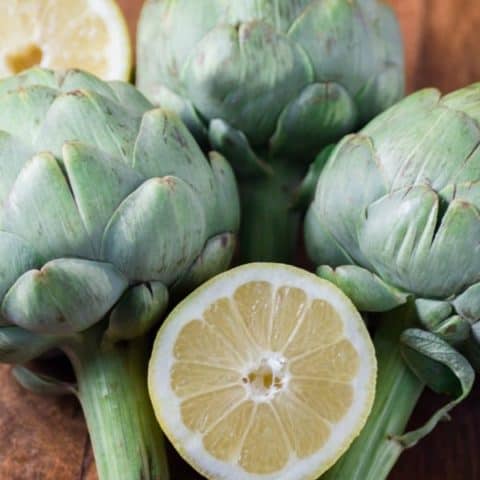 How To Cook and Eat An Artichoke
Prep Time: 5 minutes
Cook Time: 45 minutes
Total Time: 50 minutes
How to Cook and Eat an Artichoke will take you step by step in preparing and enjoying this sometimes mysterious vegetable.
Instructions
Clean artichoke by first rinsing, then cutting off stem and top. Rub top with half a lemon and place in a pot with the lemon and some more juice if desired. Fill pot so that the artichokes are half submerged.
Cook for 30-45 min. or until heart is tender. Serve with melted butter flavored to taste with lemon juice. Work your way through the artichoke leaf by leaf, dipping in the lemon butter, until you reach the "choke". Clean out the choke and enjoy the heart.