Spring Veggies
Spring is here. And while everything's waking up from winter, we're most impatient to start eating fresh, Spring Veggies. Farmers' markets, farm stands and even grocery stores are already stocking the first produce of the season. Truly, there's already a bounty at hand. But you've got to move quickly. Early spring vegetables don't last more than a few weeks. They're a spring extravagance for those in the know.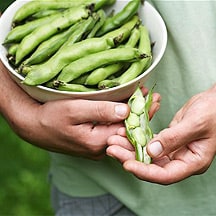 WeightWatchers.com has some great tips to arm yourself with some innovative recipes as well as a preview of the wonderful Spring vegetables and delicacies that you can find at your local greenmarket. Examples are below:
Pea shoots: These are perhaps the sweetest, most tender spring vegetables, best in stir-fries or salads.
Garlic scapes: The flowering stalks of some varieties of garlic plants offer a mild, garlicky crunch in every bite.
Fiddlehead ferns: Just when they start to rise up from the forest floor, some varieties of ferns can be a delicious, sophisticated treat, especially when paired with heat (as in chilies) and/or acids (as in lemon juice or vinegar).
Ramps: These wild members of the onion family are known to cause crazes among foodies. Aromatic and tender, ramps are best experienced in simple preparations.
White asparagus: By keeping asparagus in the dark, allowing no photosynthesis, farmers can grow extremely mild, sweet stalks — some no thicker than a large sewing needle.
Fava beans: No wonder these beans are an Italian favorite: Their creamy texture and delicate, sweet flavor pair surprisingly well with bold flavors. As to storing this bounty at home: Don't. Yes, most of these vegetables will keep a day or two in the crisper drawer. But they are all incredibly delicate, just up from the winter chill. It's best to use them when you buy them.