As the days start to get longer and the weather begins to show signs of the new season coming, my thoughts always turn to spring cleaning. There's something about the first day when it's warm enough to throw open the windows and air out the house that makes me feel like cleaning. Those days are fast approaching so I have for you a great 28 Day Spring Cleaning Challenge.
There are some tasks that need to be done every few months, such as cleaning out your fridge, and some that only need to be done a couple of times a year or once a year like Spring Cleaning Your Deck or Patio! While other jobs need constant attention like cleaning your stainless steel.
I don't go all out and clean the house top to bottom but I do like a good spring clean. I like to time a spring and fall clean for those tasks so that I'm not trying to do it in the heat of summer or the cold of winter.
Things, like dusting the ceiling fans or cleaning your washing machine, don't need to be done as frequently as tasks such as cleaning the shower curtain. A spring cleaning checklist really comes in handy to help you with all these little chores.
When Should I Start Spring Cleaning?
This largely depends on where you live. Warmer places can start earlier than colder climates. Spring cleaning is best done when you can open the windows for ventilation and fresh air.
For me, that's usually sometime in the middle of April. If you live further south, you may be able to start before the end of March. But some chores can be done right away!!
Additional challenge:
I just finished washing our pillows from our bed. Just put them in the washing machine with regular detergent and a normal cycle and they washed up beautifully.
They say you can do this with down or synthetic pillows and have great results. Mine are synthetic and after about 1 1/2 hours in the dryer, they were perfectly dry too.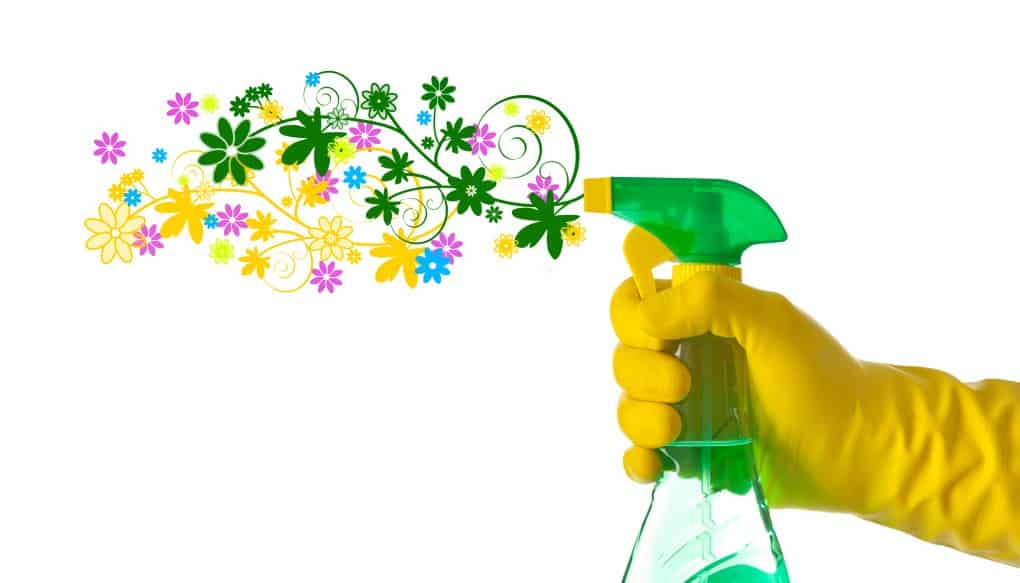 Is Spring Cleaning Necessary?
Spring Cleaning is a tradition in many households including mine. It started as a necessary way to clean out the house after a long, stuffy winter.
Back when the primary method of heating houses was to use fireplaces, soot and dust got trapped in the house over the winter months.
So a full spring cleaning was needed to air out the house after winter. Now, we don't use fireplaces as our primary heating source anymore but it's still important to air out and clean the house after winter – especially if your family battled colds or flu.
All the disinfectant spray in the world won't help as much as deep cleans of the rooms with the windows open.
Spring Cleaning Challenge Printable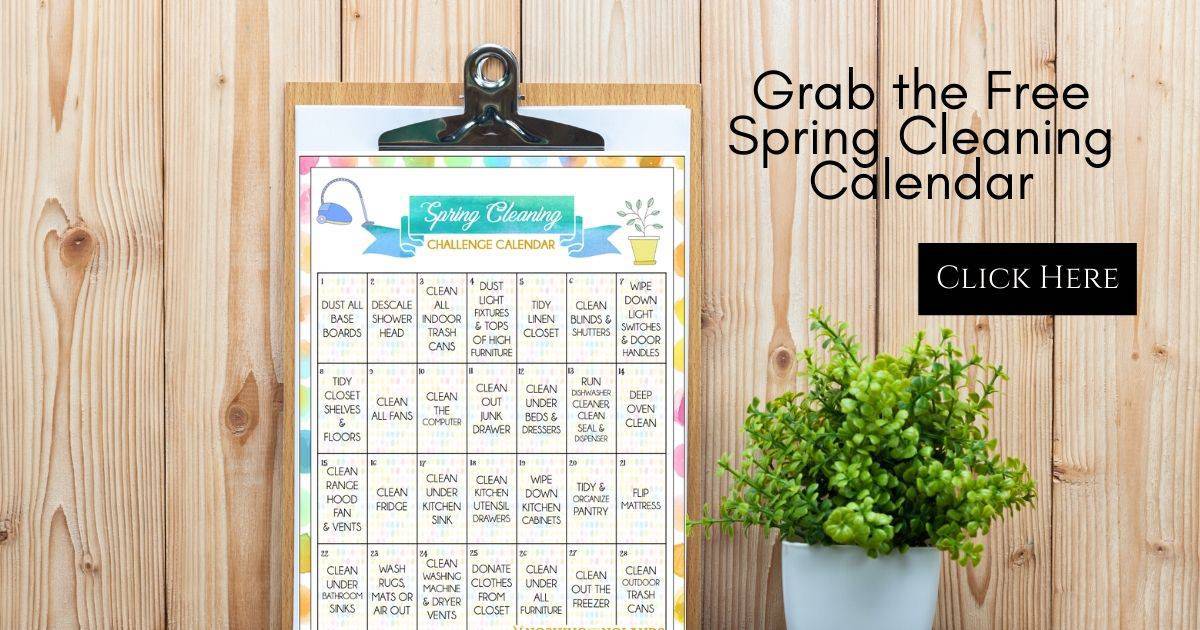 How Do I Start Spring Cleaning?
Instead of doing it all on one day, I have a spring cleaning calendar with one task a day. That way it doesn't seem too overwhelming. Sometimes I get ambitious and do a couple of days at once. By using the calendar, I ensure everything gets done but don't feel like I'm always cleaning.
Doing all the baseboards on the same day rather than room by room makes more sense to me. I've already got the bucket of hot soapy water and microfiber cloth out so why not wipe down all the baseboards at once?
The same goes for dusting the ceiling fans. I've got a duster with an extendable handle that reaches the fans perfectly so doing all of them while it's out just makes sense. Some tasks may need to be moved around; for example, you can't clean the dishwasher when there are dishes in it. You don't want to be cleaning the washing machine when you have a bunch of laundry to do.
I often combine cleaning the range hood with cleaning under the sink and sometimes even include the kitchen cabinets and organizing the drawers just to get it all out of the way at once.
Also, choose what you like for a cleaner; in a lot of instances a detergent solution of dish soap and water will work as you might not need something heavy-duty.
Try adding in a bit of baking soda to hot water for another cleaner or you can apply it right on a wet sponge too. Baking soda also neutralizes odors. There are many all-purpose cleaners on the market too. See which one fits for the job.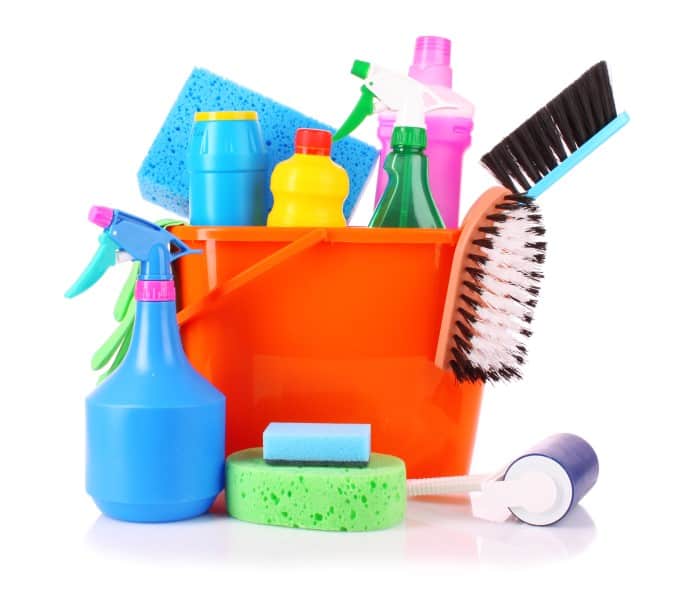 Why do People do Spring Cleaning?
After a long cold winter, it is wonderful to bring the freshness of the outdoors back into your home. Spring cleaning provides that freshness and is a perfect time to get things done before the lazy hot days of summer hit when you don't feel like cleaning as much.
Pick what works well for you – you can even use the calendar as a checklist to help you make sure all the important spring cleaning tasks get done.
Do you spring clean? Are there any tasks you always include that I've missed on my calendar? Let me know in the comments.
Pin It HERE

Pin it HERE