Disclosure: I was compensated for this post by Alberta Beef. All opinions and experiences are my own.
Do you love comfort food like this Salisbury Steak with Mushroom Gravy? This is a classic dish that has been around for a long time but still stands the test of time. Who doesn't love a great burger in a rich, flavorful gravy? Have it on creamy polenta or creamy mashed potatoes and you will be in heaven.
Alberta Beef is easy to use, something we are all familiar with, nutritious, and best of all, delicious!! Alberta Beef is extremely versatile also and so easily accessible. It is something that I feel good about serving my family.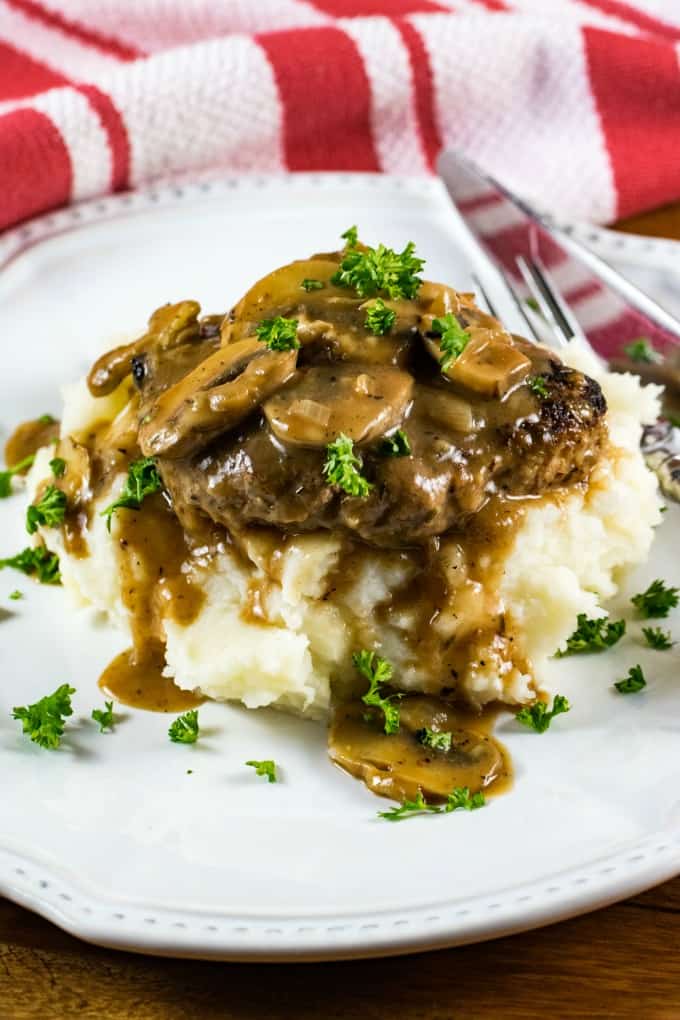 In the winter, don't you love meals like this? Memories are shared over a table at dinner. Conversations erupt and people share what is going on in their lives. With a hearty meal like this families will linger a little longer at the table.
In Alberta, raising beef is part of our history! We have the perfect environment for ranchlands with our rolling hills, valleys with cool springs and rivers, and wide-open spaces. Because of this, Alberta Beef has amazing flavor and quality that is world-renowned.
Our ranchers pride themselves in raising their cattle ethically, using hormones appropriately and ensuring the beef is antibiotic-free. With these practices, they exceed the high-quality standards set by the Canadian Food Inspection Agency (CFIA).
What is Salisbury Steak?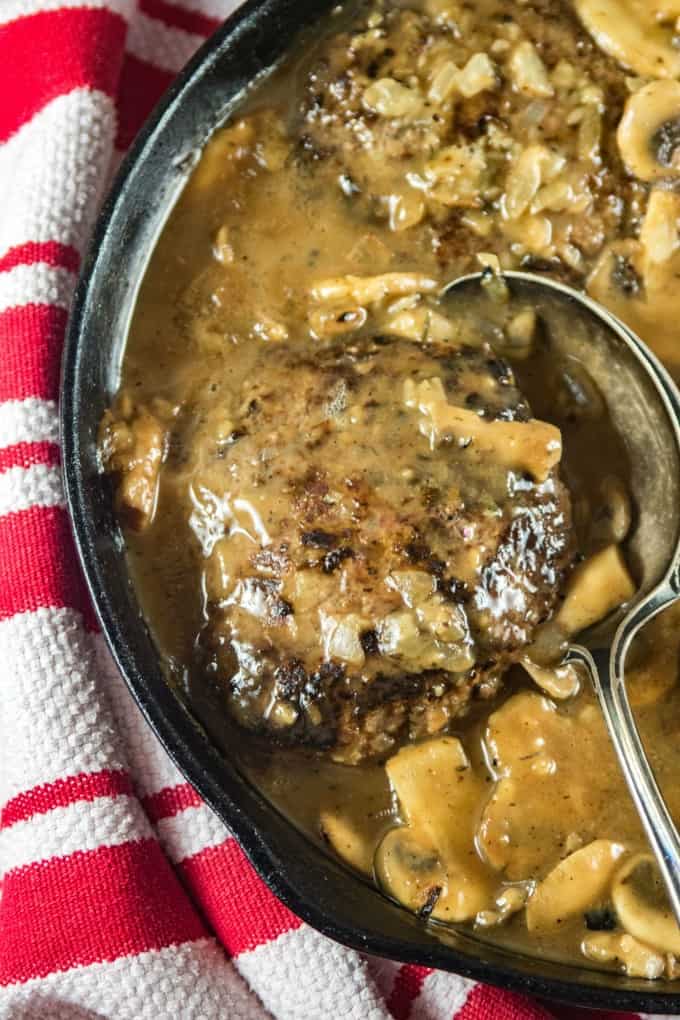 Salisbury steak is basically a hamburger but not conventionally showcased in a bun like you are used to seeing it. These "hamburgers" are served more like a steak would be, with luscious, yet easy mushroom gravy.
Salisbury steak is also traditionally served atop of creamy mashed potatoes making this comfort food impossible to resist. This is not a hard dish to make and something that can be quickly whipped up for a weeknight meal.
It is a one-pot wonder that moms and dads will love making as the cleanup is easy and the prep is simple too.
Easy Prep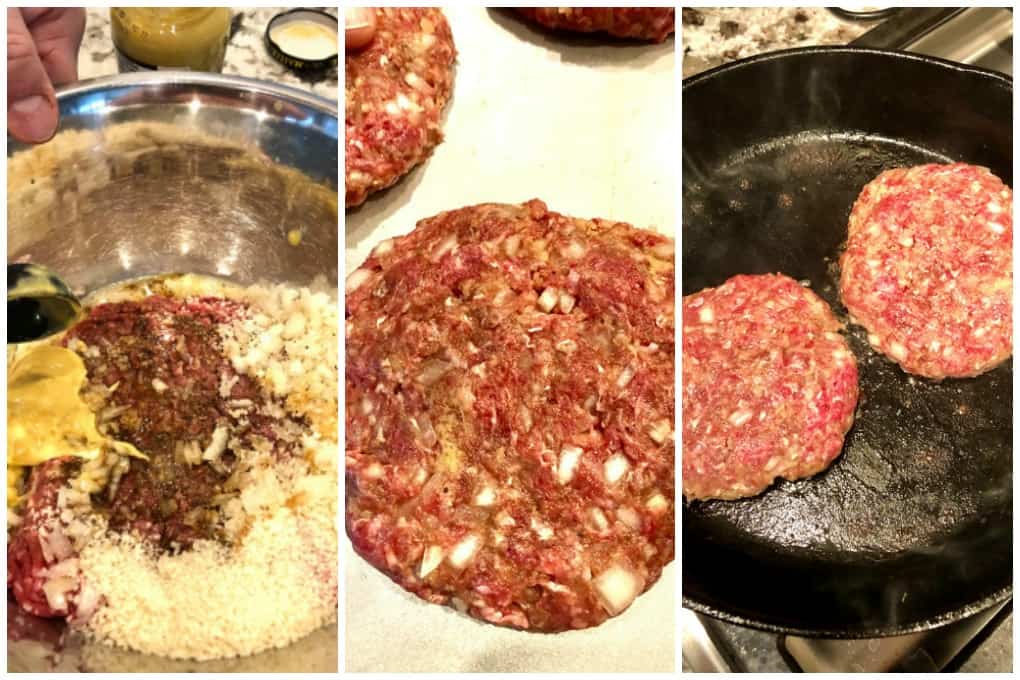 The beef burgers or beef patties are easy to make if you have ever made homemade burgers before that is all that there is to it.
In a large bowl combine the ground beef with onions, garlic, panko bread crumbs (you can also use regular bread crumbs), an egg, Worcestershire sauce, Dijon mustard, and fresh ground pepper and Kosher salt.
A quick mix of these ingredients and then pat them into round or oval patties and fry them up in a small amount of butter in a skillet over medium-high heat.
I like to use a cast iron pan but if yours isn't large enough, a large skillet will work too.
We did use extra lean beef for our burgers but that option is up to you! This is something that we use on a regular basis.
Why is Salisbury steak called Salisbury?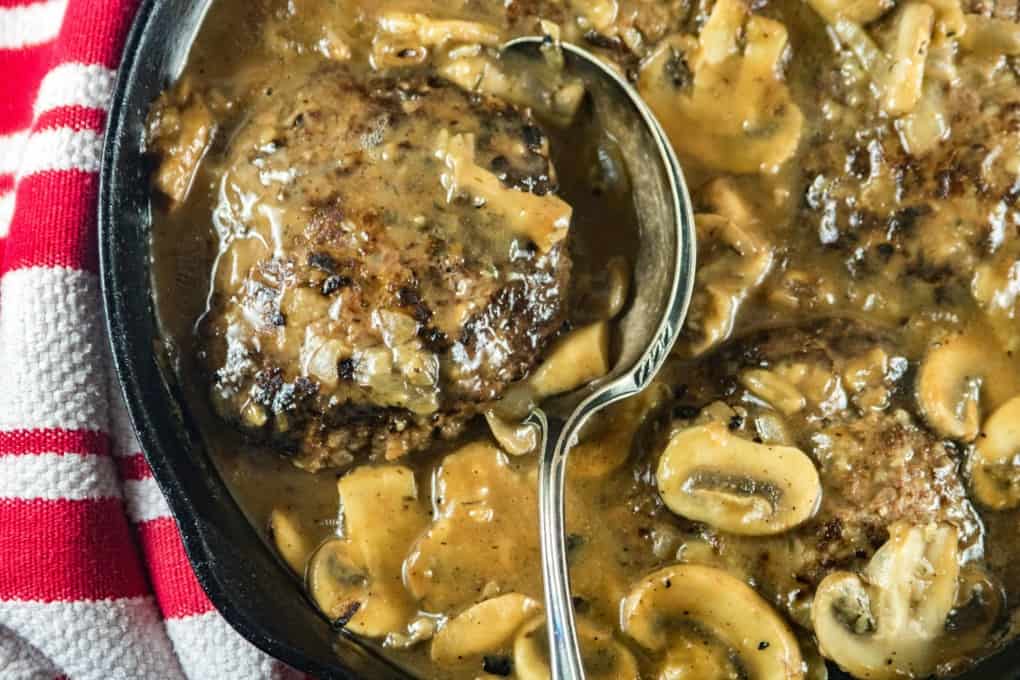 Salisbury steak, as stated before, is a hamburger, well maybe a fancy hamburger. It is similarly cooked as some other steak recipes. It is named after Dr. James Henry Salisbury (1823-1905). He was among the first as being a food faddist or as we know, in terms better-used today, as subscribing to fad foods or fad diets.
Dr. James Henry Salisbury believed that vegetables and starches created poisonous substances in the digestive system. He felt these poisonous substances lead to heart disease, tumors, mental illness, and even tuberculosis. Amazing huh? The end result of his diet was to eat lots of Salisbury steak which was made famous around the time of the civil war.
As we know today, this is not true and a well-balanced diet is a way to promote good health. With a 75g serving of cooked beef, it provides us with 26g of protein, 25mg of iron, 1.8µg of vitamin B12, and 6.5mg of zinc.
Besides its history and where the recipe came from, Salisbury steak is a tried and true fantastic meal that is enjoyed by millions.
I remember Salisbury steak from growing up as an entree in TV dinners. Do you? Oops, am I dating myself?? Our recipe is nothing like that though as it is true goodness from start to finish.
What Goes Good with Salisbury Steak?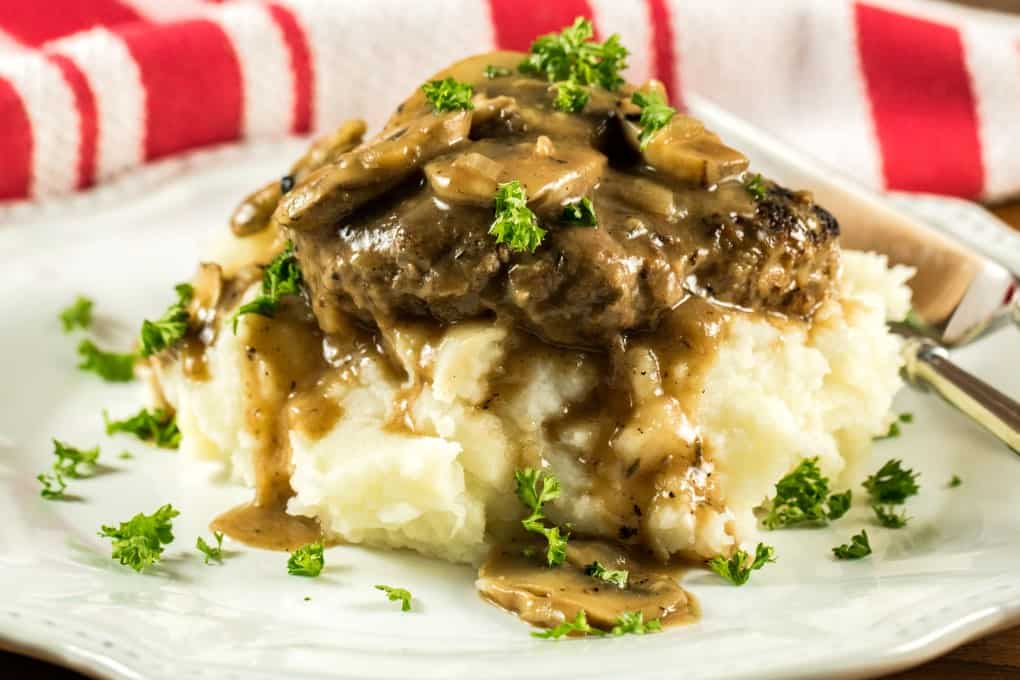 What goes good with Salisbury Steak? Well, the mushroom gravy is the first great pairing made with a lovely beef broth!! From there I love mashed potatoes. Easy vegetables like frozen carrots, peas and corn are also a favorite.
A nice big side salad can make the meal feel complete too. I also like fresh broccoli, broccolini, green beans, cabbage, collard greens, spinach, asparagus, and Brussels sprouts. I like to keep the vegetables simple and let the beef shine!!
If you want to go lower carb you could do mashed celery root or mashed cauliflower. This meal goes with so many sides, the sky's the limit.
How to Make Salisbury Steak Gravy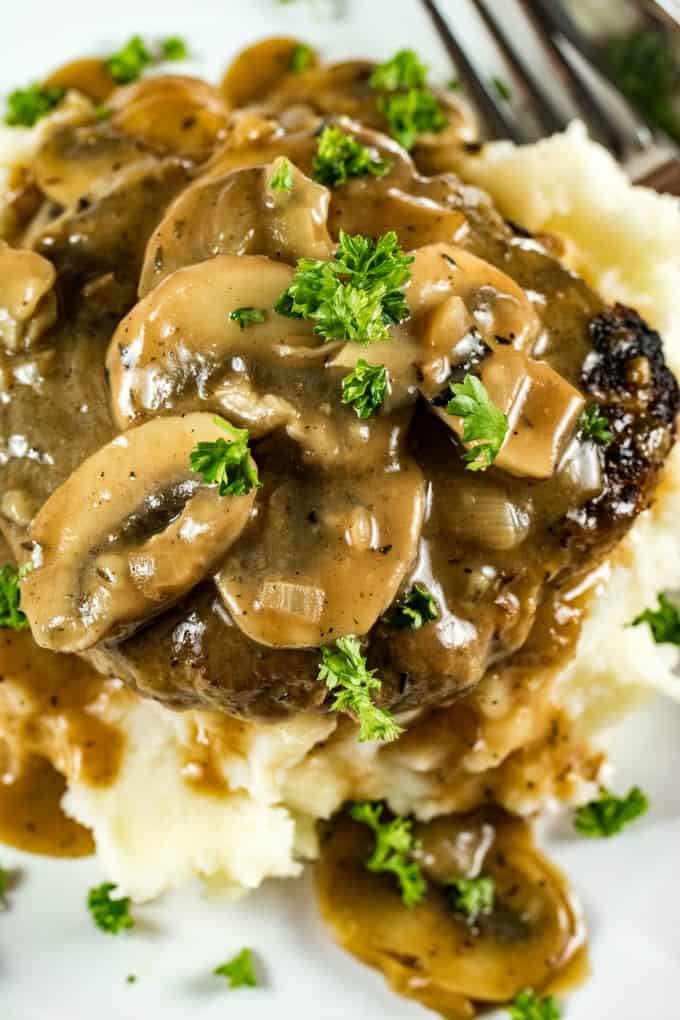 Once the beef burgers are browned (they may not be cooked through) and removed to a plate and kept warm, then you have to make the brown gravy. I do like my burgers past a golden brown and getting a nice char on the outside.
In the same pan as the burgers, now cook the onion and mushrooms along with the garlic in a small amount of butter. Saute them for 4-5 minutes. Next, add in the dried thyme and cook for a minute.
Sprinkle in the flour and cook for 1-2 minutes. Now gradually add in the beef stock and the Worcestershire sauce, even letting the mixture come to a boil between additions and stirring. You don't want it to get lumpy. Continue adding stock and simmer until the desired thickness is achieved.
Season with salt and pepper to taste. Return the patties to finish cooking in the mushroom gravy. Cover and cook letting them braise and cook through.
Serve over mashed potatoes with a sprinkling of parsley and your favorite side dish.
Albert Beef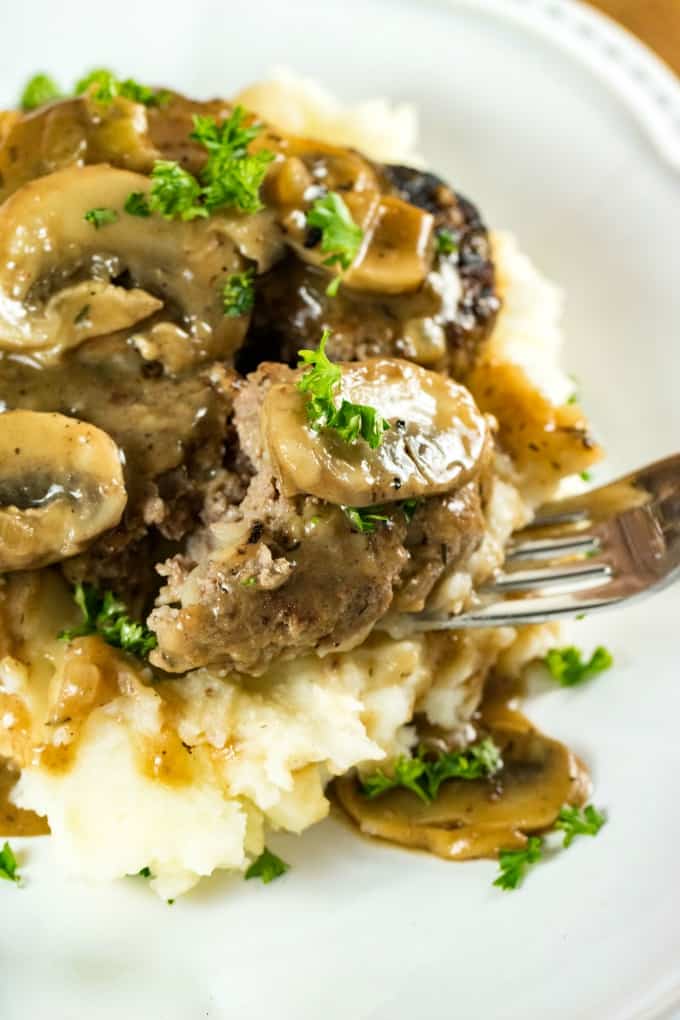 Beef is cost-effective and nutrient-dense food. As part of a healthy, balanced diet, beef is an excellent source of protein, iron, B12, and zinc.
Alberta Beef has more protein per serving than tofu, black beans or almonds. It has more iron per serving than spinach, ground pork or ground chicken.
And as for B12, you would have to have 9 servings of chicken breast to the equal the amount in one serving of beef. Now that is a crazy fact! We love our beef here!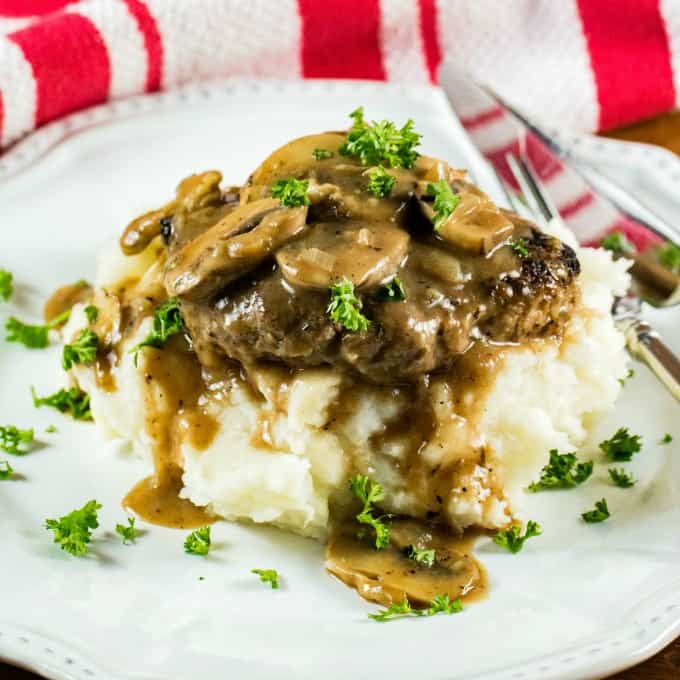 Now it is your turn to make this great recipe. Transform easy-to-work-with ground beef into a masterpiece of a meal. Have everyone asking for you to make this recipe again and again!!
We love using versatile ground beef in so many recipes. It is a protein that freezes so well and can be at the ready for dinner time with a quick thaw too. Go back to some classic recipes using ground beef. You will be happy that you did!
Here are some more easy family meals using ground beef:
Tater Tot Sloppy Joe Casserole
Easy Peasy Hamburger Minestrone Soup
Spaghetti and Meatballs in Marinara Sauce
Pin it HERE!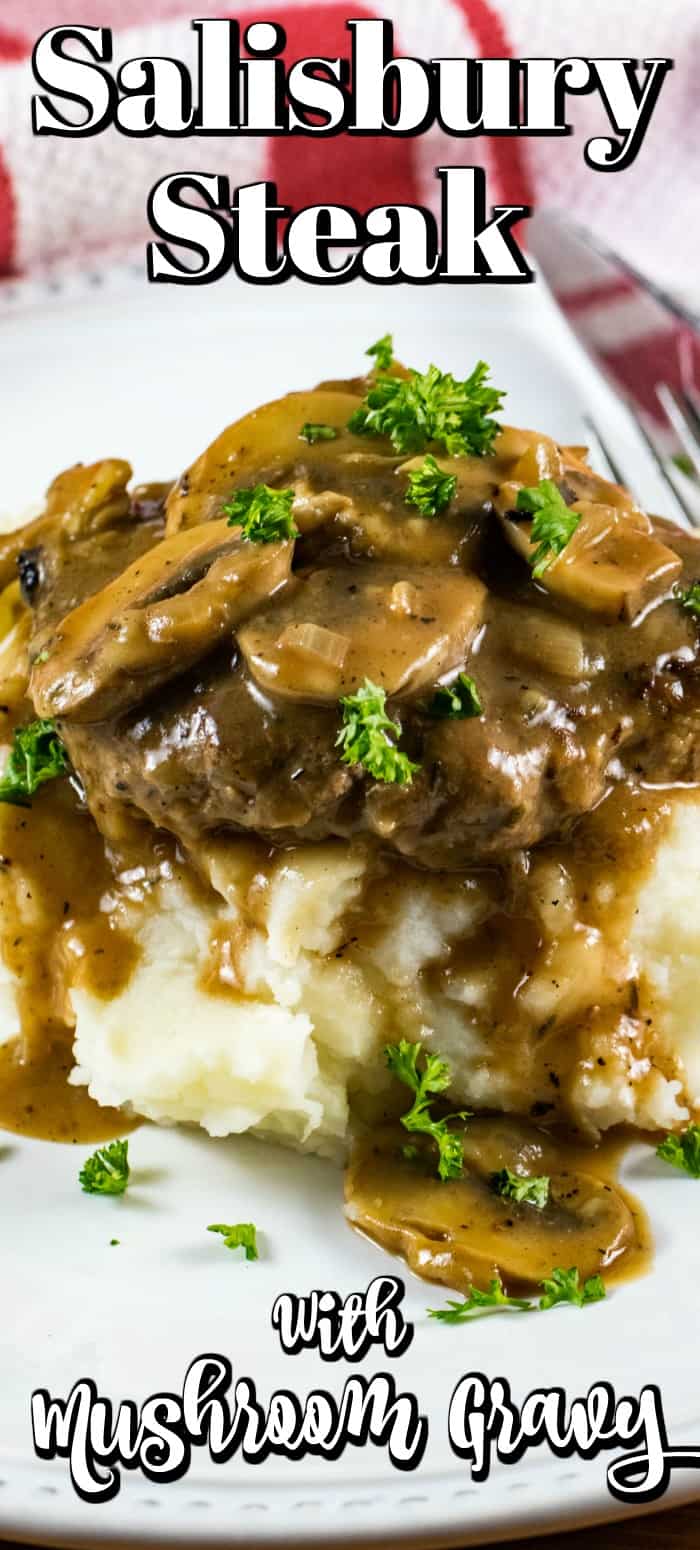 Pin it HERE!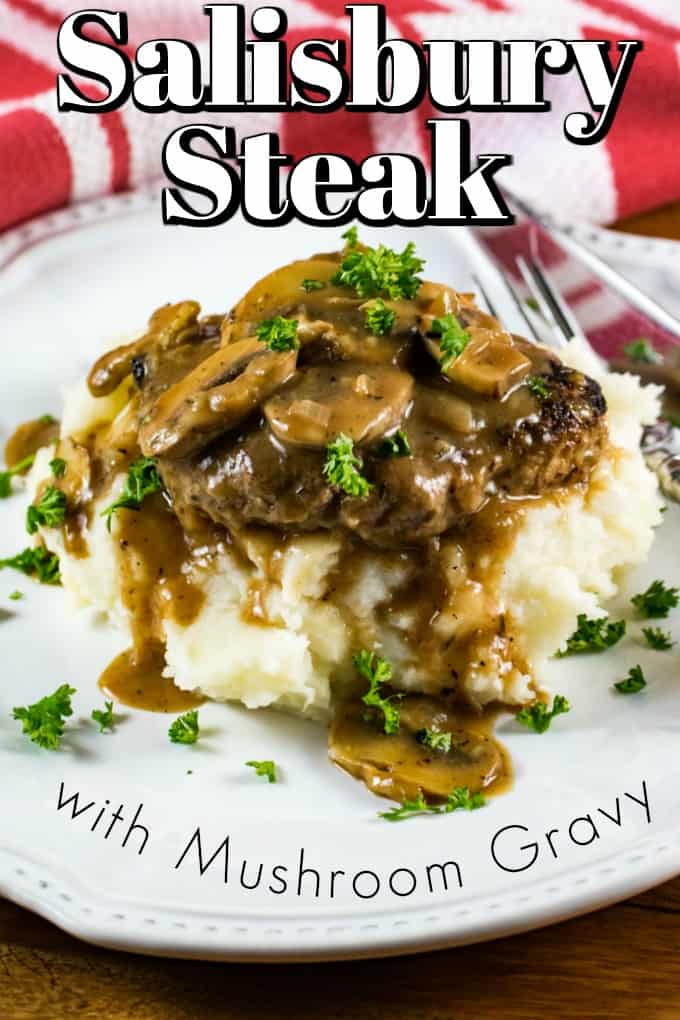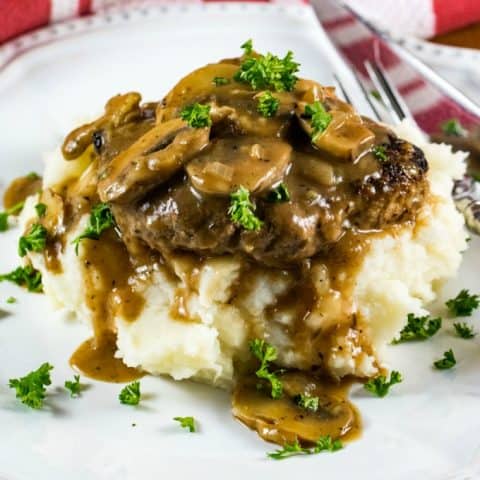 Salisbury Steak with Mushroom Gravy
Yield: 4 servings
Prep Time: 15 minutes
Cook Time: 30 minutes
Total Time: 45 minutes
Salisbury Steak with Mushroom Gravy is a comfort food that's quick and easy to make. After making it once your family will be asking for it again and again.
Ingredients
Salisbury Steak
1 lb. ground beef
1/2 cup onion, finely chopped
1 garlic clove, minced
1/4 cup panko crumbs
1 egg, lightly beaten
1 Tbsp. Worcestershire sauce
1 Tbsp. Dijon mustard
Freshly ground pepper
Kosher salt
1 Tbsp. butter for frying
Mushroom Gravy
6 oz. sliced mushrooms
1/2 cup onion, finely chopped
1 garlic clove, minced
1 tsp. dried thyme
3 Tbsp. flour
2 tsp. Worcestershire sauce
2 cups beef broth
Salt and freshly ground pepper to taste
Parsley for garnish
Instructions
Mix together the Salisbury steak ingredients except for the butter for frying. Form into 4 oval or round patties. Melt the butter in the skillet and cook the patties over medium-high heat, about 5 minutes per side. Make sure they get a nice char on them but they don't have to be cooked all the way through. Remove from pan, set aside.
For the mushroom gravy, melt the butter and add the sliced mushrooms, onions and garlic. Saute for about 5 min. or until the mushrooms have given off their liquid. Add the dried thyme and cook for 1 min. stirring.
Sprinkle in the flour and cook for 1 min. stirring. Slowly add in the beef broth and Worcestershire sauce a little at a time letting the mixture come up to a simmer in between. Continue to add broth and cooking until the desired thickness is reached. Season with salt and pepper.
Return the beef patties to the pan. Reduce heat to low, cover slightly and let the mixture simmer and the beef braise in the sauce until the patties are cooked through.
Serve over mashed potatoes and garnish with parsley. Serve with your favorite side dish.
Nutrition Information:
Yield: 4
Serving Size: 1
Amount Per Serving:
Calories: 539
Total Fat: 29g
Saturated Fat: 12g
Trans Fat: 1g
Unsaturated Fat: 13g
Cholesterol: 182mg
Sodium: 1219mg
Carbohydrates: 24g
Fiber: 3g
Sugar: 6g
Protein: 44g
Recipe calculation was provided by Nutritionix and is an estimation only. If you need nutritional calculations for medical reasons, please use a source that you trust.