I love making impossible pies, they are so very easy. My mom was not a cook at all but she did like a very easy recipe. I found this recipe of hers with no name – just ingredients and some quick instructions on a scrap piece of paper. I made it myself to try it and decided to call it Mexican Impossible Pie.
It's such an easy recipe with very simple ingredients. It has always turned out fantastic and I have to give all the kudos to my mom. I just had to share this recipe with you, as you will love it too! Try our Easy Beef Taco Salad or Cheesy Enchilada Rice too! Another two of our favorites.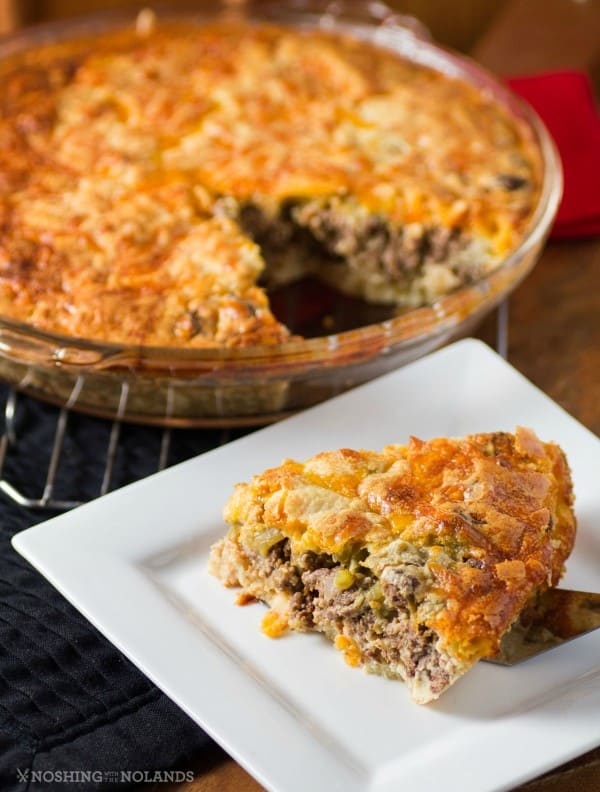 Some old fashioned recipes are the best and this one saves you loads of time and will be a family favorite. A nice light salad to go with this and you will have the kids asking for you to make this again and again.
Top a slice with a little salsa and sour cream and you have brought it all to a new level!!
What is an Impossible Pie?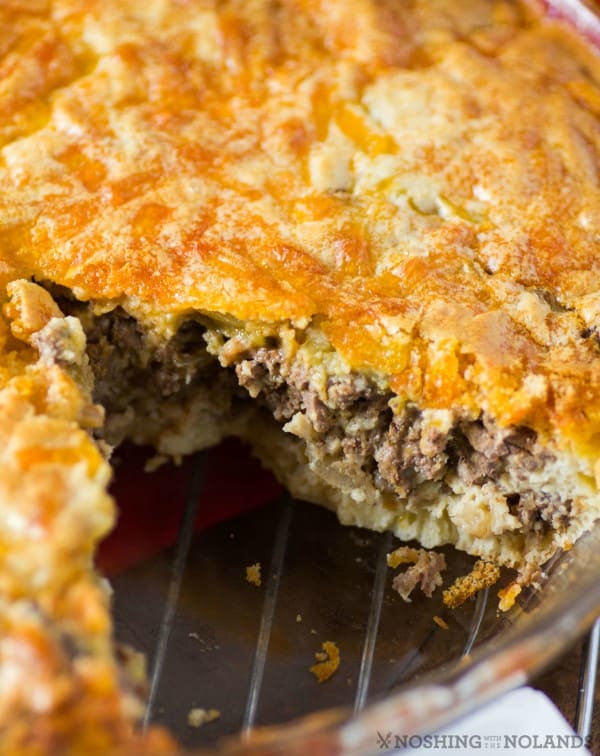 Before I get to the amazingness that is Mexican Impossible Pie, I want to explain what an impossible pie is.
Impossible pies are easy to make pies – you don't need to make a crust for them. They're called impossible not because they're difficult or tricky to make but rather because they're impossibly easy.
Bisquick Impossible Pie
Impossible pie was a food fad of the 1970s that has endured and is a family favorite in many families now. It was printed on the back of Bisquick boxes because the Bisquick mix was a standard ingredient in an impossible pie.
Impossible pies were popular because they made their own crusts. All of the ingredients are put into a pie plate and then naturally settle into a pie with crust on the bottom and filling on top.
Purists will tell you that it's not as good a crust as a traditional pie, which is true. It's also a whole lot easier than making a traditional pie crust!
The best thing about impossible pies is that they work just as well whether you have a sweet or savory pie.
Impossible pies were so popular that they ended up in the Betty Crocker cookbooks that were ubiquitous in the late 1970s. They are also often found at potluck parties because they're so easy to make and taste so good.
Whenever I take an impossible pie to a potluck, whether it's as a main dish like this Mexican Impossible Pie or as a dessert, like my Impossible Coconut Rum Pie, nobody believes that they're really quick and easy to make!
Hamilton Beach Blender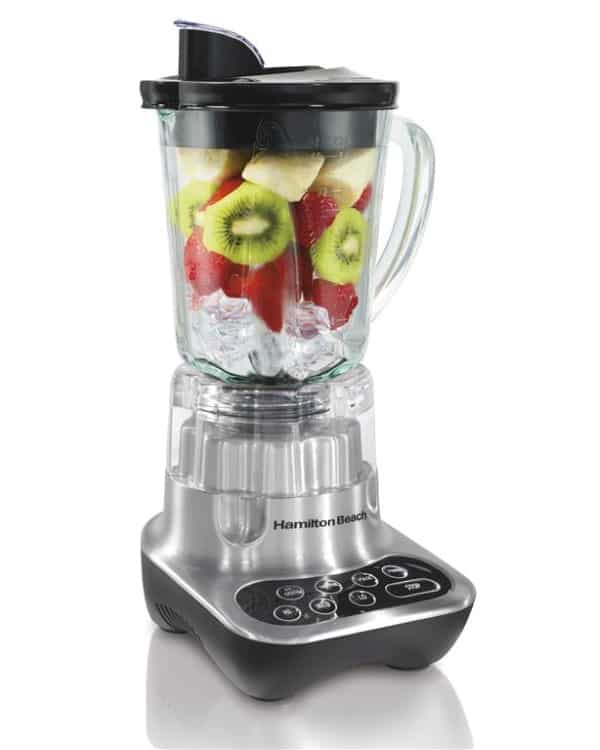 A great blender like this Hamilton Beach one will have the work done for you in a flash, easy clean up too as it all goes into the dishwasher. We love ours!
How to Make Impossible Pie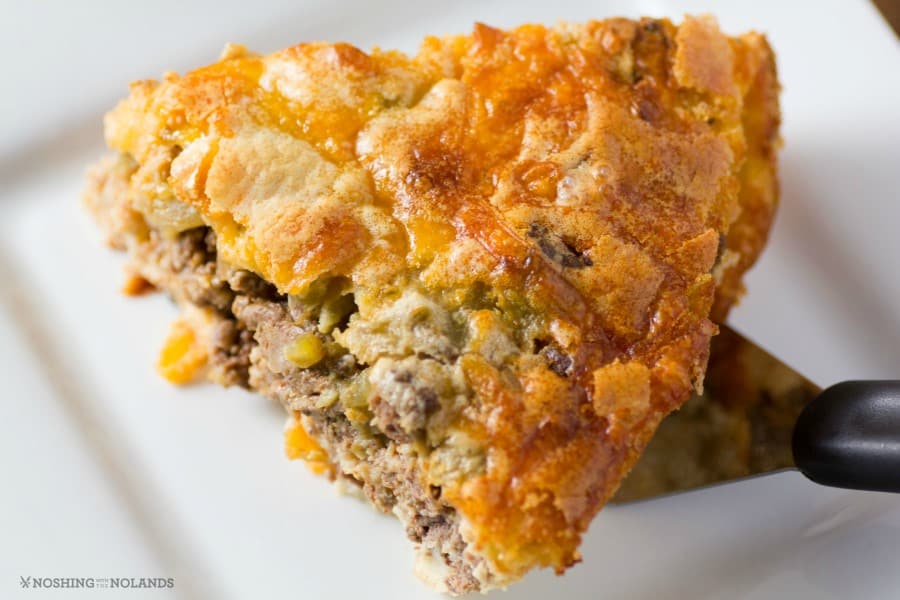 This impossible pie makes a great dinner. It only uses a skillet, the blender, and a pie plate – so clean up is a breeze! Pop the dish in the oven, sit back and relax for a minute, supper will be on the table in no time!
It's so easy to make the Mexican Impossible Pie you'll want to put it into your family's regular dinner rotation. First, preheat the oven to 400 degrees Fahrenheit and spray a pie plate with cooking spray.
Then, sauté a pound of ground beef in a skillet until it's cooked and drain off any fat. Stir in taco seasoning and water according to the directions on the taco seasoning package, cook until the water is absorbed.
Remove the skillet from the stove and spread the meat on the bottom of a pie plate. Layer the contents of a small can of diced green chilies on top, followed by 1 cup of grated cheddar cheese.
Next, get out your blender and add 1 ¼ cups of milk, ¾ of a cup of Bisquick mix (you can get gluten-free Bisquick if your family needs it!), 3 eggs, ½ a teaspoon of hot sauce, and salt and pepper to the jar.
Blend it for about 2 minutes on high power – until it's thoroughly mixed. Pour the mixture over the ingredients already in the pie plate. Bake for 30-35 minutes until the top is crispy and brown. Serve immediately.
Miracle Pie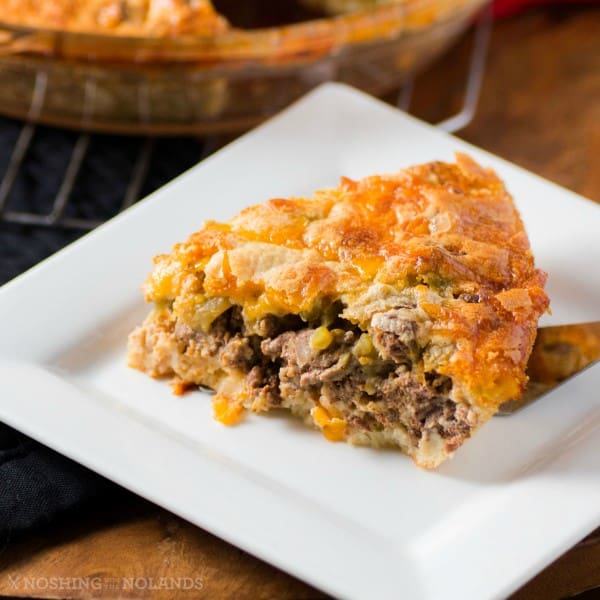 What an amazing result when you just layer ingredients into a pie plate and then pour a blended mixture on top, out of the oven comes this amazing pie. Everything falls into place.
The cheese floats to the top for a crispy upper crust and the Bisquick falls to the bottom for a tender bottom crust. It's just so impossibly easy and delicious.
It's like a taco pie! The best thing about making this Mexican Impossible Pie for dinner is that your family will think that you spent a long time making a delicious dinner for them when you really only spent a few minutes!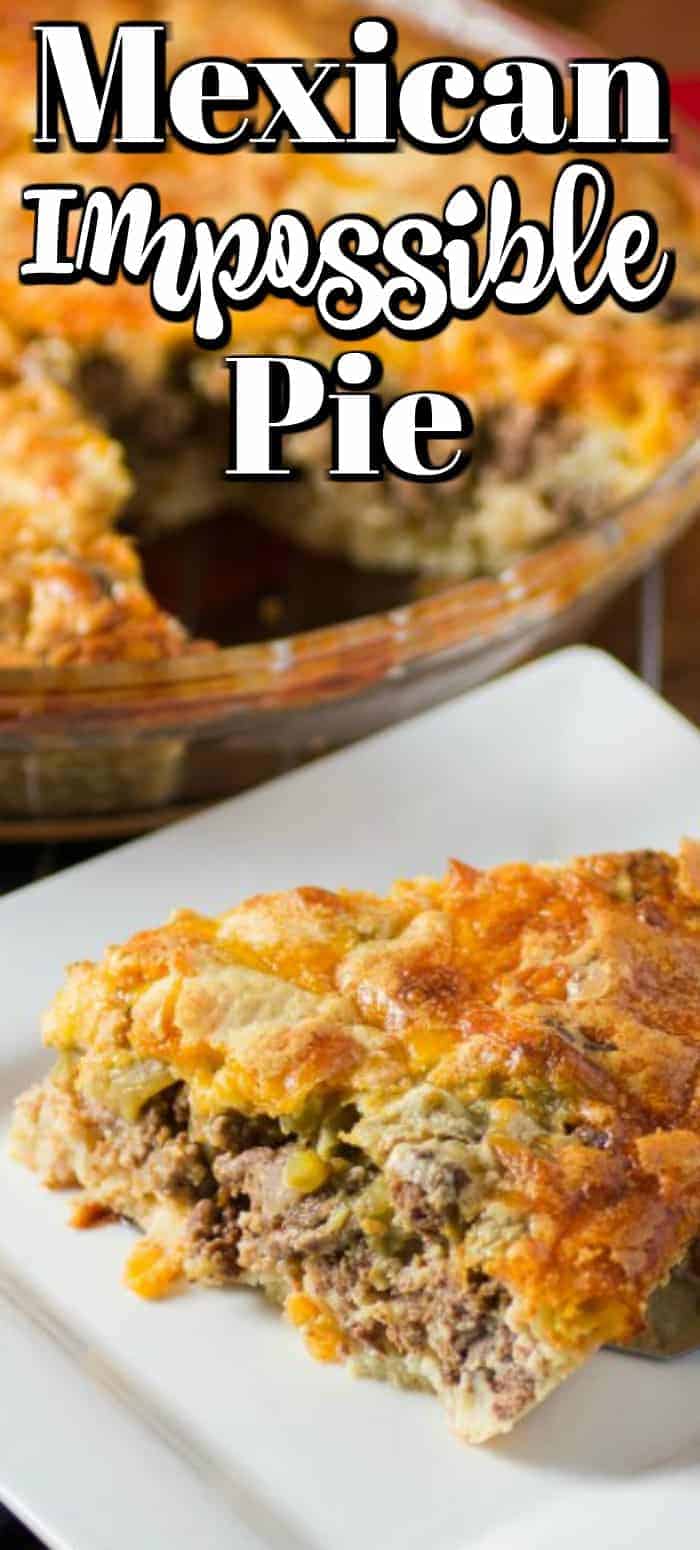 Mexican Impossible Pie Recipe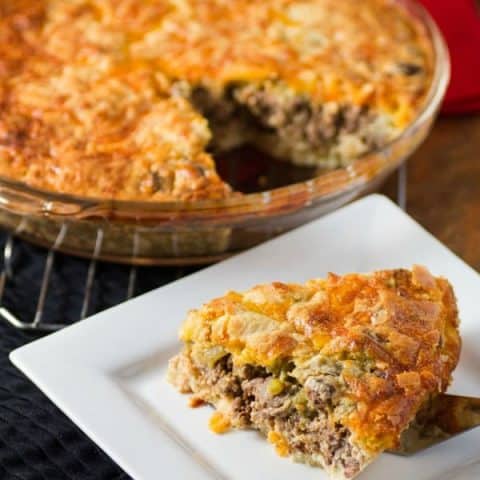 Mexican Impossible Pie
Yield: Serves 8
Prep Time: 10 minutes
Cook Time: 35 minutes
Total Time: 45 minutes
Ingredients
1 lb. ground beef, lean or extra lean
1 cup onions, diced
1 envelope taco seasoning (I use Epicure as it is low sodium)
1 small can (4.5 oz.) diced green chilies
1 cup cheddar cheese
1 1/4 cups milk
3/4 cup Bisquick, gluten free if needed
3 eggs
1/2 tsp. hot sauce, or to taste
Salt and pepper to taste
Instructions
Preheat oven to 400F. Saute the beef with the onions in a large skillet until browned and cooked through. Stir in taco seasoning and mix in water according to package. Cook until water evaporates. Spread the meat mixture into a 10" pie pan sprayed with cooking spray. Layer on the chilies and then the cheese.
In a blender, mix together the milk, Bisquick, eggs, hot sauce and salt and pepper. Blend on high for 2 min. Pour over meat mixture. Bake for 30 - 35 min. or until crispy browned on top.
Nutrition Information:
Yield: 8
Serving Size: 1
Amount Per Serving:
Calories: 304
Total Fat: 16g
Saturated Fat: 7g
Trans Fat: 0g
Unsaturated Fat: 7g
Cholesterol: 139mg
Sodium: 438mg
Carbohydrates: 14g
Fiber: 1g
Sugar: 3g
Protein: 25g
Recipe calculation was provided by Nutritionix and is an estimation only. If you need nutritional calculations for medical reasons, please use a source that you trust.