BBQ Bacon Wrapped Onion Bombs
Have you seen these floating around the internet? Ken attached to them and was dying to make them. Well, I see why? These BBQ Bacon Wrapped Onion Bombs look fabulous and trust me are even better to eat!!
What is not to love, a big huge meatball stuffed with cheese encased in onion and then wrapped in bacon and slathered with BBQ sauce. I think that is any man's dream meal, hey wait, mine too!! They are perfect for game day!!
The idea is in an area between cray cray and genius. You know that teetering, exciting threshold that gives you all the wonderfully crazy yet divine dishes!!
Well, this is one of them!! These are easy to make, really they are!! Come let me tell you how!!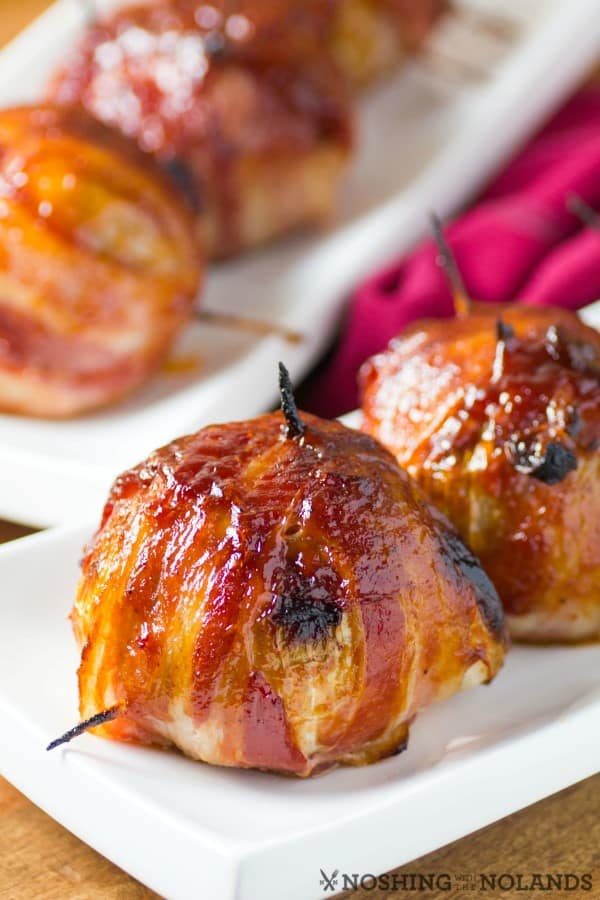 Although these are said to be BBQ, they are made in the oven. They are brushed though with lots of BBQ sauce.
This is a perfect fall and winter meal when you are still craving the flavors of the BBQ but don't want to venture outside in the nasty weather.
The outside gets lovely and crispy while the inside meatballs stay juicy from the onion, bacon and BBQ sauce.
Can you Freeze BBQ Bacon Wrapped Onion Bombs?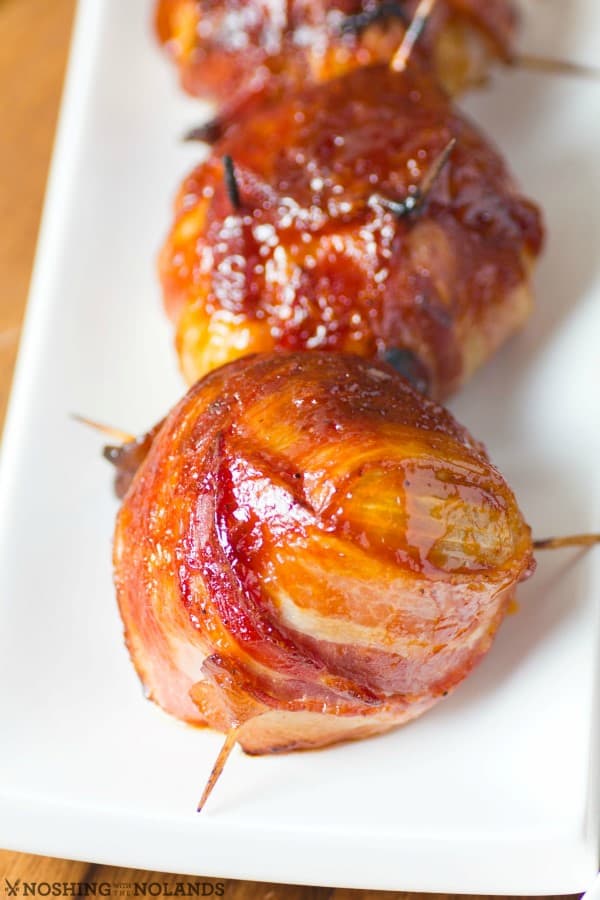 I am sorry I didn't cut one of these open for you but I was rushing to get one in "my belly"!!
Man, are these delectable. Ken made a tray of them so we popped some into the freezer and they froze like a dream.
A tip for making these is don't do your meatballs all ahead of time but custom make them to the size of your onion.
You want to use the larger layers of the onion and make meatballs accordingly, as the onion sizes get smaller so will your meatball.
Then use another large onion to keep making more. The inner part of the onion can be used for another recipe, just pop it into the fridge wrapped.
How to See if These are Done?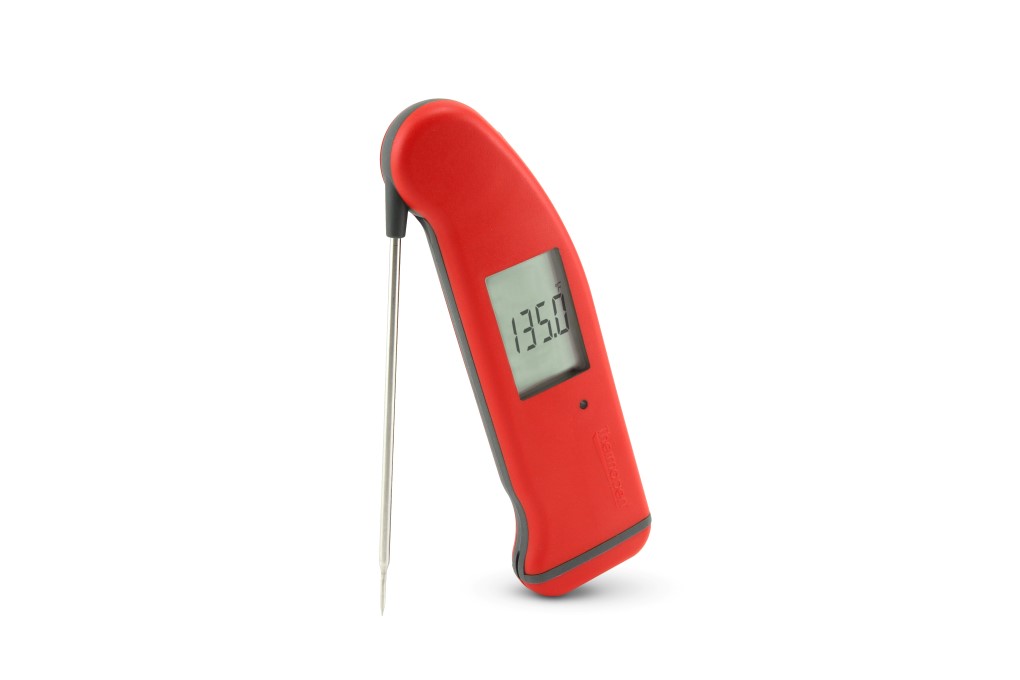 How to see if these are done is easy with this wonderful instant-read thermometer from Thermoworks. You don't want to be cutting one of these open to see if they are done, that ruins them.
With this thermometer, you will have a temperature in seconds.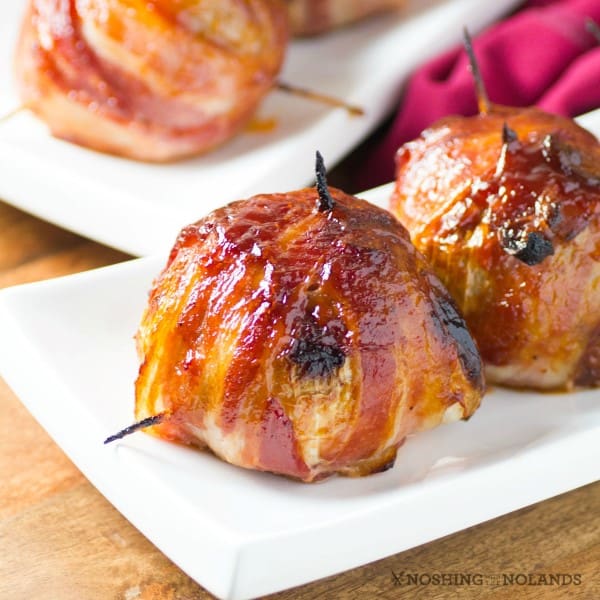 Try this wonderfully delicious recipe and come back to tell me how you liked them!! I can't wait to hear from you!!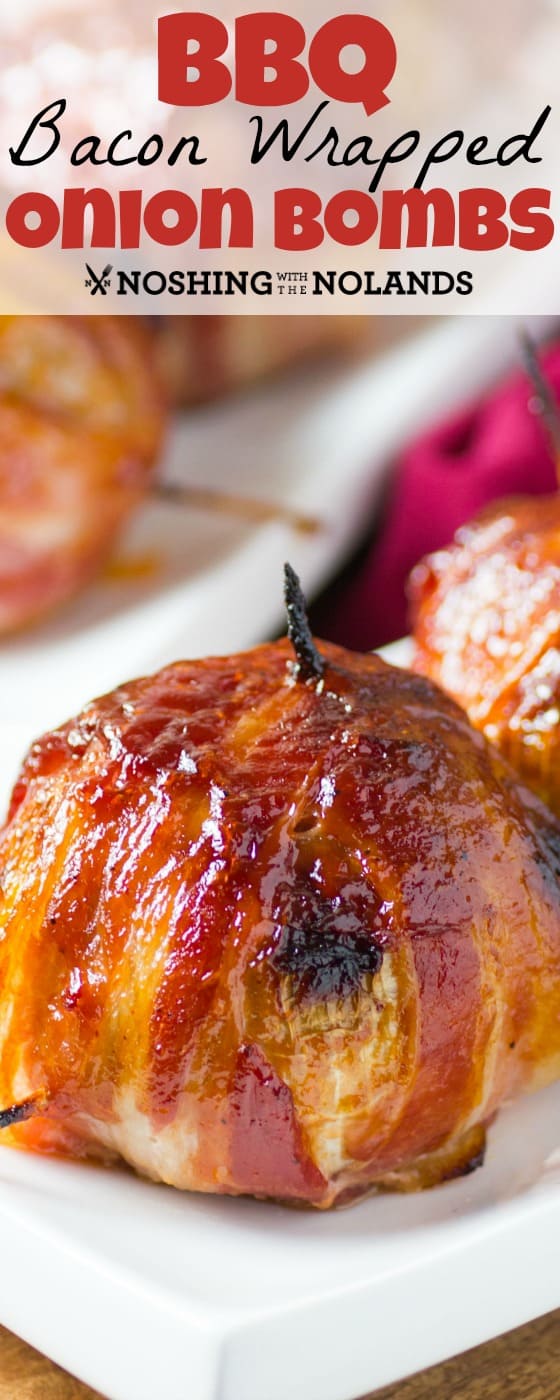 To go with this all you need is a great fresh salad like this one!
BBQ Bacon Wrapped Onion Bombs Recipe
Yield: 8-10 servings
BBQ Bacon Wrapped Onion Bombs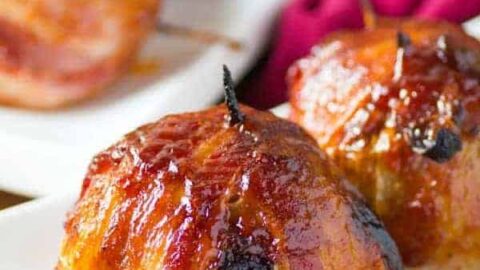 These BBQ Bacon Wrapped Onion Bombs are like large meatball stuffed onions, and are fabulous!! A must try recipe!!
Total Time
1 hour
20 minutes
Ingredients
Meatballs
2 lbs. lean ground beef
1 cup bread crumbs
1 egg, beaten
1/2 cup milk
1/2 cup BBQ sauce
1 tsp. salt
1/2 tsp. onion powder
1/2 tsp. thyme
1/2 tsp. freshly ground pepper
1/2 tsp. garlic powder
1/2 " cube of cheddar cheese per meatball
Onion Bombs
5-6 large yellow onions
1 lb. bacon
Additional BBQ sauce
Instructions
Mix the the meatball ingredients together, omitting the cheese, in a large bowl with your hands until well combined. Preheat the oven to 425F. Line a sided cookie sheet with foil and set aside.
Slice the top and bottom off of an onion and peel off the skin. Cut the onion in half and now peel back the layers. Use the two sides of the onion and see how large you need to make your meatball. Stuff the meatball with the 1/2" cheese cube and roll into a ball. Insert your meatball in the onion halves and make sure it fits nicely, not too small or too large.
Wrap each of the onion bombs with 2-3 slices of bacon depending on the size of the bomb and secure with toothpicks. Bake on the prepared cookie sheet for 40 min. or until a thermometer reads 165F. Brush liberally with BBQ sauce and bake another 5-10 min.
Nutrition Information:
Yield:
10
Serving Size:
1
Amount Per Serving:
Calories:

580
Total Fat:

31g
Saturated Fat:

11g
Trans Fat:

0g
Unsaturated Fat:

17g
Cholesterol:

154mg
Sodium:

1435mg
Carbohydrates:

25g
Fiber:

2g
Sugar:

11g
Protein:

47g