Italian Salad with Creamy Italian Dressing
Salads can be boring but this Italian Salad with Creamy Italian Dressing is anything but that. There is loads of flavor packed into this bowl, with romaine, radicchio, grape tomatoes, peperoncino, salami, and asiago. To jazz this salad up even more is a delightful creamy Italian dressing with more cheese and wonderful ingredients.
This salad would be great with any Italian meal and also any BBQ or potluck! I love that there is bits of delicious salami, that really makes the salad more interesting for me.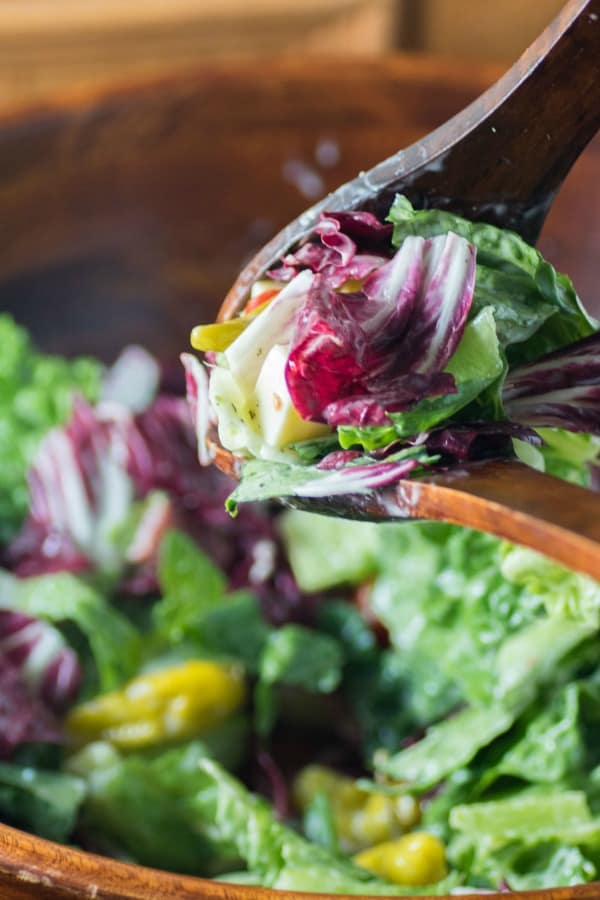 Take a big scoop and enjoy! The asiago cheese is another favorite of mine and just adds more to the salad than a plain cheddar.
This bowl of healthy, fresh greens is so much more than you think. It is a hearty salad that can give you a pop of heat if you indulge in pepperoncini. If you don't like them, that is easy, just avoid taking one into your bowl. You still won't be lacking in flavor. Just let the spicy mongers get their fill!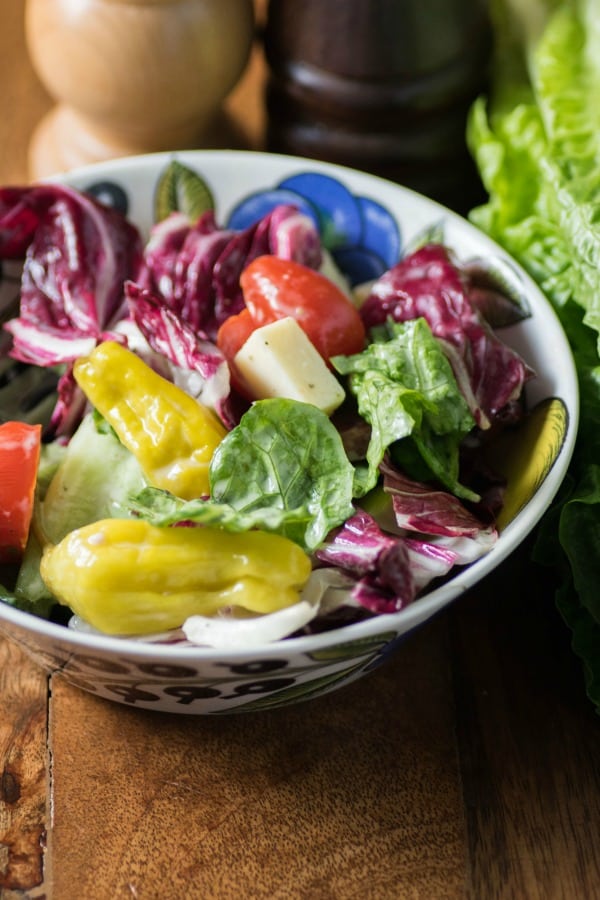 Such a pretty array of colors and textures to make this salad a home run at your next feast. It is one that I have made lots of time before.
Don't have time for the homemade dressing? Shame, shame, but I won't tell anyone if you use store bought. Just get a good quality creamy Italian dressing and no one will know the difference or care when they are digging into this.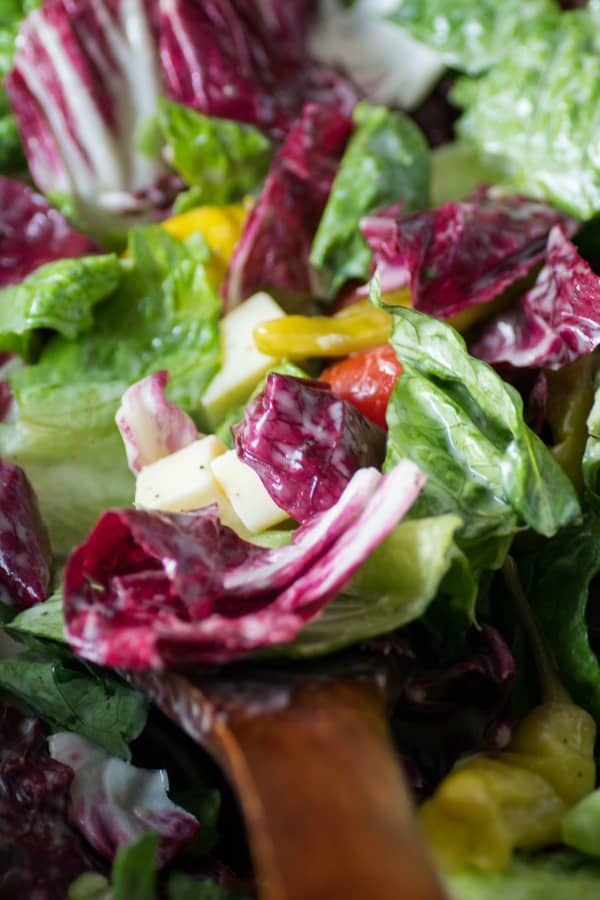 This tasty, cold and delicious salad is very easy to pull together and it is so much more than its parts. A celebration of Italian goodness awaits you when all combined together.
The Recipe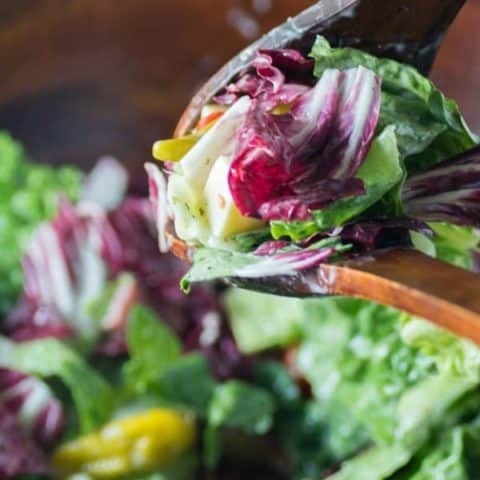 Italian Salad with Creamy Italian Dressing
Yield: 6 servings
Prep Time: 15 minutes
Total Time: 15 minutes
A salad that is bursting with flavors from Italy. Enjoy a big bowl with your next Italian feast or for any BBQ or potluck!
Ingredients
I large head romaine lettuce, washed and torn
1 head radicchio, washed and chopped
1 cup grape tomatoes, halved
1 cup peperoncino, whole
2 thick slices of good-quality salami, cubed
1 cup Asiago, cubed
Creamy Italian Dressing
1/2 cup mayonnaise
1/4 cup water
3 Tbsp. white vinegar
2 Tbsp. extra virgin olive oil
2 Tbsp. Asiago cheese, grated
3/4 Tbsp. fresh lemon juice
1 tsp. sugar
1 tsp. Italian seasoning
2 tsp. garlic, minced
Large pinch Kosher salt
Instructions
Assemble all the salad ingredients in a large bowl. In a small or regular sized blender whirl the salad dressing ingredients until smooth. Pour over the salad, toss and serve.